When it comes to Valentine's Day Decor, I typically just decorate my table! I love a pretty, yet affordable tablescape, and in some cases that can be hard to accomplish. Table linens, flatware, stemware, etc., are usually quite pricey, and they end up taking up way too much storage space. However, following these three little "rules", will help you achieve a beautiful, and an affordable tablescape.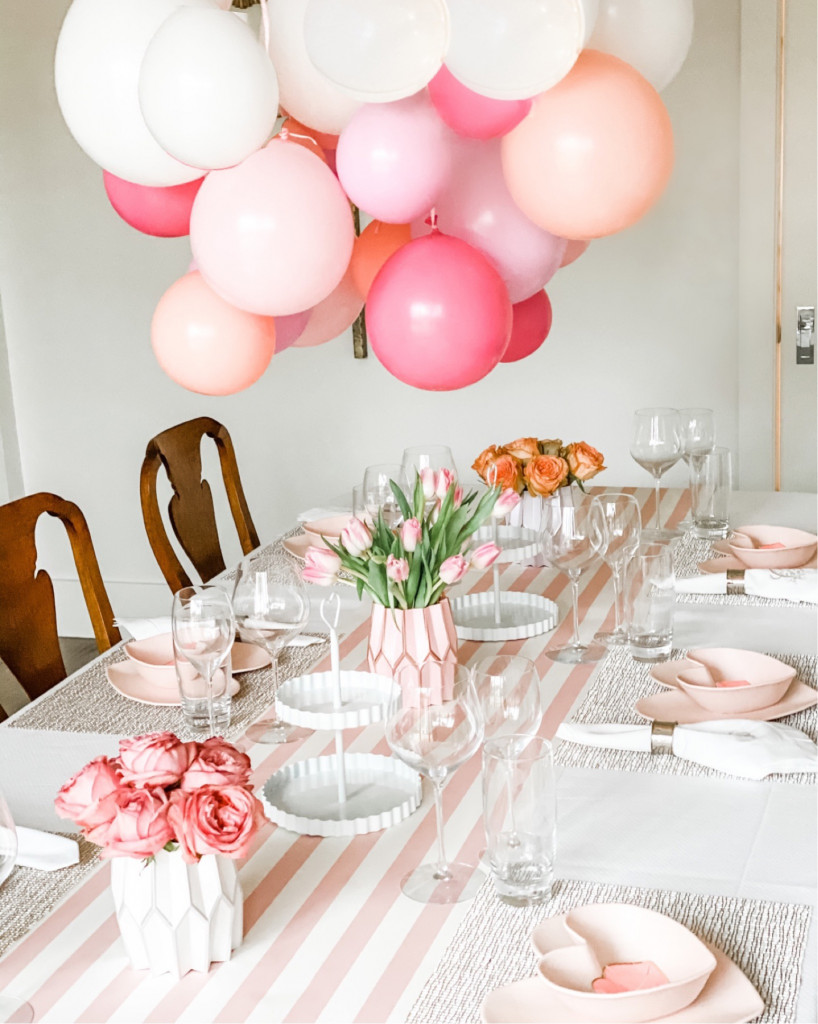 My Tablescaping Rules
First, I'll get everything out of storage and lay it all out in front of me, in hopes of reusing or repurposing some of my old centerpieces. Second, I borrow placemats, flatware, china, etc. from my family members (this has been a huge money saver for me)! Lastly, which is my favorite, I'll go hit up the Target Dollar Bins!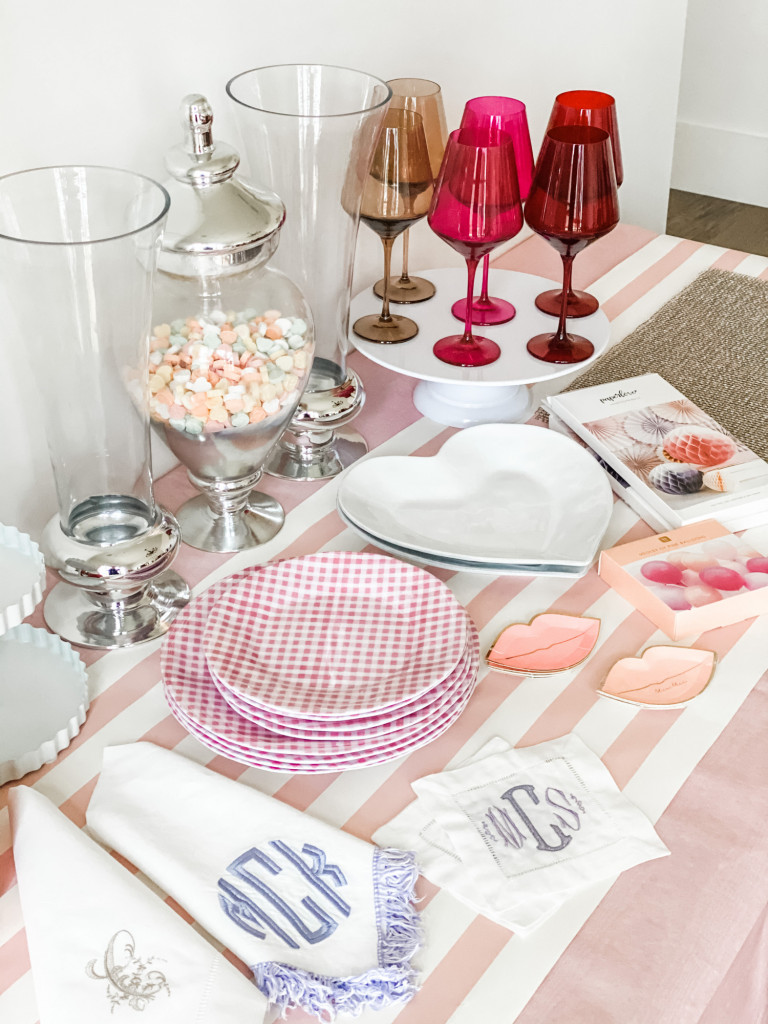 I wanted to use my Estelle Colored Wine Glasses so badly, but my plain Crystal Stemware was the better choice for the pale pink color palette I chose.

My Valentine's Day Table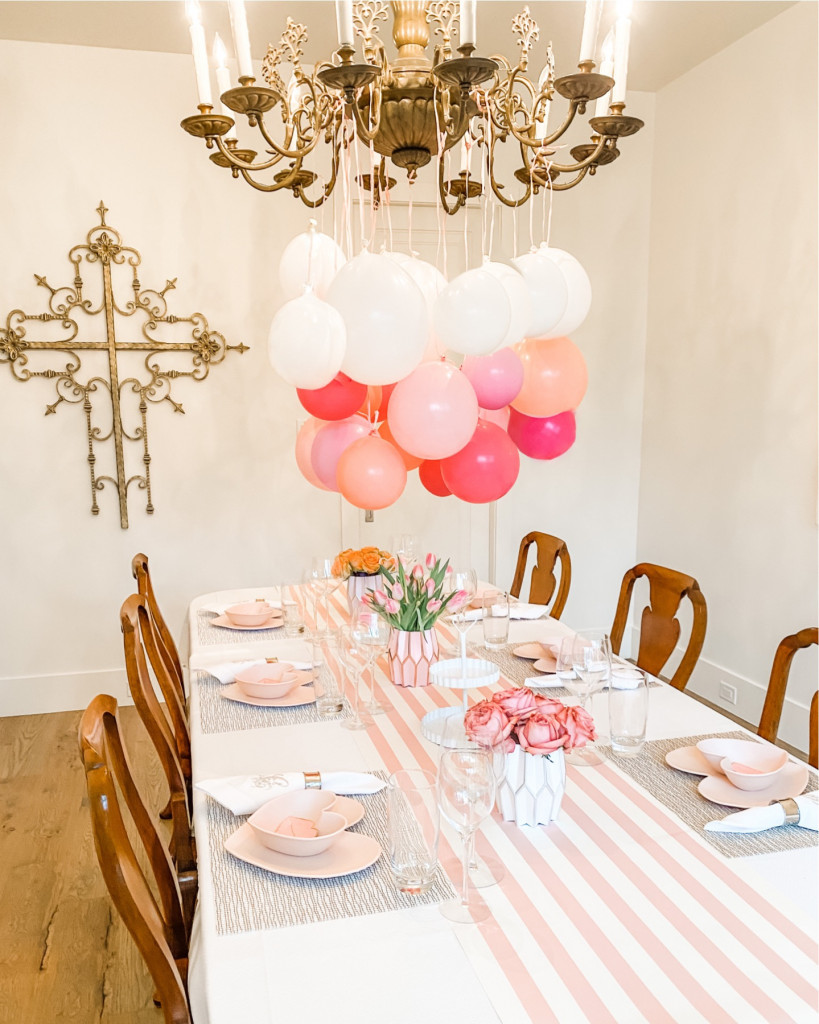 This year, I am hosting a little (all girls) family "Galentine's" Day Tea Party! Following my own rules, I pulled out everything I have that could be used as Valentine's Day Decor. I spent hours on Etsy and Pinterest, searching for new ideas and nothing stuck out at me! I finally gave up, looked at my four year old and simply asked if she had any ideas for Mommy's Table. In true toddler fashion, all in one breath, she replied, "Pink! Lots of pink, and orange, and purples, and all the colors Mommy! Like a princess, and balloons and jelly beans! Oh Mommy, can I have a pink balloon?" 🙂 Shocked, I replied, "Well this sounds like a fantastic idea (but really, it did)! Thank you for your advice, this was exactly what Mommy needed, just a little direction!" And yes, she got her pink balloon 🙂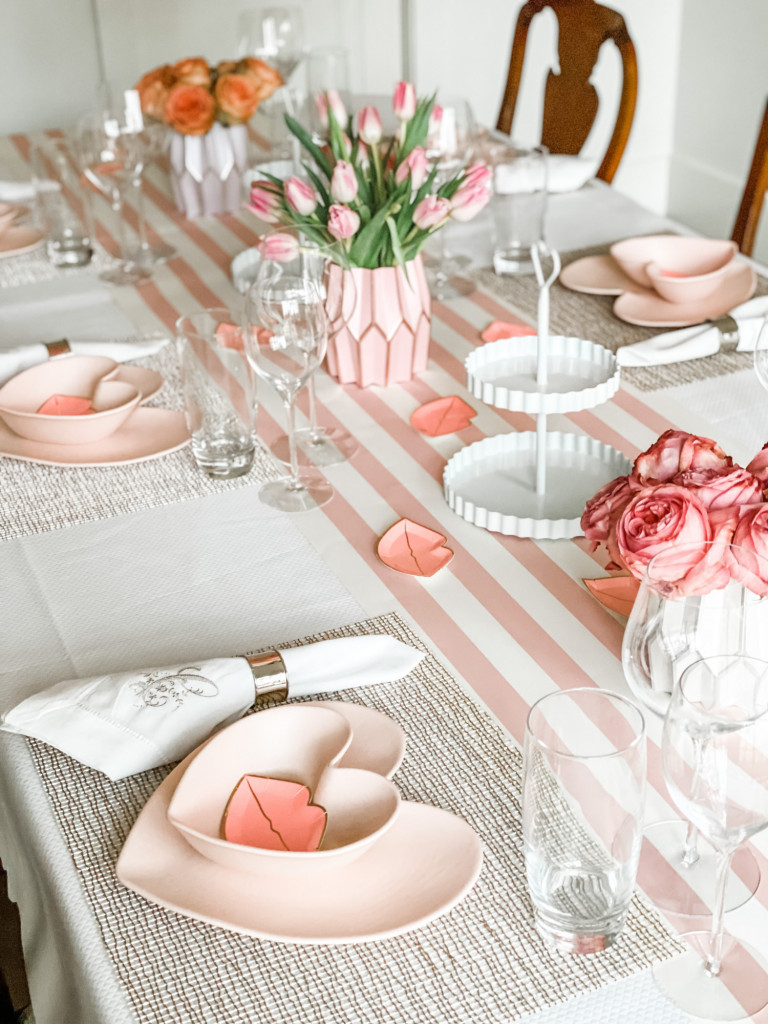 These pale pink Heart Shaped Melamine Dinner Plate and Bowl I found at Target for $3.00 a piece! The white Tiered Cupcake Tray I found in the Dollar Bins for $5.00 a piece! Having just thrown an outdoor birthday party for my youngest, I raided the Target Dollar Bins the first week of January! A day or two after a big holiday, is the best time to check out the Target Dollar Bins. Having gone the first week of January, I snagged some of my favorite Valentine's Day Decor pieces that I'm happy to store!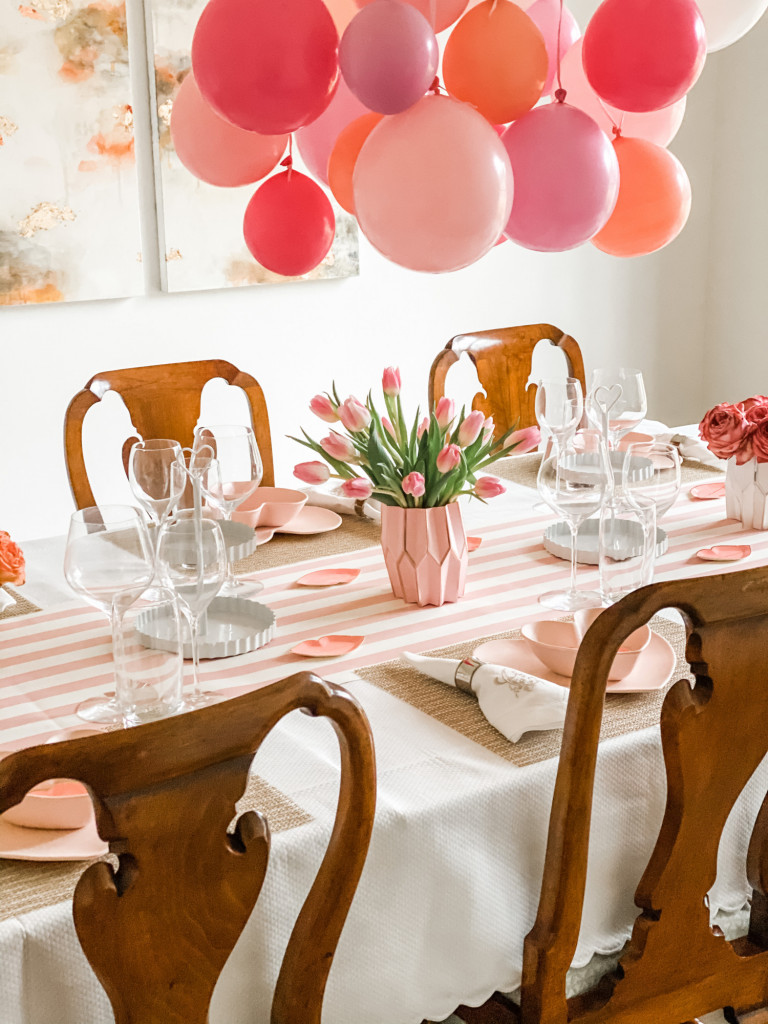 "Throw A Paper Party"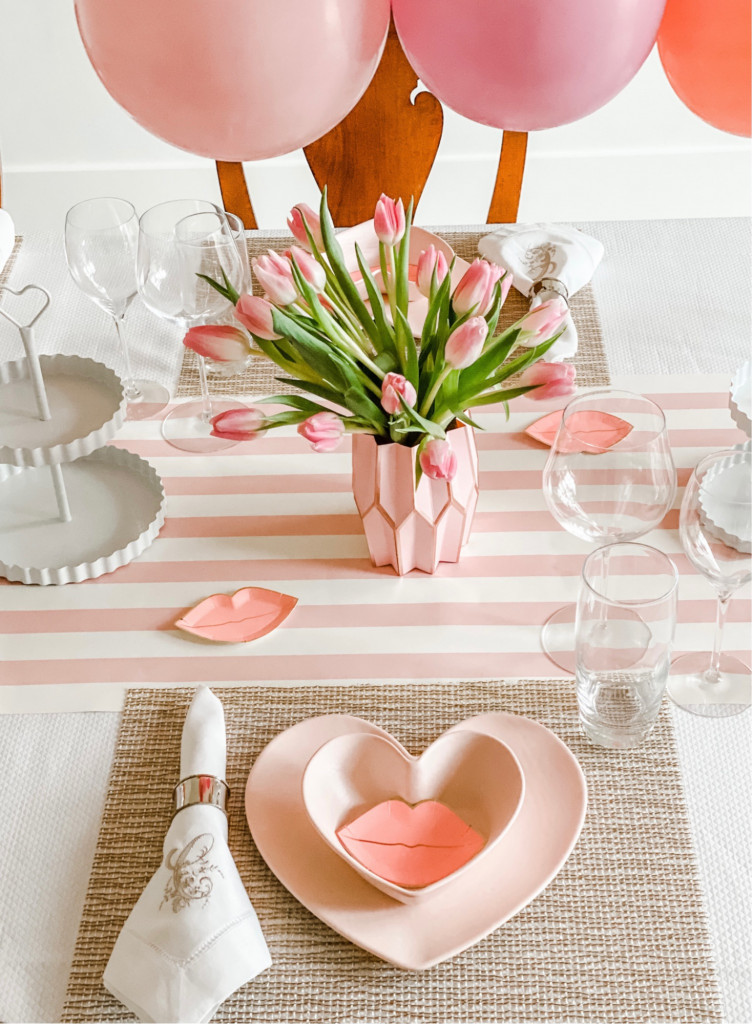 Lucy Grymes, "Throw A Paper Party", is and always will be one of my favorite go-to's for my table and home decor. Her paper placemats and paper vase covers are just about the cutest things ever! I love to find ways to add a little bit of Lucy to my tabelscapes and home decor because (1.) it's really pretty, (2.) everyone comments on how beautiful her products are, and (3.) all of her products are paper, ie. disposable, which means, no storage space  lost!
Use my exclusive Lucy Grymes code MEGAN15 at checkout to receive 15% off your order! Check out more of my Lucy Grymes favorites and how I've used her vase covers and placemats at the end of this post. Great gift ideas too!
More Valentine's Day Table & Decor Ideas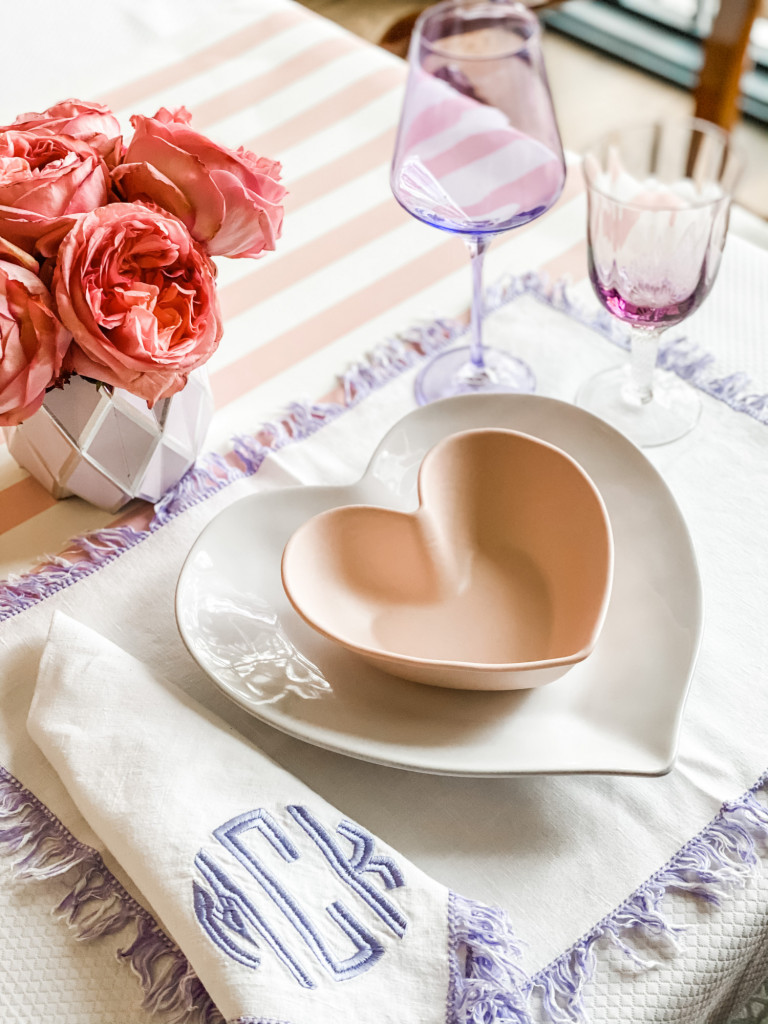 Similar napkins linked here.
Move over pink and red, or just make some room for purple (more specifically lavender) bc it should considered a Valentine's Day color too! Really loving lavender for my tablescape!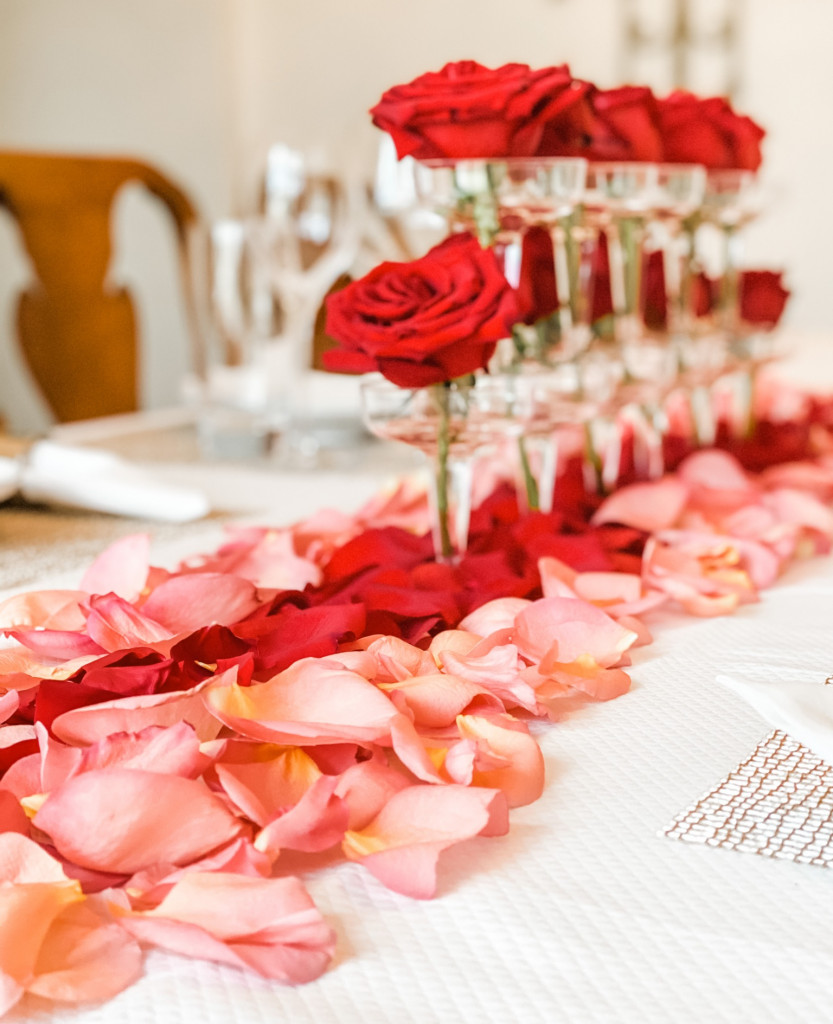 An affordable DIY centerpiece idea!
My flowers were dying and I wanted a new centerpiece for my Valentine's Day Table. I cut down the balloons and threw away the pink table runner. I wanted to incorporate some red into my tablescape, but I didn't have a table runner that would work. Instead of buying a new one, I created one with rose petals! Most of my red roses had a little life left, and I had an idea. I had a "Champagne Pong" game that was left over from New Years Eve! I took out the champagne coups, I filled each coupe with a little water, added a rose stem and VOILA! A beautiful and affordable, repurposed centerpiece!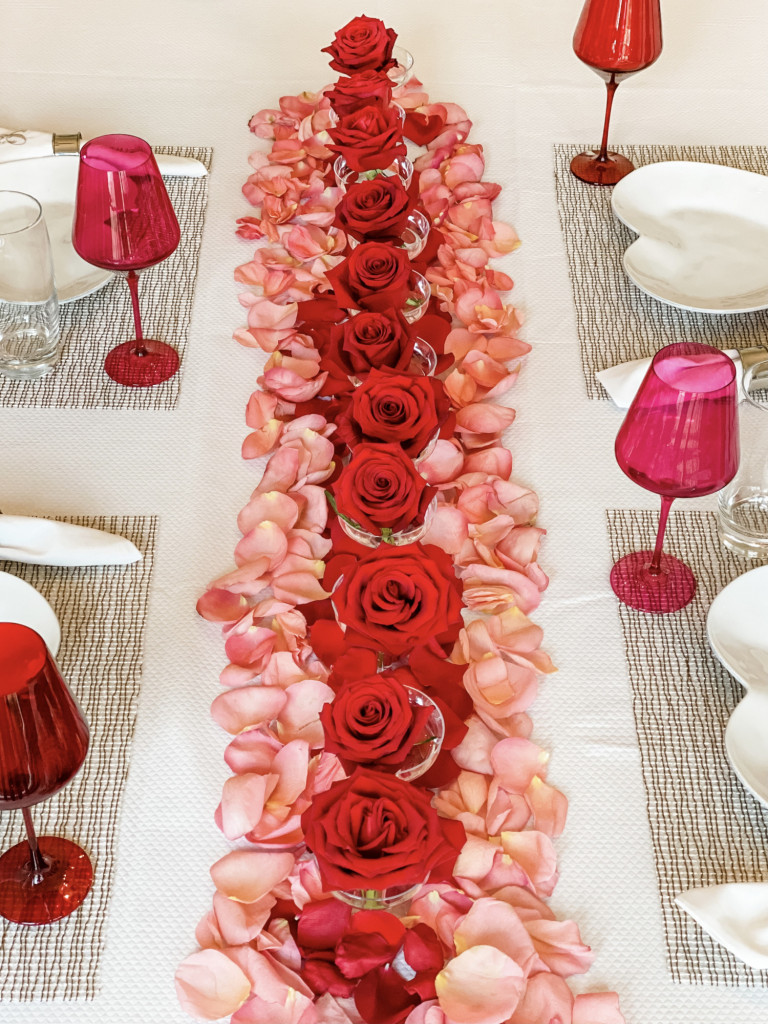 I played with the champagne coups, stacked them, and then lined them up across the "table runner". I also played with my Estelle Colored Wine Glasses and plain Crystal Stemware. I can't decide which one I like best! What's your favorite?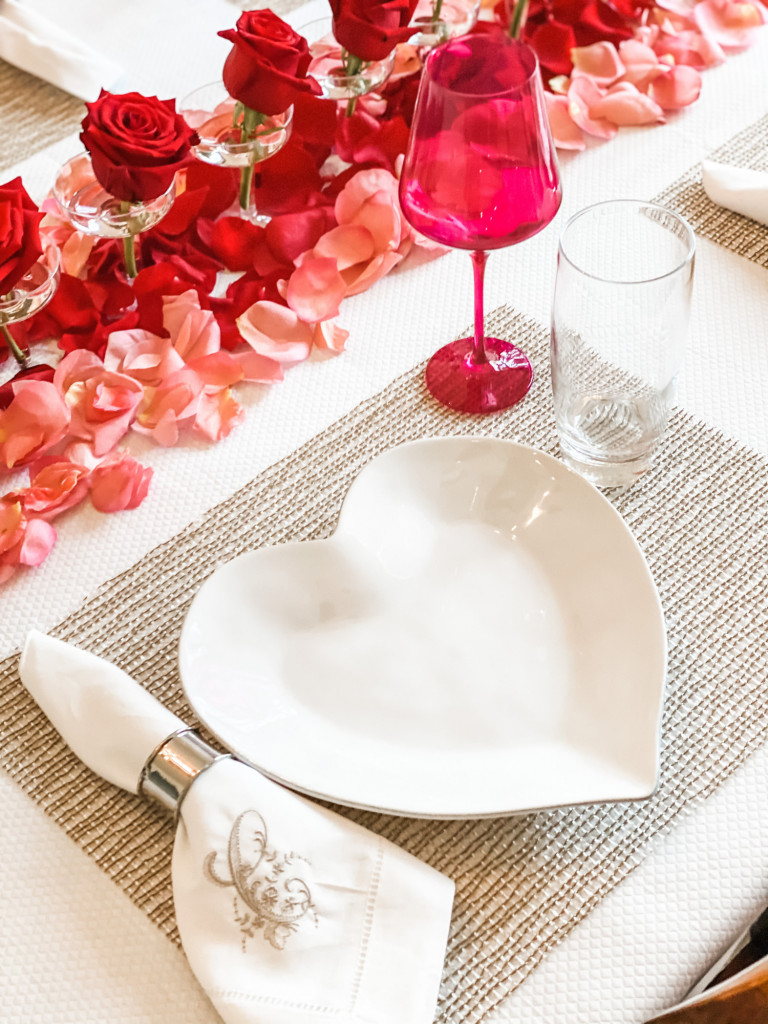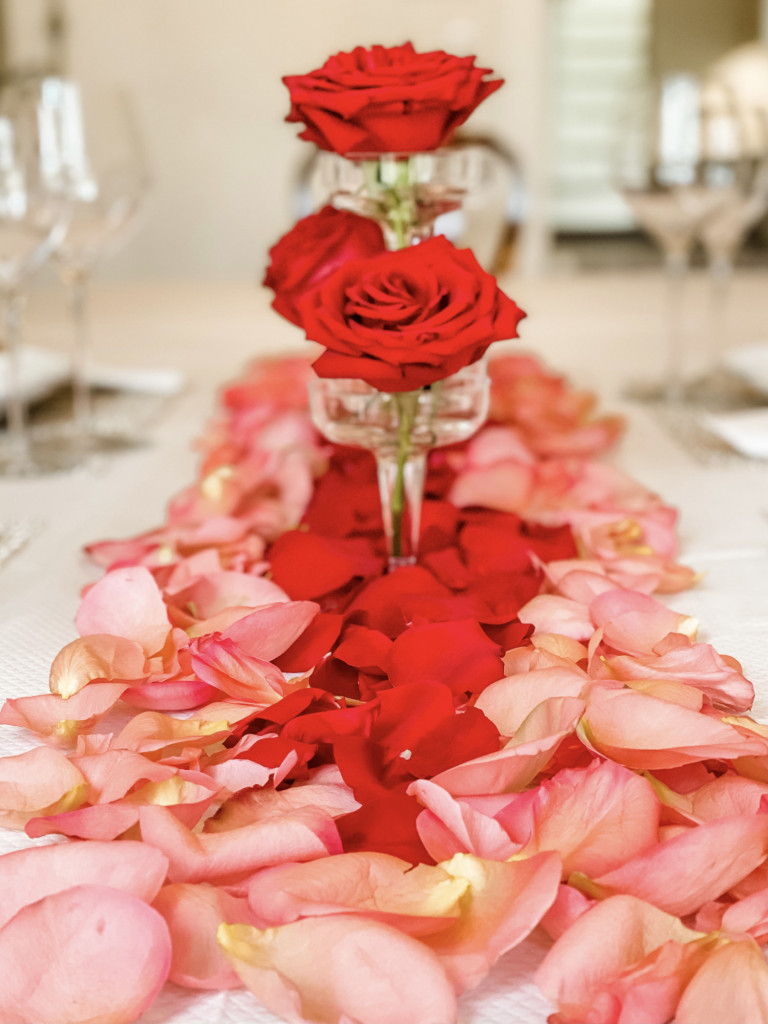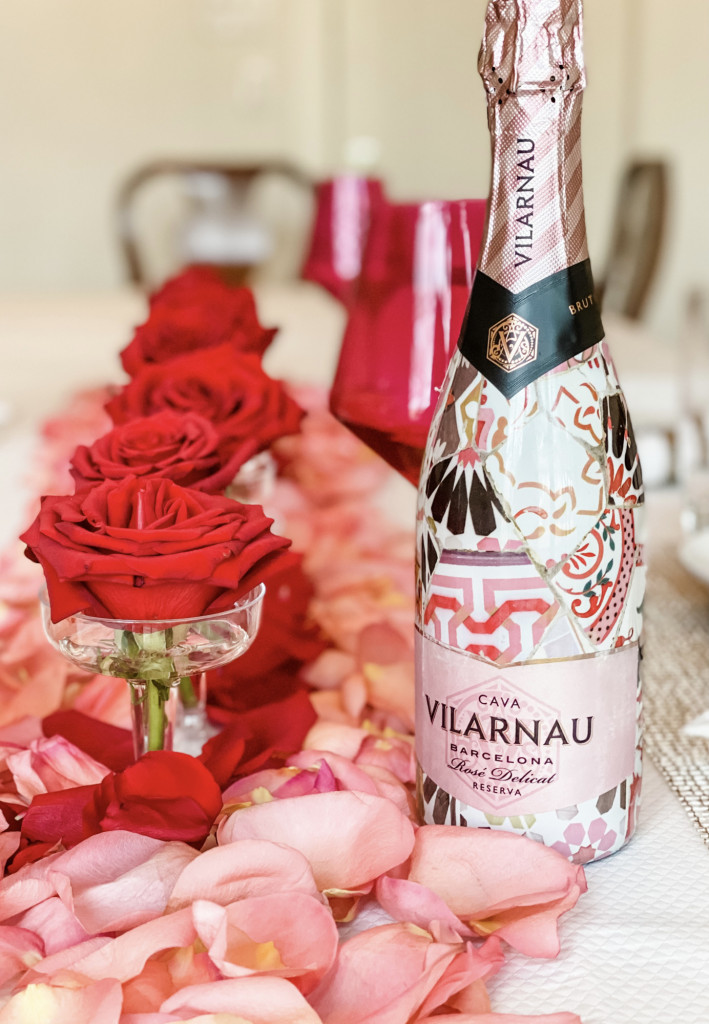 Received this bottle of Champagne as a gift! I may not open it because the bottle is so pretty (haha)!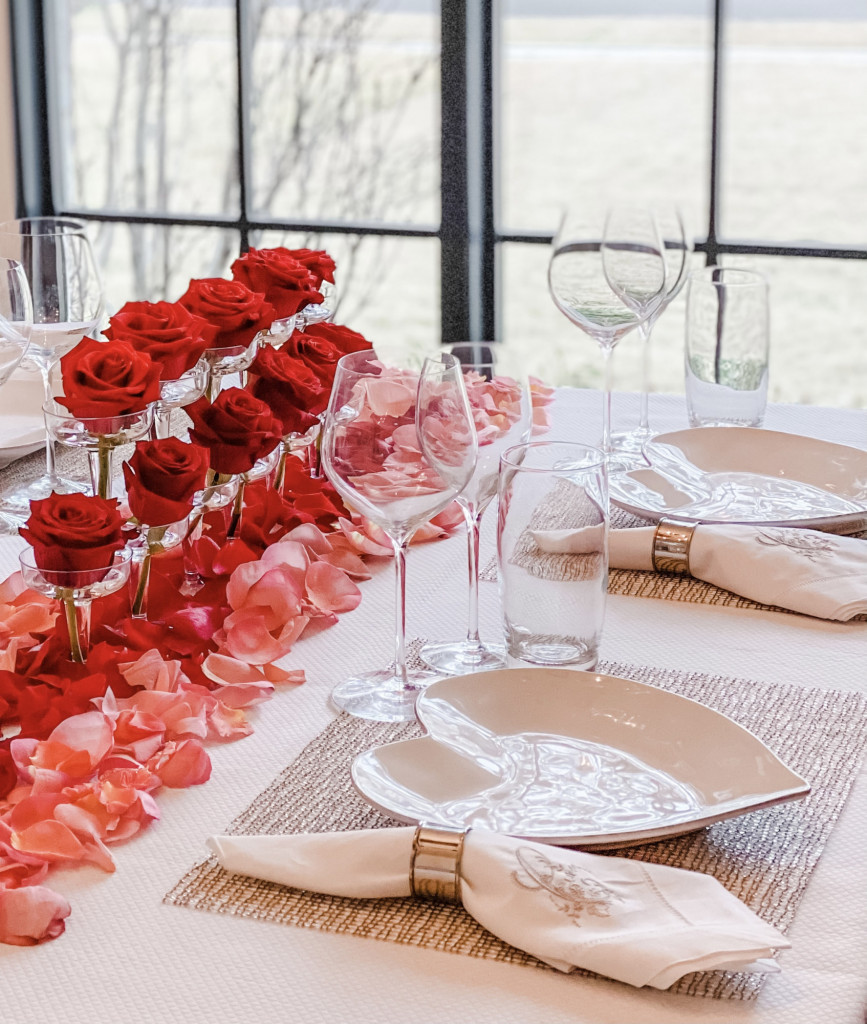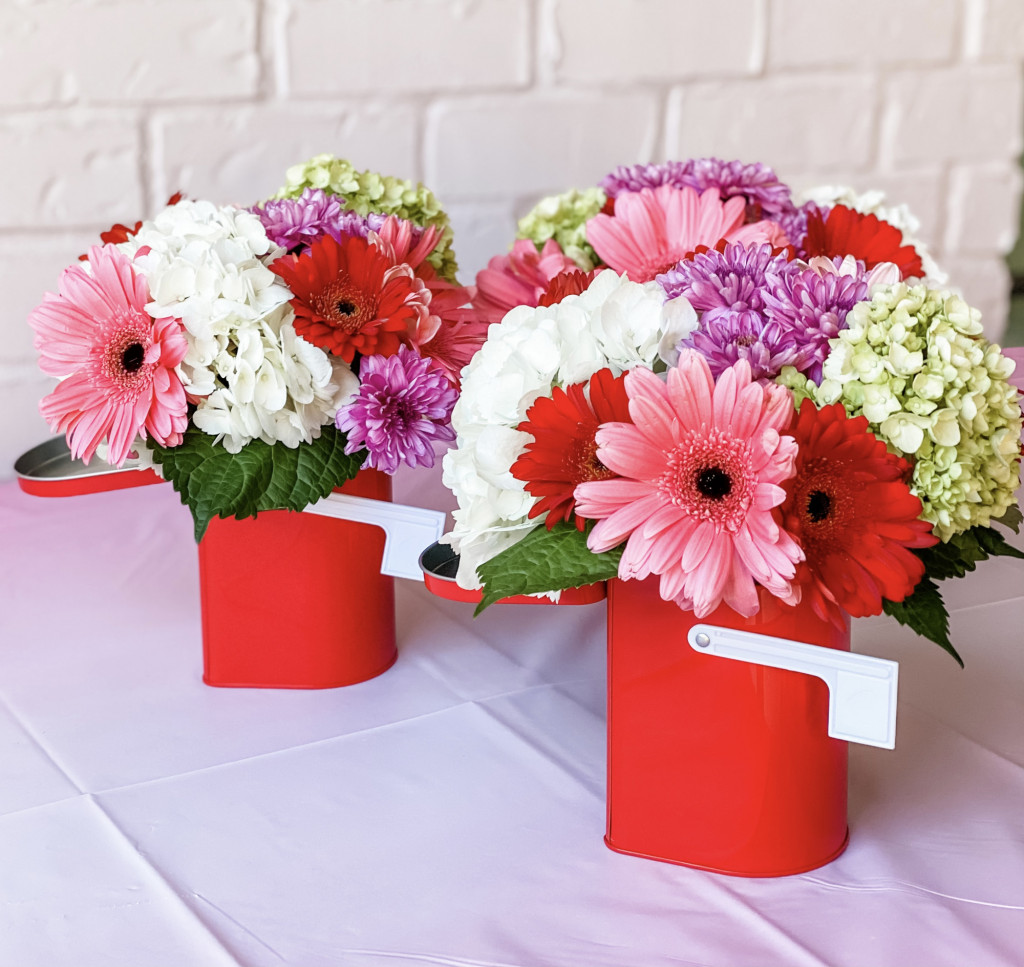 As I mentioned earlier, my youngest had her birthday party recently and along with the white heart cupcake tiered tray, I snagged these $3.00 red mailbox tins from the Target Dollar Bins! Went to Trader Joe's, bought two bouquets of mixed flowers, put a plastic cup inside of the mailboxes and filled them with flowers! What an easy, affordable gift idea for your friends, family, and teachers too!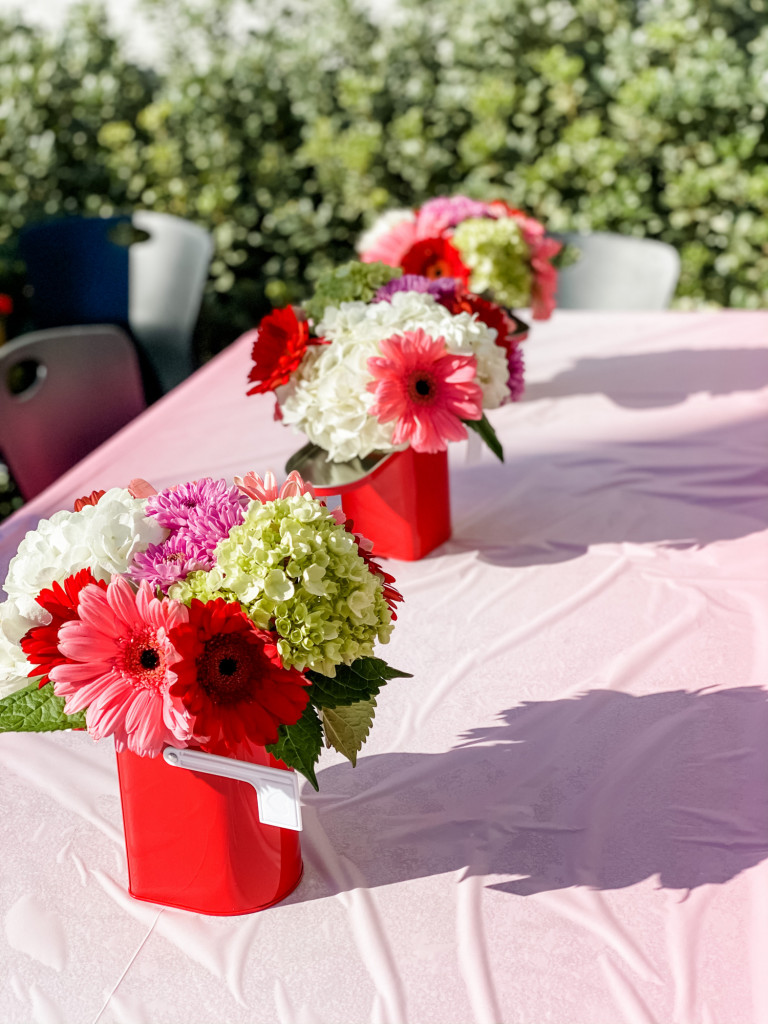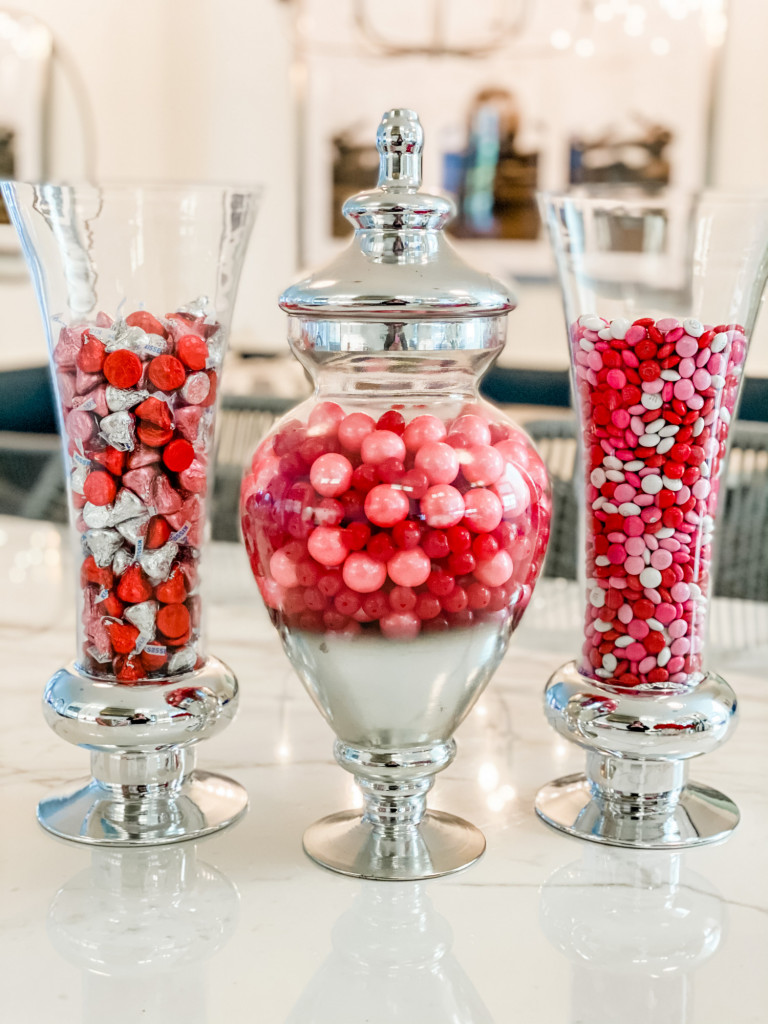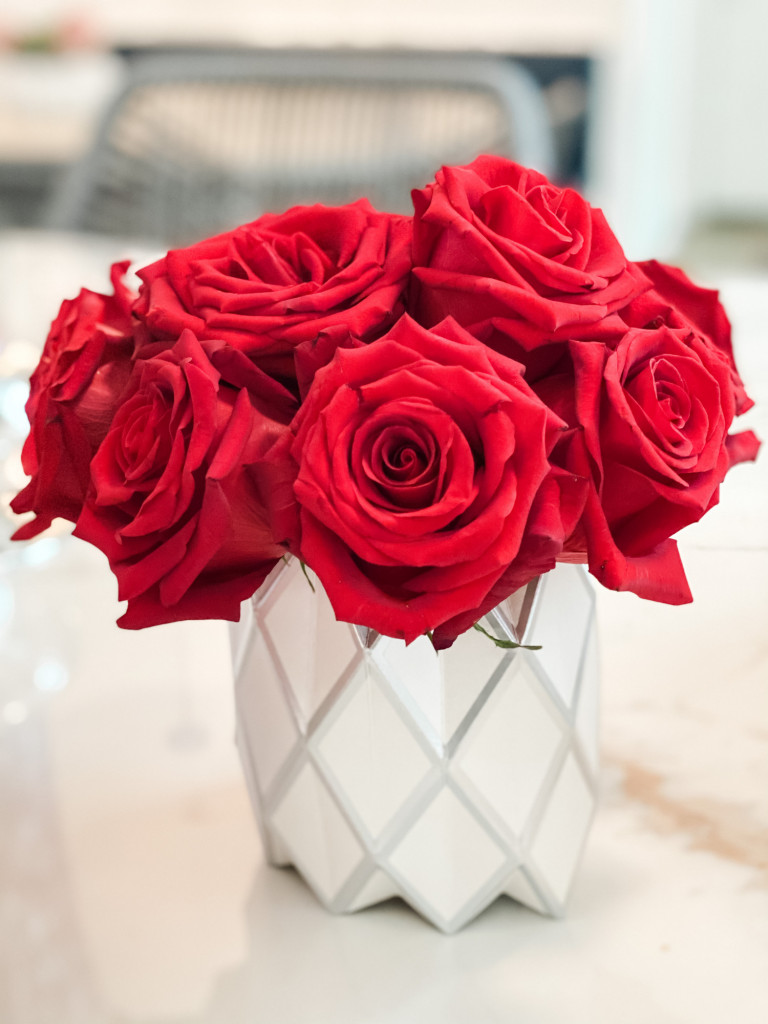 Quick, easy, affordable Valentine's Day Decor idea… get some glass jars, fill them with pink and red candy, and VOILA, now you have a tasty and decorative centerpiece! How pretty are these red roses from Trader Joe's (8 stems for $7.99) in my Lucy Grymes white vase wrap? Lastly, I'm in love with these Estelle Colored Wine Glasses, think this whole set up is perfect for a red and hot pink tablescape!


Valentine's Day Table & Decor Finds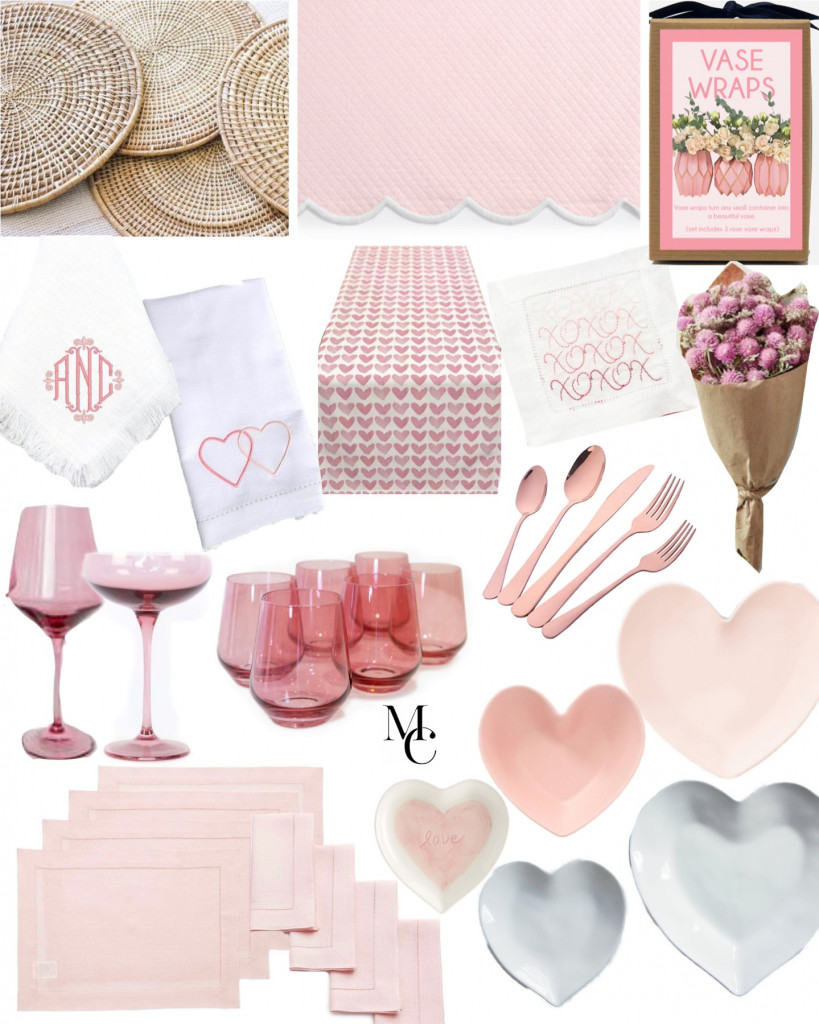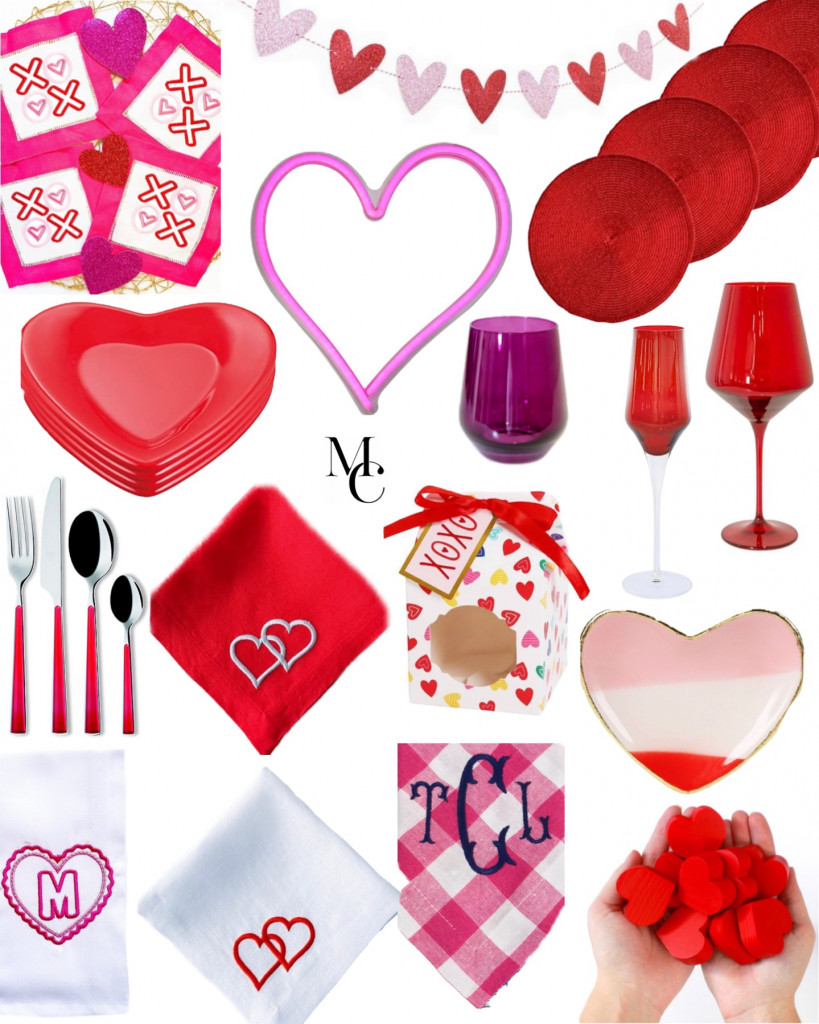 More Decor Finds

Lucy Grymes – Valentine's Day Gift Ideas
I have three of her vase covers (in different colors) on my Valentine's Day Table. Her vase covers are sold in multiple colors, and they come in a set of three for $18. Recently, I bought a box of vase covers, and I plan to fill them with some freshly cut roses from Trader Joe's ( TJ's has very affordable and pretty flowers), to give as Valentine's Day Gifts for my girl's teachers!
Personalized Reindeer Paper Placemat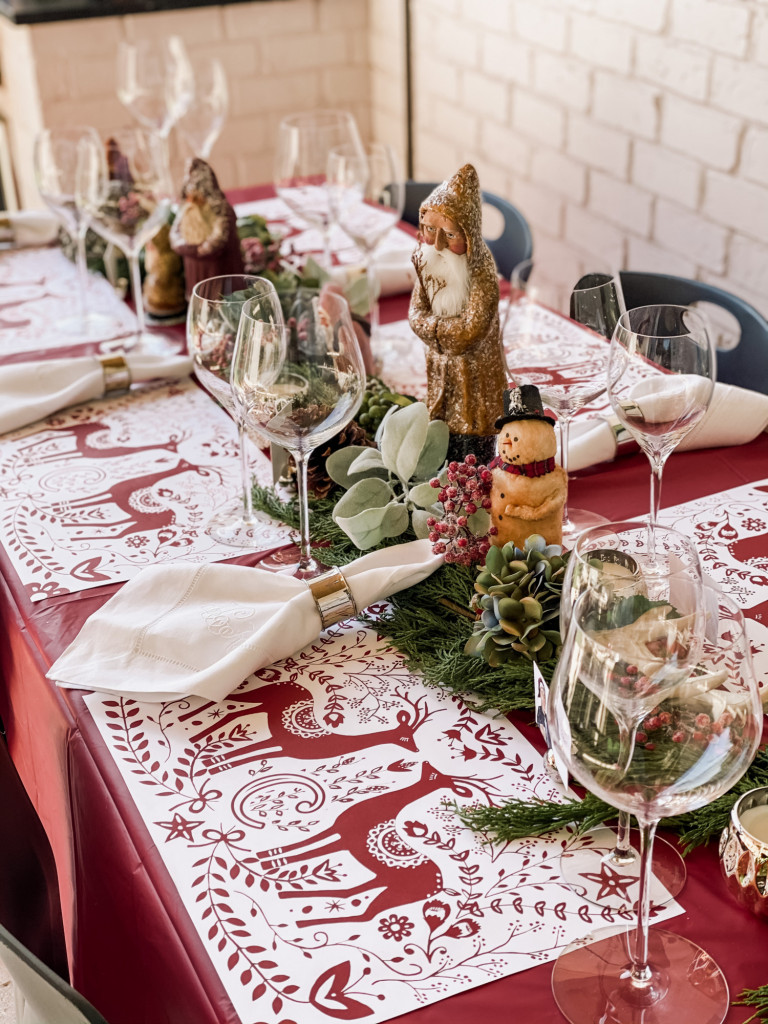 Vase Cover repurposed as a lamp cover :D!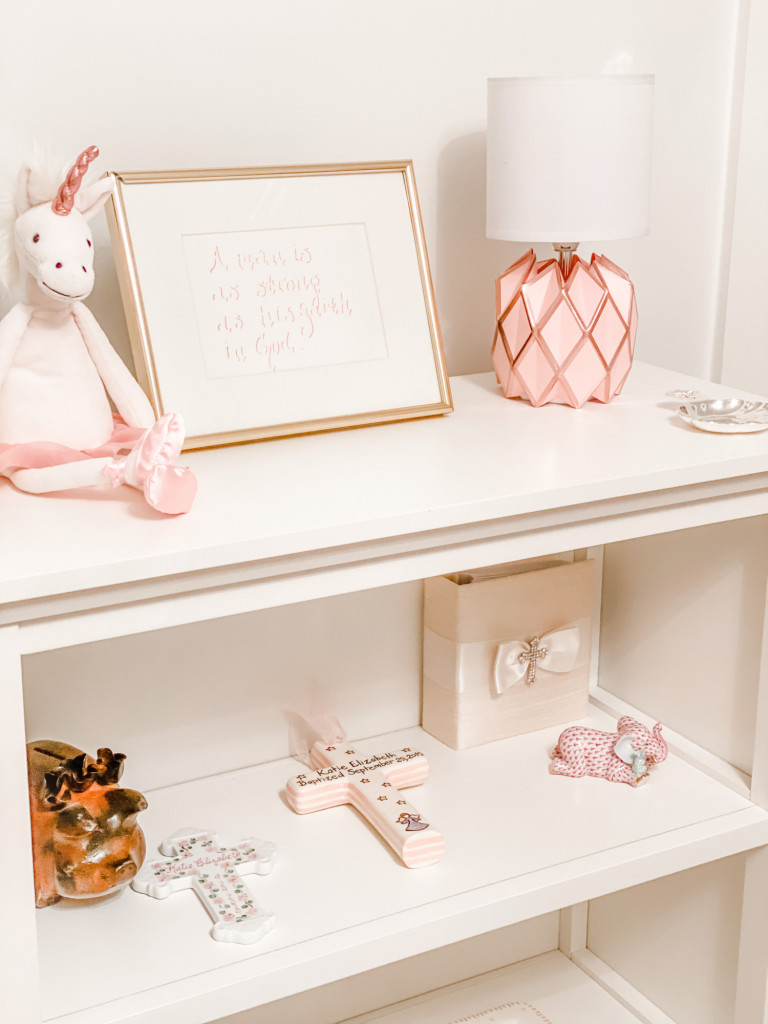 Placemat repurposed as an acrylic tray insert!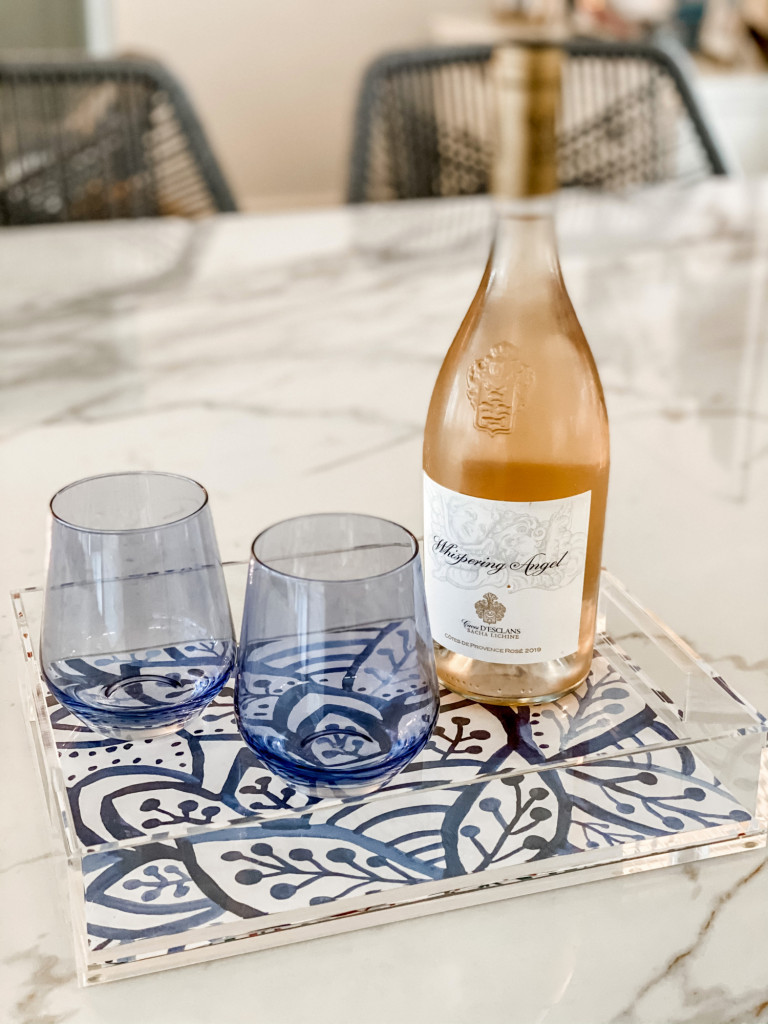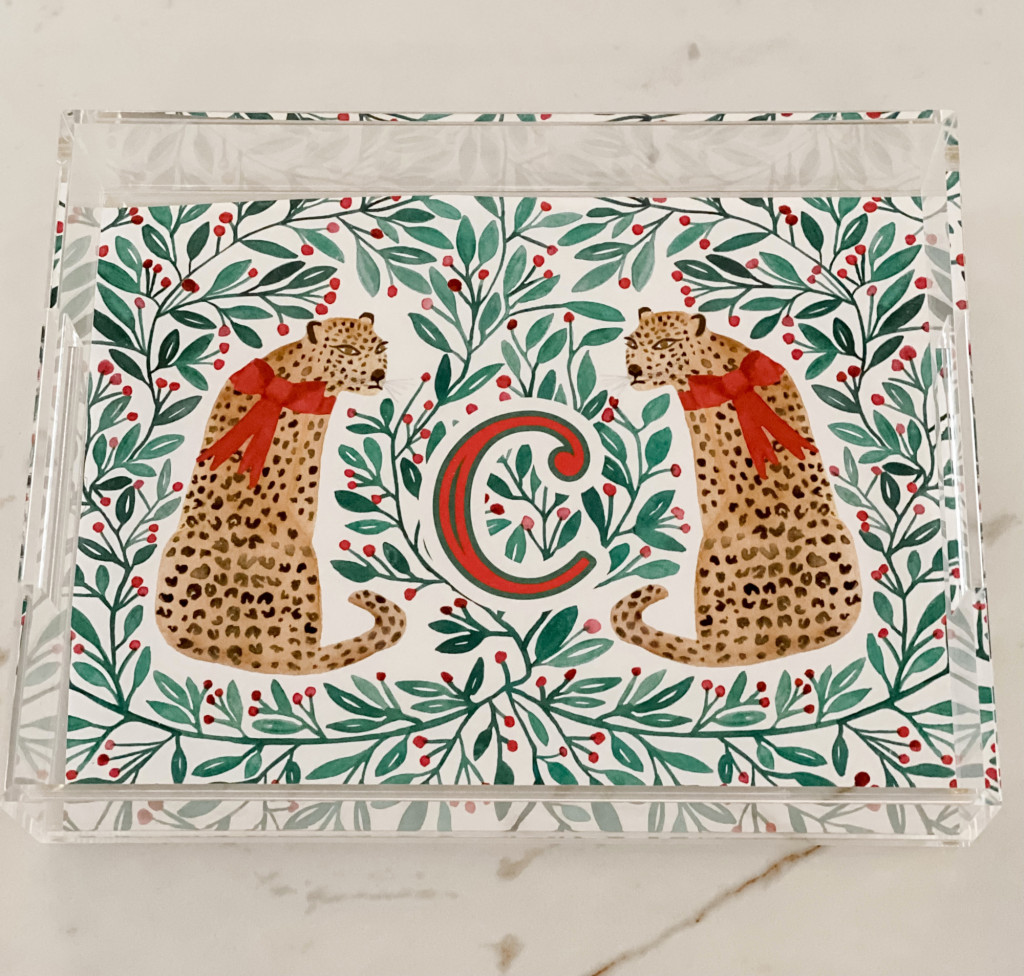 Personalized Laminated Placemats as Place Cards!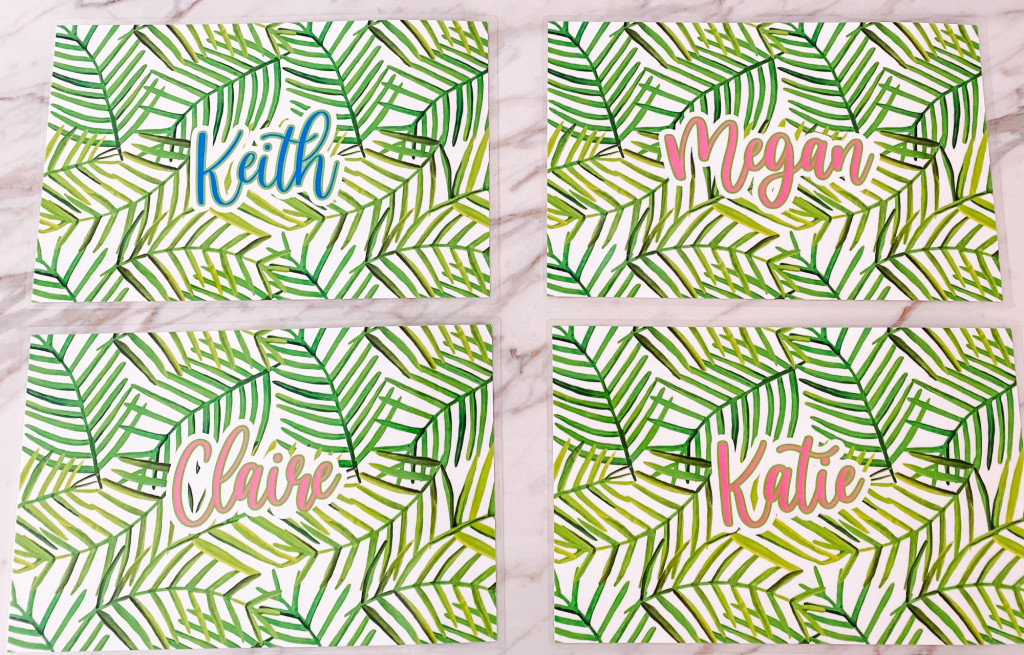 Double Sided with a C on the back, in case you have guests.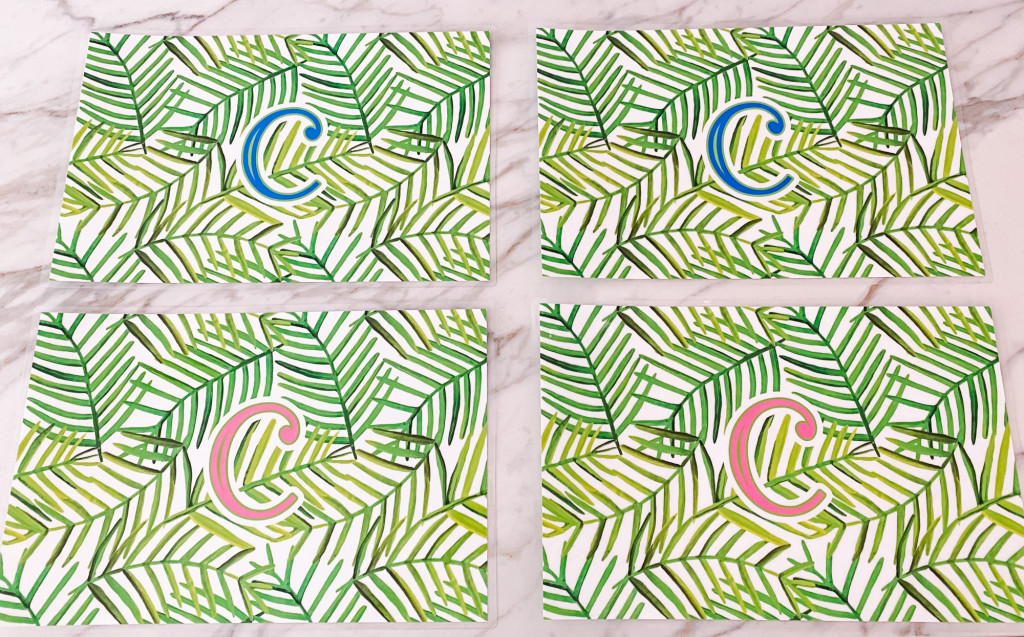 Use my exclusive Lucy Grymes code MEGAN15 at checkout to receive 15% off your order!
Gift Idea For Valentine's Day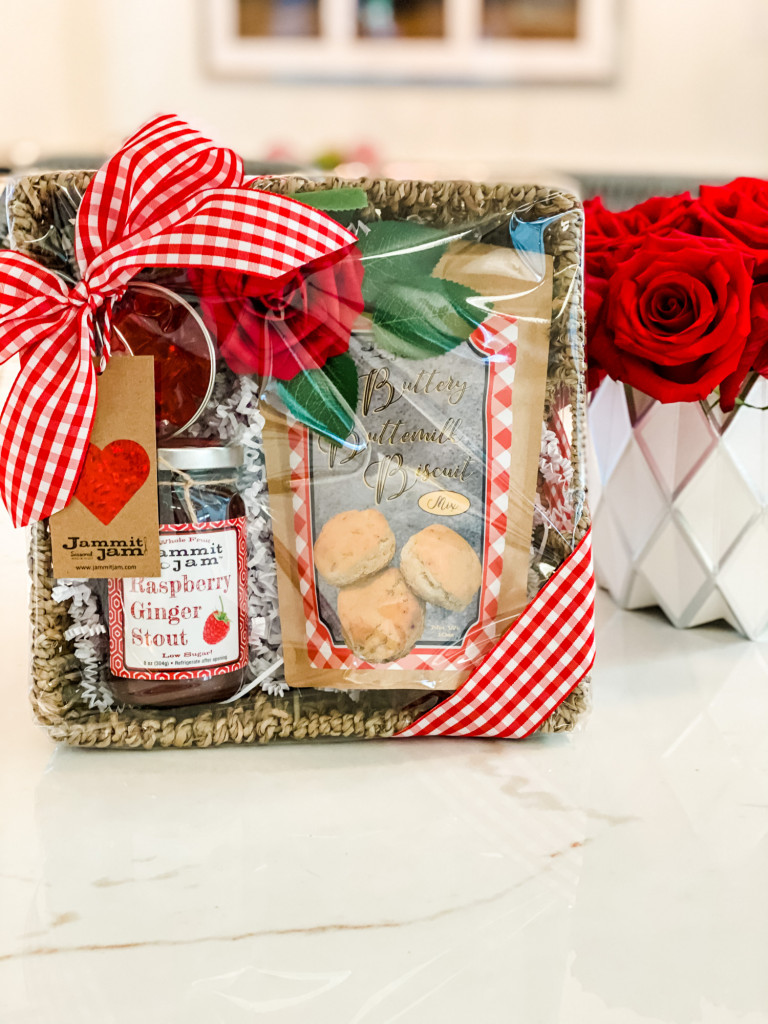 Just picked up this cute and oh so tasty, Jammit Jam Gift Box today! This box of Raspberry Ginger Stout Jam and Buttery Biscuit Mix will be a Valentine's Day Gift to my girl's teachers! I also picked up several jars for myself. My favorite part, Jammit Jam's jams have very little sugar and also provides food pairings on the back of each jar! I've got a Valentine's Day themed Charcuterie Board with my favorite Jammit Jams coming soon 🙂
Need some more Gift Ideas for your Valentine? Click here to check out my Valentine's Day Gift Ideas for all your loved ones!
New ideas posted daily :)!