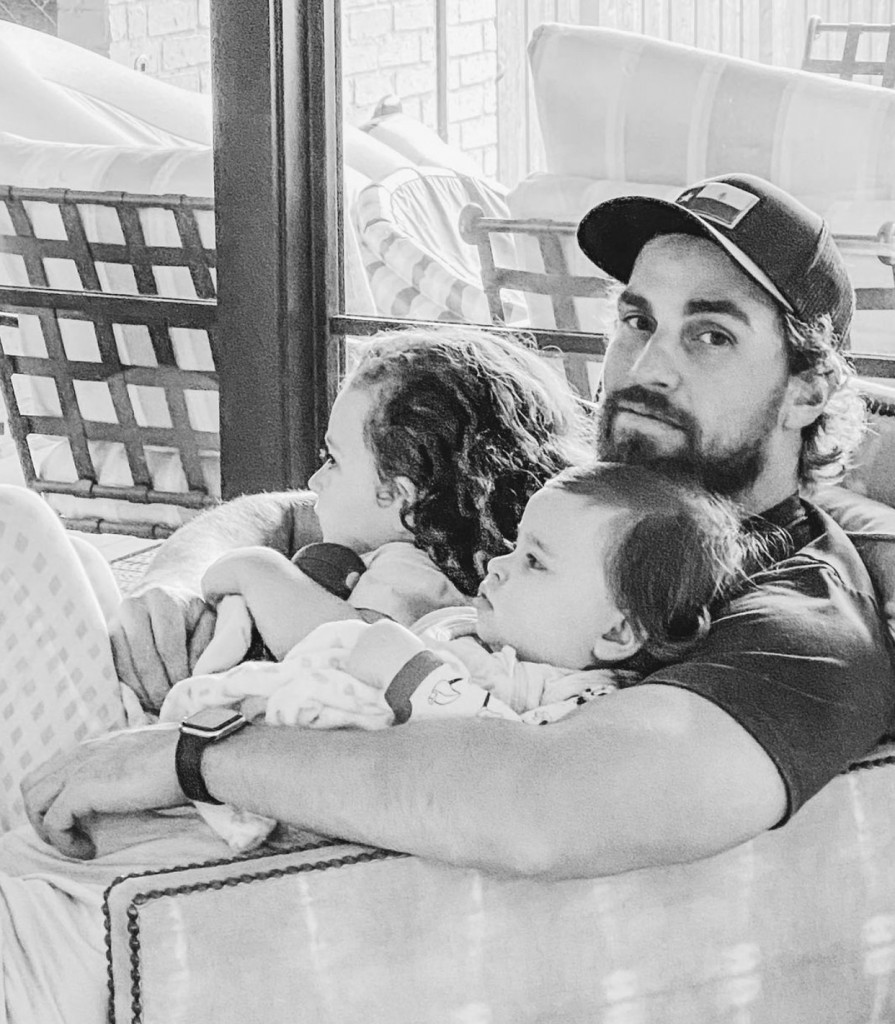 Father's Day is near and I've rounded up my top 50 gifts for you to give Dad this Father's Day! Show the men in your life how much you appreciate them with all these amazing gifts below. Whether he is an outdoorsmen, a grill master, the golfer, the sommelier, the sports lover, the fine scotch drinker, the Dad who has everything, etc.,  I'm pretty certain there is a gift here for him! So let's get Dad the gift he deserves just in time for Father's Day, Sunday, June 20th!
Top 50 Gifts For Dad
Theragun Prime
Give Dad the ultimate sore muscle, deep tissue massage tool "used by professional athletes and dad's everywhere!" We own the Prime and Keith LOVES this thing. There isn't a huge difference in the Elite and the Prime, but the Elite has a little more force than the Prime. Linked this and a few others at different price points below.


Indoor Putting Green
Help Dad's short game by gifting him this 3×9 Indoor Putting Green!

On Cloud Running Shoe
Keith's favorite running shoes! These are super comfortable and give you the best support too.

20-Ounce Insulated Storage Bottle
A 2o oz. hot or cold Insulated Storage Bottle! Now dad can go to the gym and have all his essentials underneath his water bottle!

Estelle Colored Low Ball Glasses in Gray Smoke
Swap out your plain Low Ball Glasses for these gorgeous, yet masculine Estelle Colored Low Ball Glasses! Linked the Amber Smoke Wine Glasses and Champagne Coups too!

Custom Monogram Whiskey Ball Mold And/Or Monogrammed Tray Mold
How awesome are these ice molds? These are totally customizable and such a unique gift for Dad that he will be sure to love!

Estelle Colored Decanter in Amber Smoke
A beautiful decanter for his whiskey or scotch!


Joule Sous Vide
For the Dad that loves to cook, get him a Sous Vide! The"Joule is the smallest, most powerful sous vide tool available. It heats water faster than any other immersion circulator or precision cooker and holds the temperature with absolute accuracy to ensure perfect results every time".

Mizzen+Main Dress Shirts
Keith's favorite button downs! These shirts are the absolute best because they are sweat wicking, machine washable, and offered in several lengths and sizes too!

Watch Winder
How good looking are these watch winders? I love the copper and black one and think it would look really cool on Dad's bathroom counter!

Vertuo Plus Coffee & Espresso Single-Serve Machine
For the Dad that loves his coffee and/or espresso!

Cafe Du Monde French Roast Coffee
The famous Cafe Du Monde French Roast Coffee you can now order and drink from the comfort of your own home!

Digital Counting Jumprope
For the fit Dad that loves to track his activity! This Digital Counting Jumprope counts your jumps and your burned calories too!

Projector & 20 ft. Inflatable Movie Screen
For the Dad that loves to entertain and be with the family, then this inflatable movie screen and projector are perfect for Family Movie Night!

30 oz. Yeti Tumbler + Narwhal Bluetooth Yeti Lid Speaker
Featured on my Instagram page, this Narwhal Bluetooth 30 oz. Tumbler Lid Speaker is such a cool gift for Dad. He can sip his drink while listening to his favorite tunes! This speaker lid will fit any 30 oz. tumbler.

Austin Air Purifier
This was a gift I gave to Keith (us) several years ago. The filtration system on this Air Purifier is unlike any I've ever seen or used. Not only does this purify the air, it also got my hubby to stop snoring 🙂 The white noise on this machine will send you and Dad right to sleep every night! We swear by this machine, and even bought one for our girls rooms too. I will say, we have great sleeping toddlers and I do believe this machine has a lot to do with it!

Allbirds Shoes
The most comfortable shoes he will ever own! These shoes are so comfortable and light, you'll forget you're even wearing shoes at all!

ProV1 Golf Balls
When in doubt, and he plays golf, get him some ProV1 Golf Balls! This is a gift I give Keith for every Holiday!

Perini Ranch Smoked Beef Tenderloin
If Dad is a meat lover, order him the tastiest Mesquite Smoked Peppered Beef Tenderloin from Perini Ranch. When we do big dinners with my family, we eat Perini Tenderloins! Such a great co-worker gift too!
Click here to order.
Grooming Kit For Him
For the Guy that takes care of his hair & skin, get him these products that are made for him!

The Star Wars Archives Volume II
What Dad doesn't love Star Wars?
"Made in close collaboration with George Lucas and Lucasfilm, this second volume covers the making of the prequel trilogy—'Episode I The Phantom Menace,' 'Episode II Attack of the Clones' and 'Episode III Revenge of the Sith.' The extra-large tome continues a visual trip through the Star Wars galaxy with an exclusive interview with Lucas, script pages, concept art, on-set photography and more."

Vuori Strato Slim Fit Crewneck Tech T-Shirt
Stumbled across these in a clothing store recently and bought them for Keith. I mean these may be just about the softest sweat wicking shirts he will own! I bought Keith one, and he went back and bought four more colors!


Tile Essentials
This is for the Dad who forgets where he left his keys, his wallet, the remote, etc.! Get him the Tile Essentials Four Pack so he knows where he left his most prized possessions!

Ascot Slipper
For the Dad that just likes a new pair of slippers each year, get him these black Ascot Slippers by UGG.

Leather BiFold Wallet
  Seems a little boring, but every year I always hear guys say they need new wallets. This is a great quality, durable wallet that Dad will sure get a lot of use out of!

Creed Cologne
For the Dad who wears cologne, then get him Creed Cologne! This bottle is on the more expensive side, but it will last him for a year.

Custom 24 oz. Styrofoam Cups
When we make cocktails, my husband likes to make his "Frog Fuel"  cocktail in his Frog Fuel 24oz Styro Cups. We were running low, so for one of his birthday gifts this year, I got him some new Frog Fuel cups! I need to order more Hotty Toddy cups now :-/

Growlerwerks uKeg Go
The Growlerwerks uKeg Go in "Tungsten" is a cool gift to give the Dad that loves his beer! Take the taste of Draft Beer anywhere he goes with this Growler!

Waffle Robe
As we head into Summer, Dad may need a lighter robe while lounging around the house! This light weight waffle robe is a great gift for Dad!

The Purple Pillow
For the Dad who always has a sore neck and back, try the Purple Pillow! I've read many reviews on this pillow and I always see it popping up on other gift guides and my Instagram Ads! I may give this memory foam, super durable, soft, yet firm pillow a try myself!

Green Egg Genius
We know the Dad's that love to grill, probably own a Green Egg. But does he have the Green Egg Genius?
"The EGG Genius effortlessly controls the temperature of your EGG through your smartphone, tablet or computer. Remotely manage and monitor cooking temperatures for worry-free cooking, monitor the temperature of your food, view graphs of your cooks … and even receive alerts when your cook is finished or when the EGG temperature is too high or low."

Kamado Style Grill Grate
This Heavy-duty Cast Iron Grate is durable and easy to clean. Cast iron grates heat evenly and retain heat, empower you to be even more creative with your dish. Two sizes available depending on the size of his Green Egg.

'Everyday IPA' One Gallon Beer Making Kit
A beer-making  kit to make his tasty beer right in the kitchen. An easy-to-use kit designed for stove-top brewing that includes a premium malted-barley blend, hops, yeast and spices along with all you'll need to create your new favorite libation in just four weeks. The Everyday IPA kit produces a pub favorite with bold, hops-intensive flavor.

Waterproof Survival Kit Flashlight
"An ingenious waterproof flashlight secures a secret stash of gear—everything you need handy while camping out (intentionally or unexpectedly)." Perfect for the Dad that loves to go camping!
What's included: compass, beeswax candle (4 hr burn time), rope and razor blade, water purification tablets, wire saw (high tinsel up to 60 lbs. working strength), emergency whistle, fire starter kit with waterproof matches, Fishing kit with worms, hooks, split shot, bobber and line, P38 military GI type can opener, trail-hiking first-air kit, sewing kit, gear ties to hang gear, Biodegradable cleaning cloth, and VSSL extra-strong multipurpose tape!

Cool™ Air Purifier & Fan Tower by Dyson
Dyson's latest purifier combines intelligent sensing with an advanced filtration system. Perfect for his office or the bedroom too!

Teakwood Wine Chiller
Chill your wine in style with this insulated stainless steel bucket covered in an earthy woodgrain print that'll beautify your bar cart. Gift this to Dad with a nice bottle of red wine! Or shop the other teakwood products that would look great on his bar!

ESPN+ Subscription
Send a year of exclusive live sports and originals to the recipient of your choice. Choose a delivery date and they'll email your gift with instructions on how to redeem. 1 year $59.99!
Click here to purchase.
iBobbler
For the Dad that loves to Fish! Gift him this ReelSonar Wireless Bluetooth Smart Fish Finder! "Using an iPhone or Android mobile device anglers can mark fish, map depth contours and underwater structure, save water temp, weather and location, species, photos and hot spots!"

Blue Light Glasses
I recently got Keith a pair of Blue Light Glasses for his birthday! Blue Light Glasses protect our eyes from the harmful lights emitted through our computer screens and phones! No more tired, red eyes, and for some, no more headaches too! These are prescription friendly frames and can be taken to an Optometrist to be filled too!

Fun Father's Day Printable
For Mother's Day, many of us received these "All About My Mom" in our children's school bags! This is such a treasure and I think Dad and Grandfather's would love it too!

Custom Corn Hole Board
The Muddy Dog is a brand I use time and time again. All of their products are great quality and will last a lifetime! These custom corn hole boards are so fun and they can do just about any custom work you dream of!

Wine Preservation System
For the Dad who enjoys his fine wine! "Enjoy Wine On Your Own Terms- the Coravin wine system gives wine enthusiasts the freedom to pour any wine, in any amount, without removing the cork."

Countertop Ice Maker
My favorite thing about Chic-Fil-A (minus the sauces of course), is the "Sonic Ice" in my drinks! Give Dad the gift of "Sonic Ice" for Father's Day! Trust me, he will love this Counter Top Sonic Ice Maker!
*This can make 26lbs. of nugget ice a day!

Vintage Brand Collegiate Cutting Board
One of my favorite hidden gems! Vintage Brand is a company that sells t-shirts, sweatshirts, hats, koozies, cutting boards, etc. of your favorite team's vintage logo! I have the Ole Miss Cutting Board Logo from 1986 and its my favorite cutting board I own! These vintage logo products are perfect for the Dad that loves any sports team! Collegiate and Professional Teams available.
To shop this website click here. To shop this cutting board, click here.
Tabletop Acacia Wood Bar Set
Dad's bar will be set with this Cherry Acacia Wood Bar Set.
"Full set includes acacia wood storage box, 16 stainless steel bar tools (6x cocktail sticks, 1x cocktail stick caddy, 1x cocktail strainer, 1x tongs, 1x bar spoon, 1x double-sided jigger, 1x muddler with plastic head, 1x corkscrew, 1x two-piece shaker, 1x paring knife, 1x bottle opener), ice bucket, mixing glass and marble cutting board."

Leather Briefcase/Messenger Bag
Now with many people leaving their home offices for their actual offices, gift Dad a new briefcase to carry all his office essentials!

Large Duffel Bag
"This large-volume duffel is built for wear and aggressive handling in a heavy-duty, water-resistant laminate fabric with a ballistic nylon bottom." With all the traveling he will do, set him up with the most durable duffle he will ever own!

Peter Millar Collegiate Gear
When in doubt, grab Dad a new polo or pull-over with his favorite team! Headed to college yourself? Grab Dad a new polo for GameDay so he can wear it when he comes to visit you!

Bose Smart Sound Bar
"Acoustic performance with 5 full-range drivers that delivesr wide, clear sound, which makes it the perfect sound bar for TV, movies, games, and more." Compatible with Alexa and Google Assistant!

Pinhole Press
Pinhole Press has the best custom photo books! I made this book for Keith last Father's Day and my daughter sleeps with this book every night! I also made my girls their own "My Little Book of Names and Faces" book and it's just precious. Take a peak inside Keith's "Daddy & Me" book from our Daughter two years ago!
Click here to go directly their site.
View more of my Gifts for Dad on my Father's Day Gift Guides.