On Instagram this morning, I shared a sneak peak of my Thanksgiving Tablescape.  I always post on my blog first, but I felt the need to share on IG because this Spode (featured in my post) is on sale for a limited time and you can get it before Thanksgiving! I explained to my followers how many of my tablescape favorites would be great gift ideas too. After stating that, I received a couple messages on how I would gift these items. So keep reading, and I will share several ways you can gift tableware to loved ones.
Hosting Thanksgiving this year, I began to panic a little because we don't have a full place setting for everyone. We have this beautiful dining table that was passed down from my husband's grandparents and it seats 17 people! Being able to seat so many, we were voted to host.
As I began to plan my table, I didn't want to spend a fortune on all new Thanksgiving themed dinnerware, linens, and barware. I knew I had to have a plan, a budget, and some creativity to be able pull off a beautiful Thanksgiving Tablescape without buying all new stuff!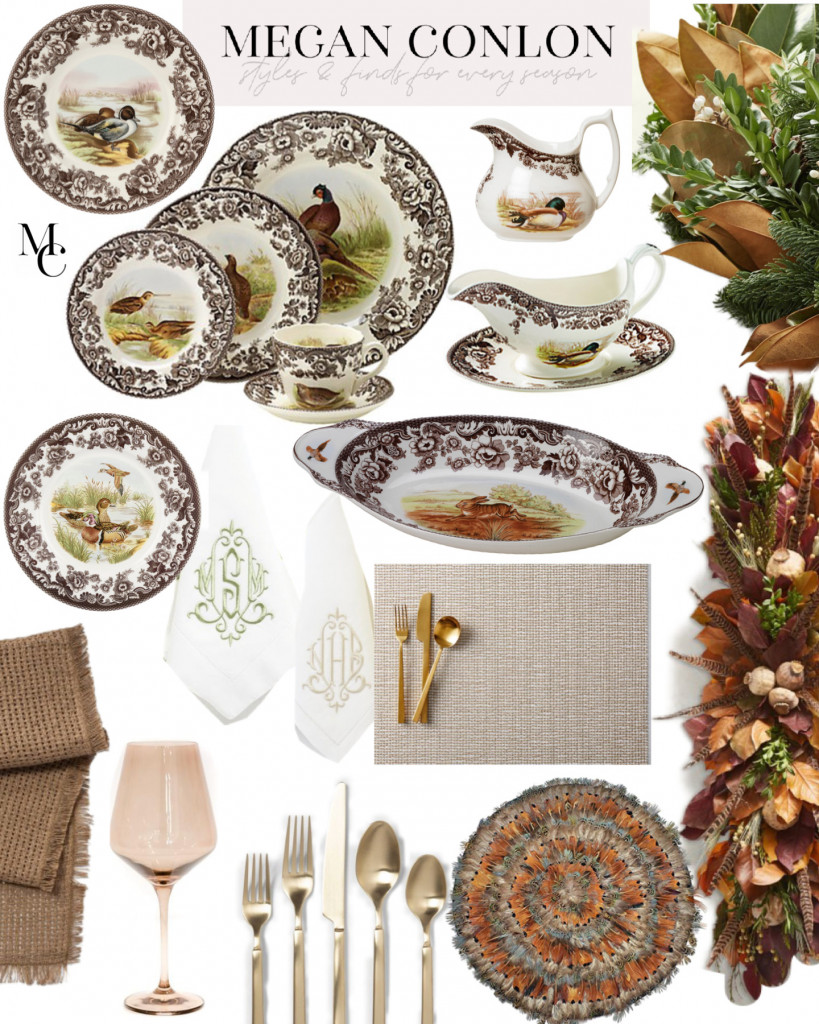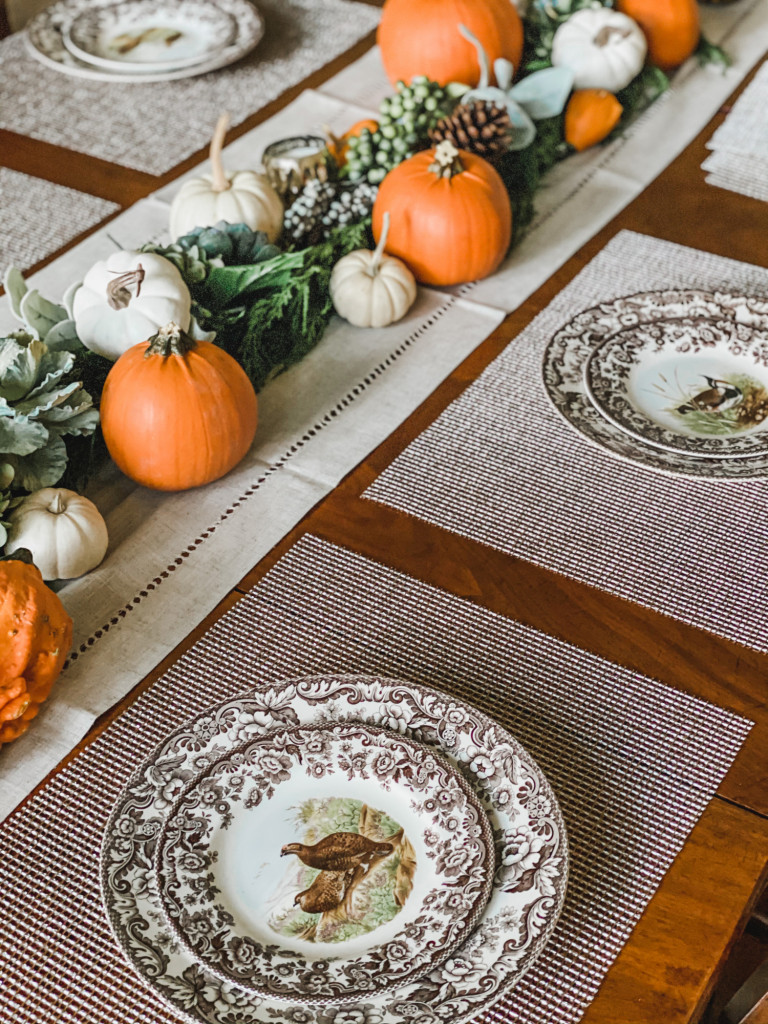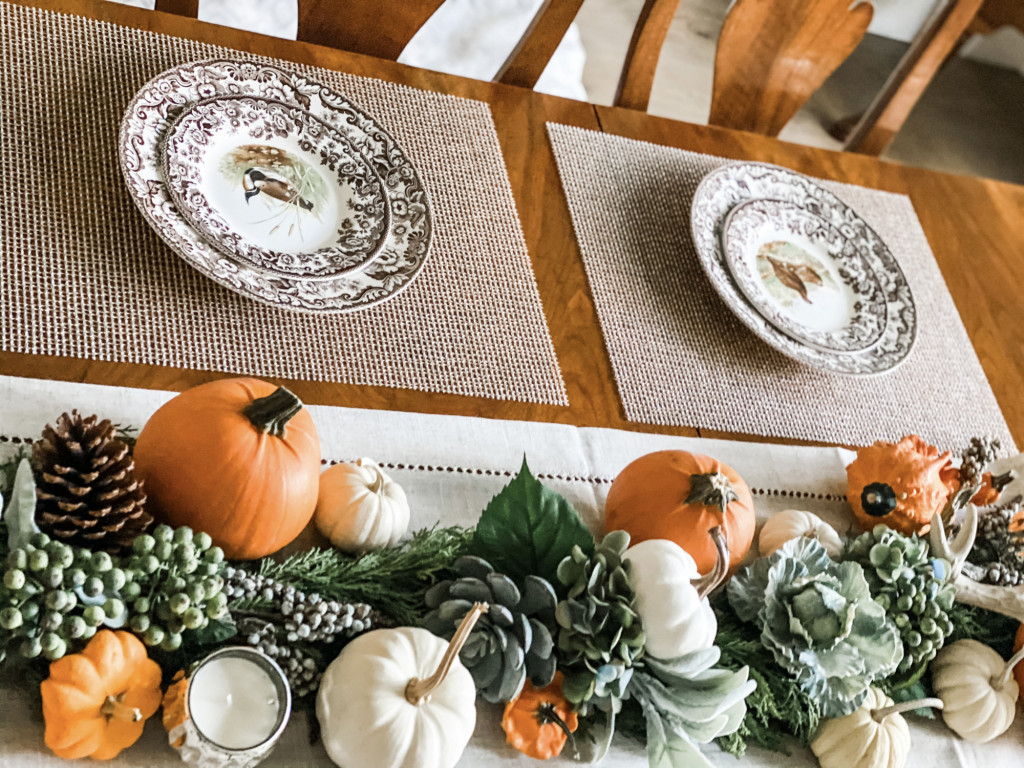 Below, I will share some tips on how I'm prepping my Thanksgiving table and linking some great tableware for you Holiday!
Borrow
My first thought was to borrow from my family. Ask Mom, Mother-in-Law, Grandma, Sister, etc. for pretty crystal, flatware, or dinnerware too! I had an idea for my tablescape and I knew my sister was the one to call.
My sister has been a Spode collector for years. Spode (for those that don't know) is an English Brand of homeware and pottery. They are known for their bone china, but also "produce pottery, stoneware, and earthen pieces" too. I love my sister's Woodlands Spode so much because I believe it appeals to both men and women. Gilt is having a major sale on this Woodland Spode and you can get it before Thanksgiving!
Gift Giving Tip* Before my sister had a full set, she hung these plates as "artwork" on her walls! If you or someone you love is a Spode collector, this Woodlands Spode would be a great gift idea!

Spode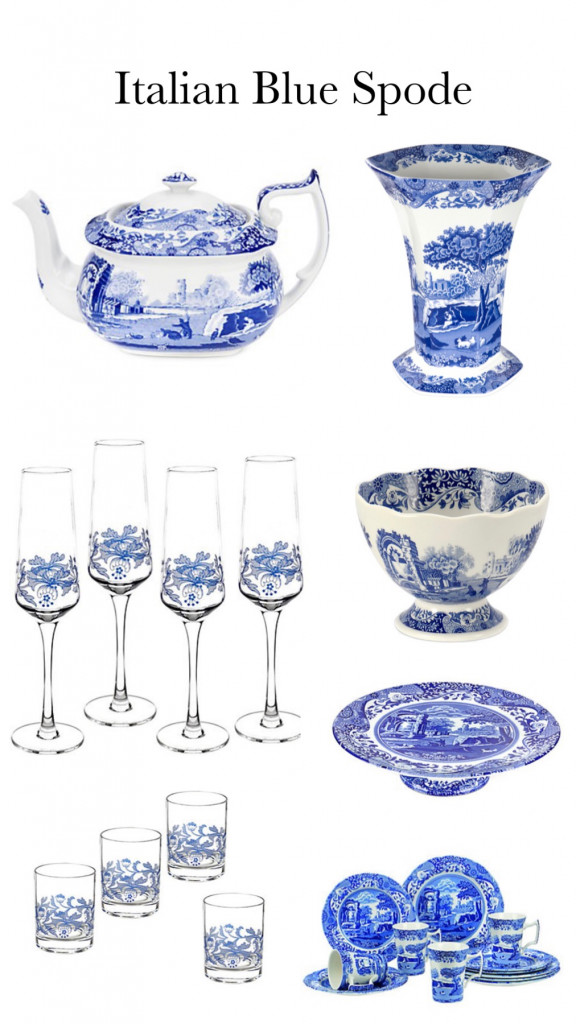 Italian Blue Spode is another pattern from this super popular china and also on major discount! For the blue and white lover, any of these would be a fabulous gift idea! The vase is on sale for $38 and would be the best gift for a friend. You could go to Trader Joes and fill it with fresh flowers, or fill it with some candy wrap it in cellophane with a big pretty bow! Right below the vase, is this 6 inch "Spode Blue Italian Handled Basket". I think this would be a perfect little orchid box/vase for a faux orchid ($27 and a great gift). Those champagne flutes though, just beautiful ($35.99 for 4). Town & Country (linked below) gave me the confidence that any color you choose can be transformed into a Thanksgiving Tablescape. Click the links below to shop this Spode and how to incorporate a little Thanksgiving decor in all the blue hues.

Placemats
A couple of years ago, we gifted my Mother-In-Law "place card" monogrammed napkins and gold placemats for Christmas. When looking for placemats we gifted her, I knew I wanted them to be gold because gold is such a timeless and versatile color that pairs well with everything. I found these Chilewich Placemats (pictured above, they also make great kitchen and bathroom mats too) for her, and needless to say, I'm borrowing them. These are so worth the investment and I need to buy some for myself.

Centerpiece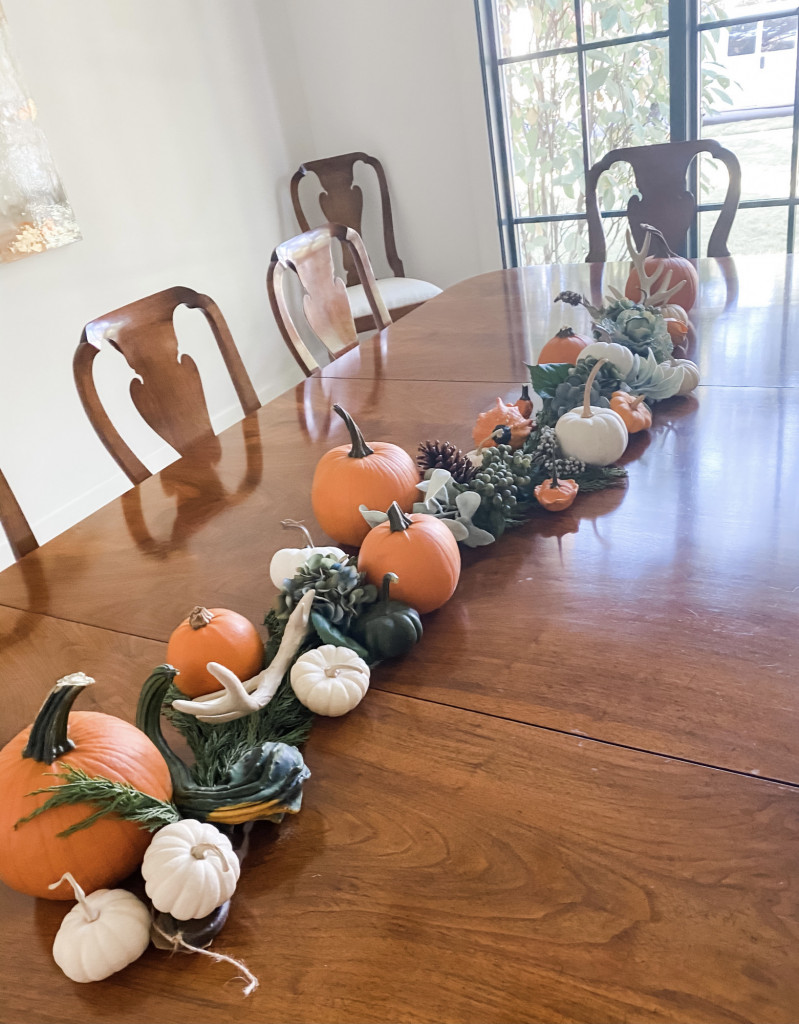 My style for centerpieces and florals is to go faux , some greenery, and something low! I love faux florals and faux garlands because there are so many ways you can spruce them up. A faux garland can be used for Thanksgiving through Christmas! For Thanksgiving, just add some pumpkins, dried fruit, pheasant feathers etc., and come Christmas, add red berries, white berries, pine cones, etc.! I love faux because you can reuse them from year to year. My faux garland centerpiece is from Lakewood Succulent Designs! I get a lot of my faux florals from her. I've added some real pumpkins from Trader Joe's to mine and some candles to make the centerpiece fuller too. For centerpieces, I say to "go low" because a centerpiece that is too high can be annoying for your guests trying to talk to people across the table with a big arrangement in their faces. Better to go low, but if you go high, use tall vases or candlesticks to create height in your design. Just make sure, your guests can comfortably talk to each other at all angles.
My favorite type of garland to use for Thanksgiving and Christmas as a centerpiece (and mantle too) is a cedar garland. I prefer cedar because this "garland" is more versatile compared to your noble fir, fraser fir and balsam fir garlands (which look more like Christmas Tree needles). Other faux garlands to use are eucalyptus and a myrtle olive leaf garlands.

Linens
When it comes to table linens, I love a pretty monogrammed napkin. Invest in some nice white linen napkins with a gold or white threaded monogram. Something simple but pretty can be used for any occasion.
These plates are so beautiful, I didn't want my napkins fighting with the plate's design. So I kept it simple with a plain white monogrammed linen napkin. Here are some of my favorite linens to shop for below.

Other faux arrangements in my home from Lakewood Succulents…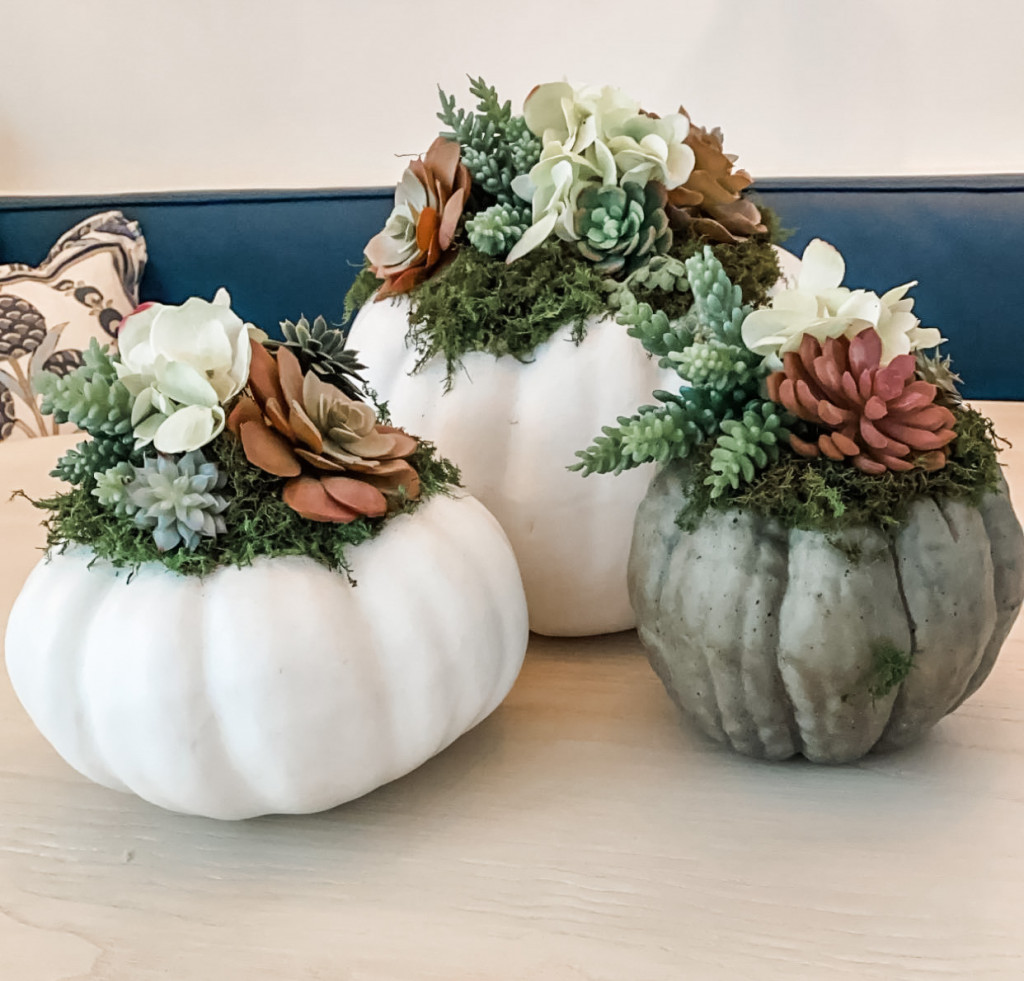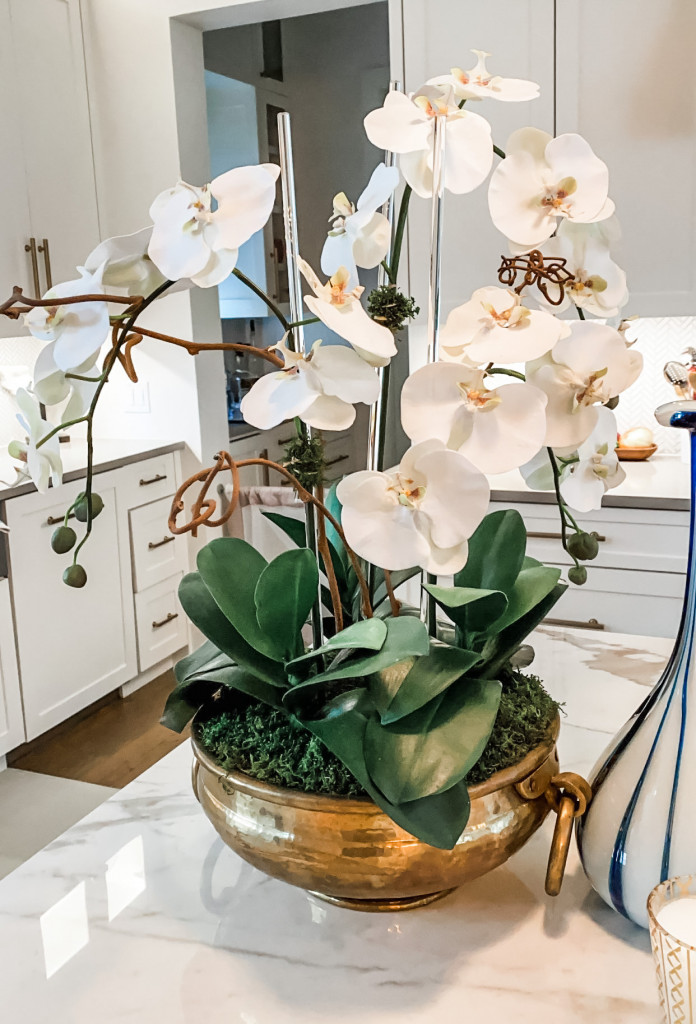 Table Runners & Tablecloths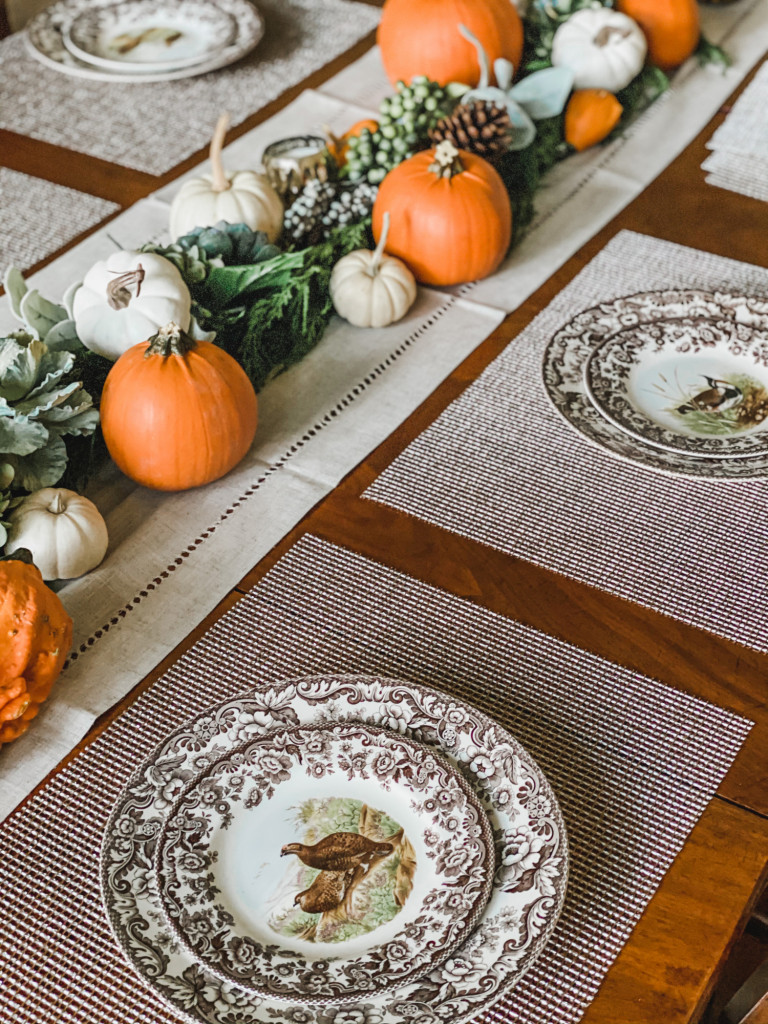 As you can see, my table runner is wrinkled and is actually being used to protect my table. I'm waiting on my new one (from Target), but if you have real pumpkins on your table, make sure you have something underneath your centerpiece. Real pumpkins rot & if they rot, they can ruin your beautiful table (trust me, I've seen this happen before). That's another reason why I'm a huge fan of faux florals/succulents! I did add in some real pumpkins in my centerpiece here and some Target candles too! A fun gift idea for your Mom, Mother-in-law, grandmother, or a new bride, is a monogrammed table runner! You could also do the "place card" idea from the napkins and get everyone in your family's name monogrammed on the table runner.

Colored Wine Glasses
Recently, one of my fellow Ole Miss gals (CoCo McClarty @coco_mcclarty great follow), shared with me Estelle Colored Wine Glasses as a great gift idea for family and friends. Needless to say, I'm in love and crazy about these wine glasses. There are so many fun colors to choose from and recently, I bought the stemless blue wine glasses and the "amber smoke" stemmed wine glasses.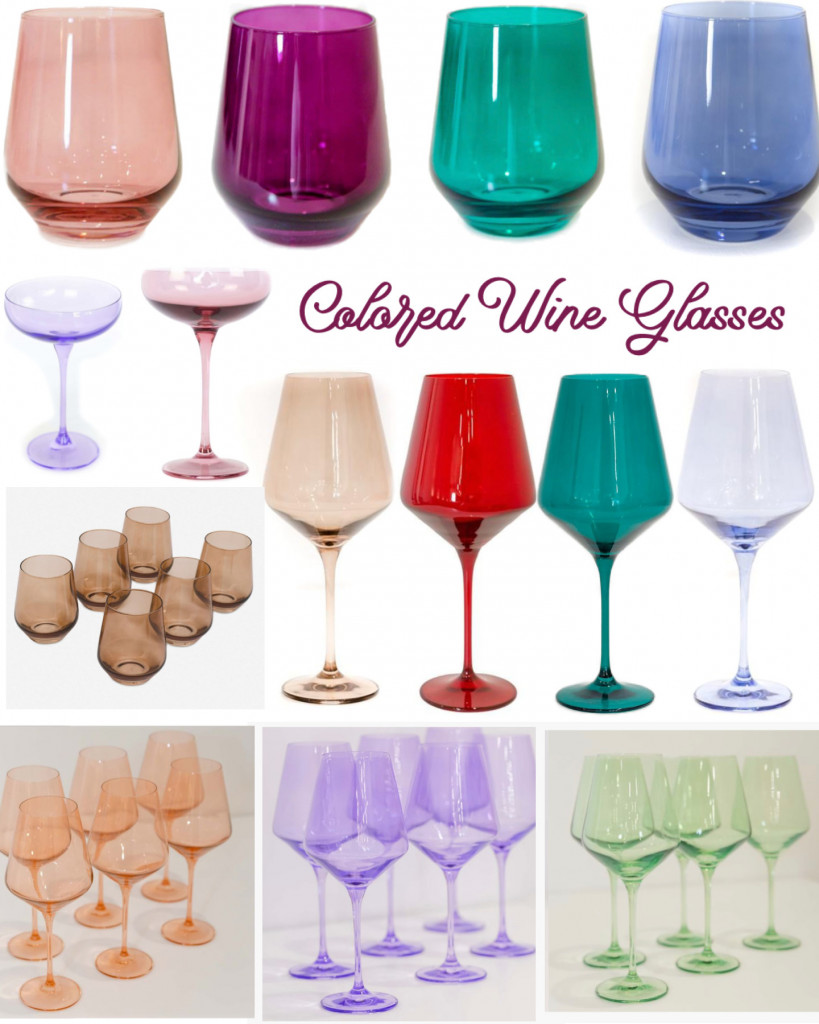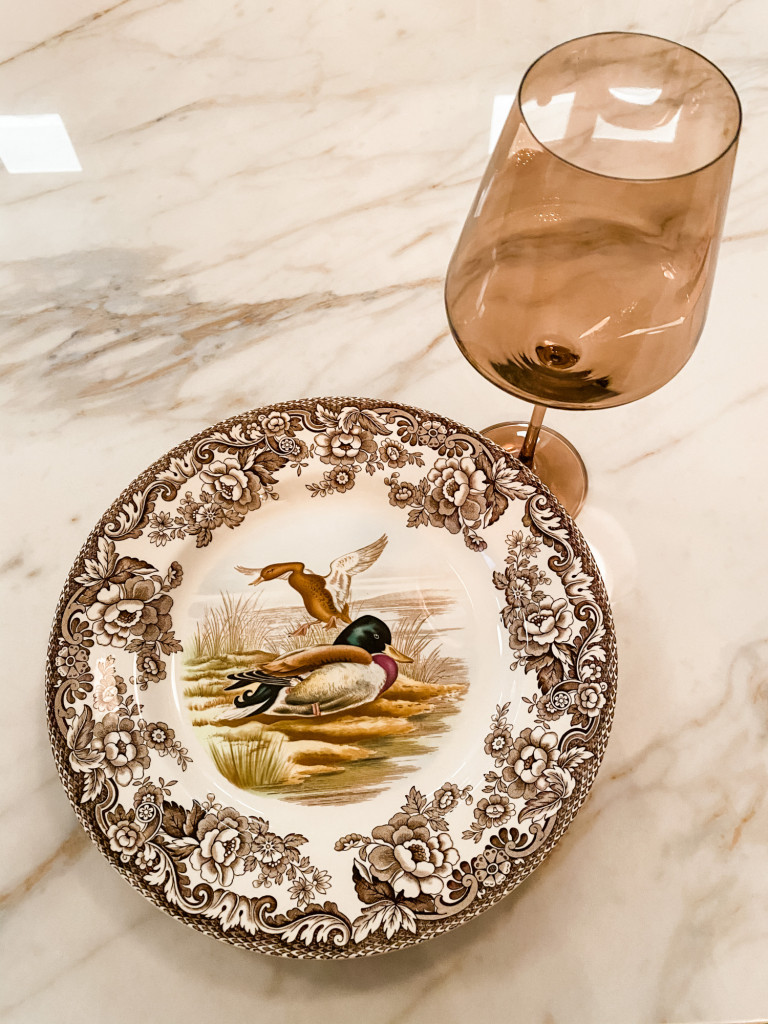 Aren't these Amber Smoke Wine Glasses just beautiful?

Flatware

Place Cards

Kids Table
Here are some fun tablescape ideas to keep the kids occupied at the "Kid's Table" during your Thanksgiving meal!

Thanksgiving Inspo