Tailgating at Home – Food Ideas
    Planning our watching party last week, I wanted to offer our guests a fancy and delicious snack that typically doesn't do well at an outside tailgate. Since TCU hasn't had their best season, most of their games have been in the morning or in the early afternoon, so I needed to serve our guests something that was easy to snack on but not too filling. This is a perk of tailgating at home because you can serve different foods and beverages that don't typically do well at a hot tailgate. Fancy and delicious sounds expensive, and it can be, so I decided to skip the decor and put my money on the food. So with a budget, what I had in my pantry, and a little bit of strategy, I was able to accomplish a very expensive appetizer for 8 people all under $40! I made my very first, legit, charcuterie board!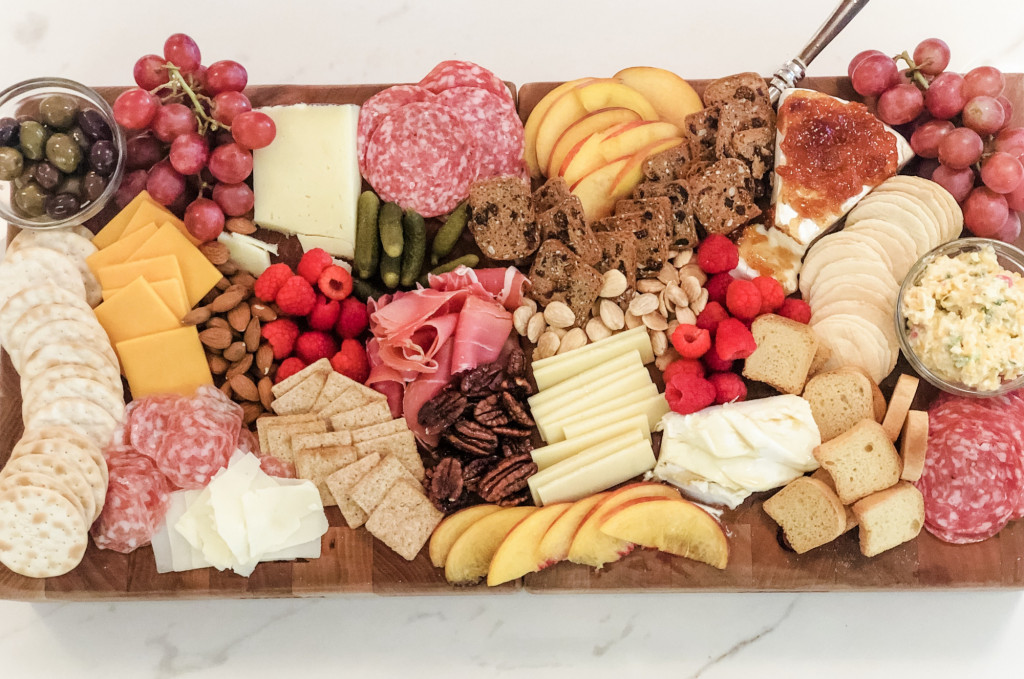 I was inspired by my good girlfriend Mackin, (@mackinwineandcheese) Instagram posts, to create a charcuterie board for our guests. I sent her a text asking for her help because I don't know the first thing about cheese pairing, or what fruit and spreads taste best with certain cheeses. She gave me all her recommendations, and with a little planning, I created a beautiful, delicious board, that everyone enjoyed!
Mackin's Suggestions 
*Triple Creme Brie with Fig Spread on Top 
*Manchego Cheese – Pair this with prosciutto, fennel salami, or chorizo
*Goat Cheese with Honey on Top
*Burrata with Balsamic Drizzle – have with toasted baguettes
*Red Peppadew Peppers
*Red Pepper Romesco
*Hummus
*Dark Purple Grapes
*Pears (in season right now)
*Olives
*Cashews or Almonds
*Favorite Crackers – Raincoast Crisps
Now, I'm sure some of you are thinking "Wow a charcuterie board? That's expensive! Under $40? That's not cheap at all! And isn't this a tailgate party? Why aren't you grilling burgers or something?" Yes, $40 is a lot of money, but as I stated above, we didn't decorate at all nor did we provide dinner for our guests because the game was at 2:30. Also, I had a lot of the nuts, honey, fig spread, grapes, peaches, Carr's Crackers, Wheat Thins, and some of the cheddar cheese at home, but I did buy all my meats, most of the cheeses, and some other crackers at one of my favorite grocery stores! So for hosting a party and only spending $40, I think we came out ahead!
Where I Shopped
I bought all my meats, most of the cheese, some crackers, and fruit at Trader Joe's! Trader Joe's saved me a lot of money because their prices and quality of their produce, meats, and cheeses are unbeatable (in my opinion). I also alerted our guests of my requests for things they could pitch in for (the booze), before I began my shopping. Side Note: Now, something like a charcuterie board, I would never ask my guests to pitch in for because it was a special thing I wanted to do. 
My Charcuterie Board
    Everything on Mackin's list is not all included on my Charcuterie Board, but everything I used for mine is labeled below! I've also made a couple of charcuterie boards lately and have added ocra (pickle section), Grandma's Hummus from Whole Foods, and many other cheeses. The fun thing about a charcuterie board is that you can change it up and use anything you want! If you want to get really fancy you can pair the cheeses with wine! Also, with so many nut allergies and allergies in general, I always check with my guests of any allergies they might have prior to making something like this. Many crackers have nuts hidden in them, so always check the labels if you are needing to be conscious of what you have out for your guests.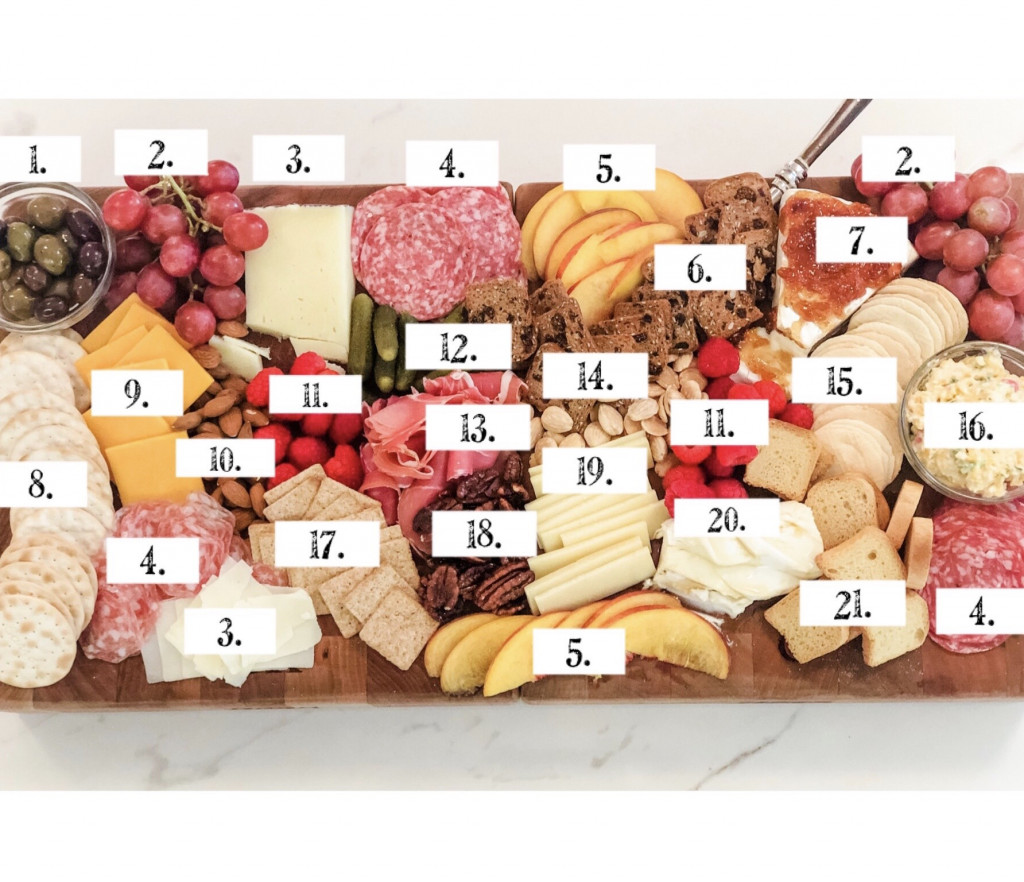 Kalamata Olives – get with no pits 

Red Grapes 

Manchego Cheese 

Salami 

Sliced Peach (seasonal)

Fig and Raisin Crackers – Trader Joe's Brand 
Triple Creme Brie – with Fig Spread on top 

Carr's Crackers 

Sliced Cheddar Cheese 

Almonds

Raspberries 

Baby Sour Gherkins – Tiny Pickles 

Prosciutto 

Spanish Marcona Almonds

Wafers 

Pimento Cheese (store bought)

Wheat Thins 

Spicy Pecans 

Gorgonzola 

Goat Cheese drizzled with Honey 

Baguettes
Stay tuned for more of my tailgating at home food ideas, decor, and more!