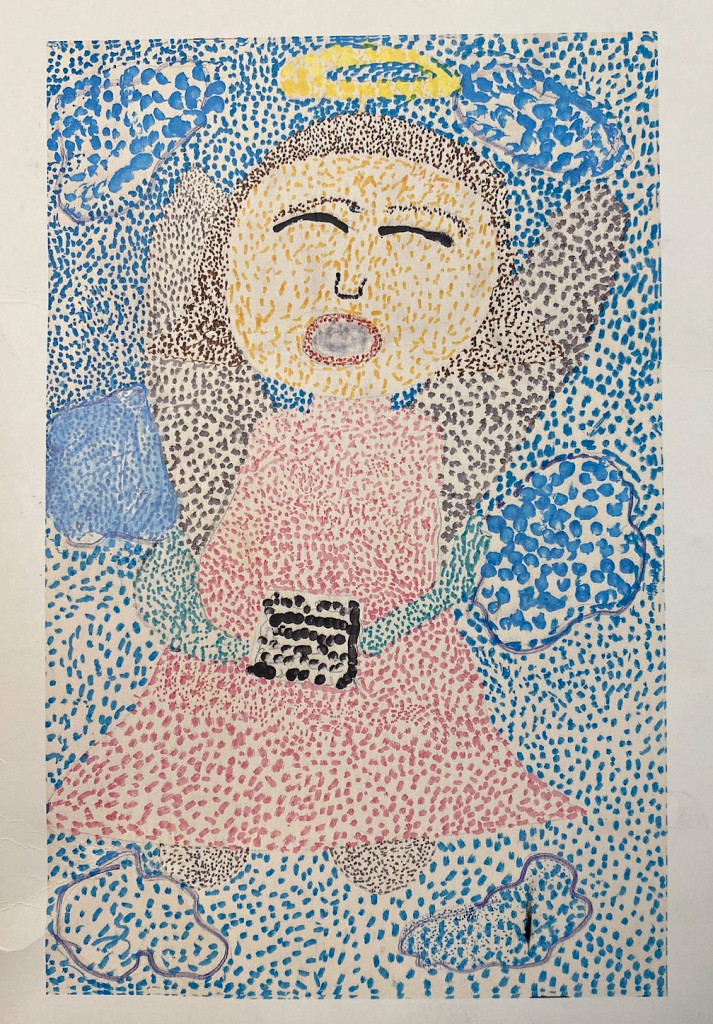 When it comes to giving gifts, a Sympathy Gift is the hardest of them all. I have some great ideas that I will share below, so if you'd like to skip the reading, then scroll down to read some ideas.
I mentioned on my Instagram Stories last week that I'm a darn good gift giver. I do have a creative artsy side to me and I'm also pretty observant, which definitely helps me in the gift giving department. However, when it comes to Sympathy Gifts, I'm not as confident. Having experienced great loss myself, I too struggle finding the perfect gift, or the "right" words to say.
To preface, I've really had a hard time writing this. I have written four different drafts and deleted each one. After spending over a week on this, I came to the realization that death and grief is just a hard subject for everyone. I've had to tap back into that wounded part of my brain (and heart) that I just hate going to. However, this has been more therapeutic for me than I thought. It reminded me of how wonderful my friends and family are, and how truly blessed I am for the MANY people who have helped and continue to help me on my journey.
In January of 1999, my family and I lost my beautiful mother to leukemia. I was twelve, my sister was almost fourteen, and my brother was sixteen. Now, almost twenty two years later, my Dad and the three of us, have dealt, and continue to deal with the loss of my Mom very differently. I think that's the most important thing to point out because no one grieves the same. What helps me get through the pain is completely different than my family, and friends too. So, trying to figure out what to do for a grieving friend is definitely a tough one.
Relating to my experience, and others, the number one thing you can gift to a grieving friend is to be there for them. Be there for them for life! Losing a loved one is a wound that'll never heal, but having a friend that's there, can help stop the bleeding.
What To Do For A Friend Grieving
Now that I have grown older, sadly, more of my friends are losing loved ones. No matter the age, the heartbreak is all the same. Through my own grieving process and being a part of others, I have learned a thing or two on how to help a friend that is grieving.
Always reach out! Even if you don't know what to say, just reach out. "I'm thinking of you, I'm so sorry for your loss, and I'm praying for you".  A handwritten note seems so ancient to do these days, but taking the time to write a handwritten sympathy note, really goes a long way. The letters I've received are some of my most prized possessions.
There are some people who don't like to speak about it at all! Still reach out to them, but then back off. Don't judge or get defensive with their reactions or if they don't respond to you. People grieve so differently, and sometimes not talking about it is just what helps them deal.
"Don't push your faith on them if they don't share it!" I forgot where I read this, but this is a good one because to be so honest, this bugged me too. Everyone has their own relationship with God and we all express that relationship differently. I think sending a Bible Verse or something that you personally relate to is ok to share, but don't lay it on too thick. If you feel the need to express your faith, then just do it by praying for them. But again, be observant, if they are asking for it, then it's ok to share it all.
Find your own way of showing your love and sympathy (be observant). If your friend is the, "I don't want to talk about it" type, then find ways to help them without having to talk about it. Just go hang out with them, watch football, go shopping, etc. Sometimes, just feeling normal, without all the attention on you, is exactly what they need (this was me). The night my Mom passed away, I spent the night at my friends house for three nights in a row.
If your friend needs to talk about it, then listen. Be attentive and don't interject. Sometimes, just venting and talking about how shitty life is sometimes, can be exactly what a person needs to get by. I have quarterly crying sessions (haha).
Act on it. The "If there's anything you need, let me know" text is sometimes all we know to say to someone grieving. But when do we really take people up on this offer?  I can't imagine myself asking someone, "Hey, I need you to come make me dinner tonight, I'm struggling today." Instead, ask and give ideas on how YOU can help them, for example, "Hey, can I help you today by picking up your kids? Can I set up a meal train for you? Want to come over and just watch football? Hey, can I take you to get your nails done? You in the mood to go shopping?" etc.
Most importantly, and this is the BIG one. Check in on them yearly, even monthly, and ask how they are doing. There are many stages of grief and some of those stages can last a lifetime. To give an example, all the attention from friends was heavy the first two months of losing my Mom. Then, as time passes, people move on, and that's ok! It's just a part of life! But, every year on my mom's death date, me and my sister receive a text from one of my Mom's best friends. She tells us, "How much she misses her sweet friend, how proud my Mom would be of us girls, and the Mothers we've become." It brings me to tears every year, but I look forward to that text, I need to read those words. A quick tip: For my friends that have lost loved ones, I make it a point to check in on them from time to time. This may sound bad, but lately I've started to set reminders on my phone to check in on them. We all get caught up in our busy schedules and we tend to forget that our friends need us. A simple phone call, even text message, really and truly, goes a very long way.
Gift Ideas
If you need to get them something tangible, or things to do, here are some great ideas. Some of these ideas are gifts I've received, ones that I've given, and some ideas that were recently shared with me. Not all of these ideas are necessarily appropriate for every individual, but you know who your friend is. Be observant, be there for them, pray for them, and don't forget to check in from time to time.
Meal Train, Uber Eats, Favor, GrubHub, Door Dash
Organize and set up a Meal Train for your friend.
Maybe your friend doesn't feel like making small talk with every person bringing them dinner. If this is your friend, then getting gift cards to these food delivery services (listed above) would be a great idea! Check your area for these services.
In college, one of my closest friends, who was with me through it all, helped console me during one of my quarterly meltdowns (haha)! We cried together and then she said, "F This, let's break some sh*t!" We went outside and she handed me a stack of plates, and said, "Throw them!" Throwing those plates and breaking them was surprisingly so therapeutic for me. It released a lot of anger that I'd harbored since my Mom died. I think about that day a lot, and I'm forever grateful to have a friend that was there for me, even 10 years later.
My story, gave me the idea to take your friend to "The Break Room". This is in Dallas, but again, check your local area for businesses like this. The Break Room is a place you can literally go break stuff. You are given a sledgehammer or bat and you can smash TV's, furniture, glass, office equipment, etc. This would be a great idea to do with a group of friends.
Recipe Books
My Mom made the BEST spaghetti and was a phenomenal baker. After she died, the same friend's (from above) Mom made a recipe book of all her favorite recipes. One of the recipe's was my Mom's spaghetti sauce. This got me thinking… if you could get them, see if you can "borrow" recipes from your friend and make a cookbook with pictures of them throughout the book. My sister has all of my Mom's cookbooks, but I want to get them and do this for my family. Linking some templates you can use to create your own book. Also linked is a cutting board you can get a recipe engraved on it too!

Here are two more that I am unable to link but I love these two websites that I've used for personalized books (Pinhole Press) (Mixbook)
Another idea, if you were to do a Meal Train for your friend, every meal that someone made, ask them for the recipe. From there, you can create a cookbook for your friend too.
The Nothing Book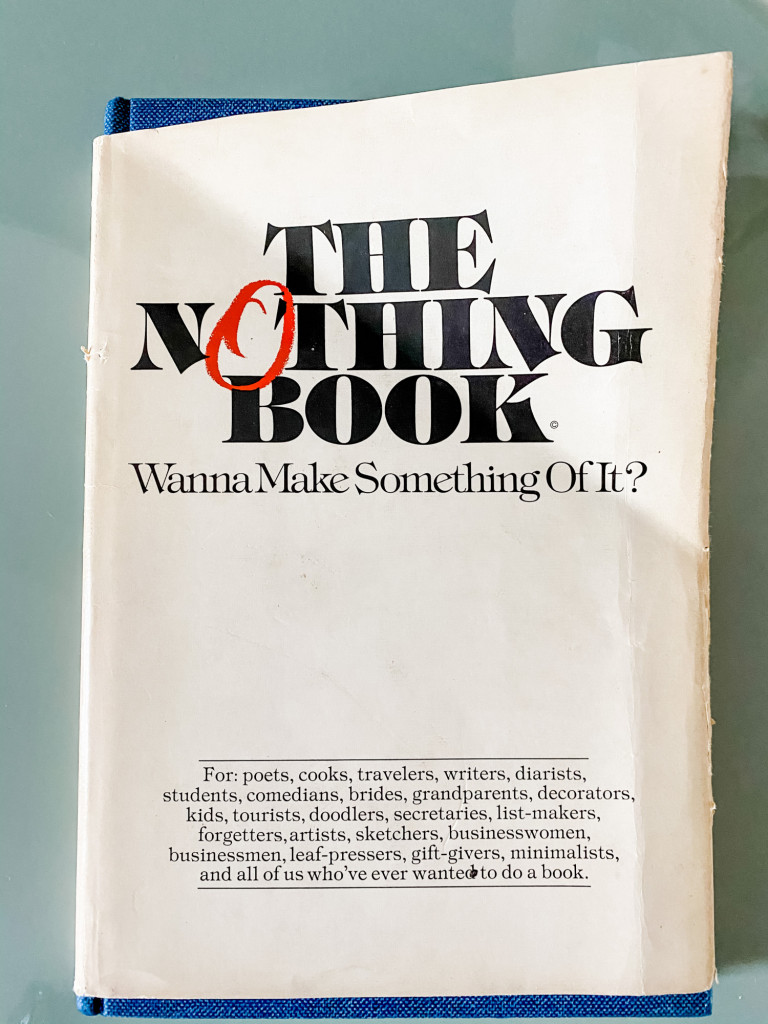 This is one of my most valuable possessions.  This was my Mom's book, called "The Nothing Book". It's a blank book that was published in the 1970's. My Mom actually had two of these, one she kept as a diary (during her high school and college years, which my Dad has now) and the other she gifted to a sorority sister. This book was handwritten, and filled with all her favorite song lyrics, Bible Verses, motivational quotes, and much more! The book in the image was actually given back to me, by my sorority sister that was the daughter of my Mom's sorority sister (sorry lots of moving parts). Since, having kids, I have ripped out the pages, got them framed and gave them to my girls, my nieces, and nephews too. I wanted them all to have a little piece of my Mom hanging in their rooms.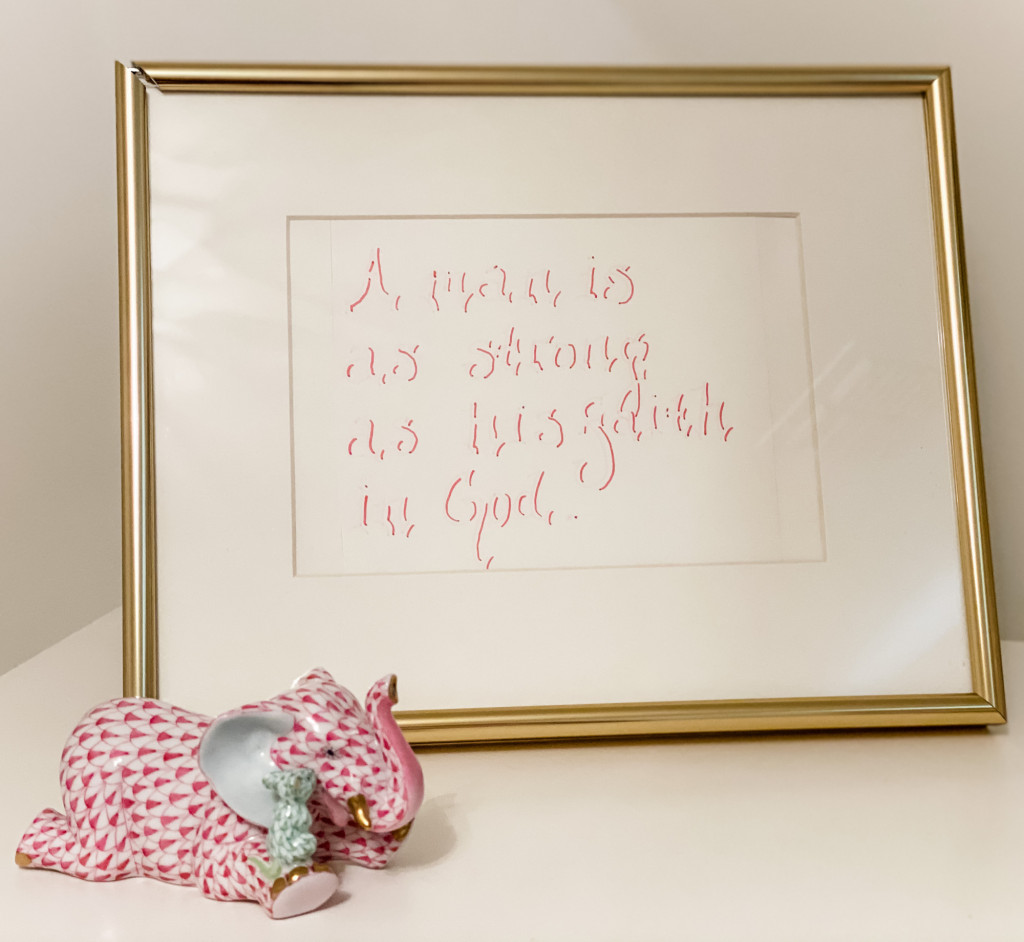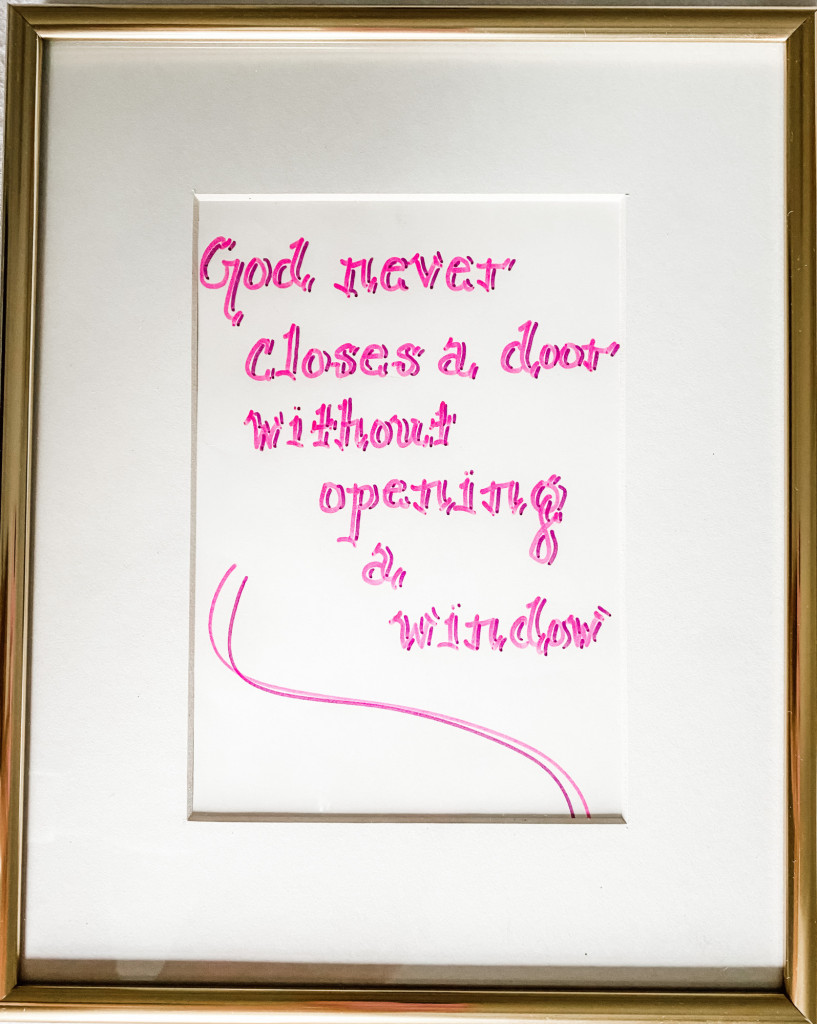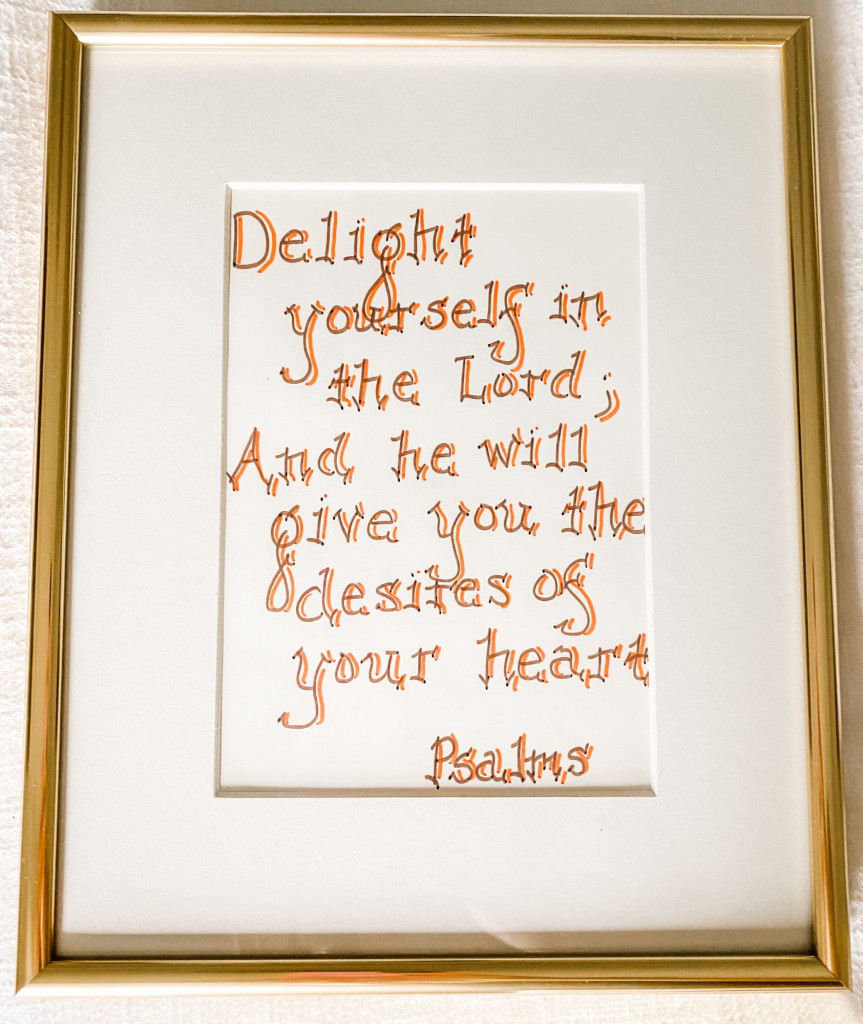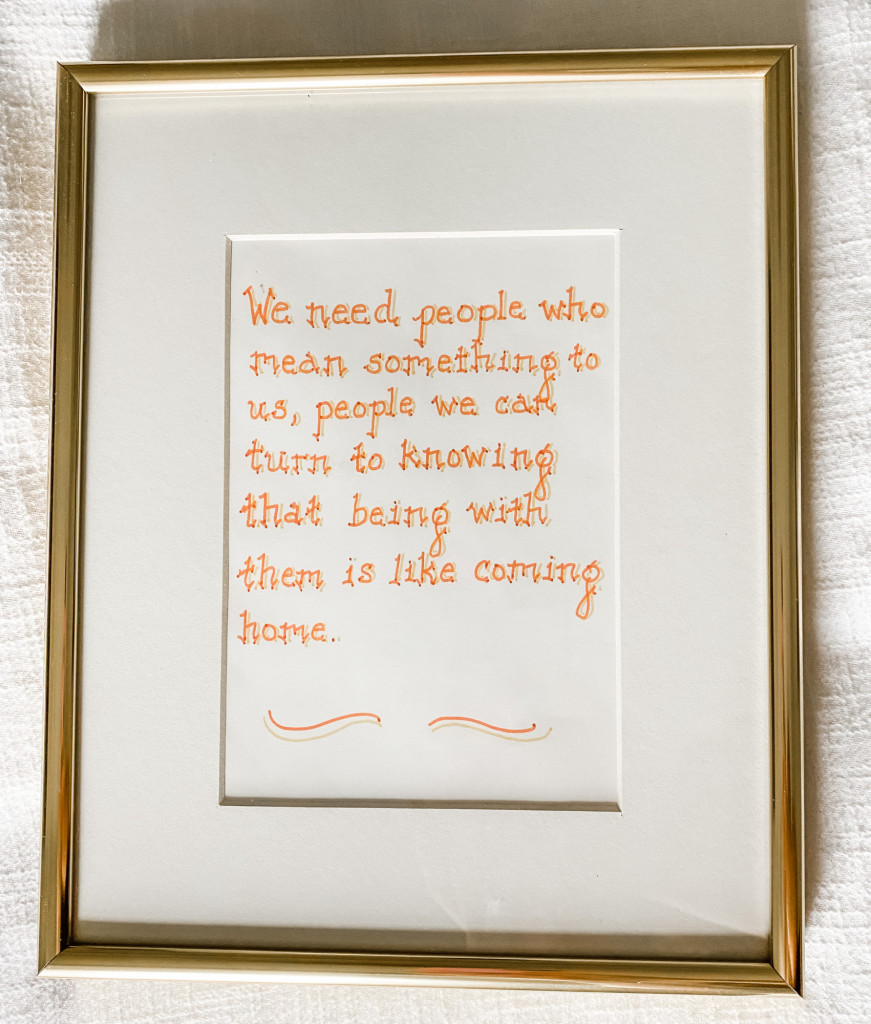 I bet you are wondering how you can use this idea for a friend. Buy a blank book, or this book (linked below) and fill the pages with quotes you love, Bible Verses that help you, motivational quotes that motivate you, draw pictures, and even a write a note expressing your sympathy. This is a great gift that your friend can revert back to when they have their quarterly meltdowns, or moments of sadness. Think of this book as a little pick me up, make it colorful, joyful, and hopeful.

Posterino
Posterino is an app that my brother used to make a photo collage of him and my sister-in-law's trip to Europe. He got it framed in this really cool acrylic frame and needless to say, I copied him. After our Honeymoon, we had all these wonderful pictures and memories that I didn't want just sitting in "The Cloud" (i.e. my iPhone). So, I used this app and created a photo collage of our Honeymoon.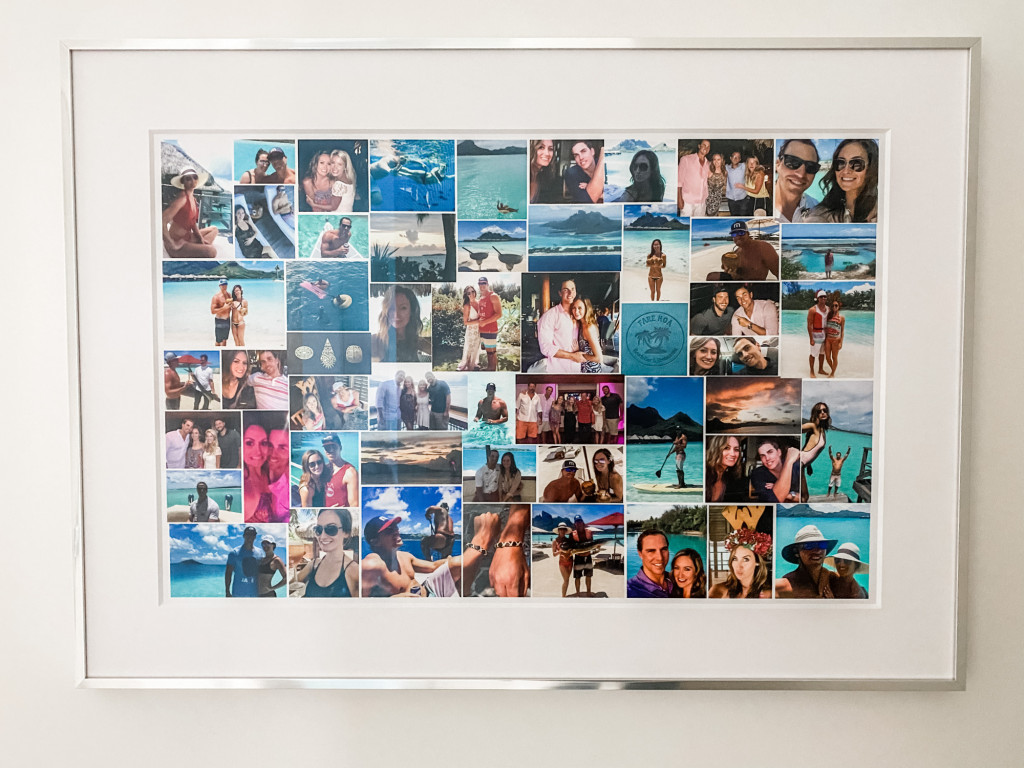 To use this for a friend, I would collect all sorts of pictures of them and their lost loved one, create a picture collage, and frame it.
Sending A Hug Giftbox
Fill a box with thoughtful goodies! Beauty products, spa products, a blank journal, something monogrammed, bubble bath, face masks, etc. This is a great way to send a Hug to your friend, especially when you can't find the words to say.

Memory Letters
Back when I was in college, my sister reached out to one of my Mom's best friends. She asked if she would write us an email of some fun stories and memories she had shared with my Mom. We wanted those stories that typically aren't shared with you until you are older 😉 ! A week later, we received over fifteen fun, and hilarious stories about my Mom from all her friends and sorority sisters. This is probably one of the best gifts I've received. If there is a way for you to do this for your friend, please do. If you have lost a friend that has children, do this for their kids. Even if it's just a letter from you and you alone, do this.
Names & Faces Book
This is something I actually did for myself and I thought I would share.
 I want my girls to know who their grandmother was and to know they have an angel watching over them. I searched for ways to talk about my Mom, in ways they could understand. I came across this personalized photo book for kids on Pinhole Press. It's called, "(Fill in the name) Little Book Of Names & Faces". I thought this was a great way for my children to see and get to know my Mother's face. We talk about how she's high up in the sky with God watching over us and we say her name and pray to her too.
If you have children of your own, and have lost a parent, grandparent, sibling, or child, and want your child to know who they were, then this is the book for you. We have individual photos of our immediate family, my girl's grandparents, and family photos of their aunts, uncles, and cousins.
Both my girls sleep with this book every night too :)!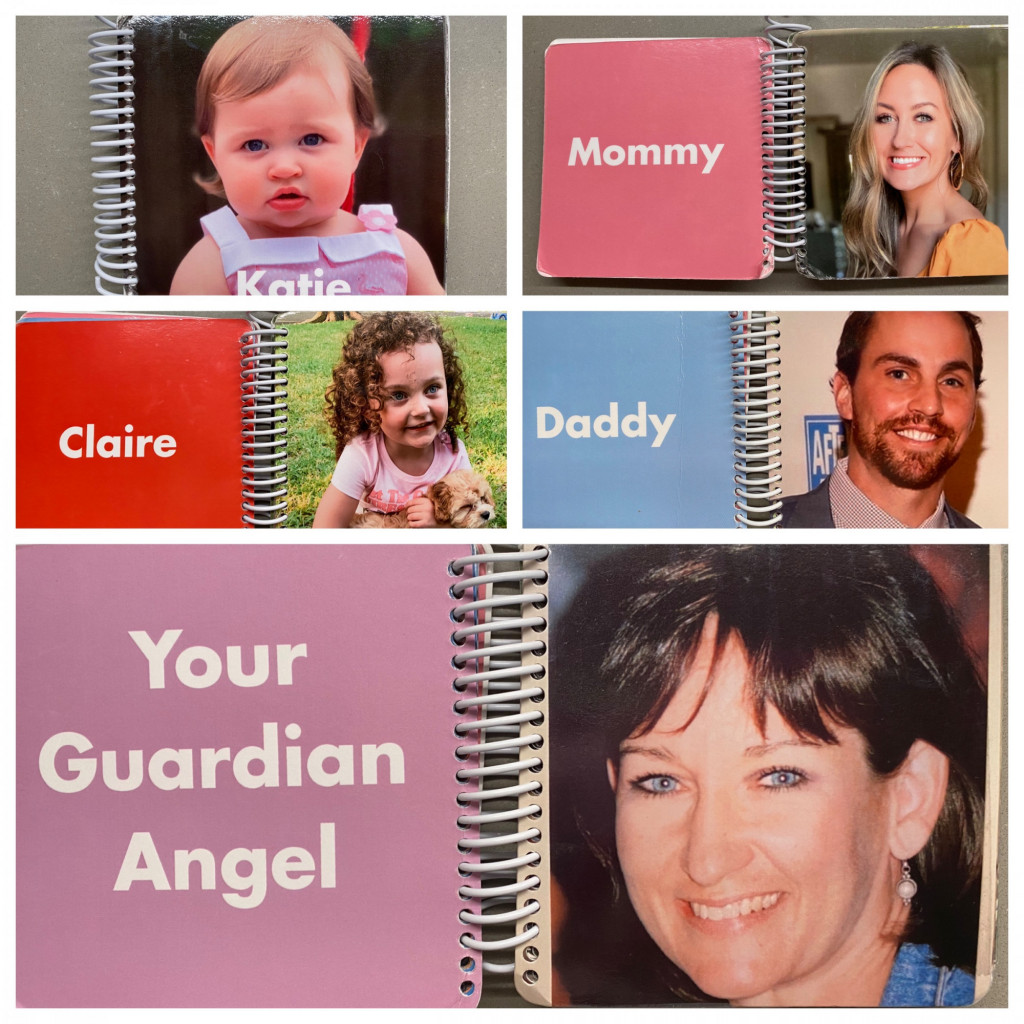 Pinhole Press – Little Book Of Names & Faces
I will continue to add more ideas to this post as they come to me.
I hope I gave you some good ideas and ones that your friend will really cherish. The best gift you can ever give to someone grieving is to just be there for them.  Observe and find ways to help them. Most importantly, remember to check in on them from time to time and ask, "How are you?"
Me & My Mom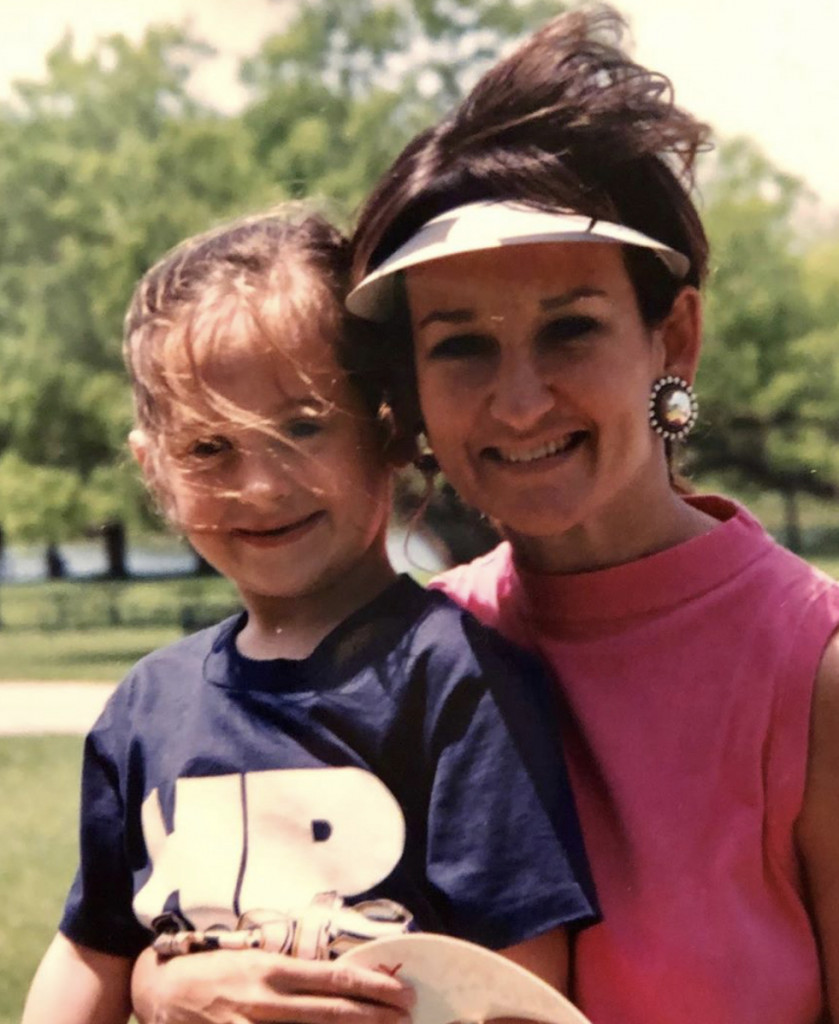 "When you think of me, smile, don't cry. Think of the wonderful times we enjoyed, the laughter we shared, our hopes and our dreams. Now get on with your life and make it glorious. Don't worry about me. I'm in a perfect place. I'll be here to greet you someday, too. Look for me; I'll be in gym shorts and a baseball cap. Oh, yes, and holding a Dr. Pepper.
God bless you all."