Summer 2020 Poolside Style

Revolve said it best, "Poolside is the new Beachside". With no plans to travel in the near future, our "Beachside Style" is now our "Poolside Style"! My ideal Poolside Style is always a straw wide brimmed hat, hoop earrings, aviator sunglasses, a one piece or two piece swimsuit (usually with ruffles) and a great cover-up.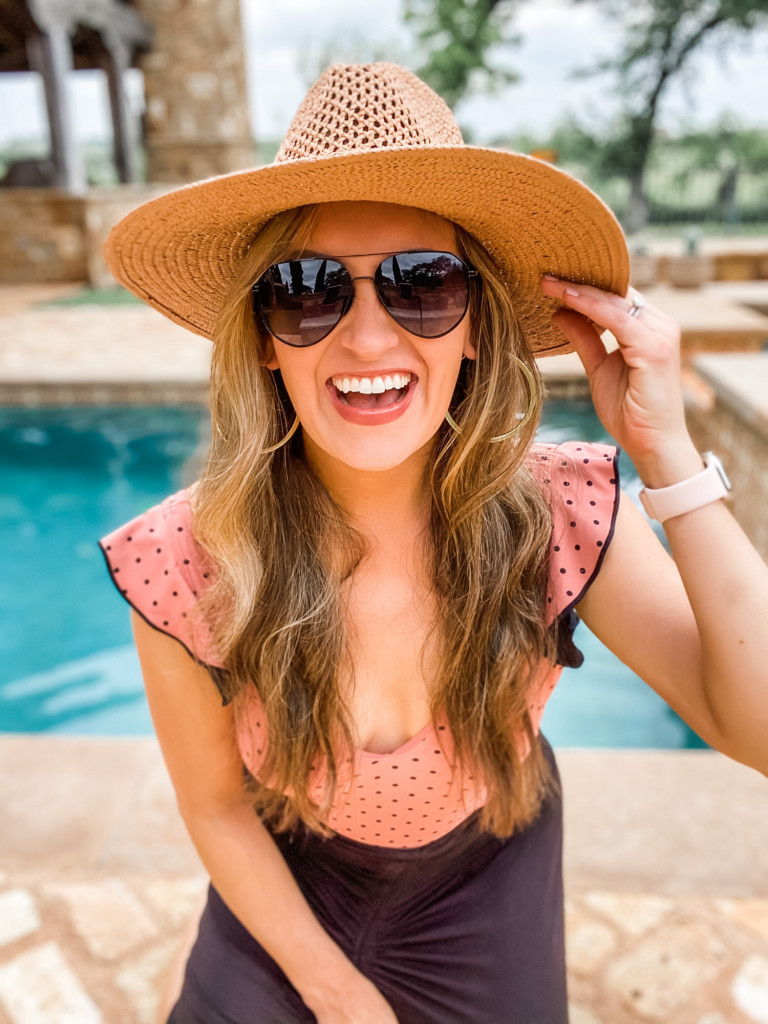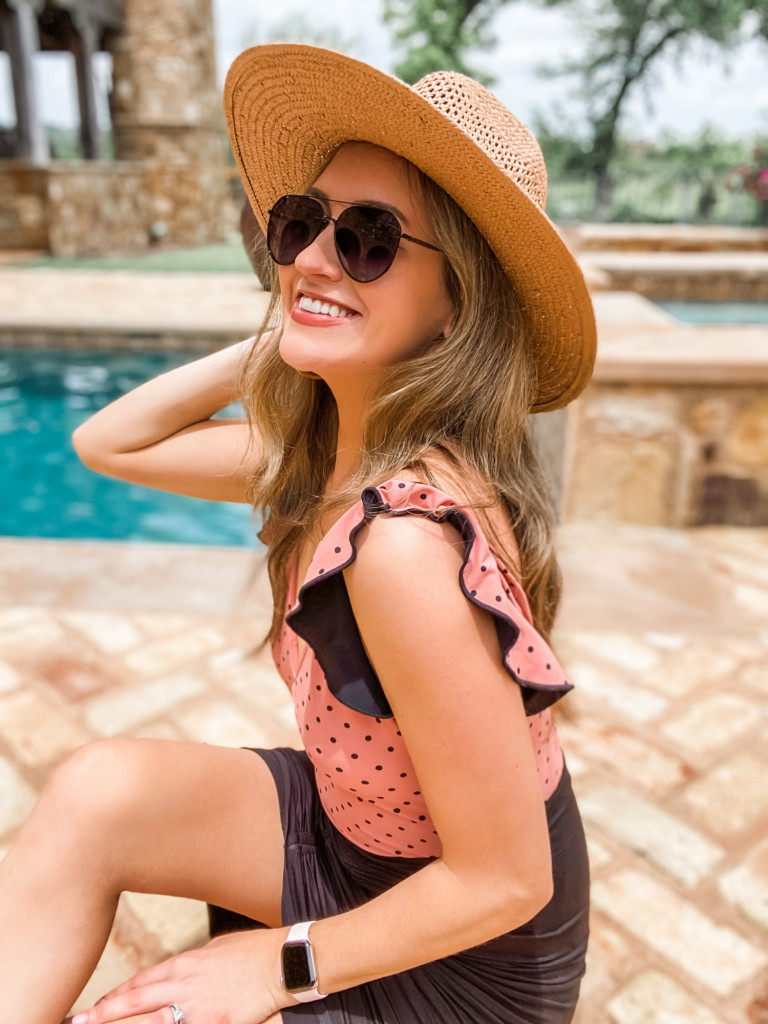 When it comes to swimwear, what looks cute and what looks good, is unique to each individual. My sister and I are very similar in a lot of ways but we do have completely different bodies, and in some cases, opposite taste in swimwear. What looks good on her, most of the time looks terrible on me and vice versa. That's why swimwear can be so tricky and frustrating. What we see on the model, is usually not what we get. So, before we start getting body dysmorphia, know that swimwear trends, is never a one STYLE fits all.  Not every cut and trend will fit our bodies the way we hope too, nor will you be the same size in every swim brand you try on. However, the beauty of swimwear today, is that many brands are designing for all bodies, shapes, and sizes.
Over the years I've learned ( and continue to learn) from my fashion mistakes, and I know what cuts and styles look best on my body. I love to shop for the current trends, and I'm always hopeful it will work with my figure. However, if the trend or style isn't working for my body, I don't force it!
What Swimsuit Is Right For You?
First thing, know your figure, and look in your swimsuit drawer for that one suit you always feel good in. Study its shape, the color, the pattern, the cuts, the brand, etc, and shop for a similar style. Check its label and search the brand's site to find the suit in different colors. Also, take your measurements! With all the crazy size charts out there, it's unlikely you will be the same size in every swimsuit you try on.
My Body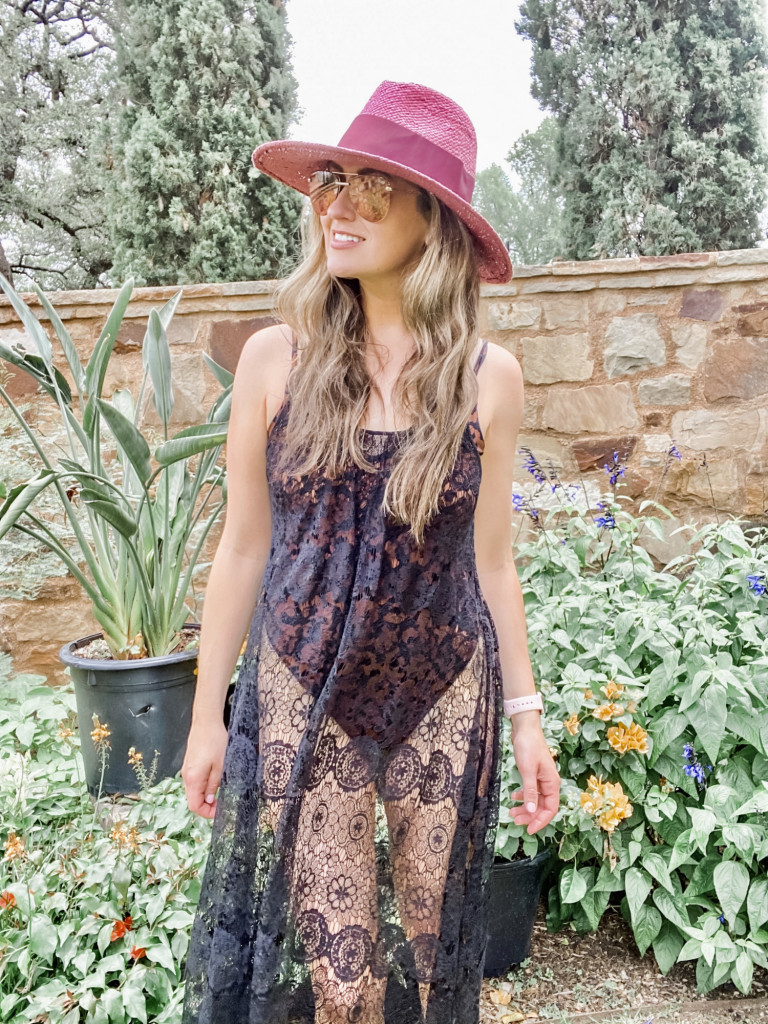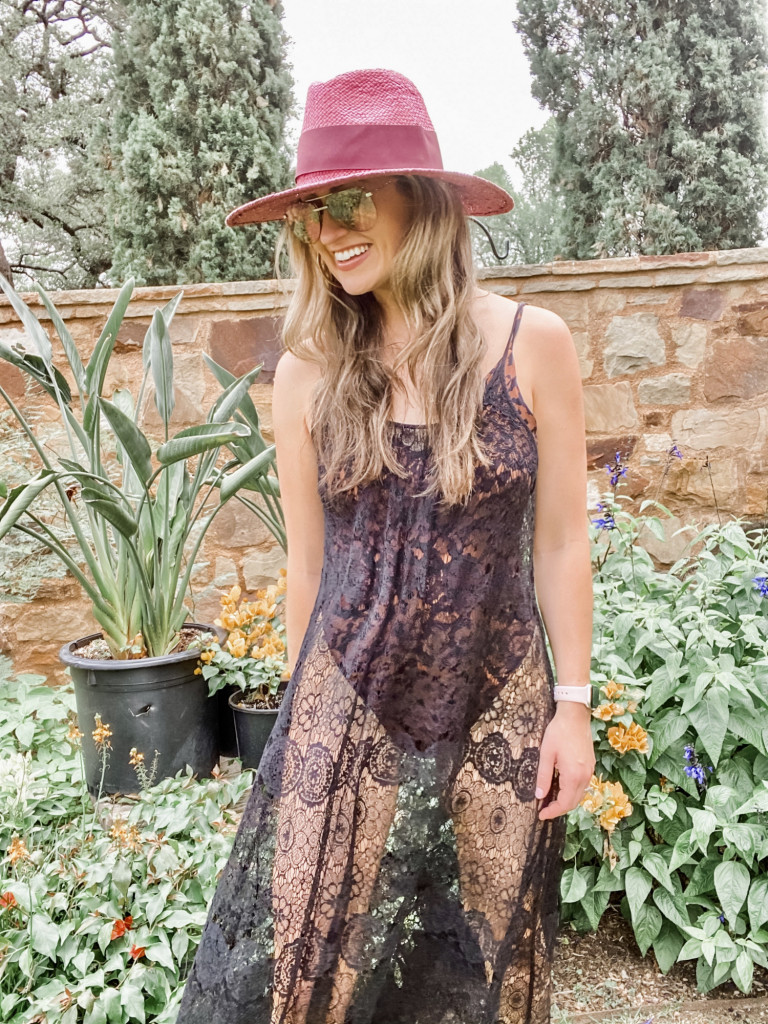 After a lot of research, I have come to the conclusion that my figure is considered rectangular and a little athletic. I have always been very straight up and down, a little curve here and there, and ever since kids, my body has drastically changed. I, like most women, struggle with my own body image but as I've gotten older, I've really pushed myself to truly accept my body, love my body, and most of all, take care of it. Here is me in a nutshell and I list these things proudly!
5'9
broad shoulders (good for an illusion of a smaller waist 😉
small/medium (wider set) bust
long arms
long torso
some hips (after having children)
round rear (fluctuates at times, haha)
long legs – same length as my torso
area that's always a work in progress: my stomach
So what does all that mean and what cut or style swimsuit is right for me?
I still don't know! On my search to find the answer, I discovered that each part of my body has an "ideal" swimsuit for it, but I had no luck finding this mythical suit that works with my whole body. That's the frustrating part about swimwear, you have to try on all the styles to find out what truly works. For example, I found that long torso'd girls, like myself, look best in high waisted swim bottoms. Yes, I am long torso'd but I've had zero luck pulling this trend off because quite frankly, I look like I'm wearing a diaper. Maybe it's my hips, my stomach, I don't know, no matter how hard I try, I can't make this style suit look good on me. So, I give up on this look, I won't force it!
What I Buy
Cover-ups!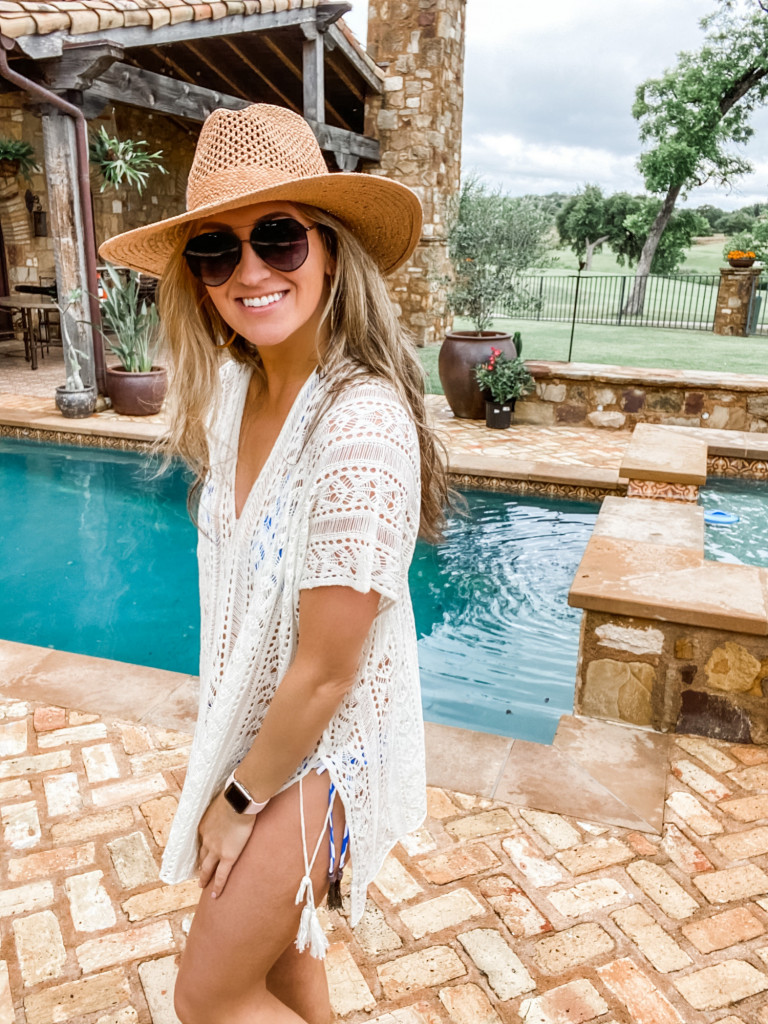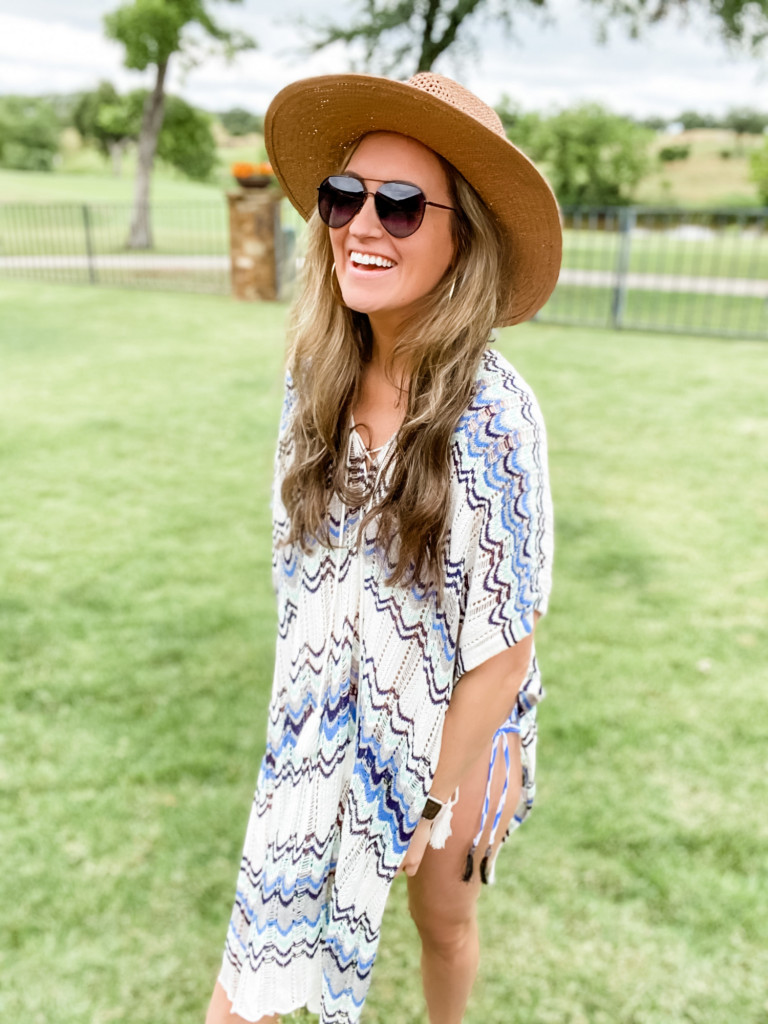 In all seriousness, I typically buy string bikinis, ruffled swimsuits, and one pieces. A string bikini is usually more forgiving for my shape because I can control the tightness of the top and bottom. I like the triangle top to have more fabric and stretch, covering more of my chest. If the suit looks too small anywhere, it can change the whole look of my body, and usually not in a good way. I also like ruffled bandeau tops and off the shoulder bikini tops because it makes my waist look a little smaller and shades my work in progress area :). My two favorite one-piece swimwear brands are Summersalt (under $100) and Marysia. Marysia is expensive, but the quality of swimsuit will last a lifetime!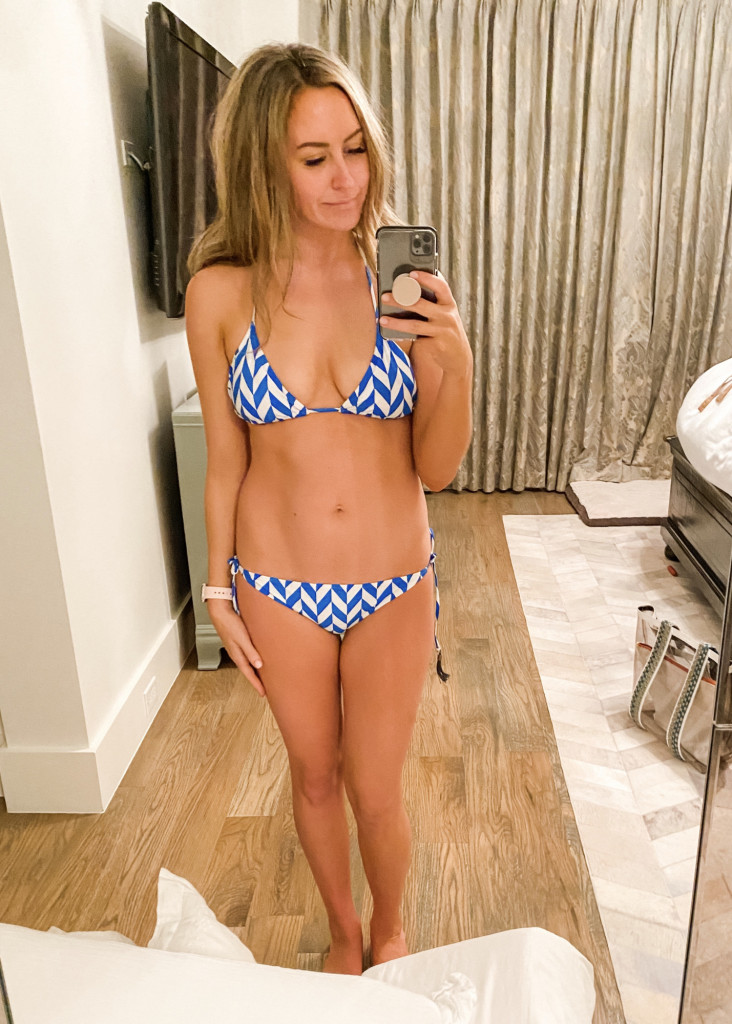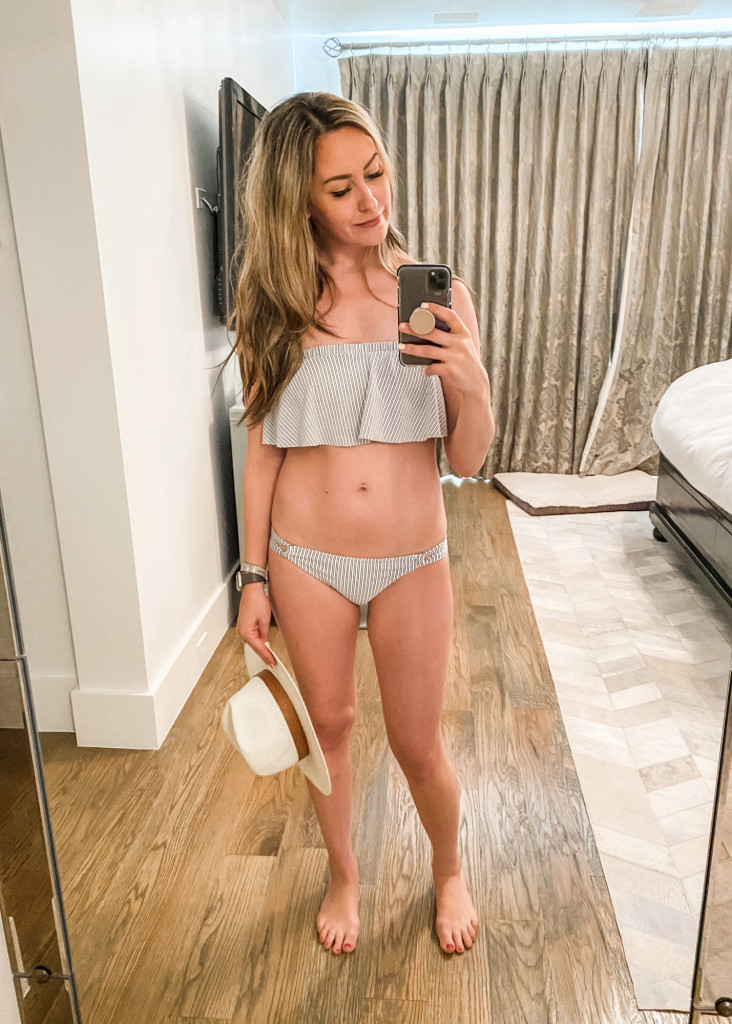 Sun Protection
As a teenager, I wasn't very smart about the sun. It was always a competition to see who had the best tan lines by the end of the summer. Now, I regret how sunburned I would get and how little I cared for my skin. Nowadays, I wear hats all the time, and I don't feel like my Poolside Style is complete without one. I also love to be tan, especially my face because I feel as if I don't need to wear as much make-up.  Pre-COVID, I would get spray tans monthly, but lately, I might as well be a St. Tropez  Self Tanning spokesperson! Shop my favorite Hats and Skincare Products below.


Swimwear Trends For 2020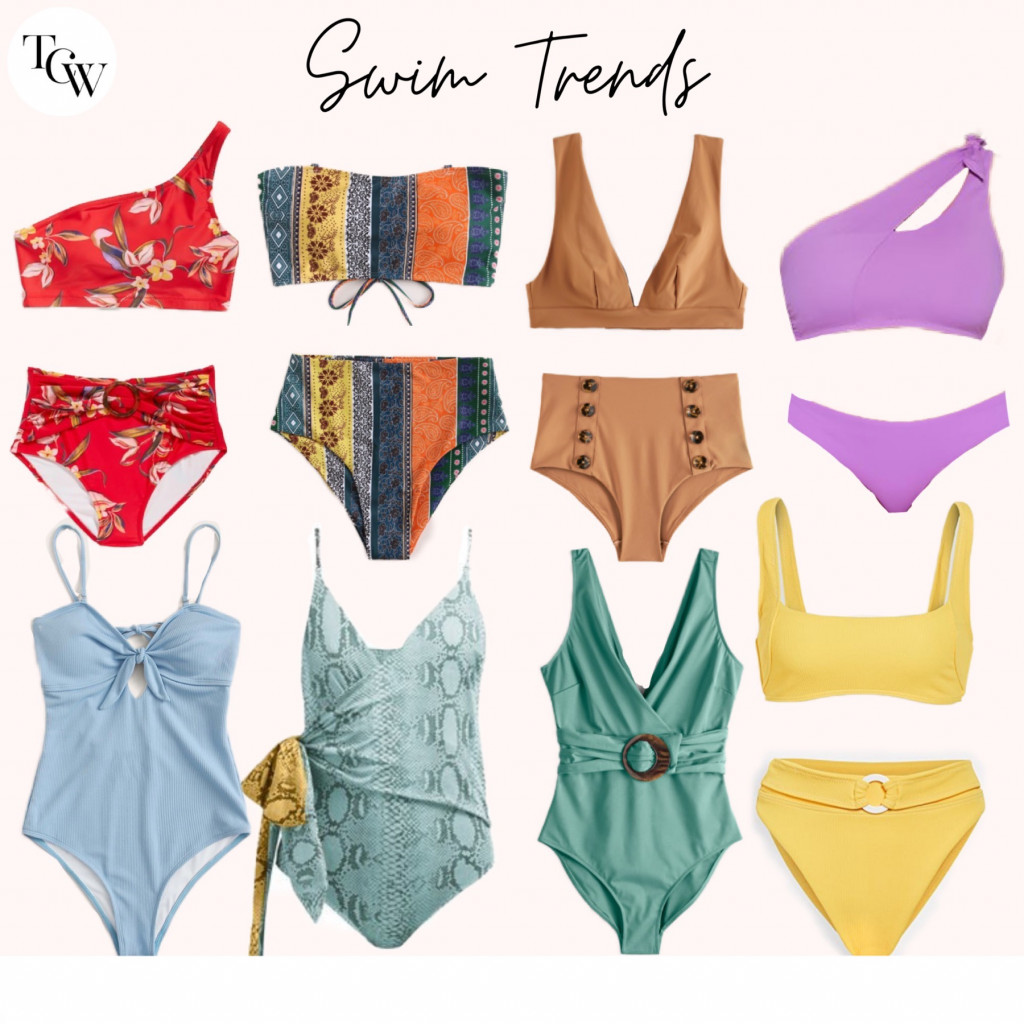 What 's trending in 2020? Snake Print, "Scarf Effect"/"Patchwork" Suits, Asymmetrical Hems at the Neckline and Waistline, Ruffles, Bows, Belts, and Buttons! Shop some more of my favorite picks below.

Swimwear Tricks
Want Curves?
Choose tops in lighter colors, patterns, ruffles, and diagonal lines can create a curvier shape. Halter neck tops with thin straps, and sweetheart shaped top to create a more feminine look.
For a curvier torso, wear solid bottoms with a colorful patterned top.
For a curvier bottom, choose bottoms with belts, ruffles, or skirts to create a fuller rear.
Short Torso
One piece high neck or halter swimsuits elongate the torso, giving the illusion of height. Patterns and design can really help too.
Long Torso
Take it from me, I always size up in one pieces because I have such a long torso, I need the length. The higher the cut on the leg, the better the illusion of a shorter torso and longer legs. More swim brands are creating "long torso swimwear" and I'm loving it!
Full Figure
Choose bright colors on the part you want to show off. High waisted bottoms and a halter v shaped top are great too. For one pieces, choose suits with patterns, suits with ruching, and wrap suits.
Full Bust
Choose a top with moderate coverage, v shaped necklines, halter top with supportive straps, and avoid push up or padded tops.
Smaller Bust
Underwire, padding, ruffles, patterned tops, and horizontal lines give the illusion of a fuller bust. Avoid solid colors and triangle tops.
To conclude, I have come to the realization that if I am at all in question about a piece of clothing and it looks off to me, it's most likely just that, off. When I'm iffy or going back and forth, I'll take a selfie, message it to my sister, and then I call her. I'll ask, "Hey, is this the right cut for me?" Some of the time, I get a, "No, the cut is off", or "Nah, not the best on you, sorry sis." So, when in doubt, trust your gut and call your trusted person for their opinion. And remember, finding the right suit takes a lot of time and patience. So be kind to yourself, give yourself some grace, and know not every trend is a one STYLE fits all!
If you need more guidance with your shape, then click here to dig deeper into which styles are best for your body type.