Since rebranding, I've shifted gears a little and started sharing styles and finds that are more personal to me and my everyday life!  One thing that I've really started to enjoy lately is home decor. I guess it's because we've been at home a lot these days, and I love searching for things to spruce up our space!
Two years ago, Keith and I built our home here in Dallas. Luckily, we have the same taste in home and interior design so the process wasn't too stressful for us. To start, Keith and I believed we could design and decorate our home on our own (laughter), but we quickly realized that it was all too overwhelming and we needed help.
After asking friends and family, we decided to use Canon & Dean Design (C&D), whom have become my lifelong friends! Not only did they push us out of our interior design comfort zone, they also taught me how much I really do love color and patterns. Sounds silly, but we went into this headstrong that all of our design would be white, white oak (very light wood color), and gray. As you will see below, C&D opened our eyes to the world of interior design and delivered us a warm and happy home.
If I could give any advice in regards to interior design, it would be that decorating a home requires patience, a budget, and a great design team, but most of all patience. Patience because furnishing a home takes time! Furniture and just home owning in general is mighty expensive, so we knew that decorating our home would be a process. We focused on furnishing the areas that we would spend most of our time in first, ie the kitchen and family room.
Find designers that understand you and can work within your budget. That's what I love about C&D, they were/are extremely patient, and never pushy. And most importantly, they made the process really fun and exciting for us, which is how it should be. I am forever grateful for Canon & Dean Design for making our home, home!
Home Tour
Our style I guess would be considered contemporary and a little bit traditional. Our home has very clean lines and white walls with traditional flare. You'll see simple clean baseboards and no crown molding. Our interior design would be considered the same, a mix of contemporary and traditional pieces.
Keith and I both have a lot of furniture from our parents and grandparents, which most of that is pretty traditional. So luckily, we didn't have to start from scratch in any room and even got some of the furniture refurbished to match our new design (I'll share with you below)!
***Side Note: These images below is what our home COULD look like if it wasn't taken over by toddlers (haha)! So know that my kitchen is clean, but there are clothes, toys, and crayons spread across my island 99.9% of the time. What you can't see, is my girls Minnie Mouse Kitchen, gymnastics mat, toys, and crushed pretzels that lay scattered across our floor that were removed for picture purposes ;)!
Entryway
Featuring Laura Park Design in our entryway! Recently, I purchased two Laura Park Scarves, got them both framed, and one of them is hanging here in our entryway! My sister-in-law gave me this idea years ago to frame a silk scarf as artwork for my daughter's nursery. I fell in love with this idea because if framed well, it's really pretty and a lot cheaper than actual artwork.
Check out Laura Park Design and use the discount code: CONLON20 to get 20% off your entire purchase! Offer valid for one use per customer.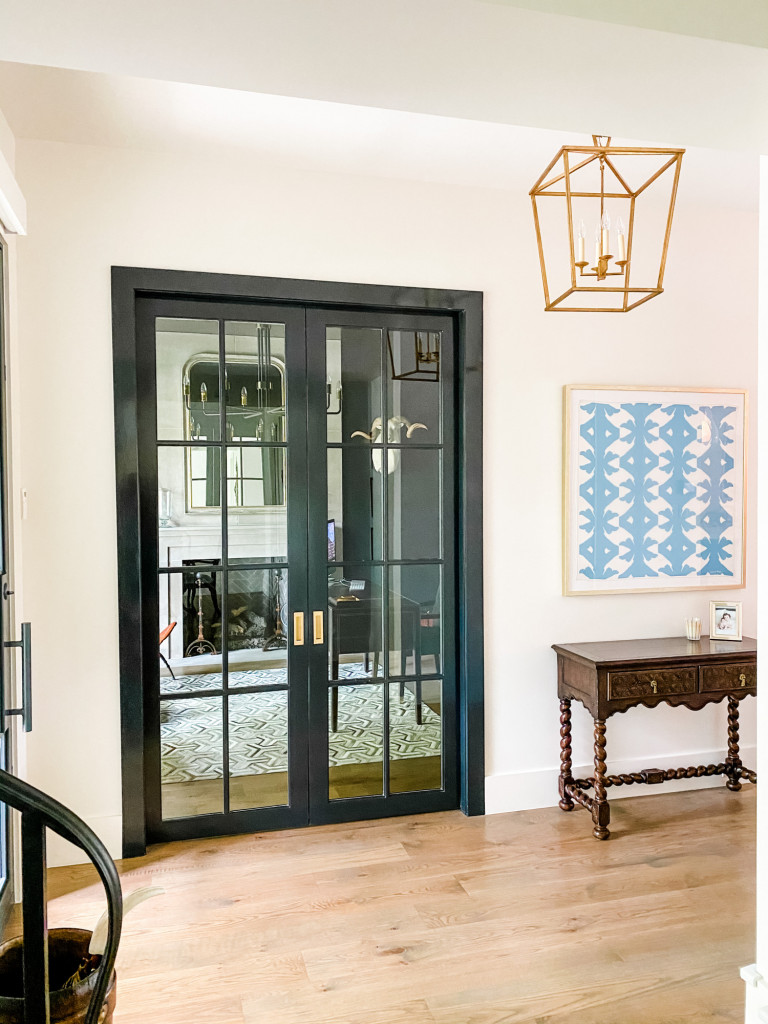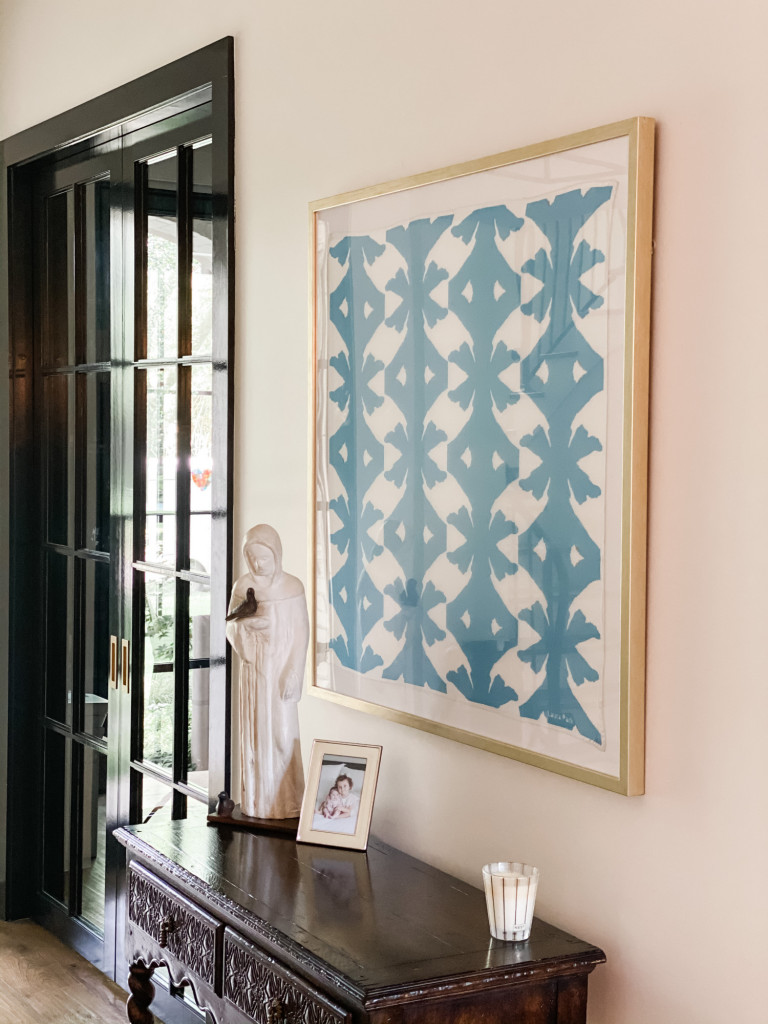 Keith's Study
Instead of a Living Room, we decided to do a study for Keith. Our designers helped us big time with this design and made this the sexiest (haha) home office I'd ever seen! We did built in cabinets and lots of shelving, so we could fill the shelves with Keith's sports memorabilia.
The fireplace is limestone in four big slabs.
Paint Color: Benjamin Moore Graphite in High Gloss.
This is where we put our Christmas Tree and enjoy White Russians by the fireplace during the Holidays.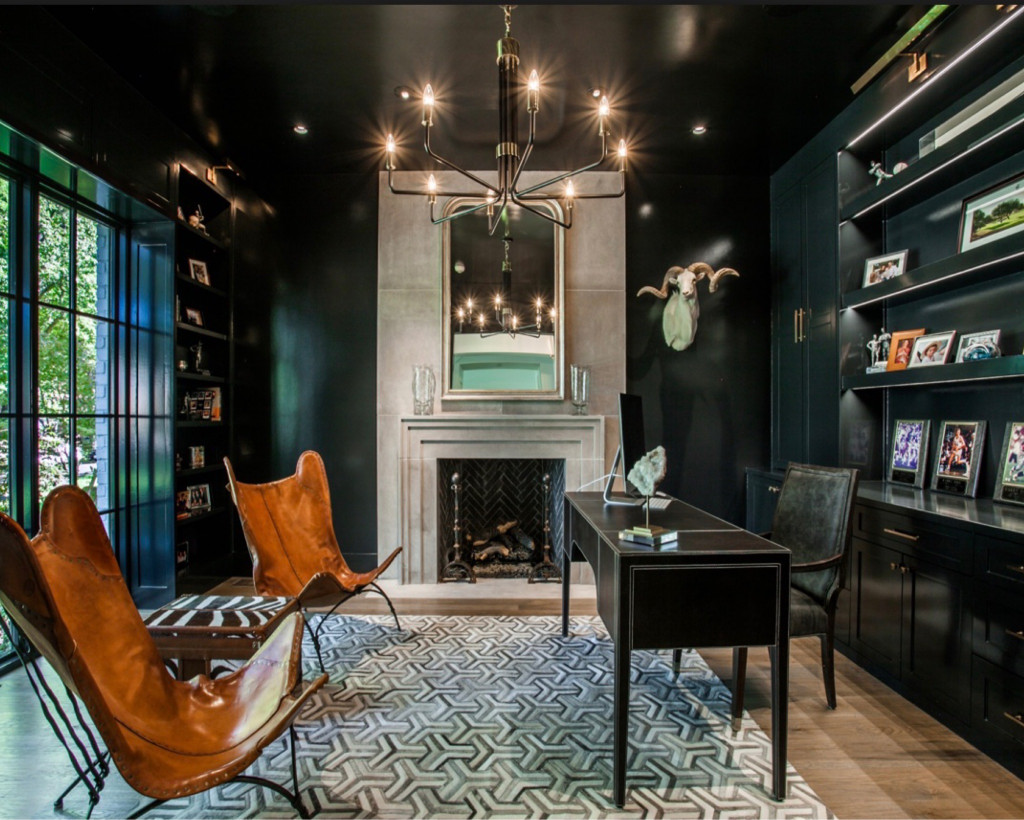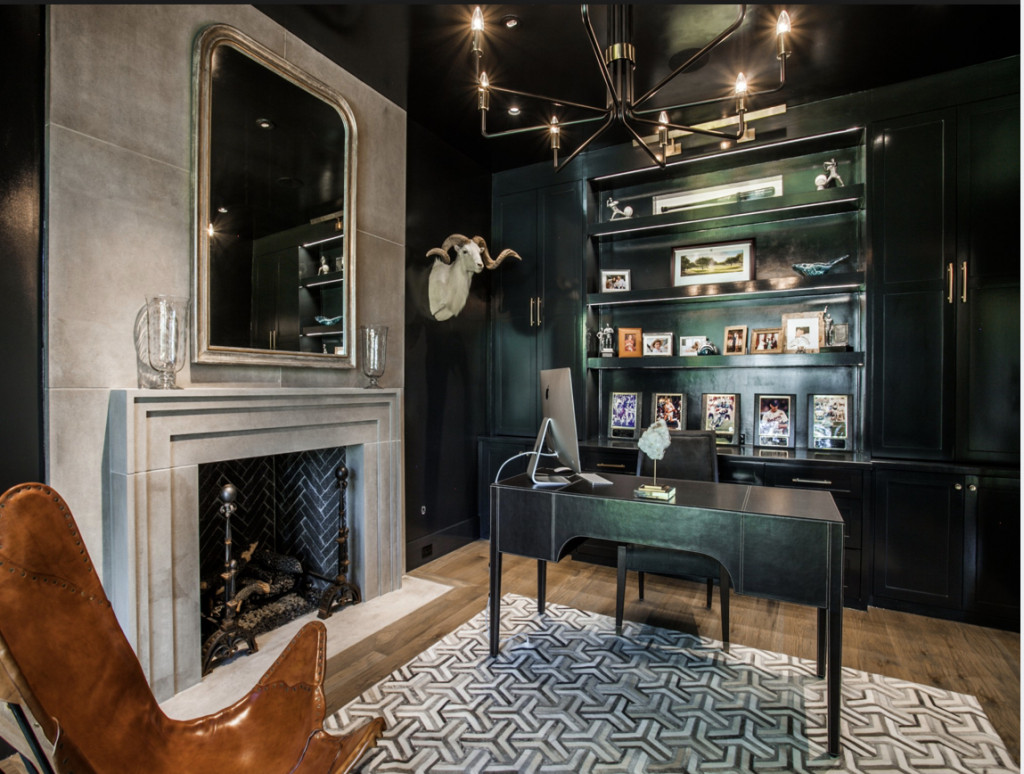 Dining Room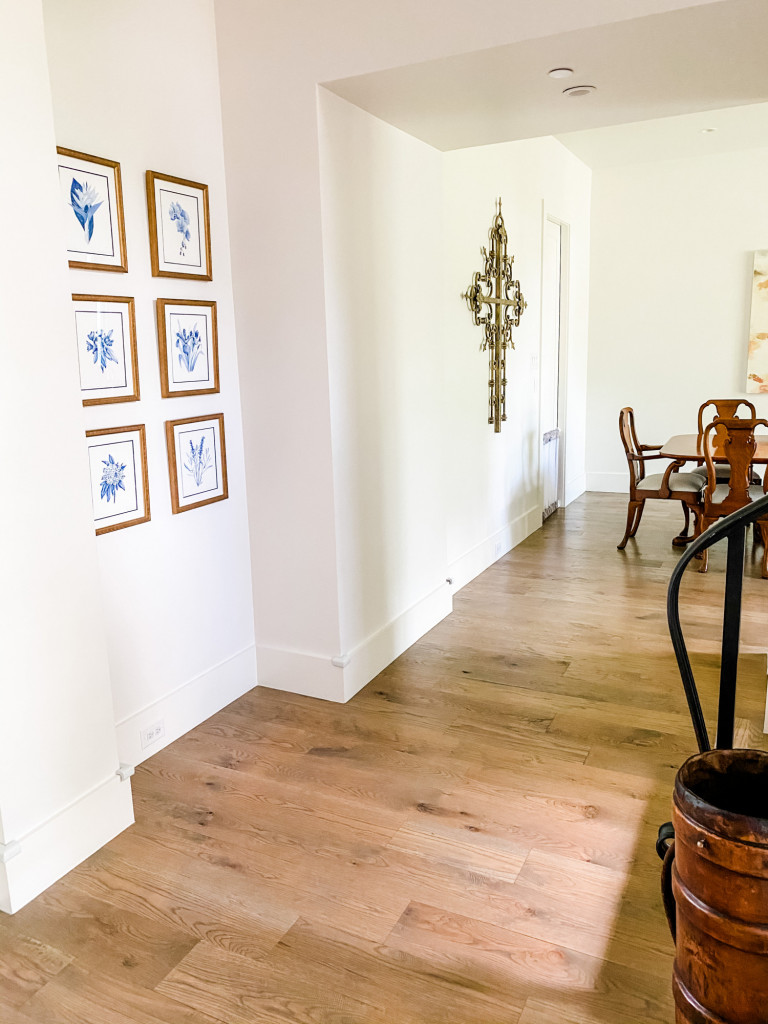 Artwork: Lucy Reiser – Blue Botanical Collection | The Iron Cross was custom made for our wedding ceremony & now hangs on our wall! We eventually need a console table to fit in the inset underneath the botanical artwork.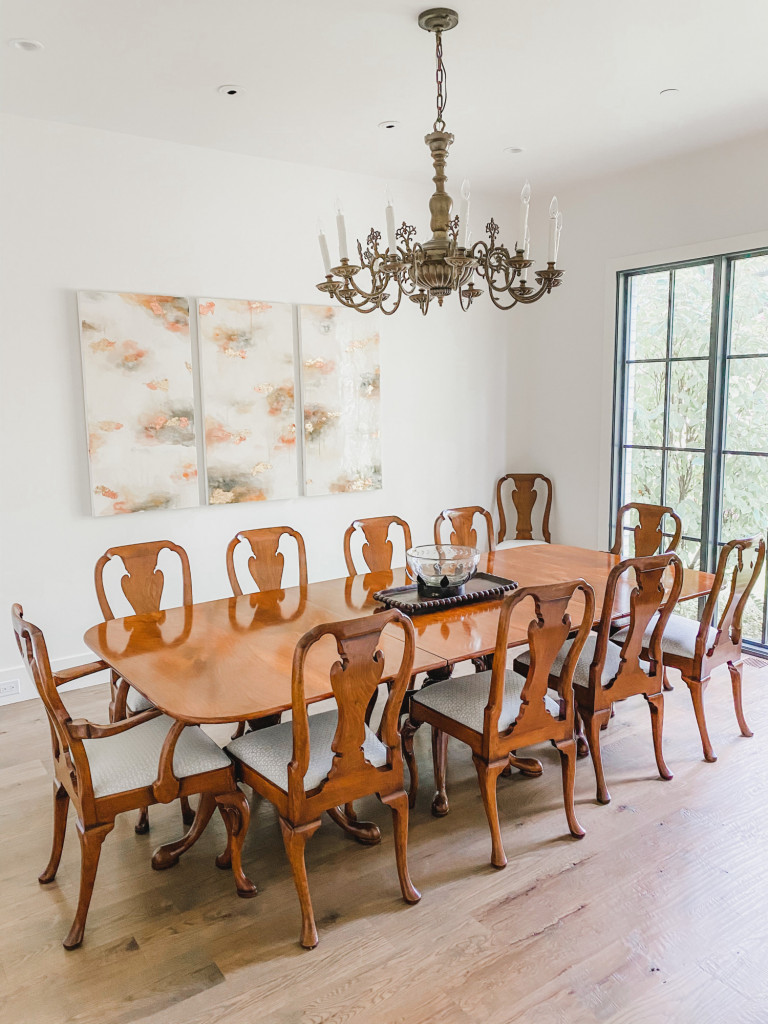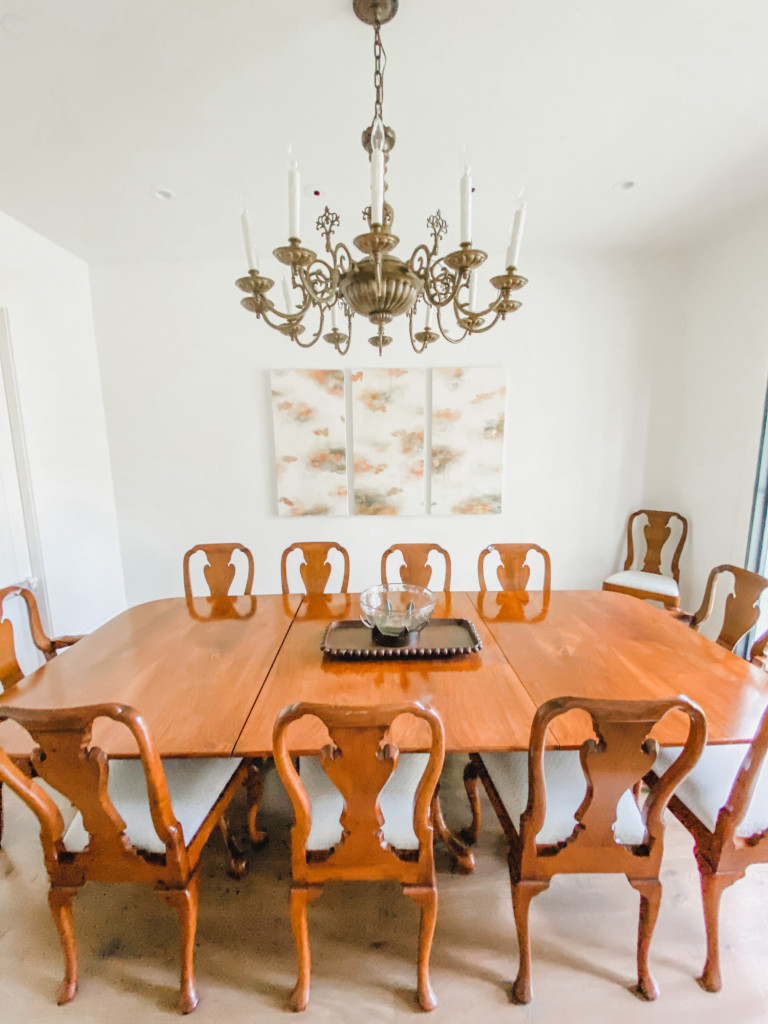 Chandelier: Was Keith's Grandparents | Dining Table & Chairs (seats 18): also Keith's Grandparents that C&D helped us recover the chairs | Artwork: Amee Callaway
Eventually, we would like to get a buffet table in here, the triptych painting framed, and curtains made as well. As I said above, furnishing a home takes time :)!
Kitchen
For our kitchen we wanted an open concept that felt clean, yet warm and practical.
Kitchen Cabinets in Benjamin Moore White Dove in a Satin finish
Kitchen Island: Sherwin Williams Smoky Blue
Our Ventahood was created by Sealtex here in Dallas. I found a similar Ventahood design on Pinterest and C&D convinced us to do the brass strapping instead of chrome. I'm so glad they did because to me, the brass strapping  is a definite showstopper!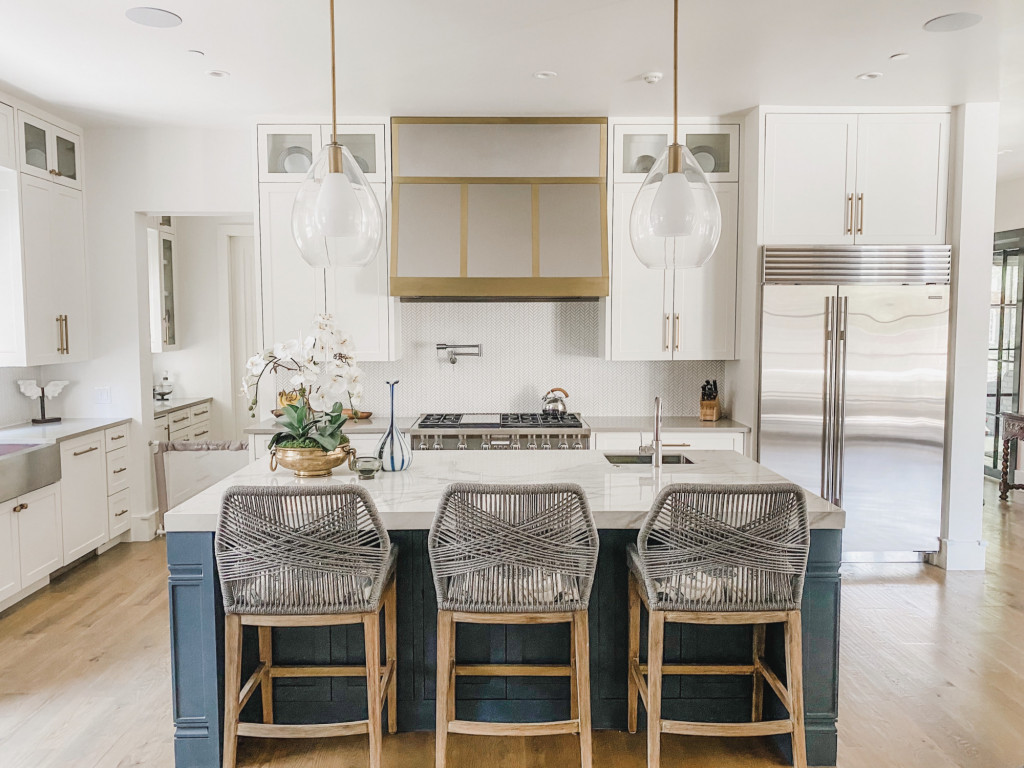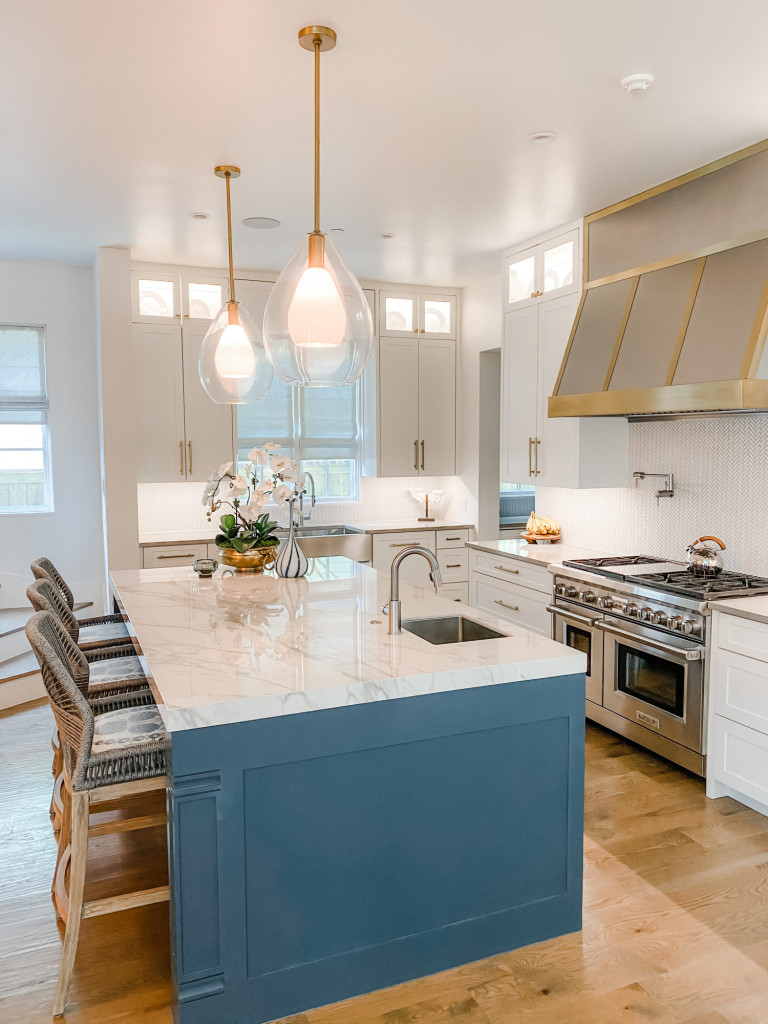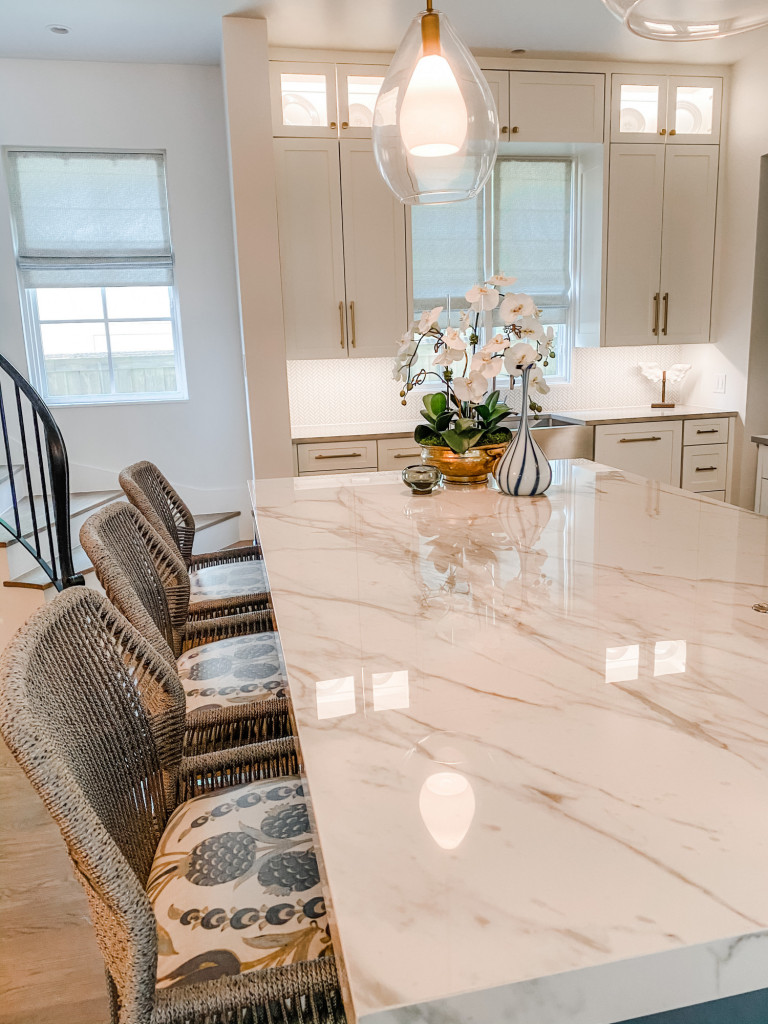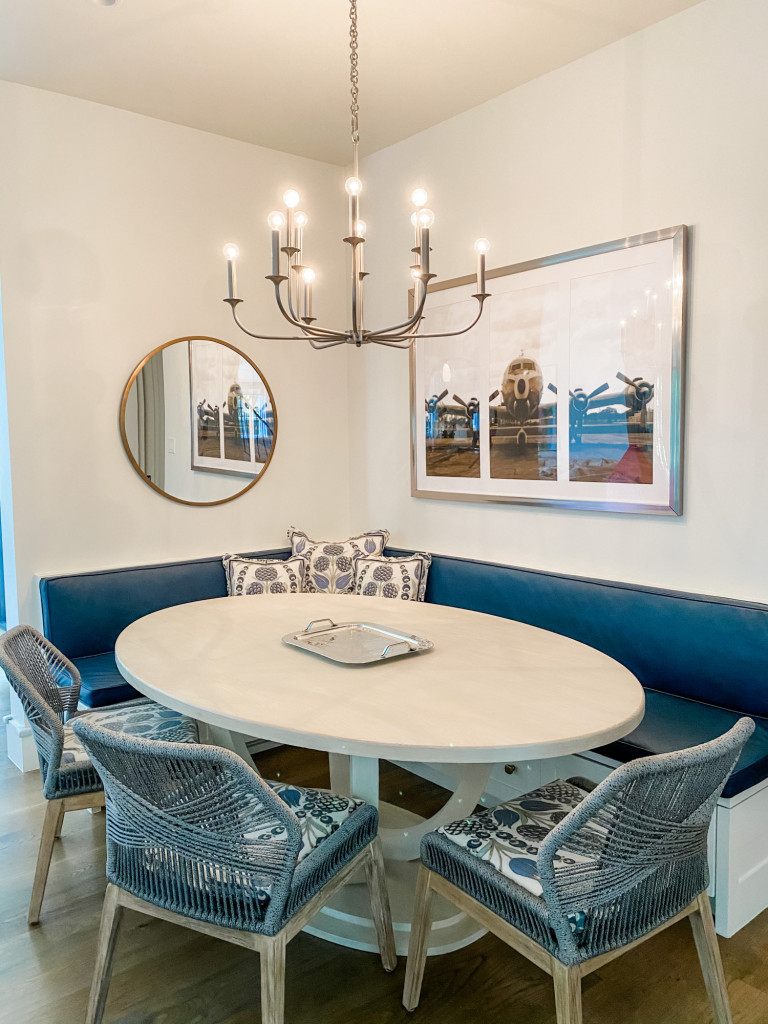 One of my favorite spots in our home is now complete! Thanks to my girls again for helping us love our breakfast nook even more! Recovering the seat cushions and the barstools to match the pillows in this nook, really tied everything together. We did send the fabric off to get a laminate so all those spills and sticky finger stains just wipe right off!
Ashley at Lakewood Succulent Design is currently working on a faux piece for our table!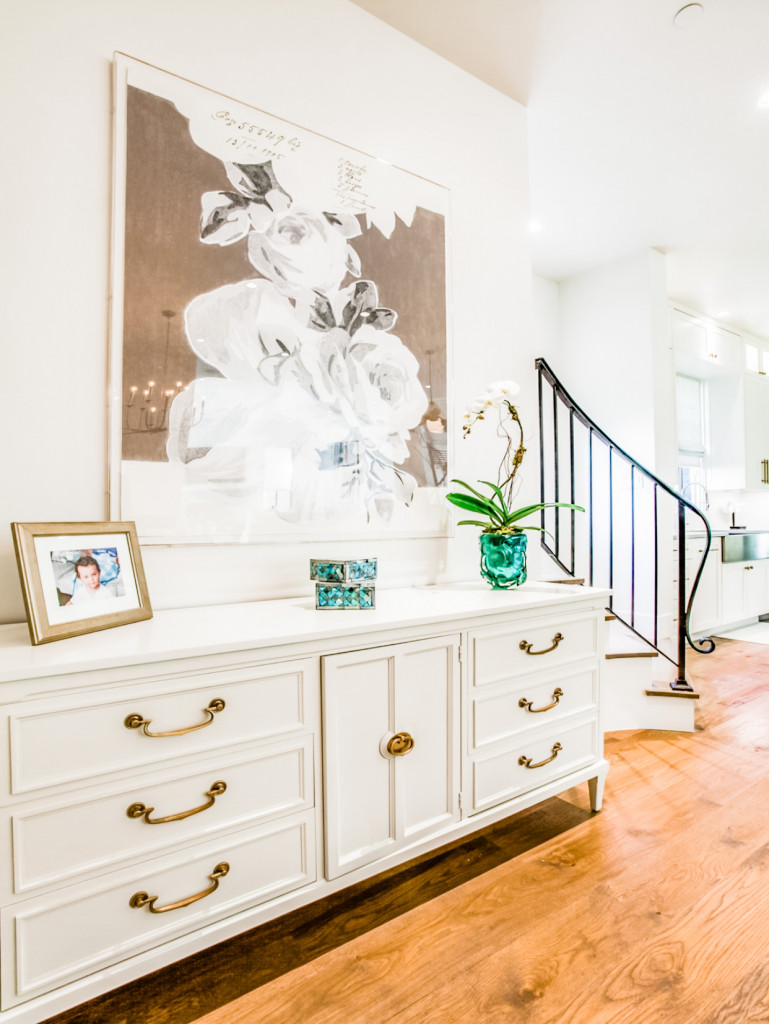 This credenza is from The Collective in Dallas. The Collective has also featured Laura Park Design and Ashley from Lakewood Succulent Designs pieces in their store as well. I love this piece so much and it's where we store our table linens and seasonal home decor!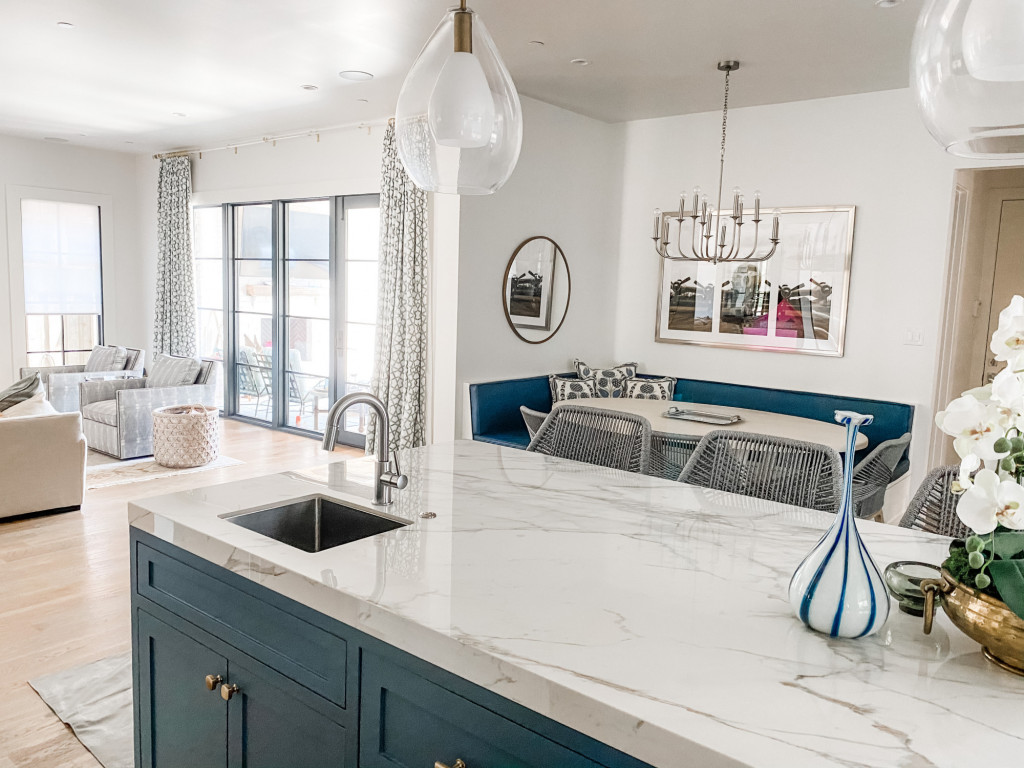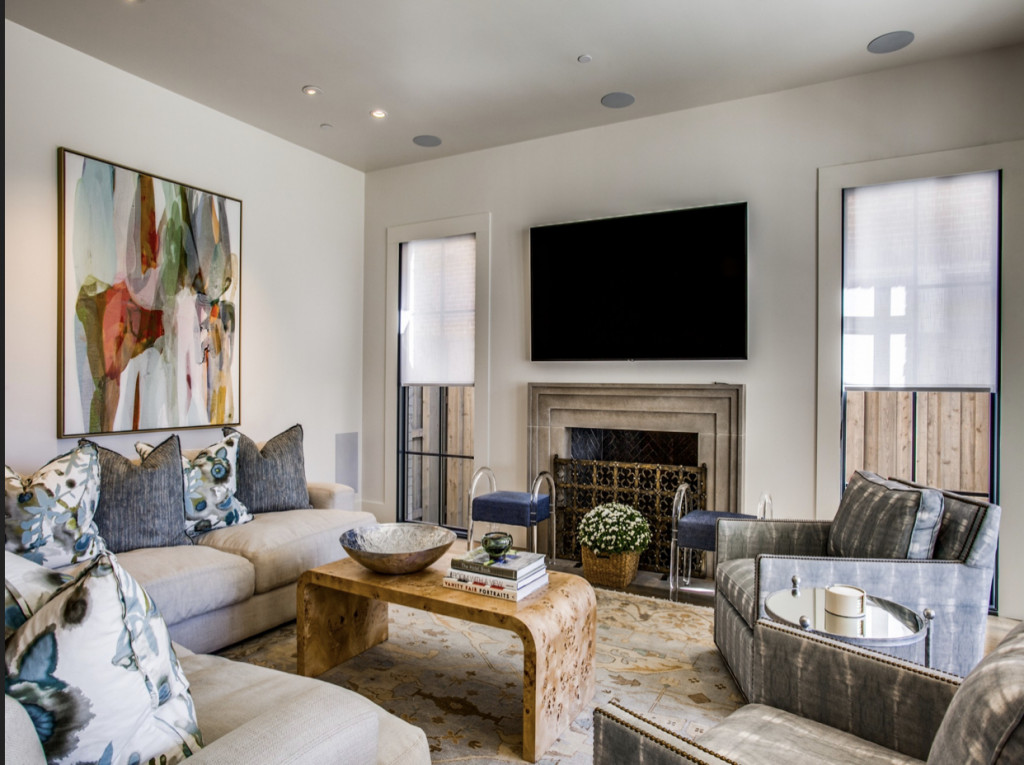 Artwork: Lynn Sanders Art | Acrylic Denim Blue Stools: Scout Design Studio | Mirrored Side Table: Target | Fireplace Screen: Jan Barboglio | Sectional: Weirs
Powder Bath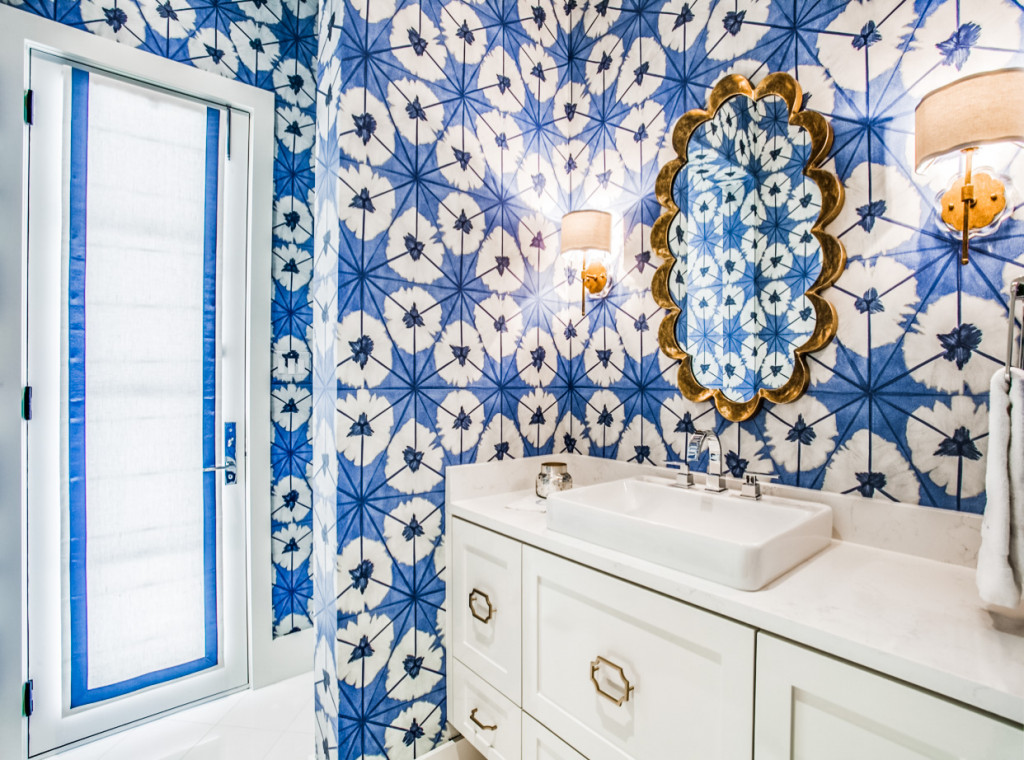 When designing our Powder Bath, I really wanted to make it fun! It took me some time though to get on board with wallpapering in here. I was afraid of it being too loud or maybe something I would get sick of over time. However, C&D assured us it would be a game changer and boy was it! I love how bright and cheery it is in here. Linking my favorite monogrammed hand towels that I got on Etsy below.

A Great Tip!
During this process, Keith had a really hard time envisioning a room by only having a little swatch of fabric or a piece of wallpaper to refer to. To give him a visual, I used Pic Collage (an app) to create the space we were envisioning. I use this app for all of my collages and my Mood Boards too! I found the Pic Collage I made for him to see what this wallpaper would potentially look like…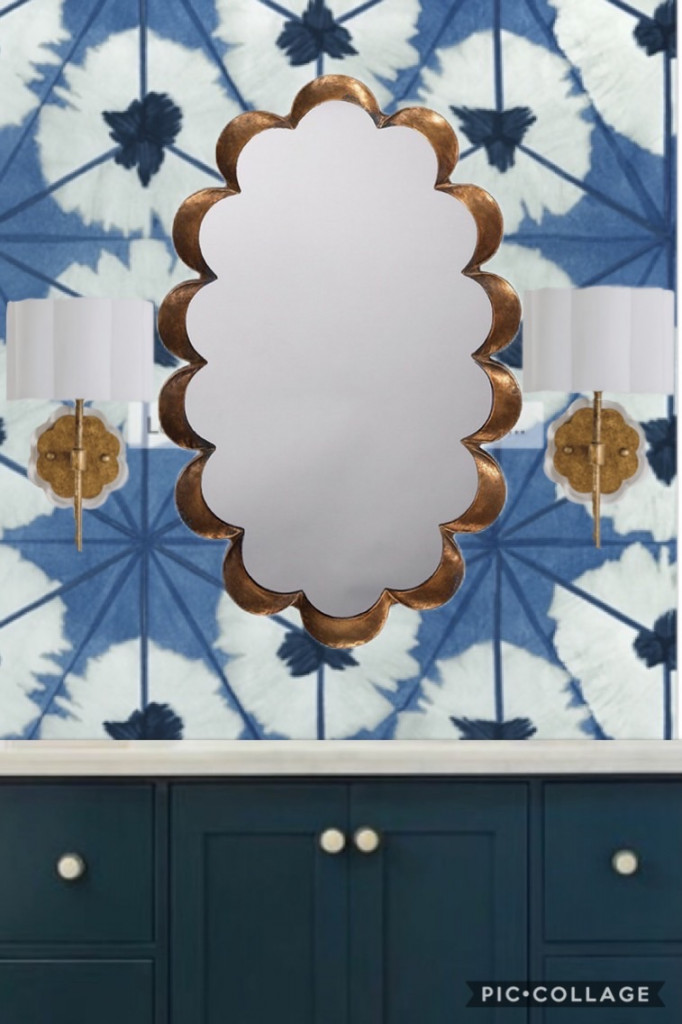 Patio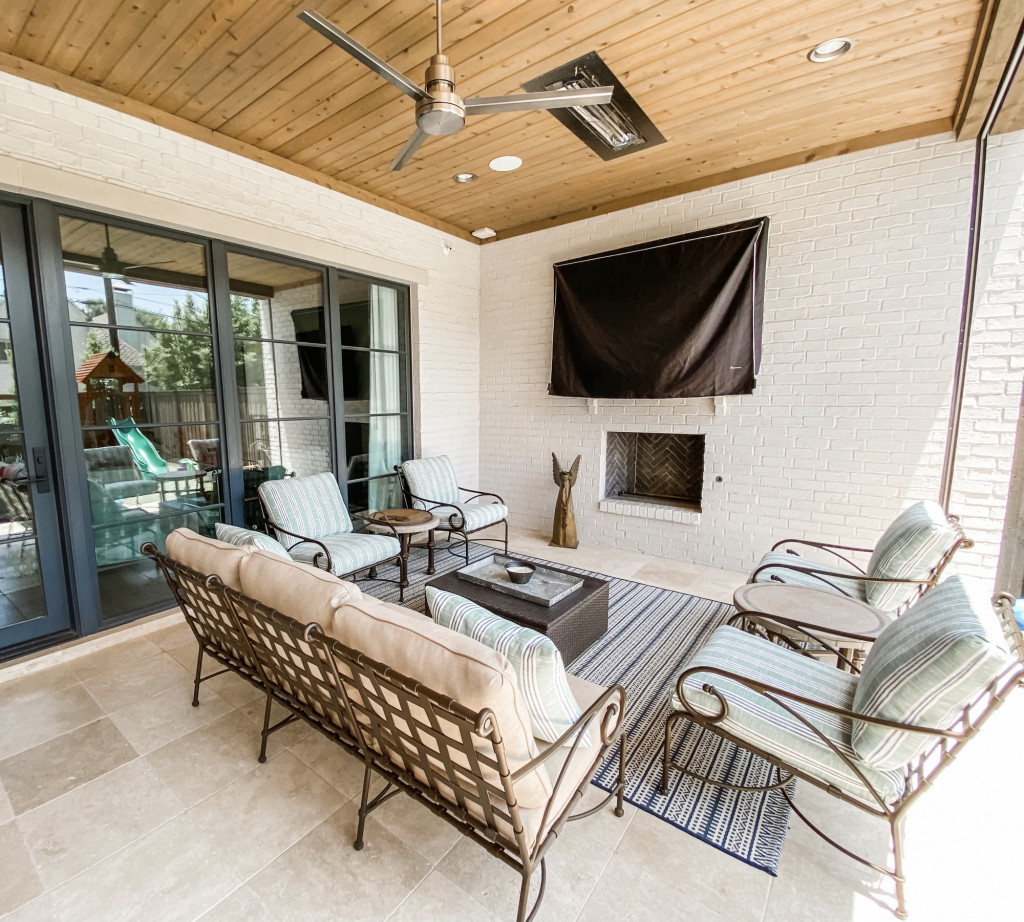 My Dad recently redid his outdoor space, so he gave us his old patio furniture. Most of the cushions were torn up from squirrels, so C&D helped us recover the chairs and add two pillows to match! When the weather is nice, we spend a lot of time out here. I also love to watch movies here too when it's really cold outside. This is also Keith's Sports TV and since COVID hit, he's been really sad to have his TV covered (we need sports back)!
For the TV Cover click here
A great tip for outdoor fans… if you have heaters in the ceiling, make sure to get a medal bladed fan. Many ceiling fans are plastic and will melt if you have heaters next to them.
Outdoor Rug: Target

Mudroom/My Home Office/Dog Room
Directly across from our Powder Bath is our Mudroom, also my Home Office, and our dog's food bowl & doggy door. When framing out this room, I wanted cabinets to hide our kids coats, drawers to be filled with shoes, an area for my dog's food bowl and doggy door, and a built in desk for me. Having this designated area for our dog is so lovely and the doggy door is a life saver. Eventually, I'd love to wallpaper this room in a minty green grasscloth, but for now, this little rug I purchased from Lou Collection made this space complete! It's amazing how a little rug can change the whole feel of a room!
To shop the best rugs, visit Lou Collection and follow her on Instagram @loucollection !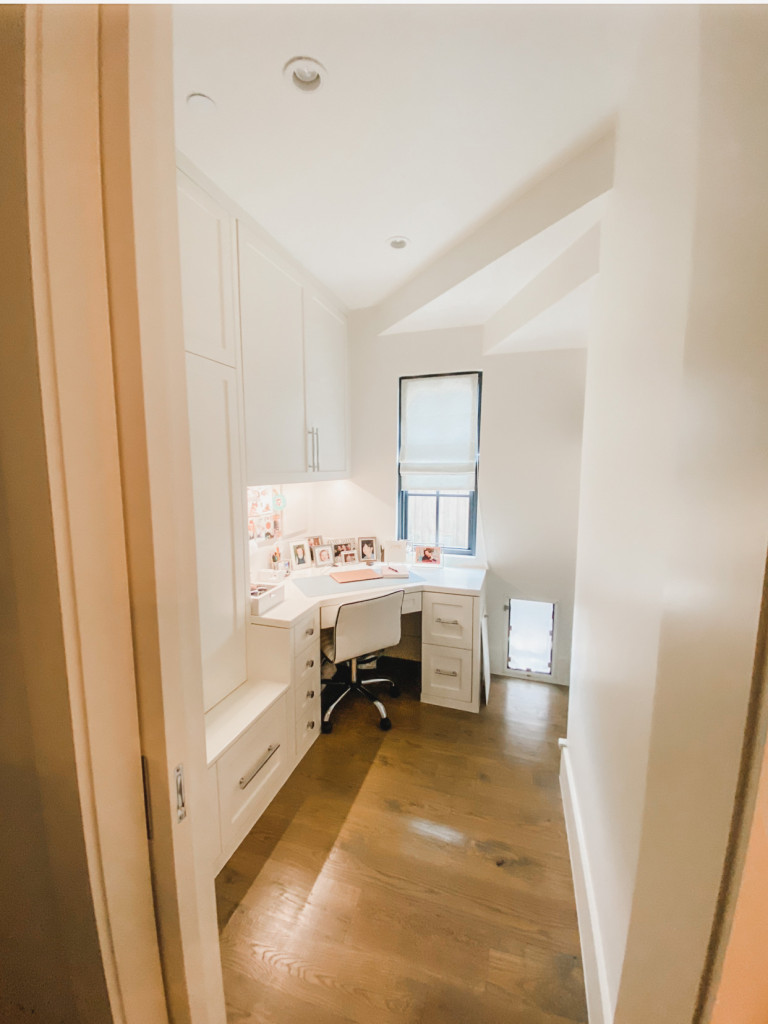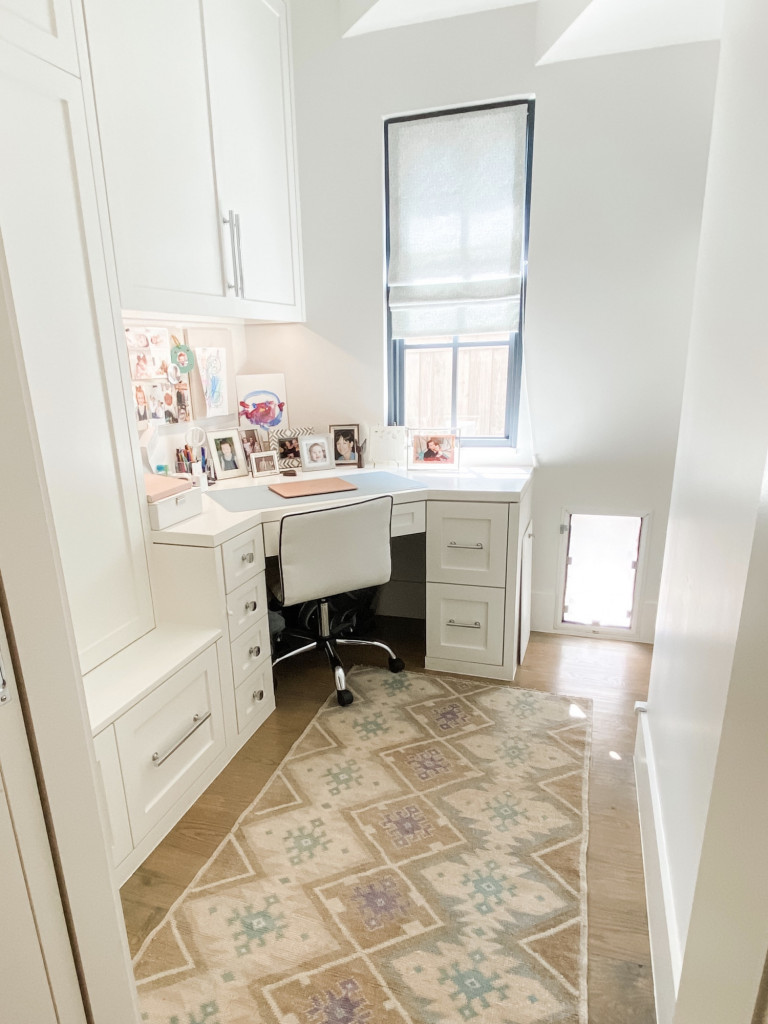 Katie Approved!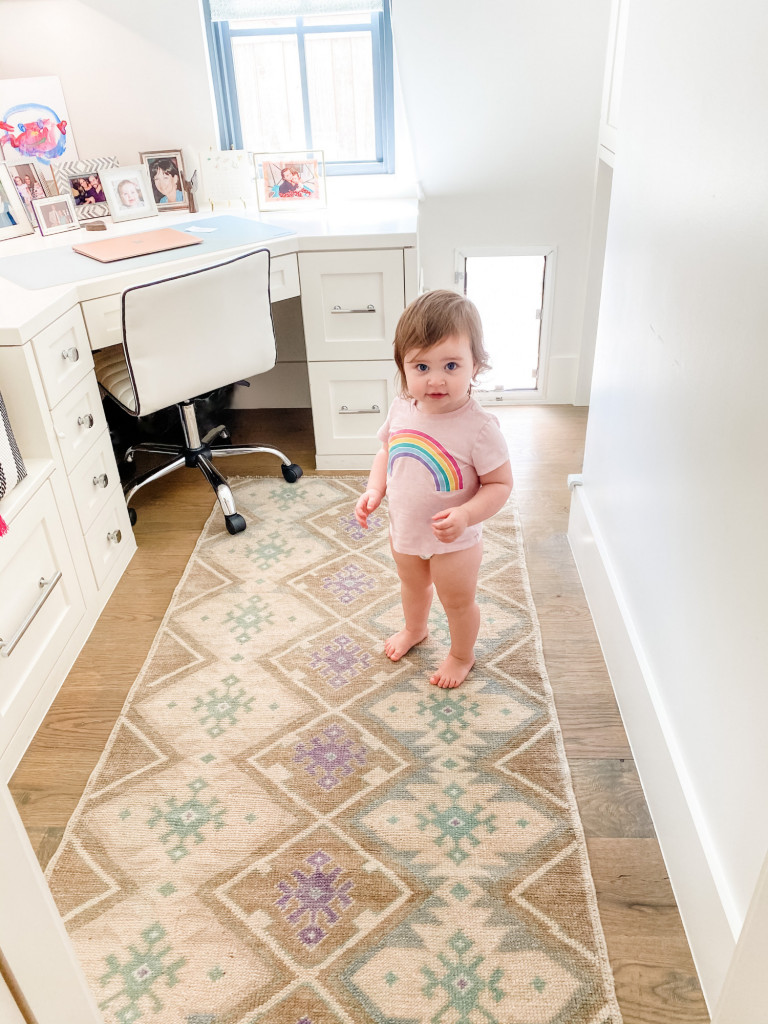 Laundry Room
When designing our Laundry Room, I asked C&D to help me make this room clean and fun because what is fun about laundry? We found the tile first. I then took it to Sherwin Williams to have them create and mix a paint color that matches the minty greens in the tile! This minty fresh room actually makes laundry days a lot more fun!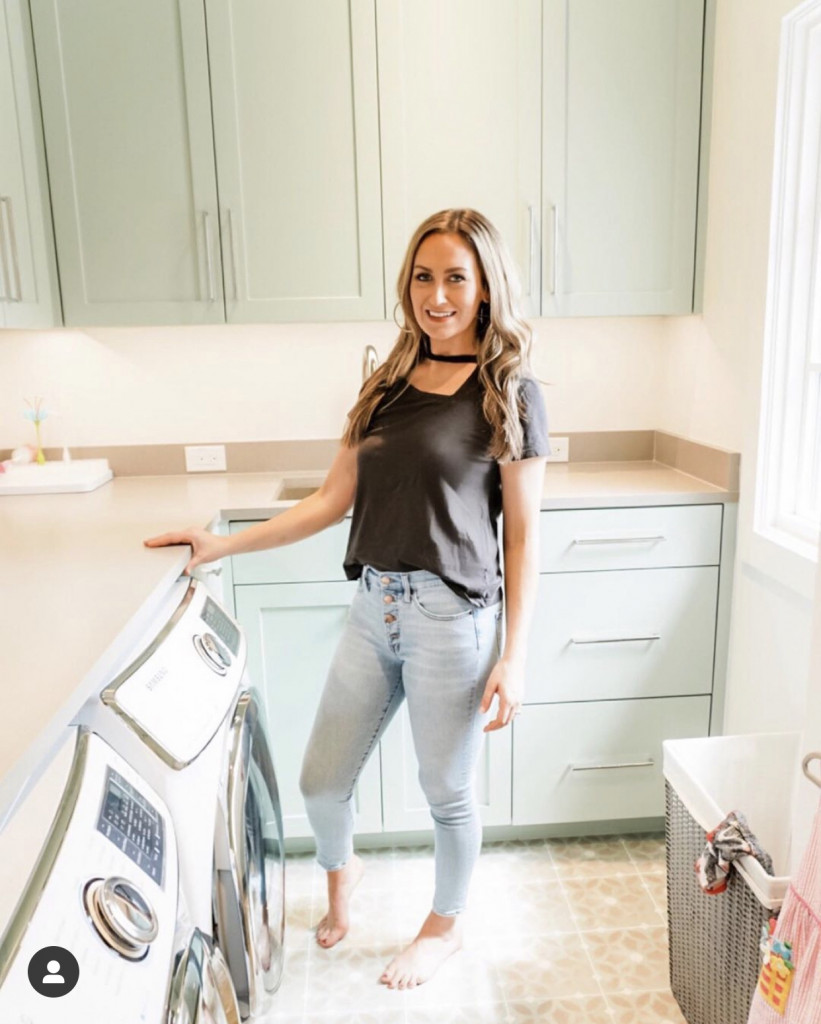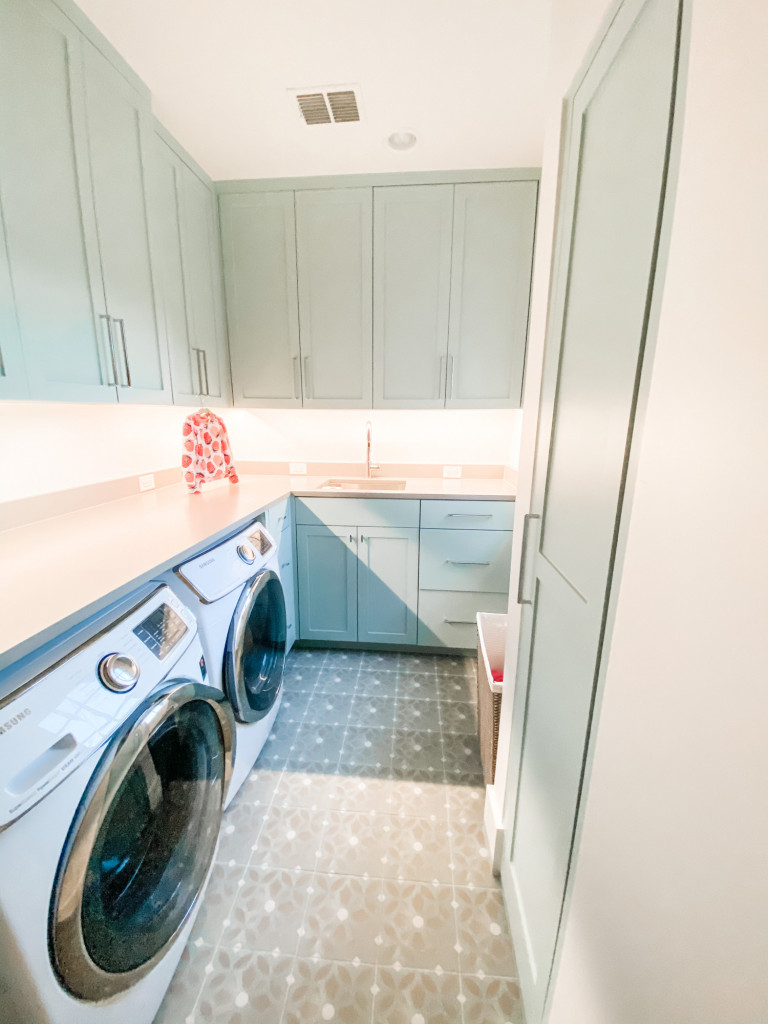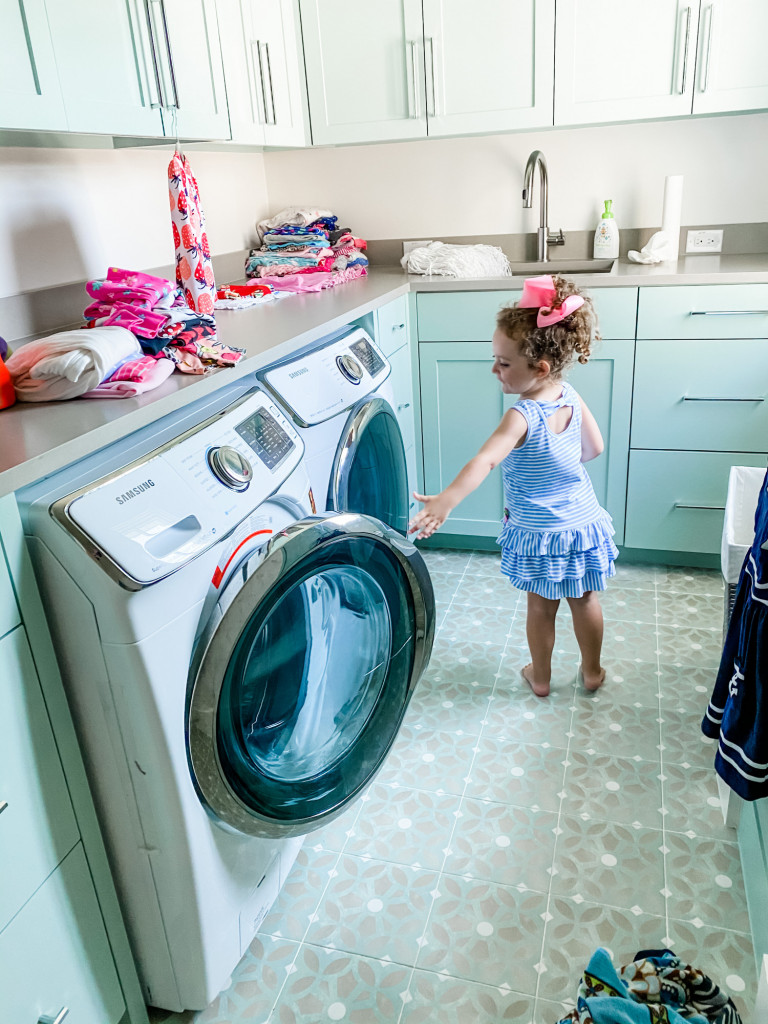 Had to show a real image of my Laundry Room, the "messy" picture is actually  pretty clean!

Master Bedroom
This is a room that is a work in progress but one that I still find wonderful. Our designer's seamstress altered our curtains from our old home to fit our windows here! They also had their team refurbish Keith's grandparents dresser to match the minty greens in our drapes (before & after below).
Also featured here, is another framed Laura Parks Design Scarf! We were in need of something over our bed and I just love how this scarf adds some much needed color to our bright and white bedroom!
Check out Laura Park Design and use the discount code: CONLON20 to get 20% off your entire purchase! Offer valid for one use per customer.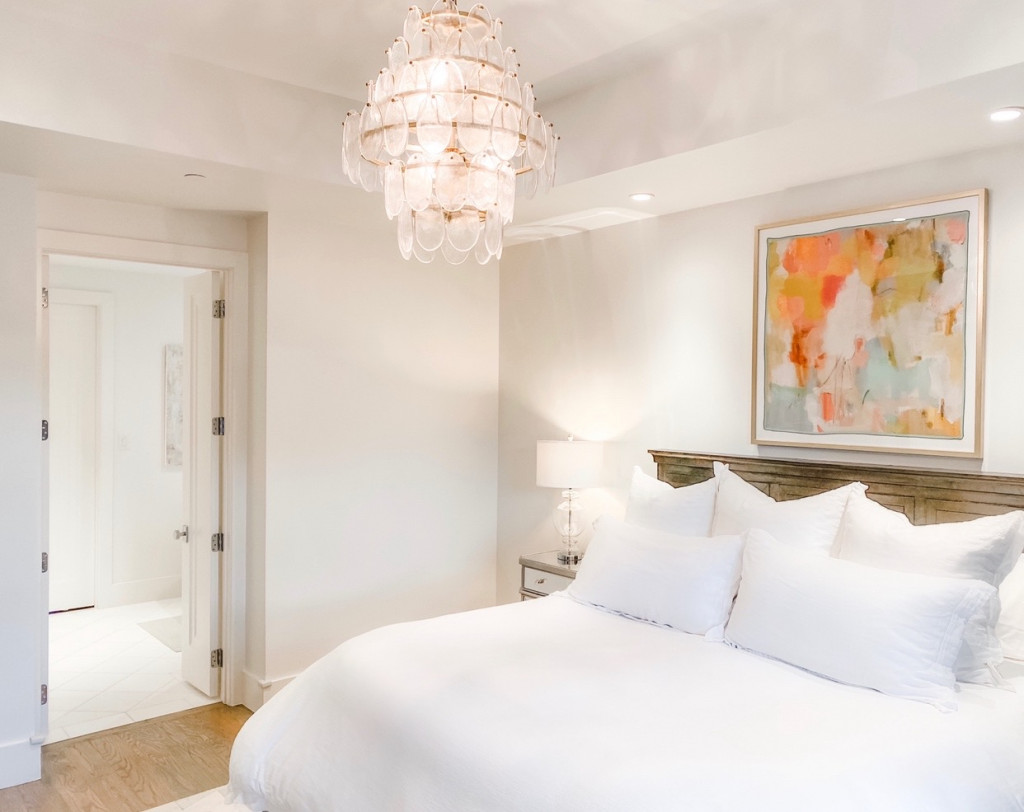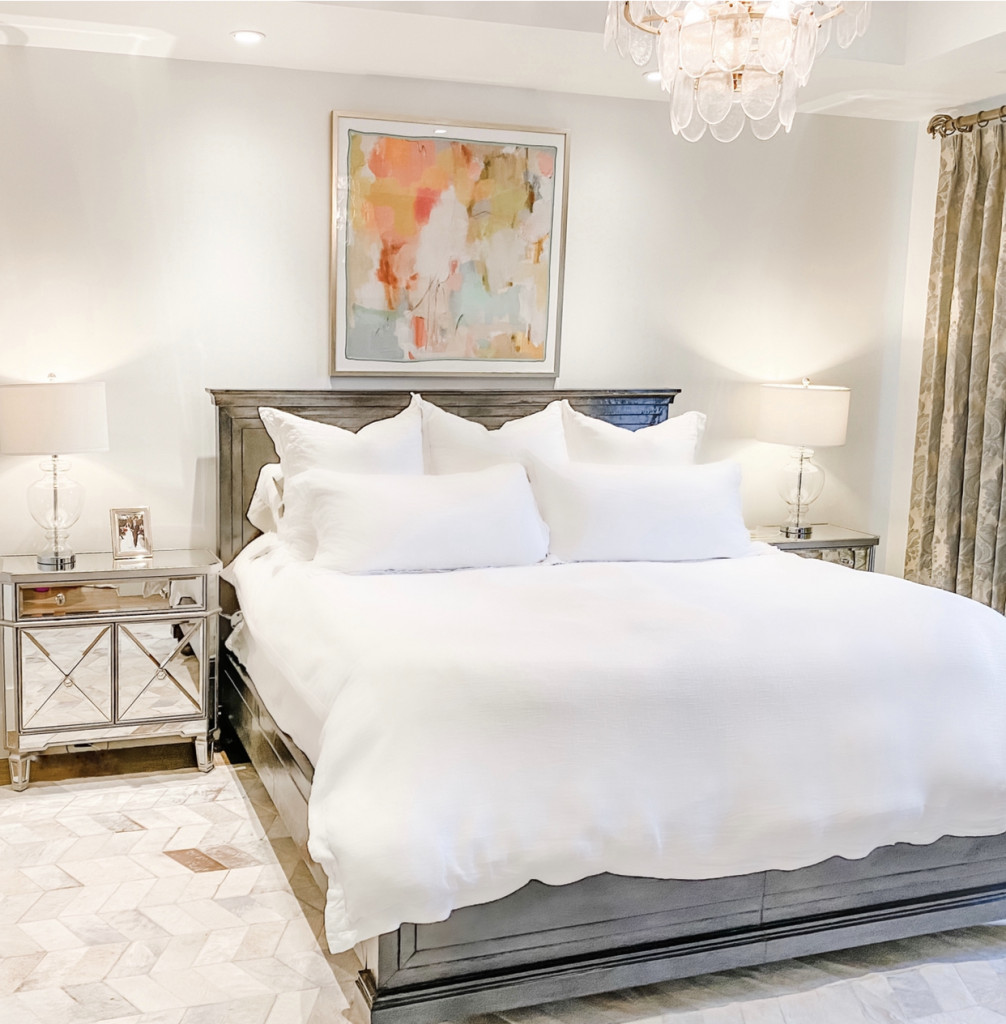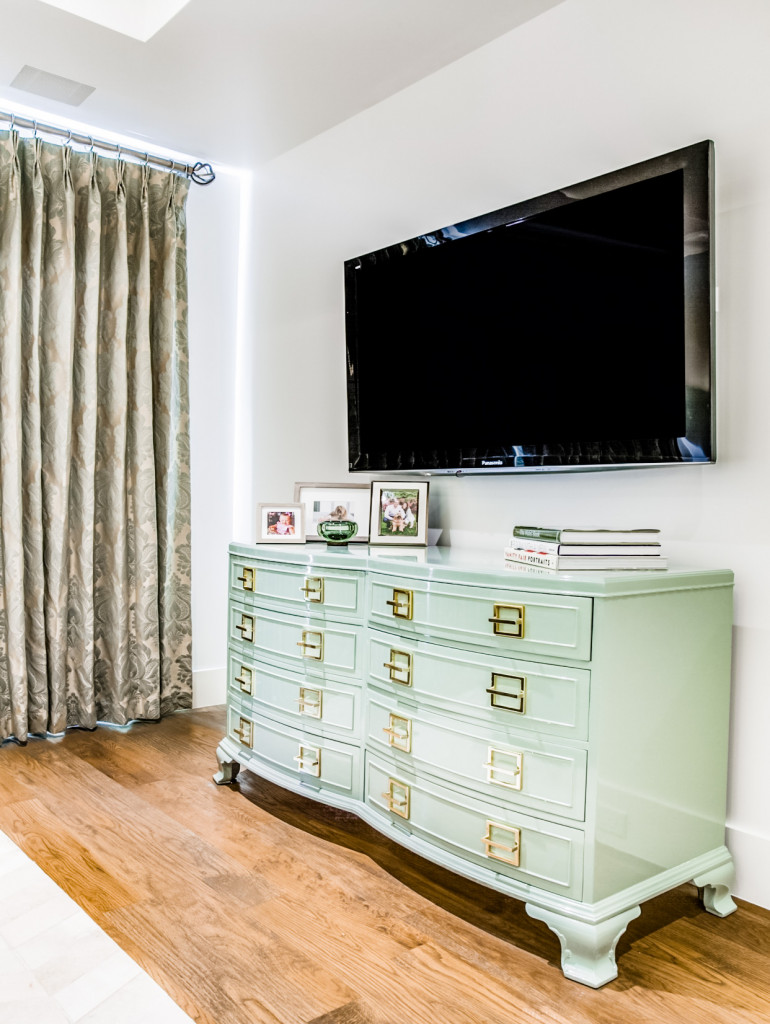 The lighting in this picture made this dresser look a lot brighter than it really is. The image below (the after) is what it really looks like, a softer muted green.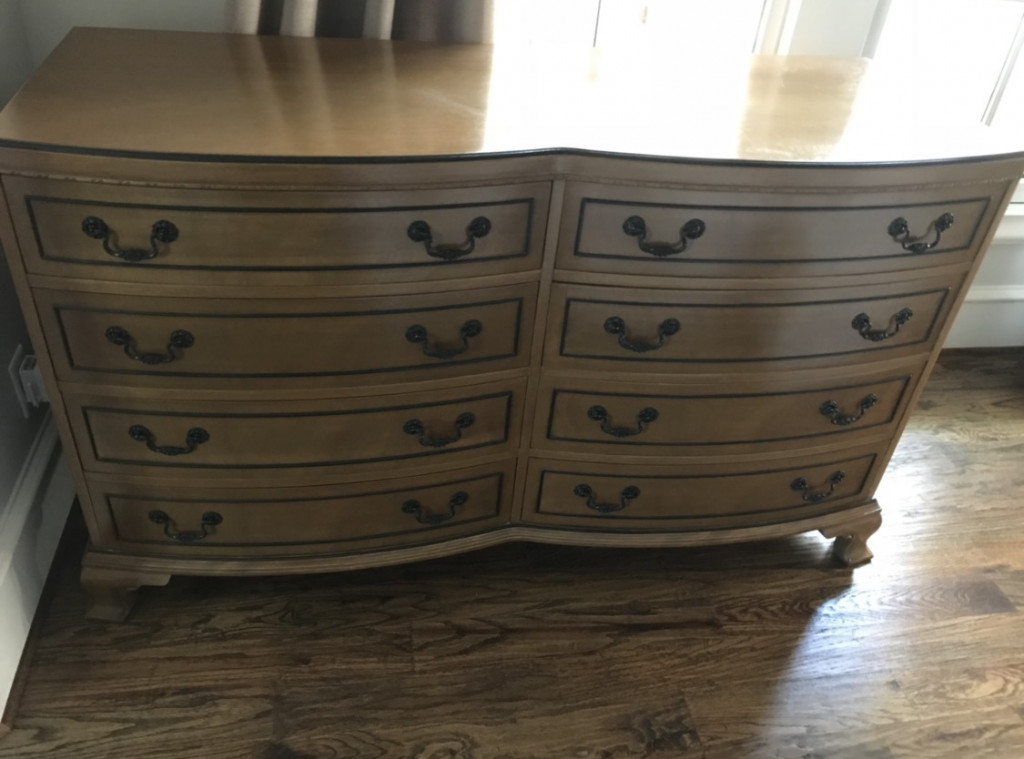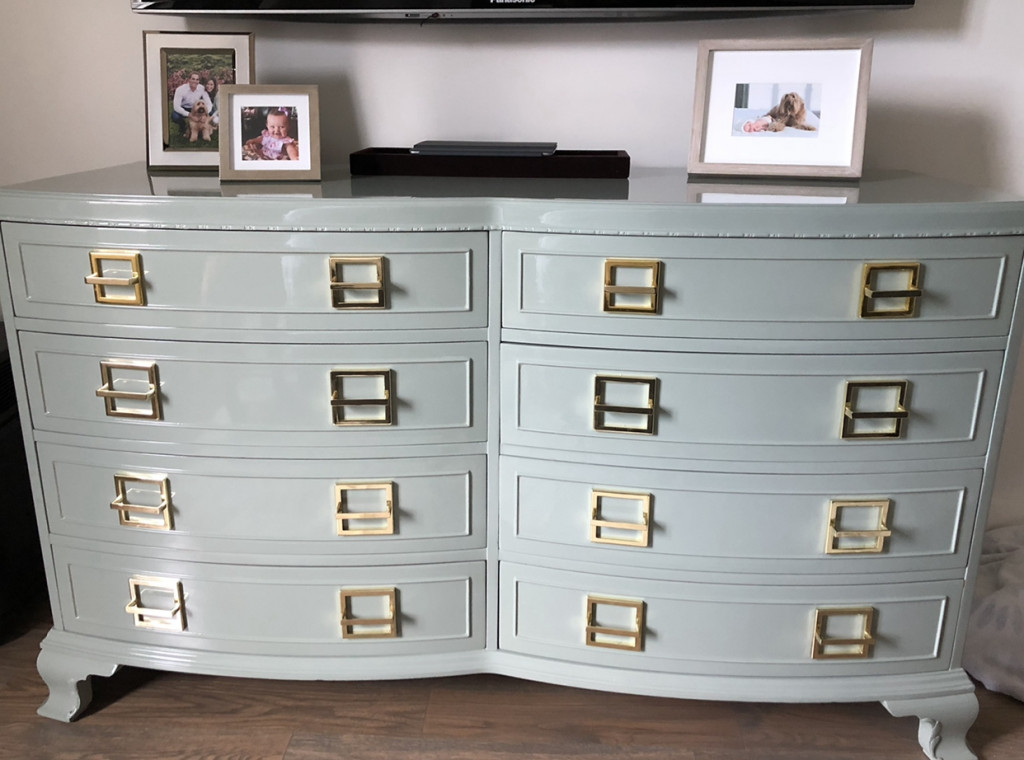 Master Bath
Eventually, we would like to wallpaper our bathroom as well, but we wanted an all white bathroom and enough storage space to keep our toiletries off the countertops! I also LOVE my baths, so I really wanted a bath tub that I could fit in (haha) and relax!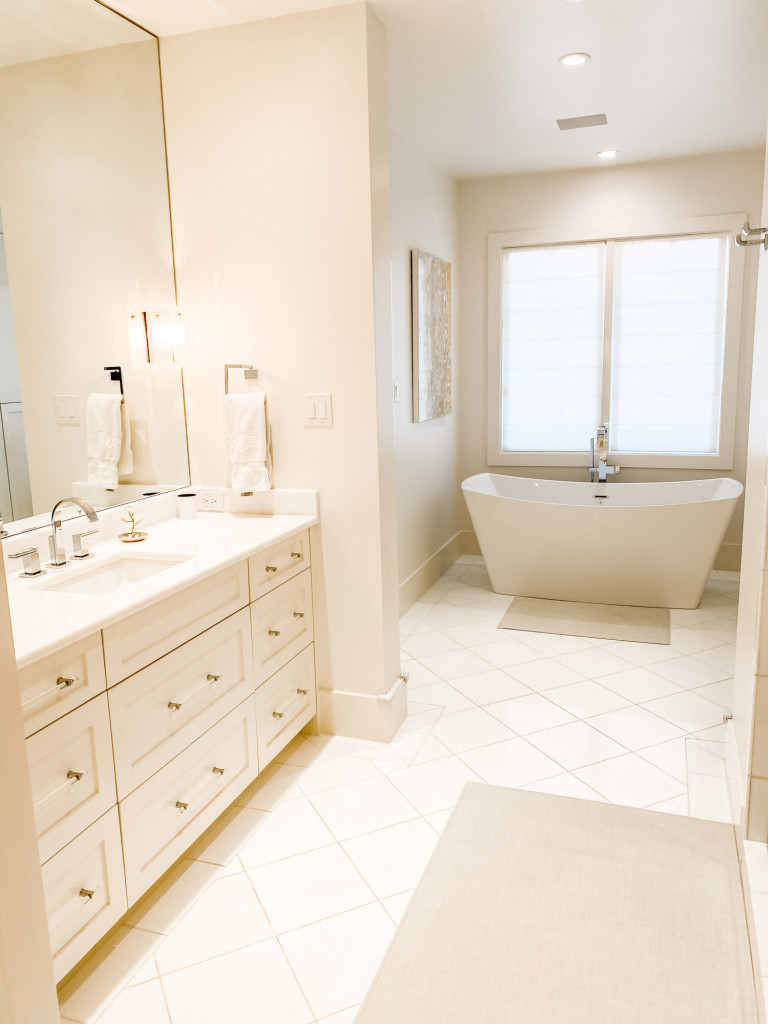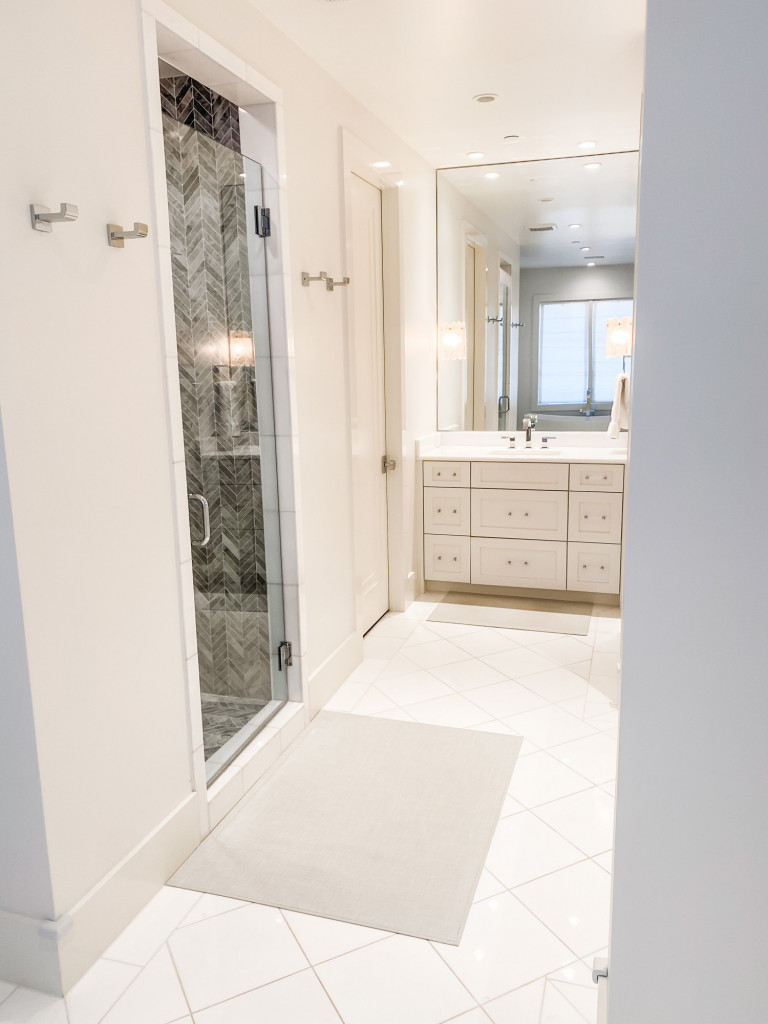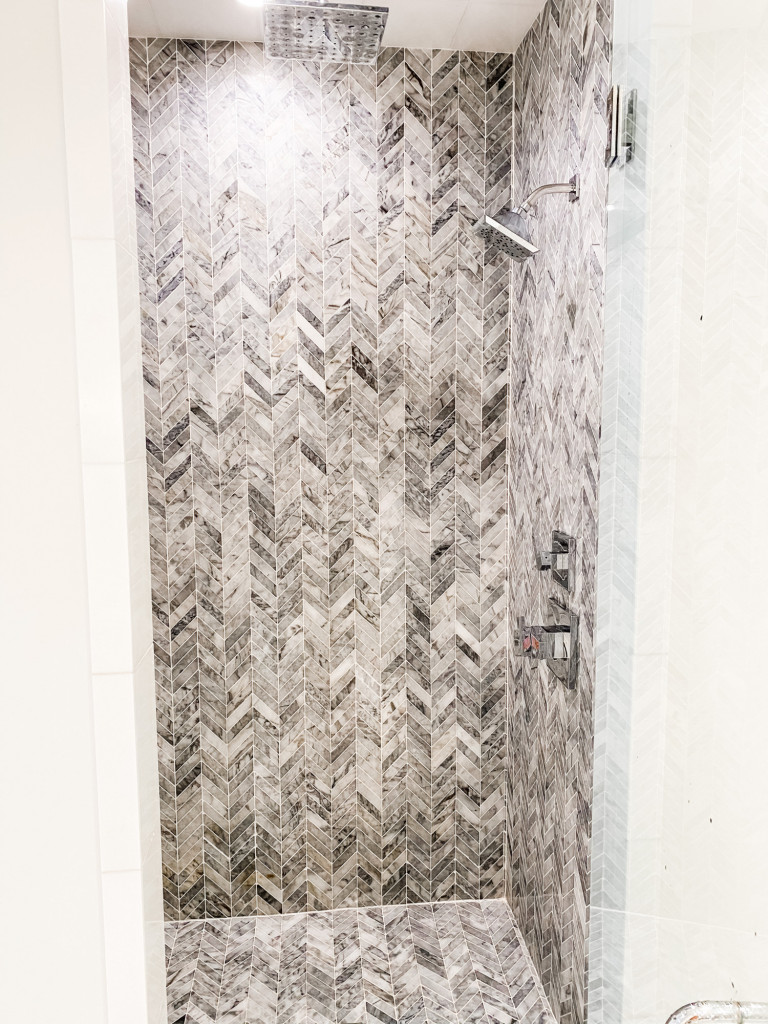 Our bath mats are by Chilewich
One of my favorite design features in our bathroom is one you can't even see! C&D gave us this idea to create even more storage in our bathroom drawers…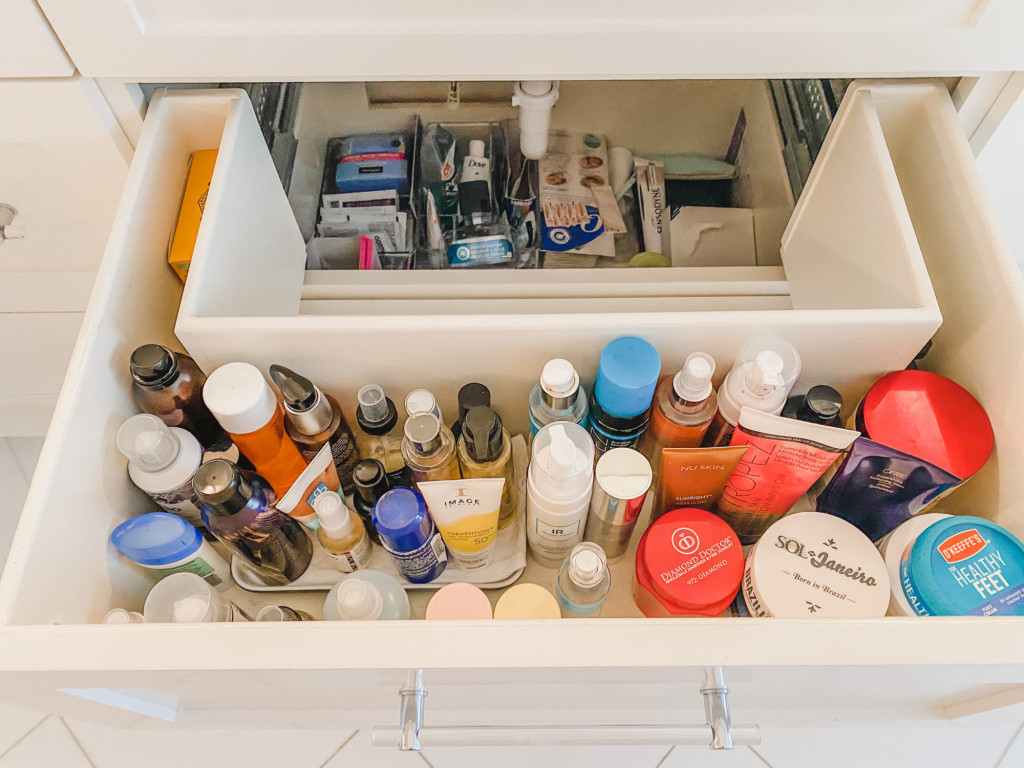 Nursery
With our nursery furniture, we stuck to a very neutral color palette. One of our good friends had this crib for her son and I just loved the white oak color so much because it goes with everything! After we moved in, we found out that we were having another girl, so that is when we added lots of pinks and blues to her room!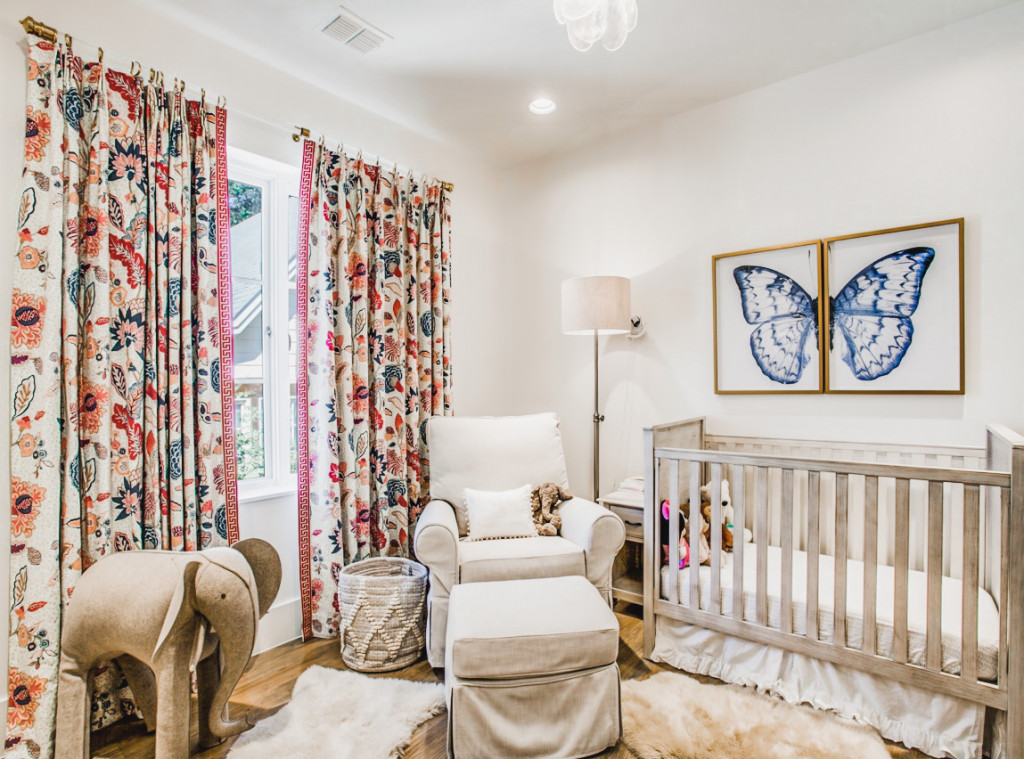 This butterfly painting is one of my favorite pieces of artwork! This is by Caitlin Wilson Design and I am just in love with everything on her website.

Claire's Big Girl Room
By far, Claire's room was my favorite to design with C&D! Keith, being a HUGE TCU fan, had one demand with her room design. As you probably guessed, "her room must be purple!"
In here, we refurbished my old bed and refurbished my grandmother's old side tables too (images below)! Keith had that bench under her window (prior to us dating) and we recovered it in Meghan Adams Brooks Fabric!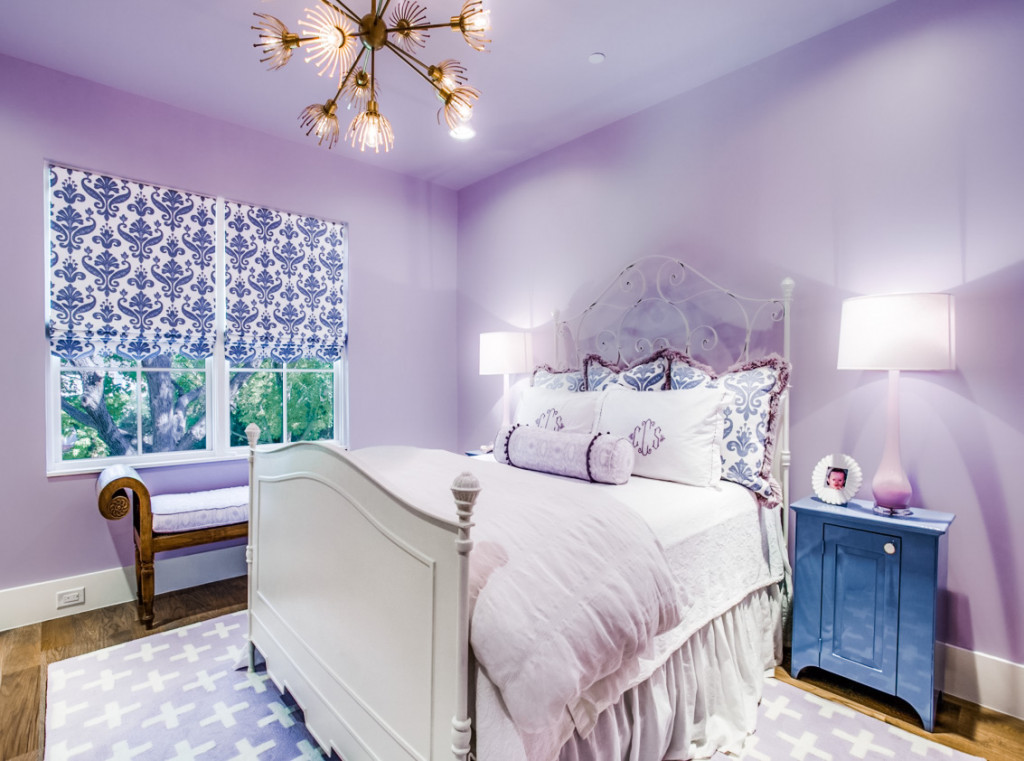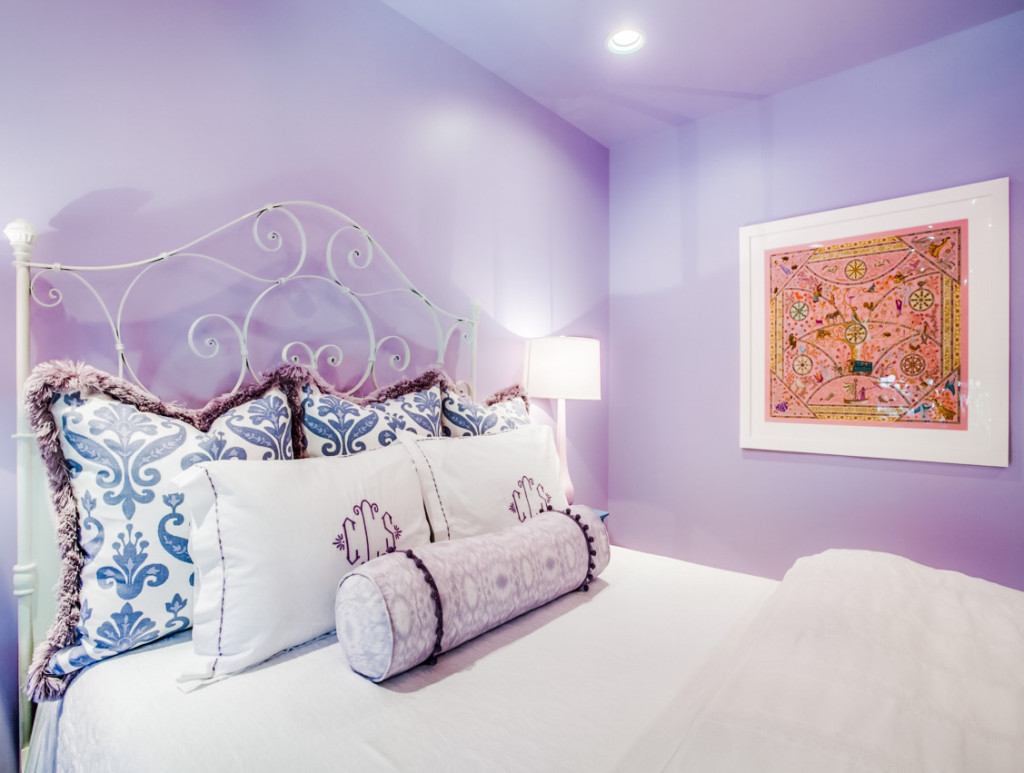 The image below is Claire's framed Vintage Hermes scarf I found on ebay for $200. This is such a treasure and I know she will have this piece forever.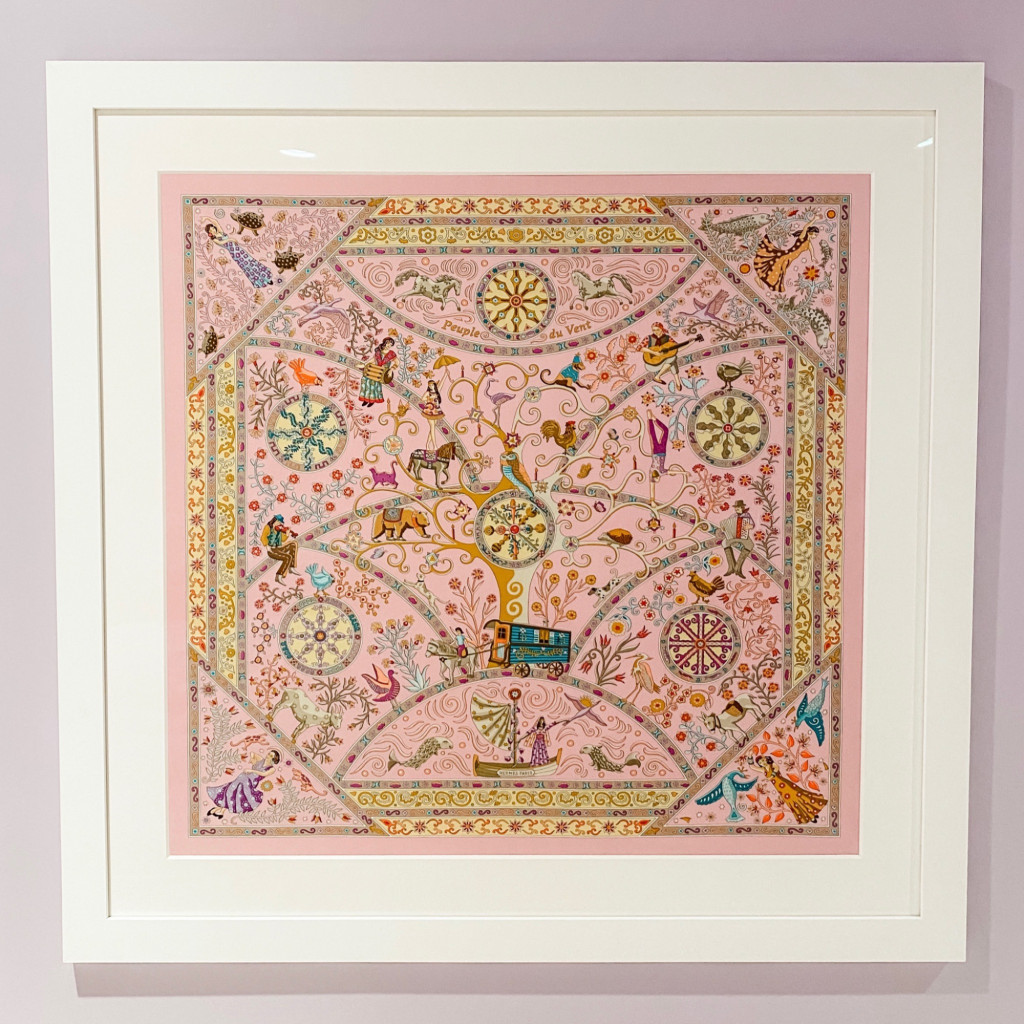 My bed & side tables before and after!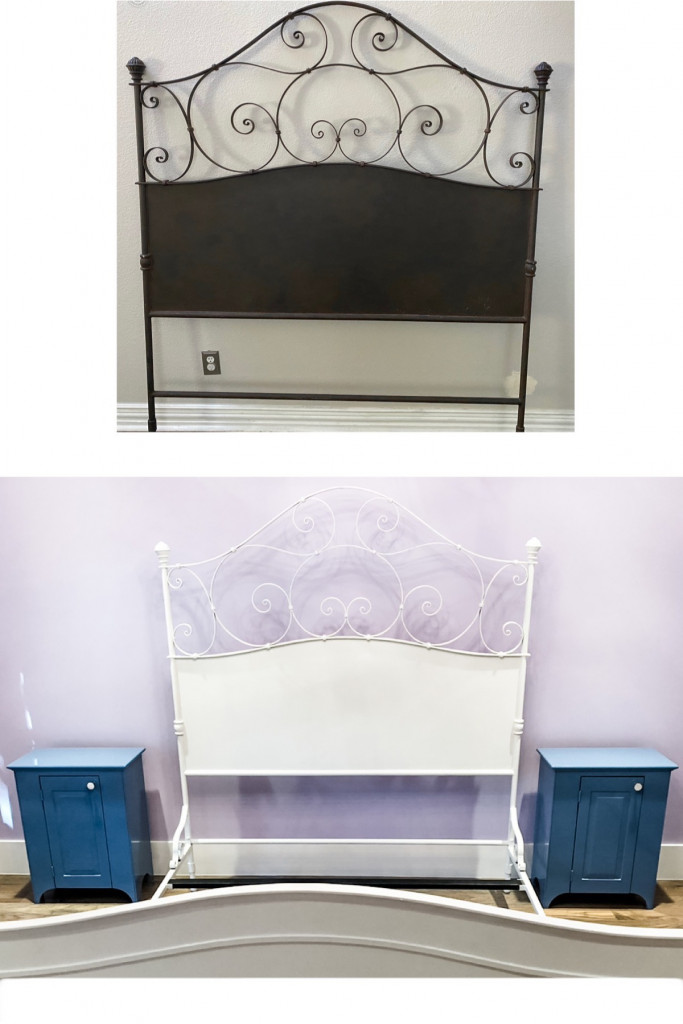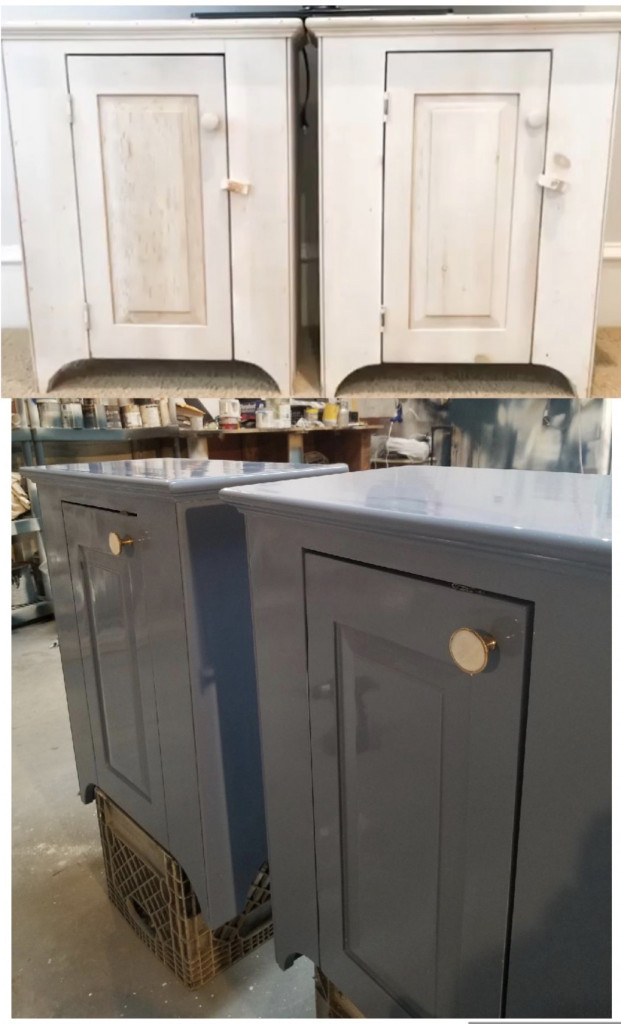 A huge part of Claire's Room design was also her bathroom. We used a lavender and gold grasscloth wallpaper that is just about the sweetest and prettiest bathroom in the house!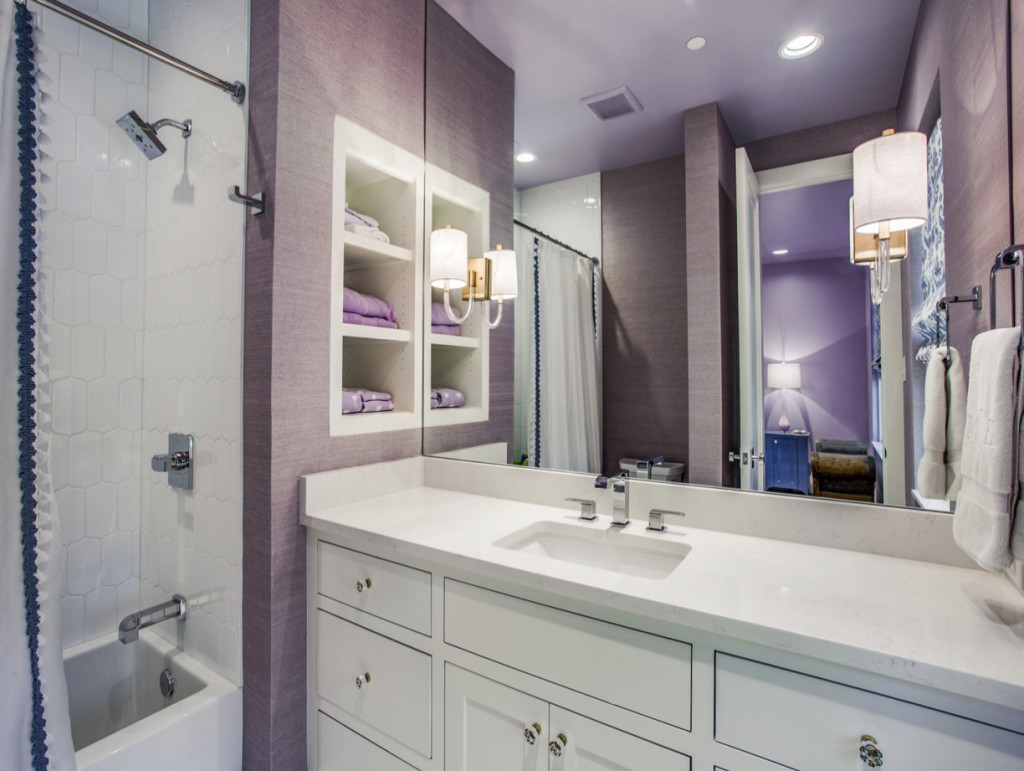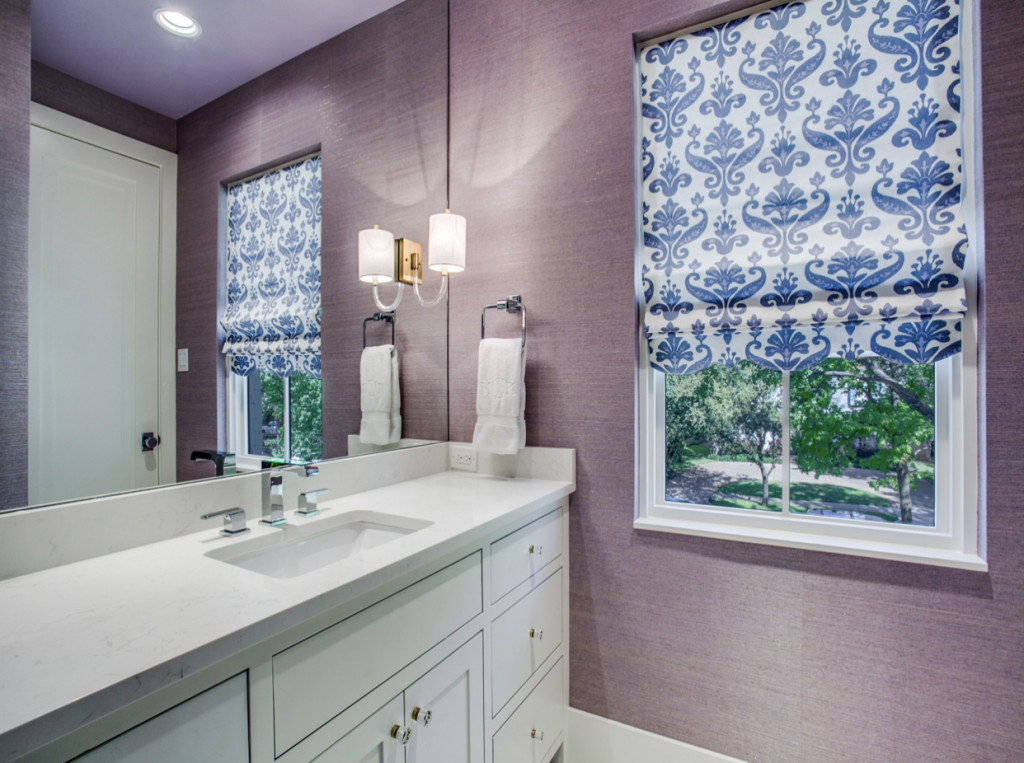 Keith's Man Cave
Since Keith is in a house full of girls, I thought it was only fair to give him his own space to do manly things (haha)! His parents had framed all of his old TCU Baseball Jerseys, so we thought this would be a great place to hang them. I also got him this hitting net (from Amazon) for Father's Day Last Year (which he uses) and has now become a space where our girls love to hit too!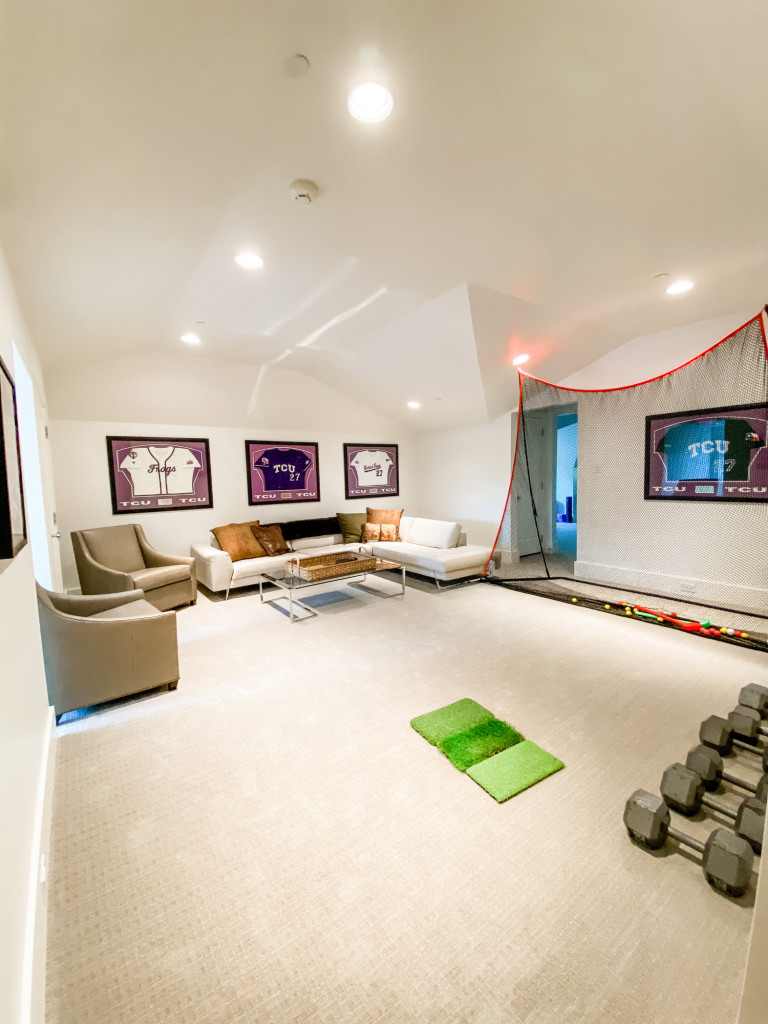 Interior Design On A Budget
Do roman shades instead of curtains. Curtains cost a lot more and requires a lot more fabric to make!
Paint a room instead of Wallpaper.
Find someone to refurbish old furniture to make new again.
Framed scarves as artwork.
Change out the hardware on your current side tables, dressers, or cabinets.
Choose a hide rug instead of a nice rug. Especially with kids and pets, you can hose off any spills and let the rug air dry.
There you have it, a little peek into our home! Stay tuned for more Mood Boards and more Interior Design picks. Remember to check out Laura Park Design and to use my personal discount code CONLON20 at checkout to get 20% off your purchase!
Everyone stay healthy and take care!