If you need a little Holiday Tablescape inspiration this year, then this post is for you! Check out some of my Holiday theme'd table settings below with direct links to table accessories, and some tips and tricks you can use this year, to make your Holiday Tablescape pop!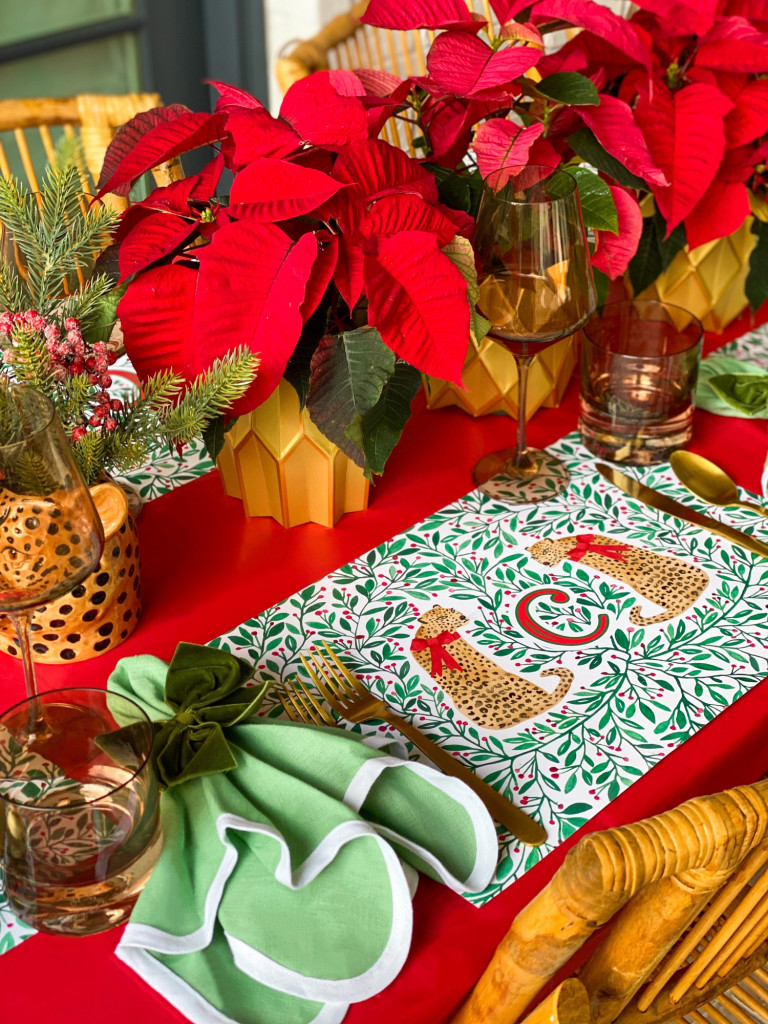 Whites, Greens, & Browns
This is my favorite Tablescape I think ever! I love the masculinity of it, yet it's feminine at the same time. The brown and green tones and the antlers make it more masculine. Adding those simple (and super inexpensive) green bow napkin rings, paired with the crisp white table linens, made it beautifully feminine too.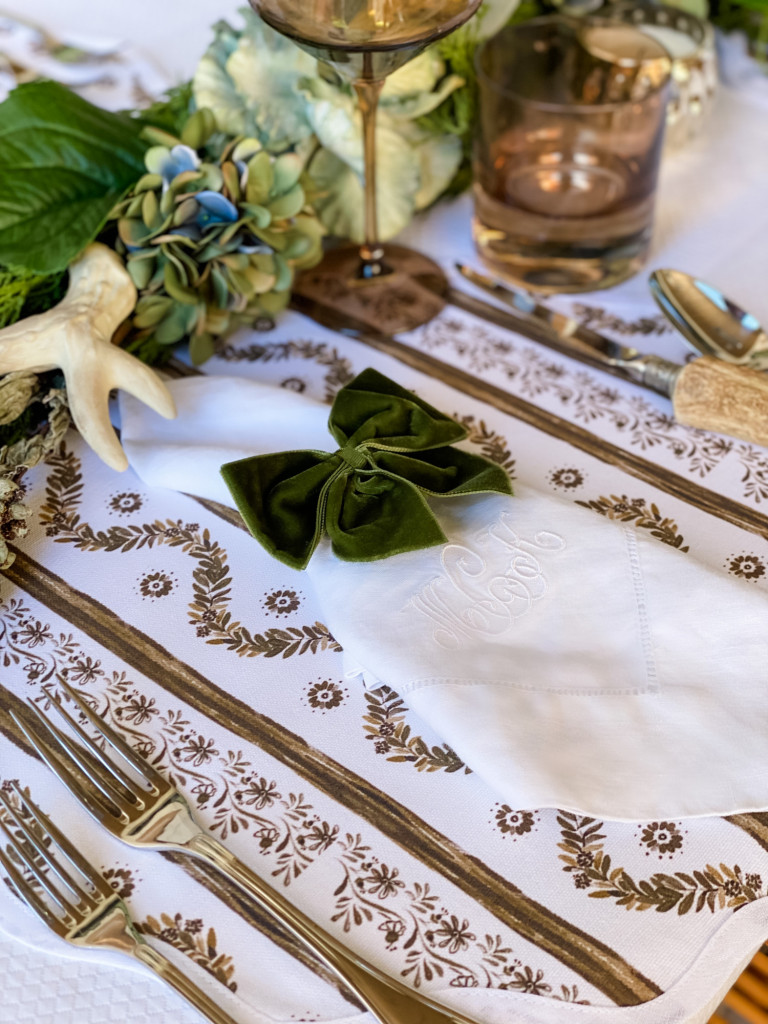 These napkin rings I got from a shop online called Mrs. Alice. Since purchasing them, I  found the same ones for super cheap and in a variety of colors with faster shipping too! My placemats are by Fenwick & Fields (my go-to for all my nice table linens).  Below, I have linked several places that have these napkin rings and placemats still available.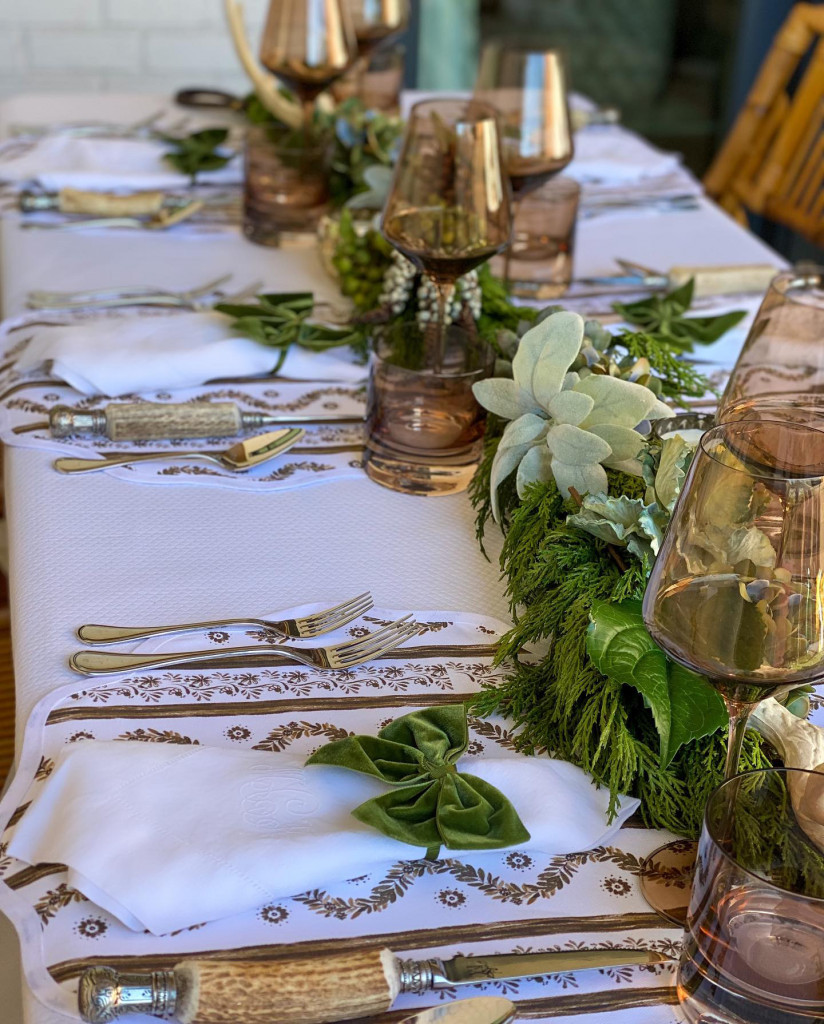 This faux fall garland centerpiece I got from Lakewood Succulent Designs here in Dallas. It has been the most versatile centerpiece I own. She used a faux cedar garland and added in faux succulents, hydrangeas, antlers, and white pumpkins. I take off the white pumpkins for the Holidays. For a quick similar centerpiece, I would go to Mary Cates & Co. in Dallas to get their 9ft. cedar garland and fill it with Holiday berries, ornaments, and Holiday themed "fillers". Scroll down to see how I used this same garland last year!
Found a faux cedar garland for $45 at Lowe's too! Click the image below.

My glasses are by none else, Estelle Colored Glasses. The Amber Smoke I use the most out of any color. I gave Keith the lowball glasses for Father's Day this year and he loves them too. Great gift idea!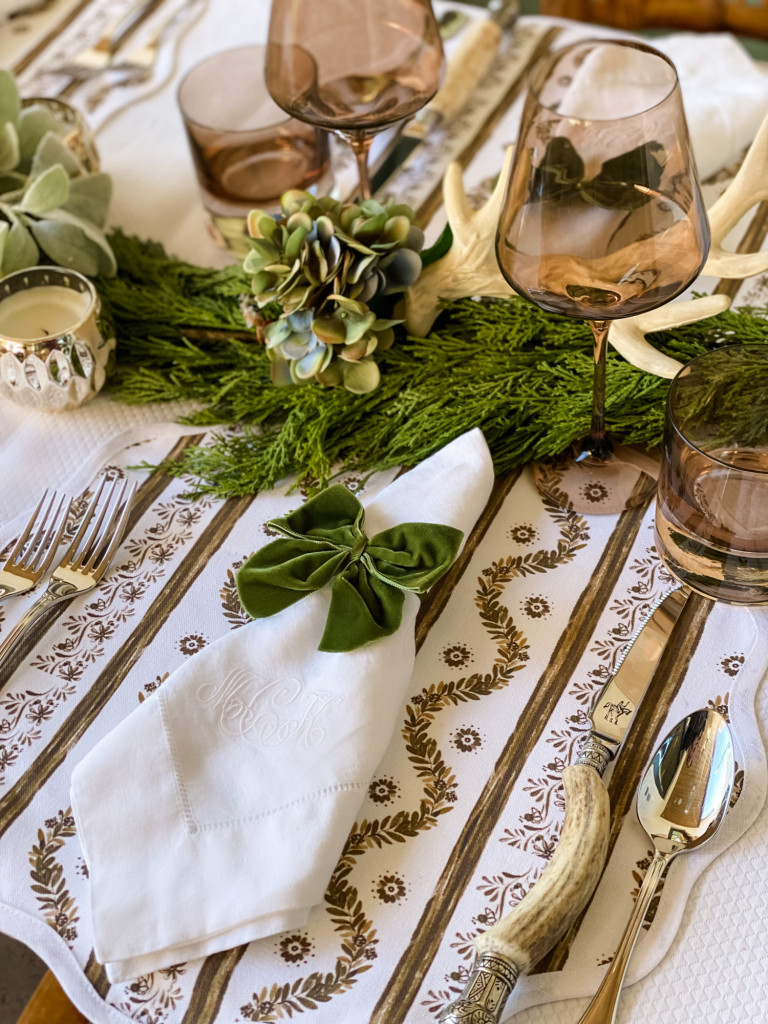 Our steak knives were actually a wedding gift, but you can find these AMAZING knives by clicking here.
Christmas Eve Dinner Outside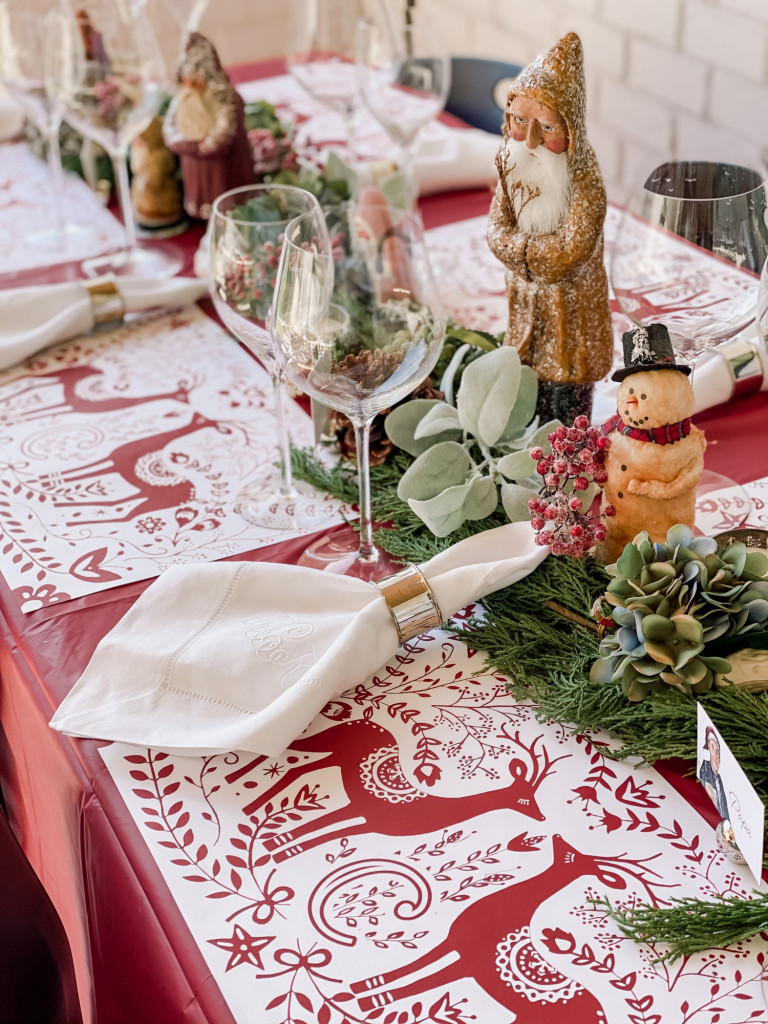 This Holiday tablescape was from last year for Christmas Eve Dinner. Since 2020 was crazy, we ate outside on our porch. I used a plastic tablecloth from Target, my Lucy Grymes Personalized Reindeer Paper Placemats, same linen napkins from above, and the same faux cedar garland from Lakewood Succulent Designs. Here, I added faux red Holiday berries, pinecones, and took my Santas and snowmen off my mantle to add to this centerpiece. The little gold candles in there are actually from Target! This just gives you an idea on how you can change up a garland centerpiece for you table!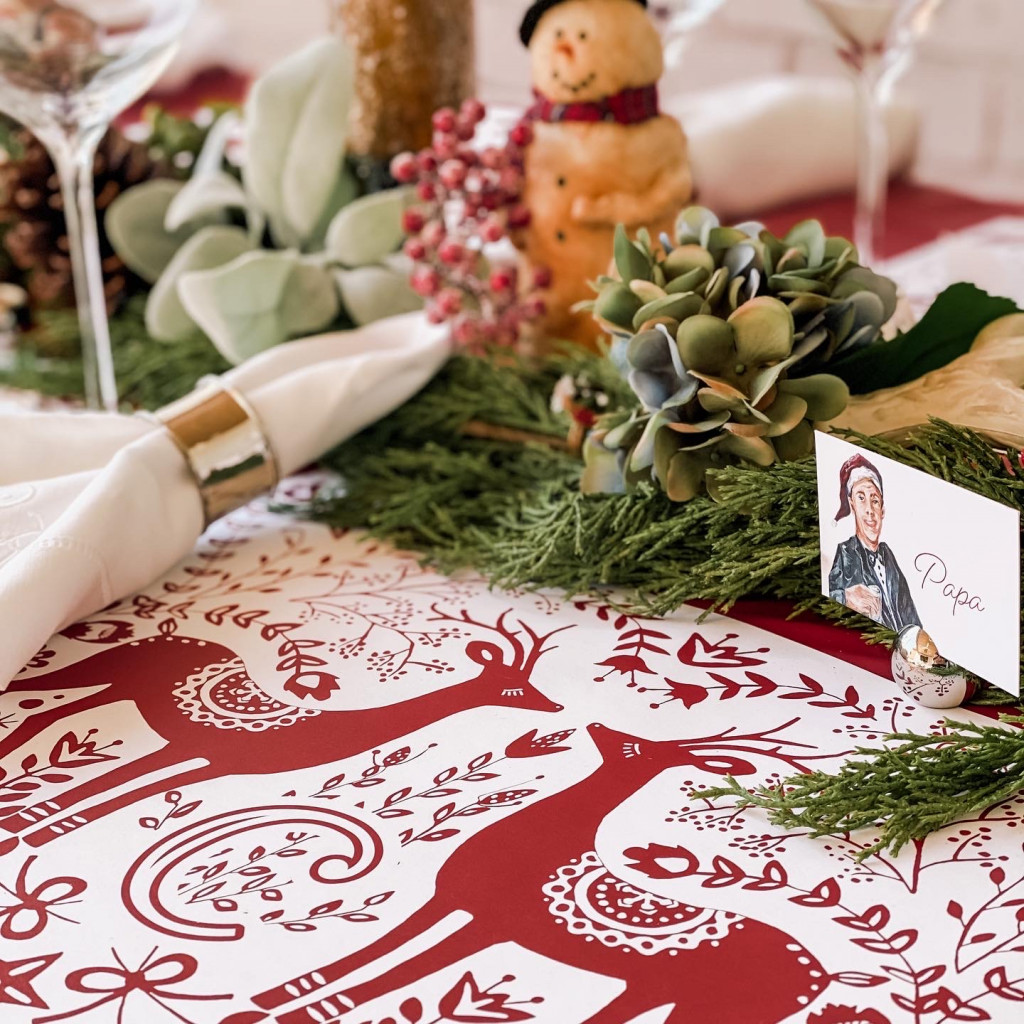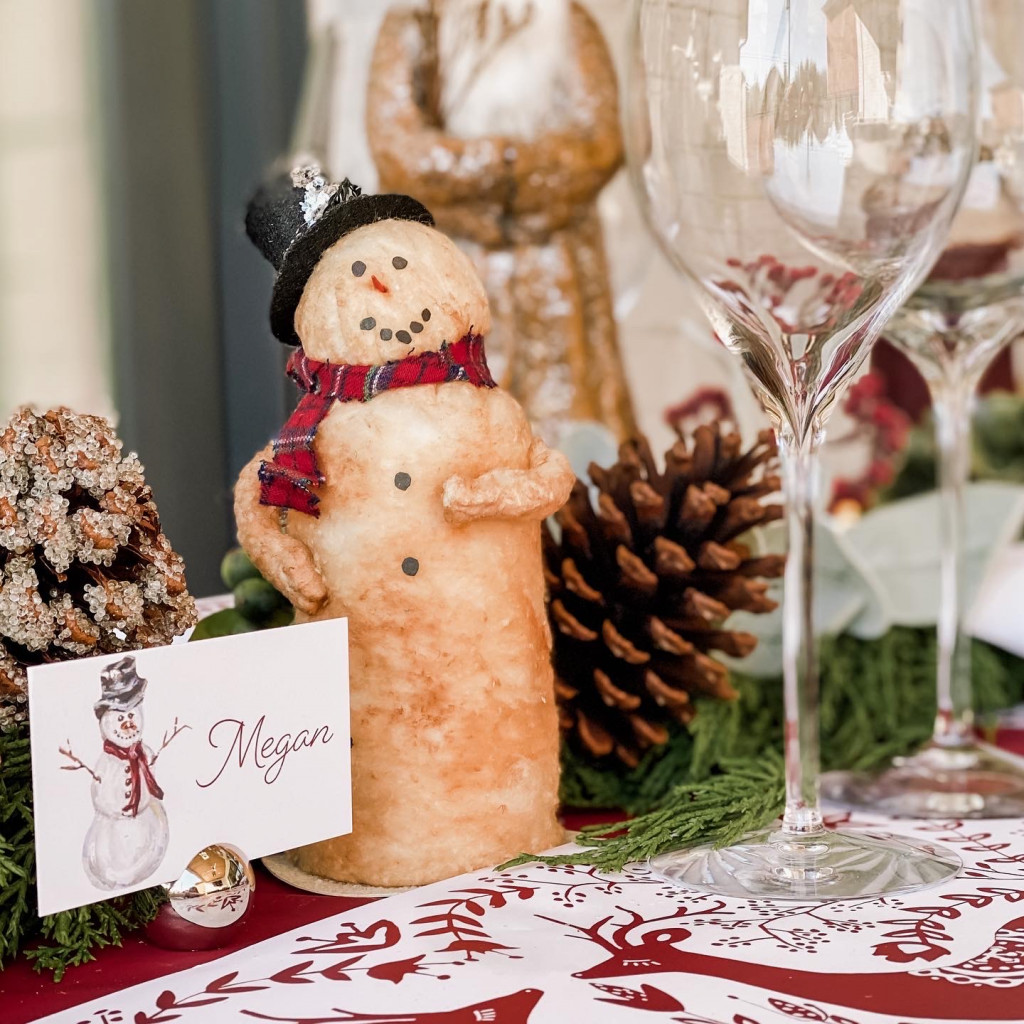 I have posted these place cards on my Instagram! Last year I saw the hand painted gift tags by Solely Foster, and I immediately knew I had to have them as place cards! They do all sorts of custom work and have the best gifts for everyone on your list.
You can purchase my place card holders by clicking the image below!

A Leopard Holiday Table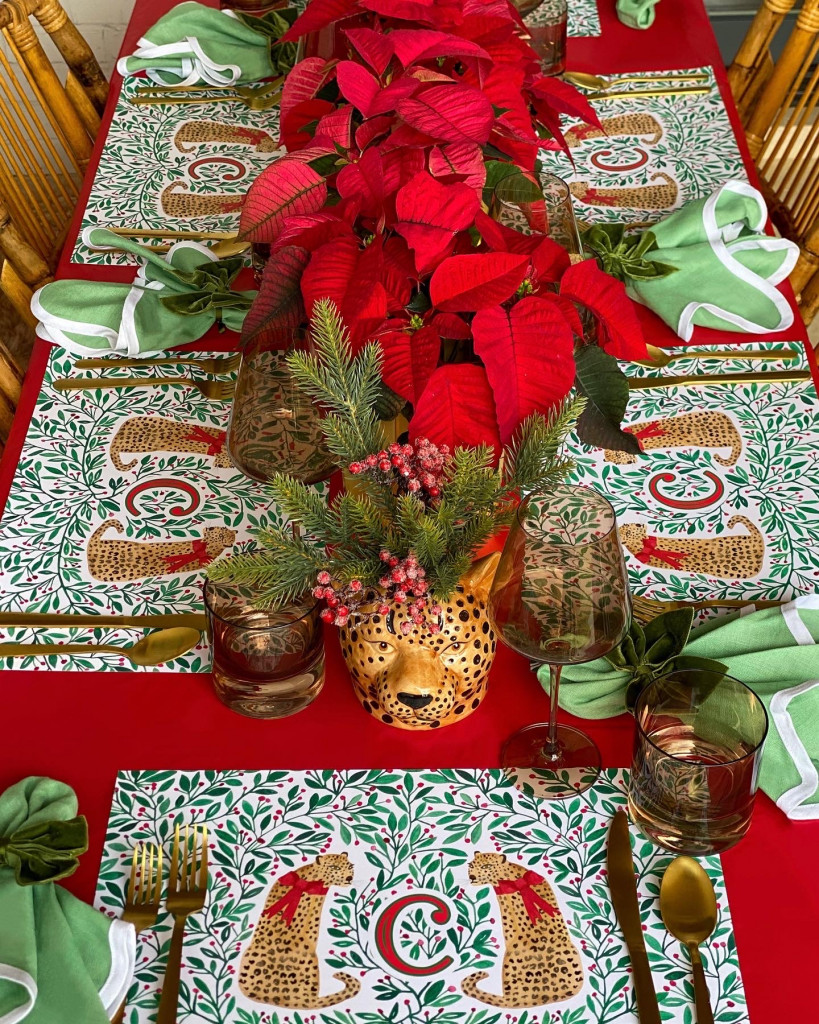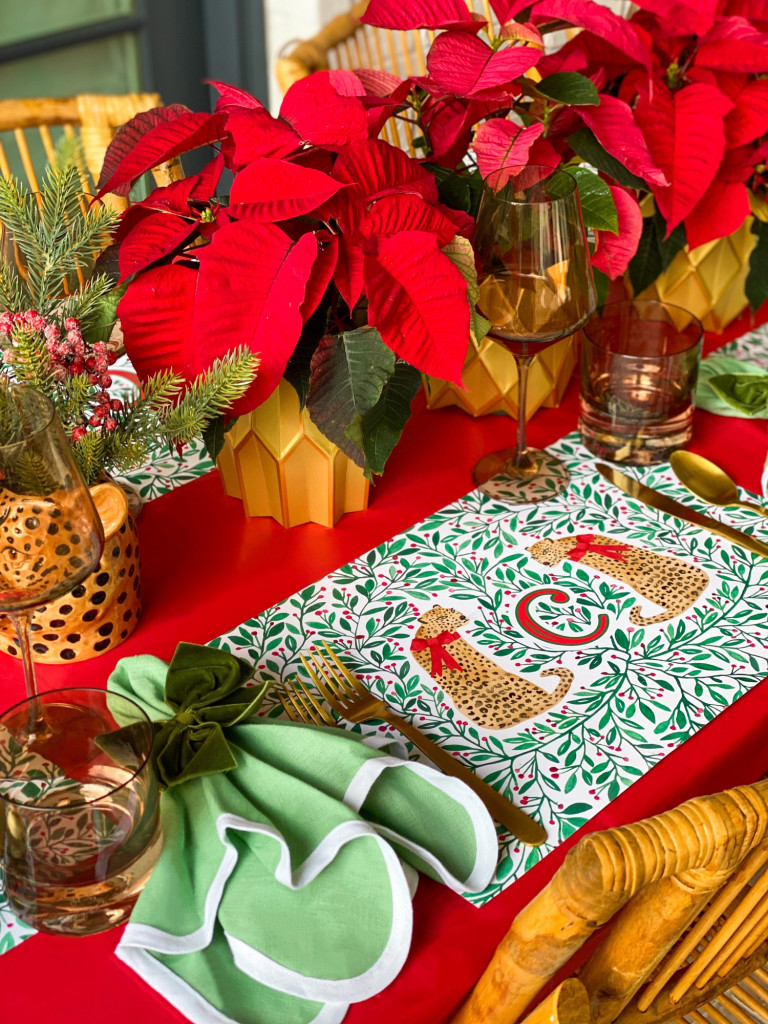 This maybe runner up of my all time favorite tablecapes. I've always had a love for leopards and leopard print anything, so when I saw these Lucy Grymes Holiday Leopard Personalized Paper Placemats, I knew I had to have them. I used my Fenwick & Fields green linen napkins, with my green bow napkin rings, and used my Amber Smoke Estelle Glasses again! A quick tip, if you don't have time to order these napkin rings, make your own bows out of some velvet ribbon! Will link some of my favorite ribbon below.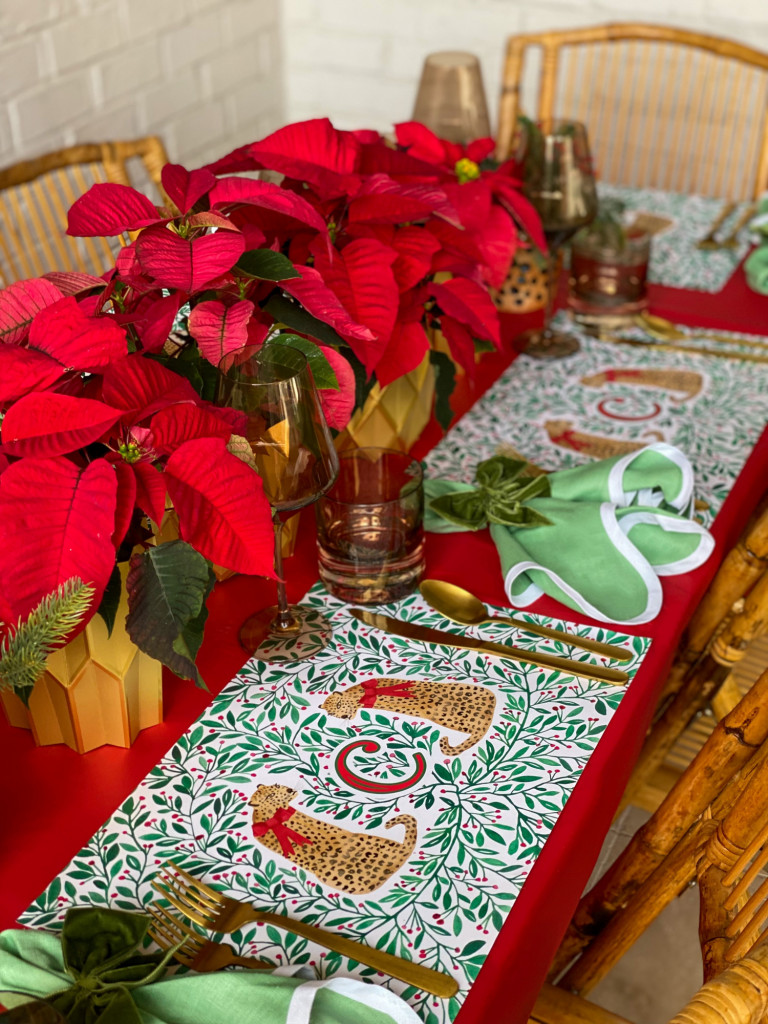 Poinsettias are my favorite Holiday Flower, which it is the "Holiday Flower". I bought these little Poinsettia's at Nicholson Hardie here in Dallas but Trader Joe's sells them as well. They come in the green plastic containers and I turned to my girl Lucy Grymes to jazz these beauties up! Her gold metallic vase wraps really made this table pop. Poinsettias are a great and cheap Holiday Centerpiece!
Lucy Grymes Gold Metallic Paper Vase Wraps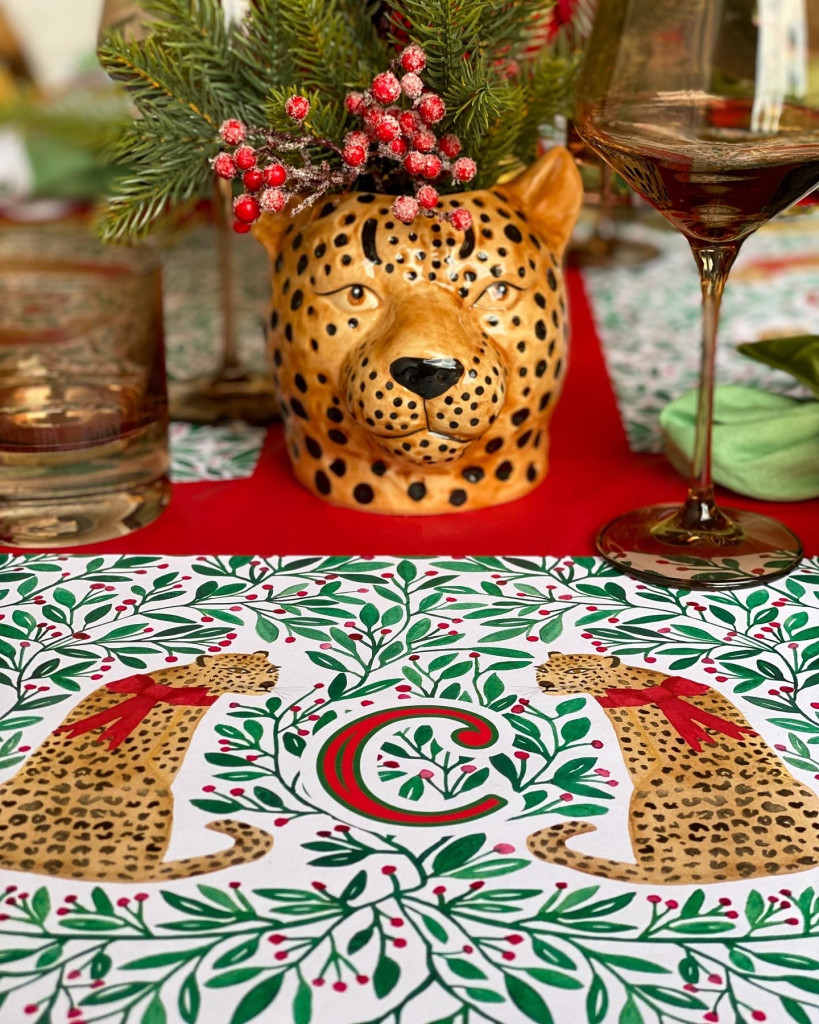 These little leopard head vases I found on Amazon! Filled it with faux berries and fur tree stems!

The Kid's Table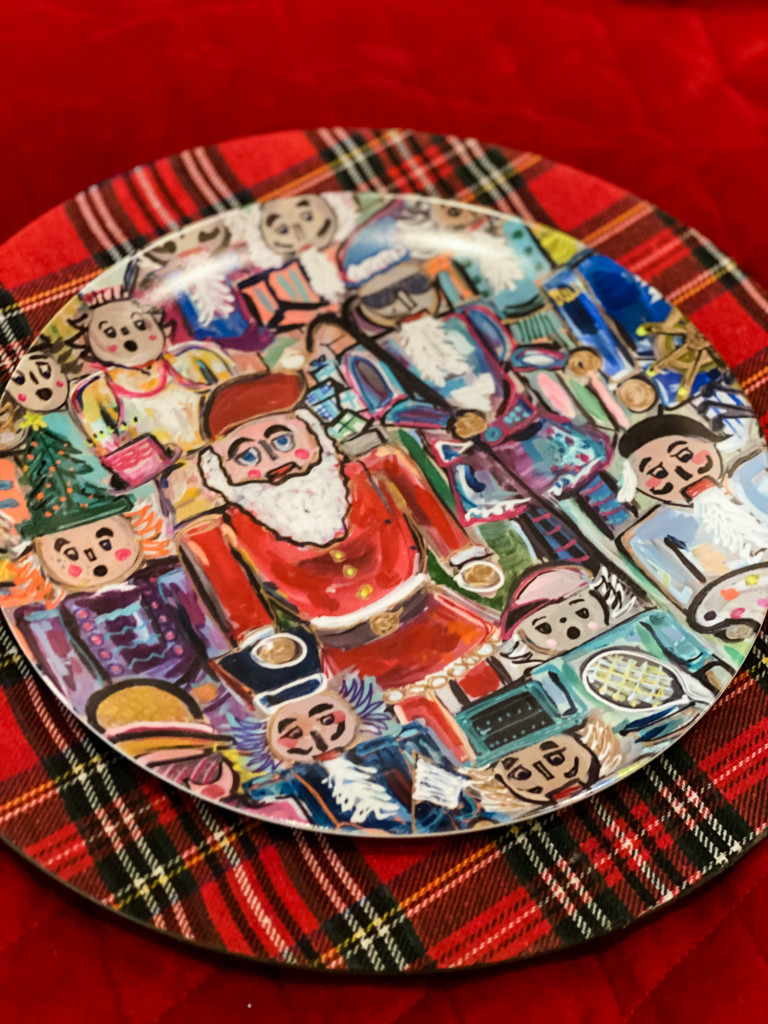 When I think of "The Kid's Table", I always try to go for something on theme, easy, and entertaining. Love these Dinner Plates by Abbi Custis Art. These melamine nutcracker plates look so cute on these tartan plaid chargers are from Swoozies but have sold out. I will link some others I love below.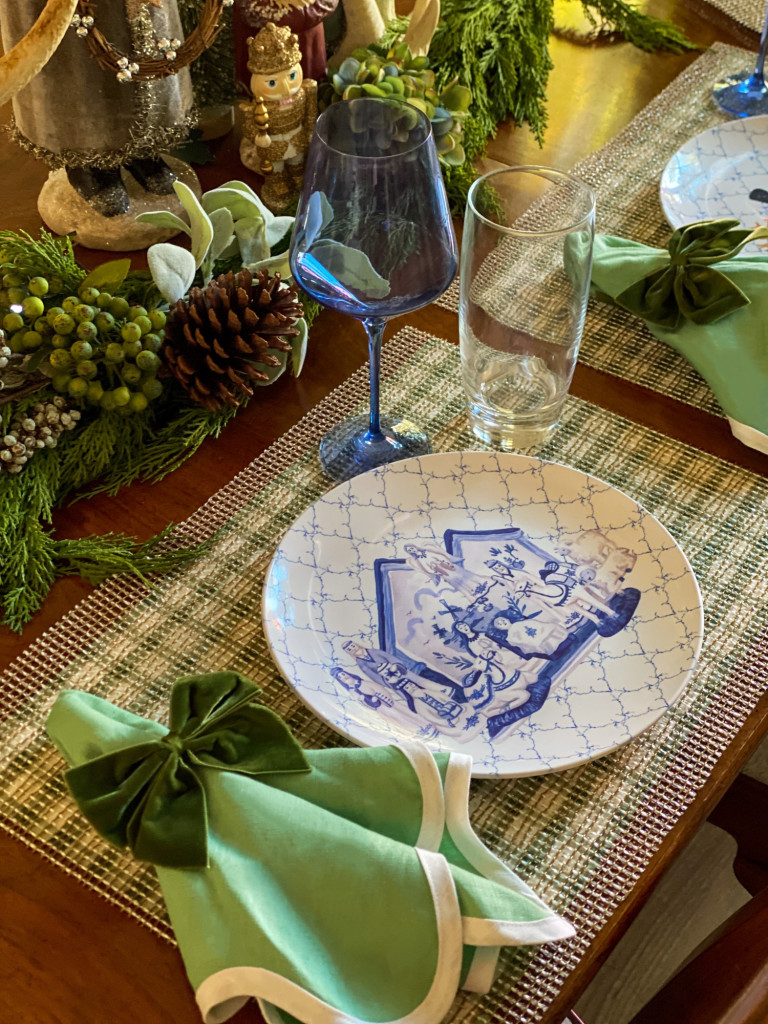 Here are some other Melamine Plates that I love from The Muddy Dog! She has so many designs to choose from and the best part, all of her plates and platters are BPA Free, microwave, dishwasher, and oven safe! She can do just about anything custom for you too!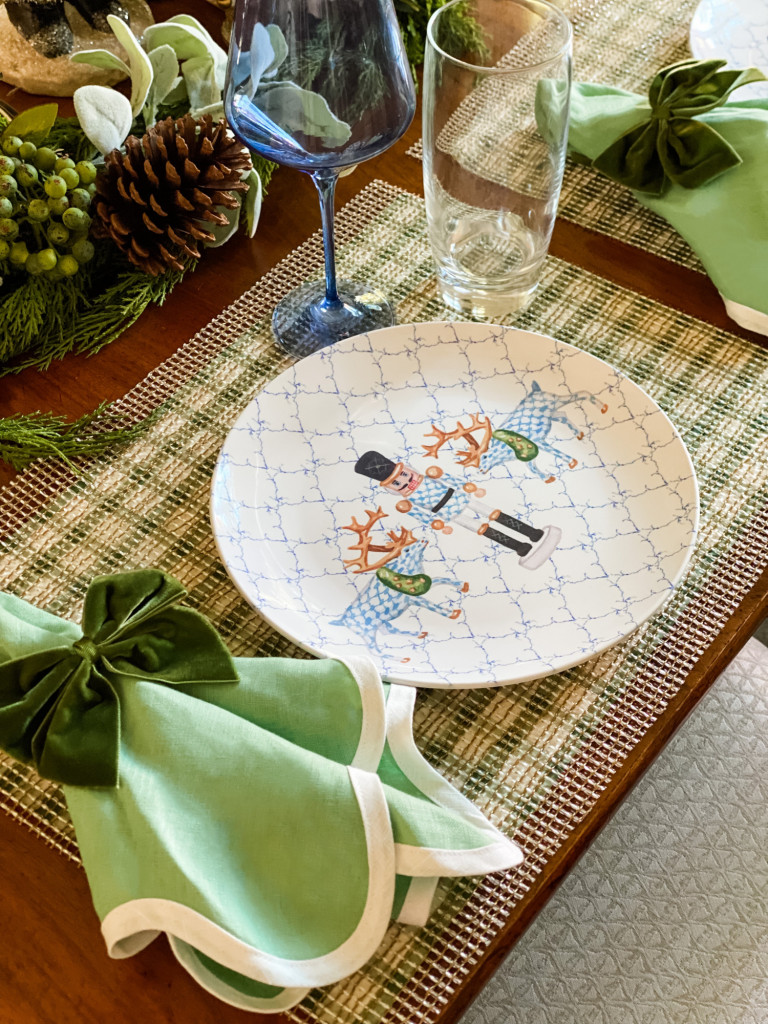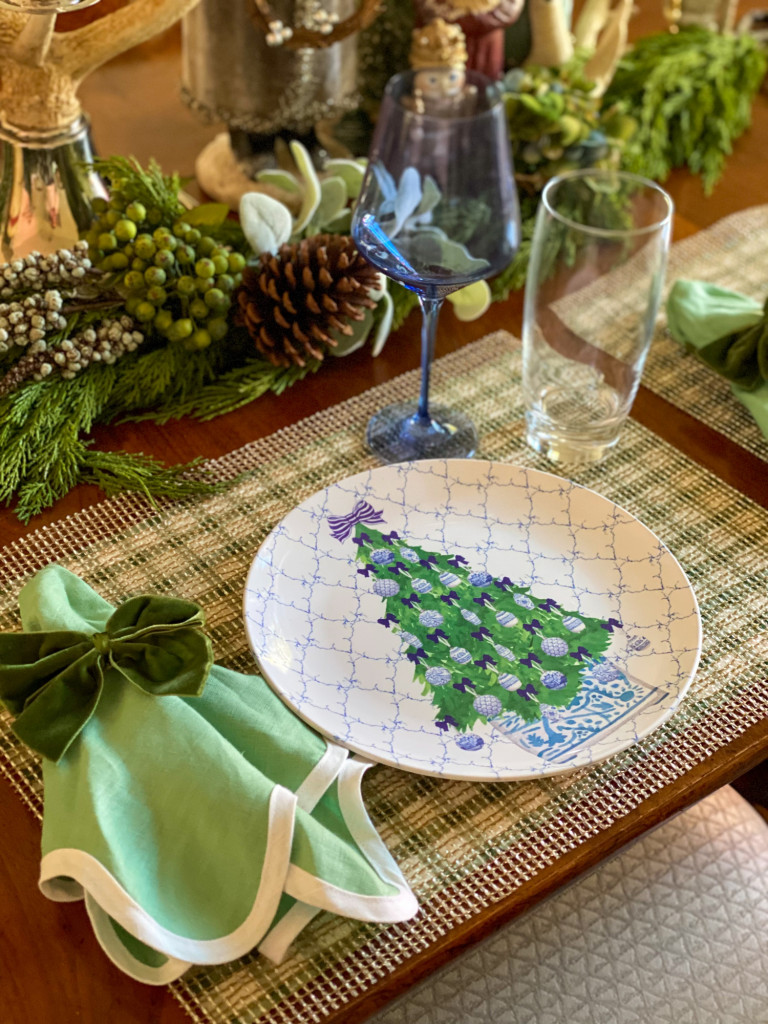 Here, I used my Chilewich Gold Placemats and put a Hester & Cook Paper Placemat underneath for a little added color. Once again, used my Fenwick & Fields Green Napkins with the sweet bow napkin ring!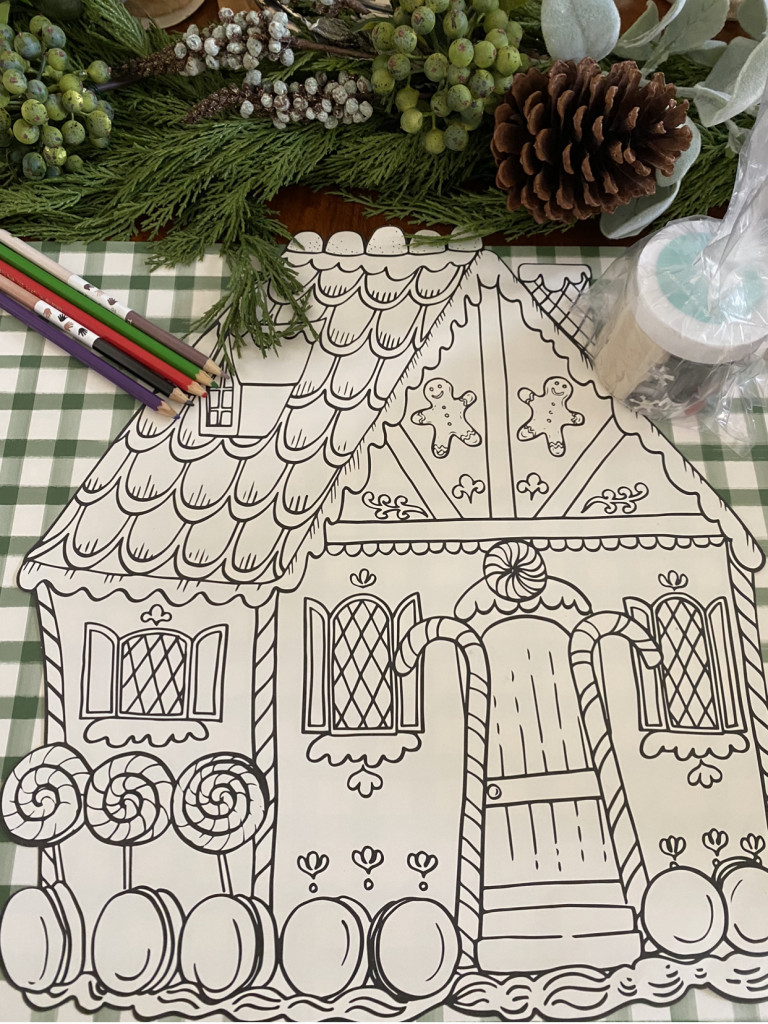 Last but not least, this is my favorite "Kid's Table" place setting! These Gingerbread Placemats with some colored pencils or crayons are perfect for little kids! I also added these Peacemaker's Play Sensory Jars for each kiddo to play with! This is the Snowman Jar and it comes with play dough and fun little trinkets to make your own snowman! She has so many fun options to choose from! In a pinch? Get your own play dough and fill a ziplock baggie with pipe cleaners, buttons, and other trinkets for the kids to play with at the table!