You'll notice I've been really drawn to all shades of blue for my "Fall Table Settings" this year. I love the color contrast and the uniqueness of mixing blues in with the traditional fall colors. I think it feels fresh, different, and softens the whole look of the table. All three tables I used paper placemats and inexpensive tablecloths! Setting a pretty table doesn't have to be expensive! People like Lucy Grymes and Swoozies have made it possible for anyone to set a pretty table without spending a fortune!
Below are a few fun and inexpensive ways to help you set your table for Fall!
Blue & Green Table Setting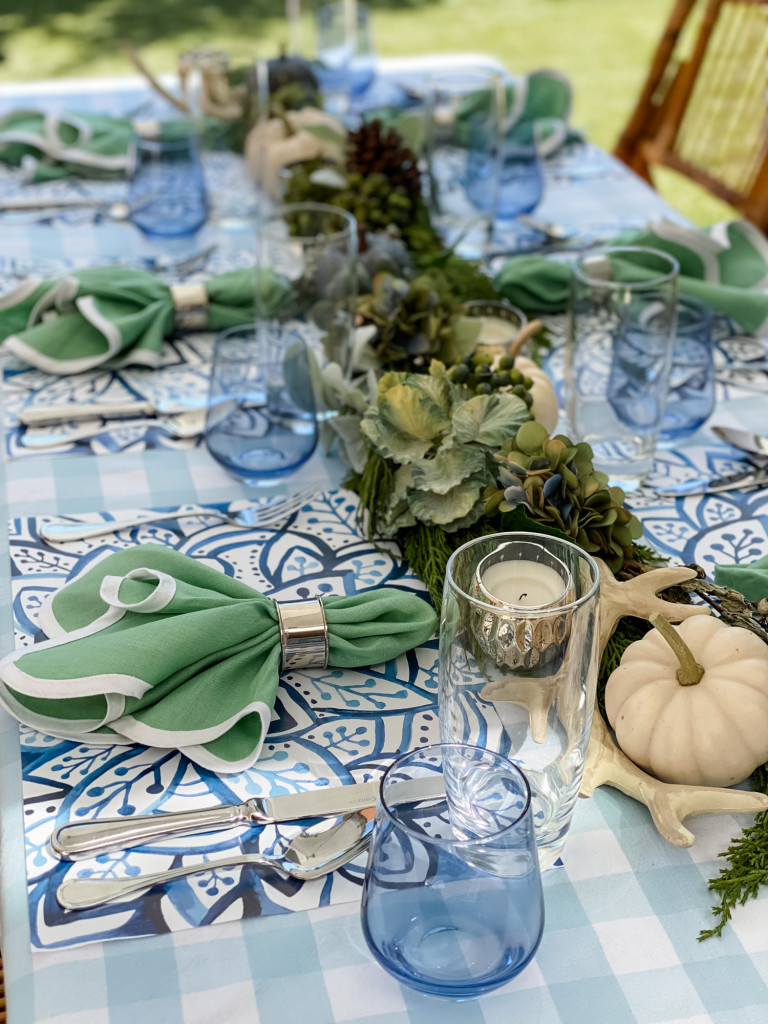 My faux garland centerpiece is by Lakewood Succulent Design. I bought this from her last year, but she is creating these faux cedar garlands again this year! Garlands are my favorite centerpieces because they are low and can be used on tables and mantles too! I added in two real white pumpkins, two blue yarn wrapped pumpkins from the Target Dollar Bins, and some candles from Target too. This garland was worth every penny and doesn't come with a big price tag either! Follow @lakewoodsucculentdesign on Instagram and DM her for orders!
 *For the Holidays, I'll replace the pumpkins with some fake Holly Berries, add in some more pinecones, and some Christmas decor too!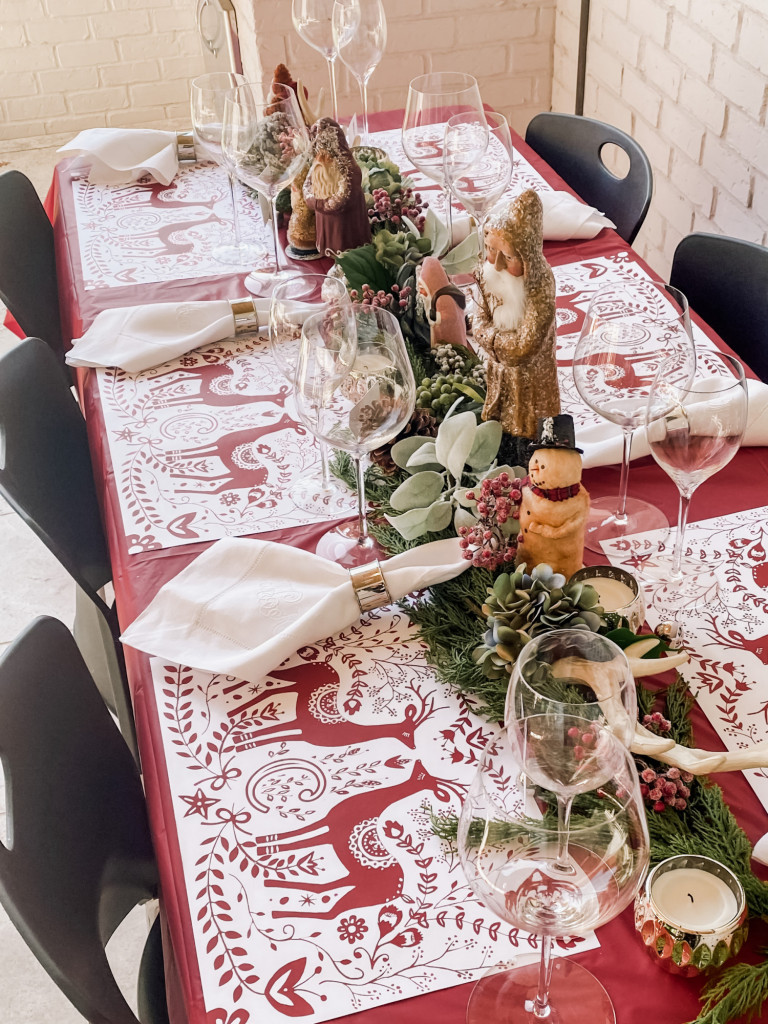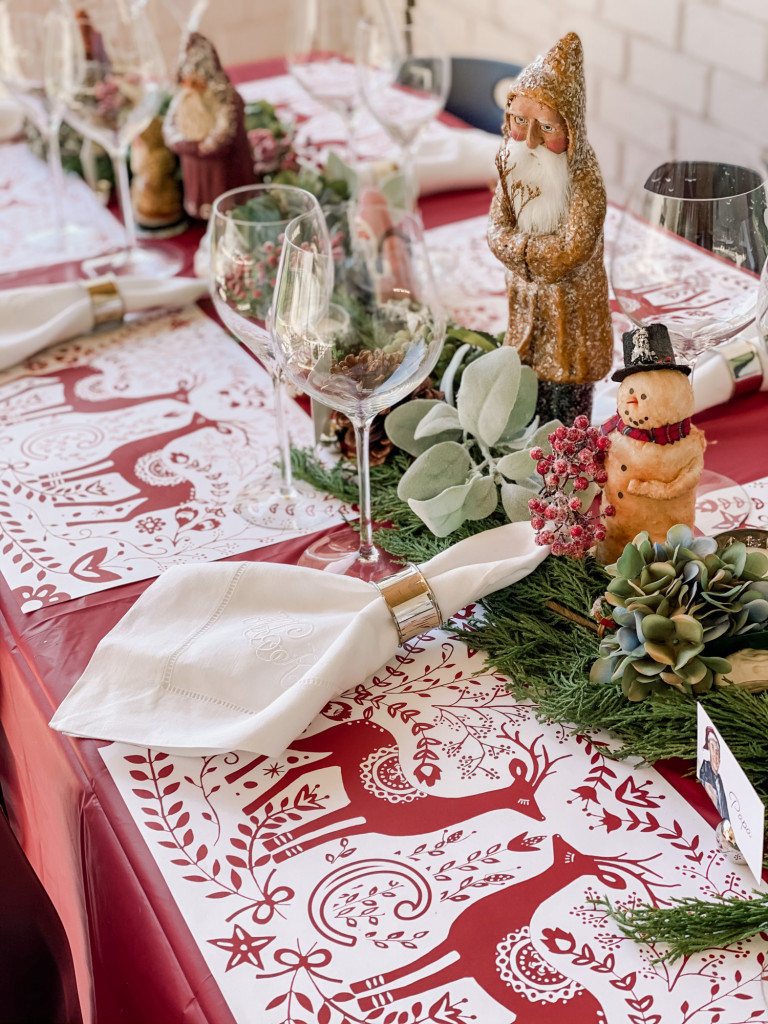 Lucy Grymes Reindeer Paper Placemats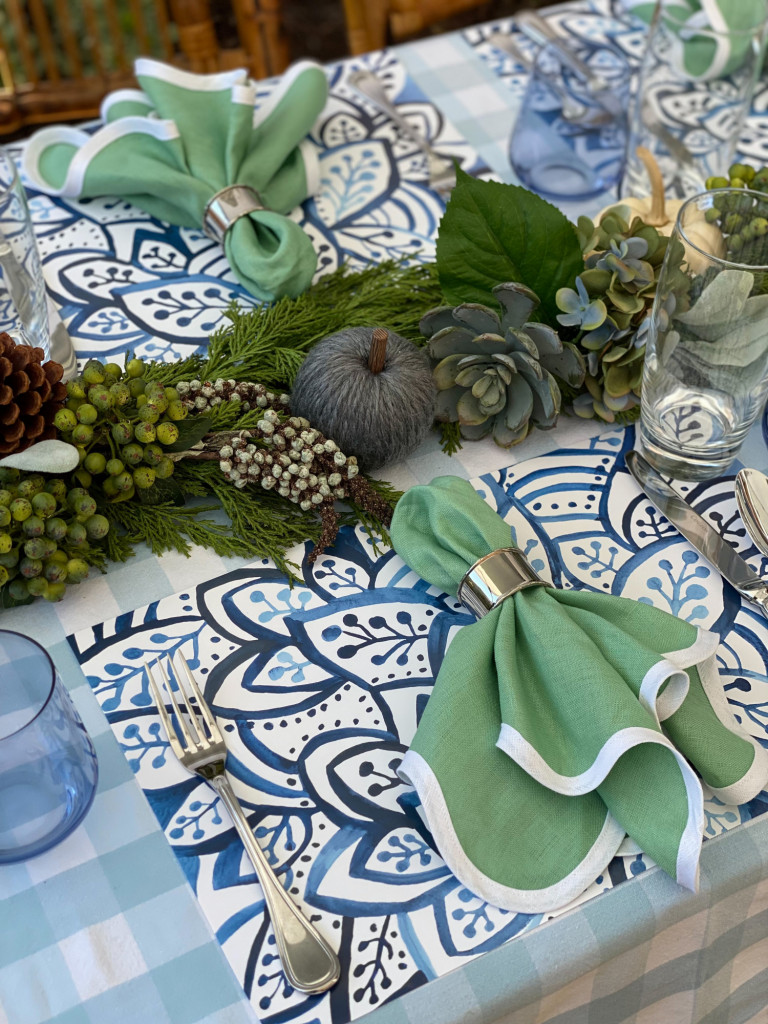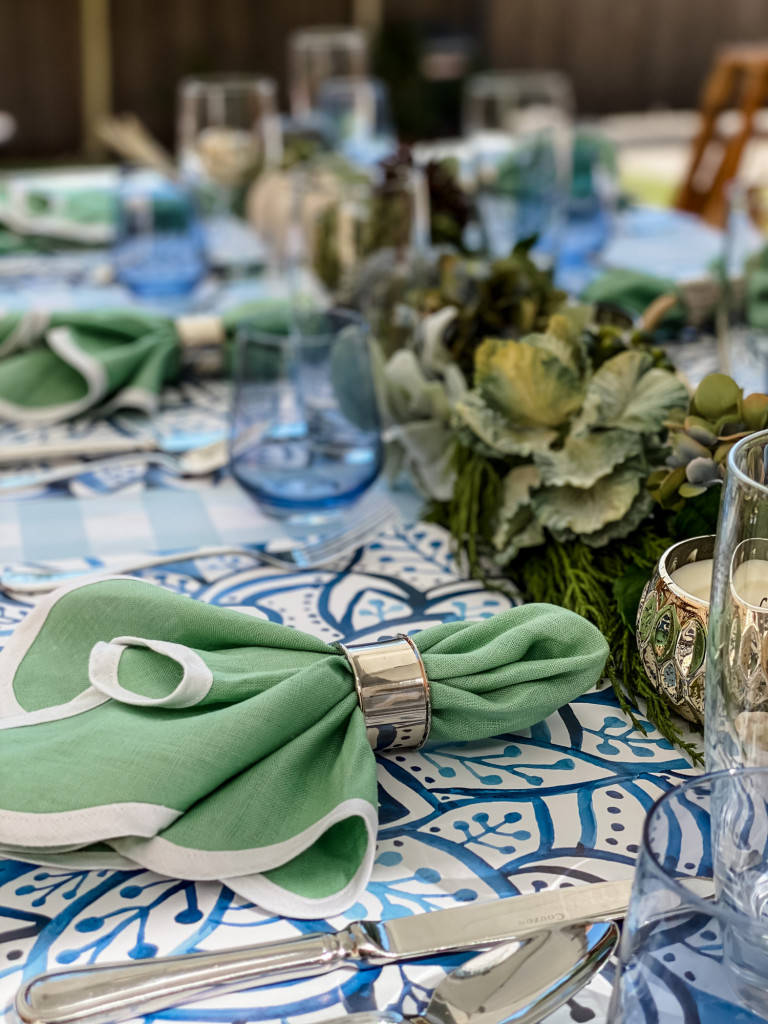 These green scalloped linen napkins are by Fenwick & Fields. I own these napkins in Sky Blue and Green. If you are going to invest in some of these gorgeous napkins, I strongly suggest getting the green. They can be used all year round and look great with lots of table settings.
Wine Glasses – Estelle Colored Stemless Glasses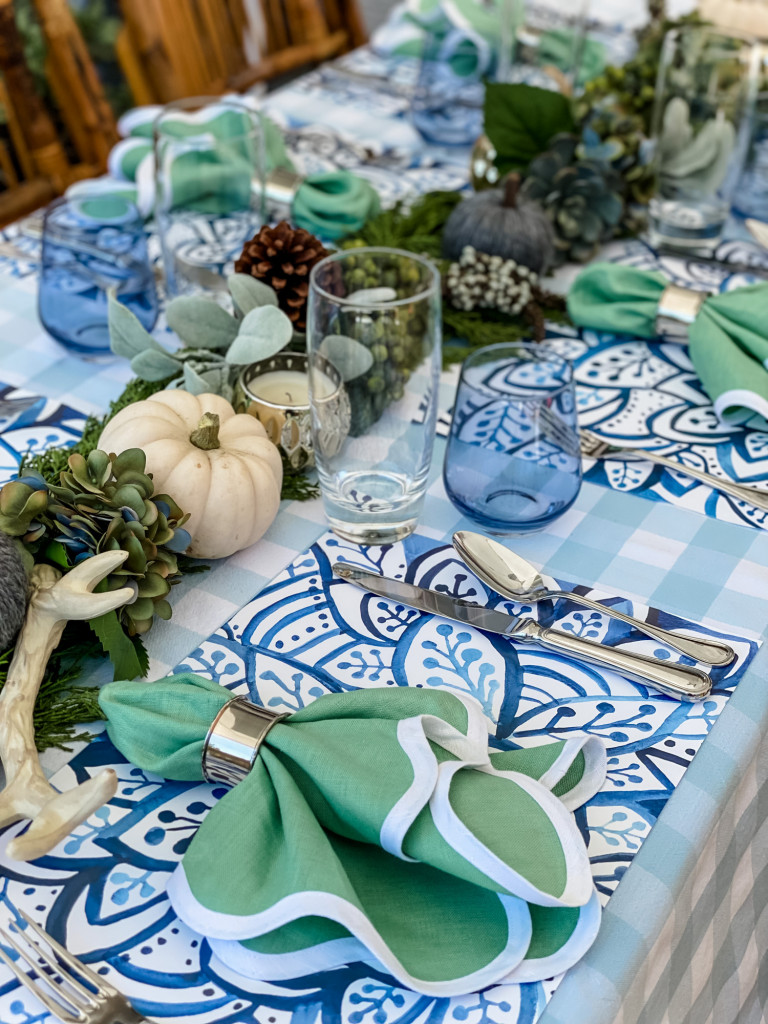 I used the Lucy Grymes Blue Burst Paper Placemats! I always find a way to use Lucy's paper placemats because they're so pretty and always make for an easy clean up!
Use code MEGAN15 to get 15% off your Lucy Grymes purchases!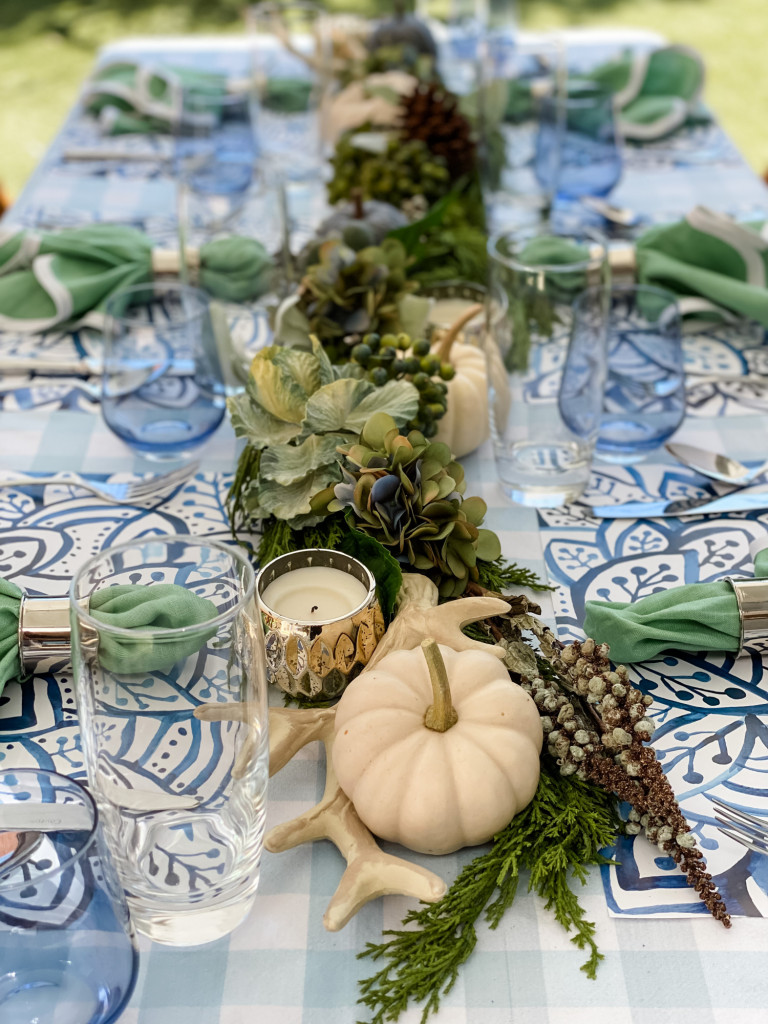 Baby Blue Gingham Tablecloth – Target
Napkin Rings – Tuckernuck
Traditional Fall Table With A Pop Of Blue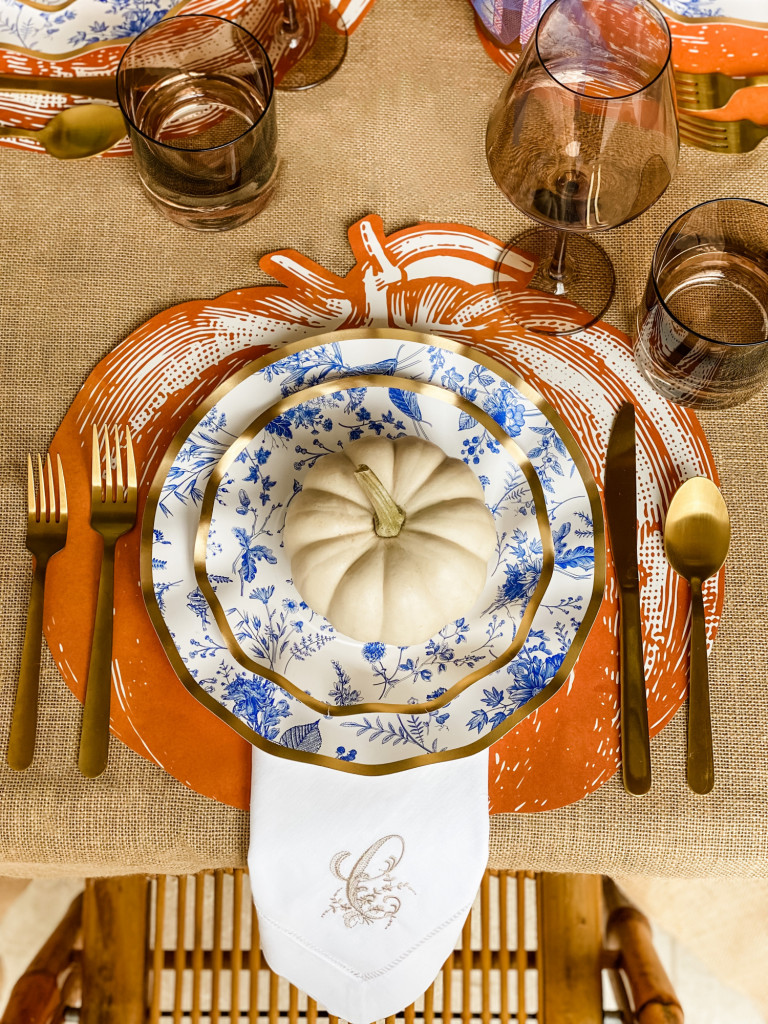 Pumpkin Paper Placemats and the blue wavy paper plates are by Swoozies! I bought three packs of these paper plates because I thought they were so pretty. Planning on using them for an Ole Miss GameDay Table too (coming soon).
Paper Pumpkin Placemats | Blue Wavy Paper Plates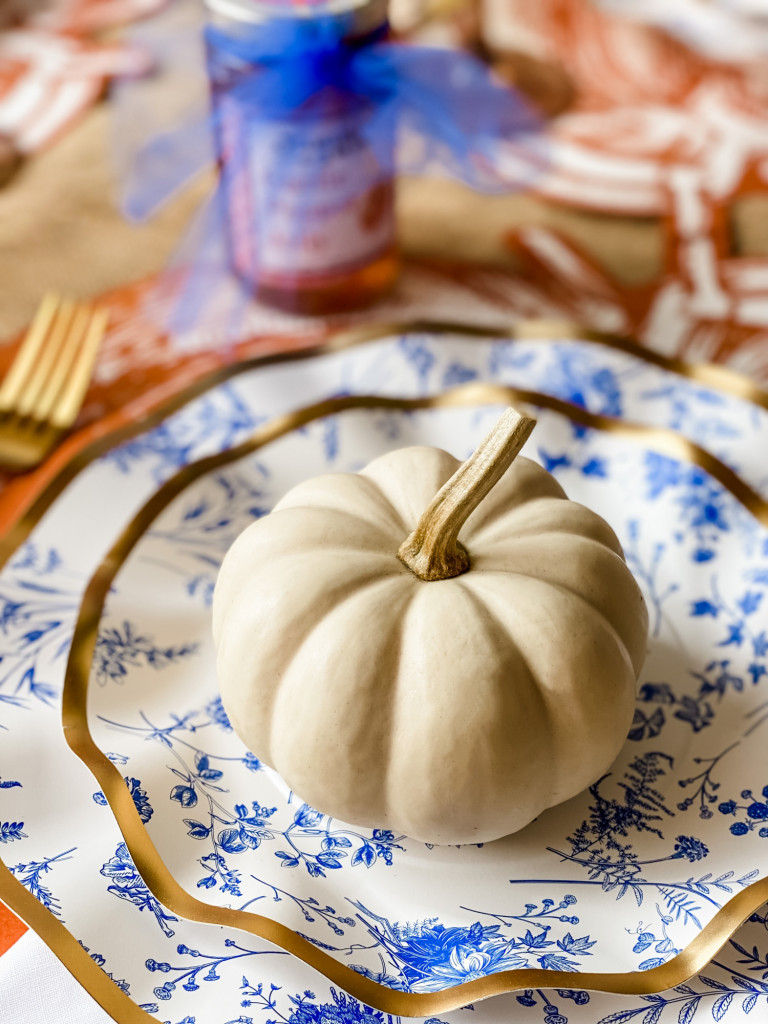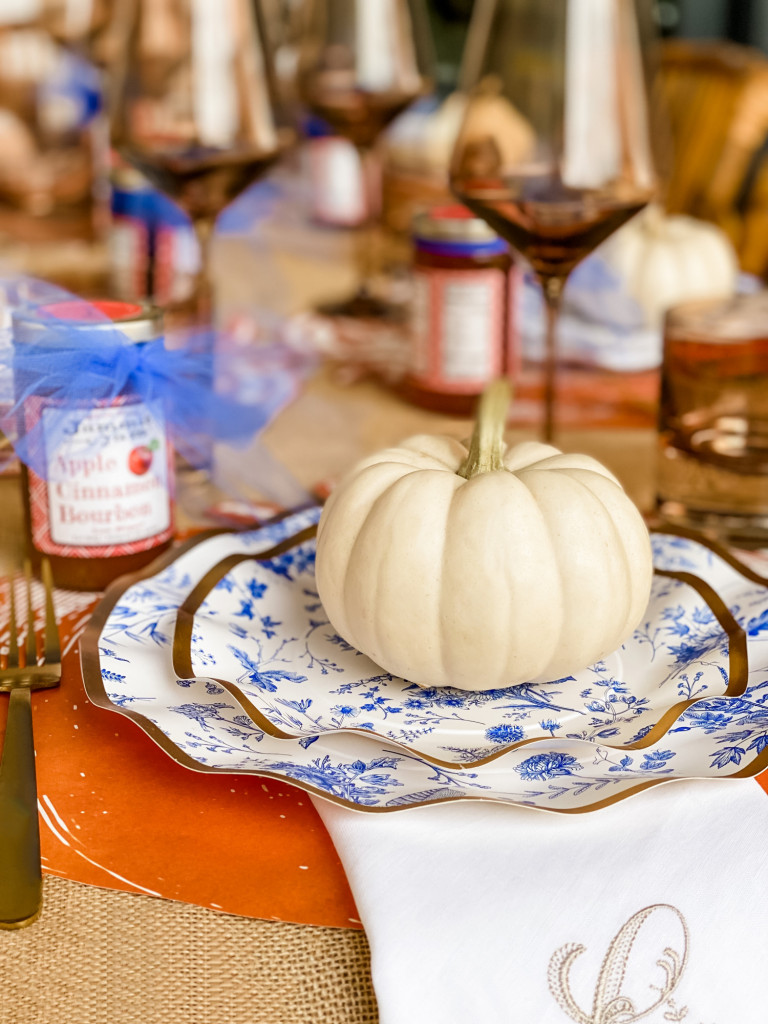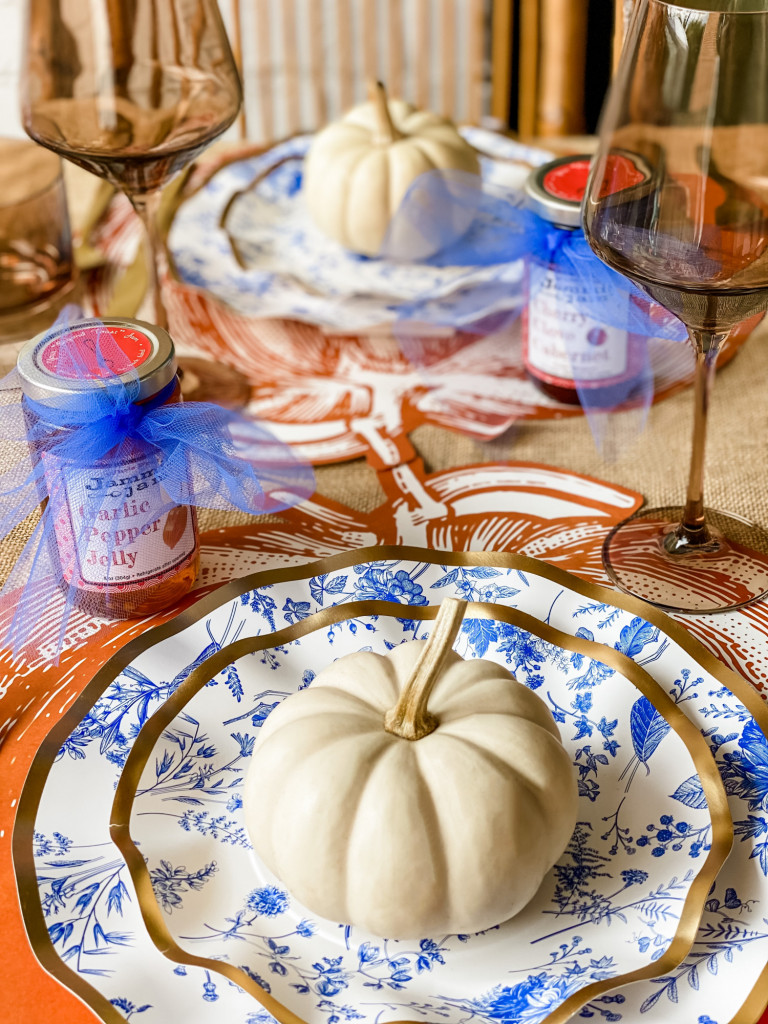 For Party Favors, I gave each guest a different flavor of Jammit Jam to take home! If you've never tried Jammit Jam, you're definitely missing out. Jammit Jam is, "your "Beyond Toast" Jams & Jellies made with whole fruit, minimal sugar, and all clean label ingredients." Jammit Jam is featured all over my Holiday Gift Guides because it's that delicious and makes for the best gift! My girl's teachers get Jammit Jam & the Buttery Biscuit Mix every year 🙂 Click here to shop their jams and the many gift baskets they have available!
Use Code – MCB15 for 15% off (from now until November 30th)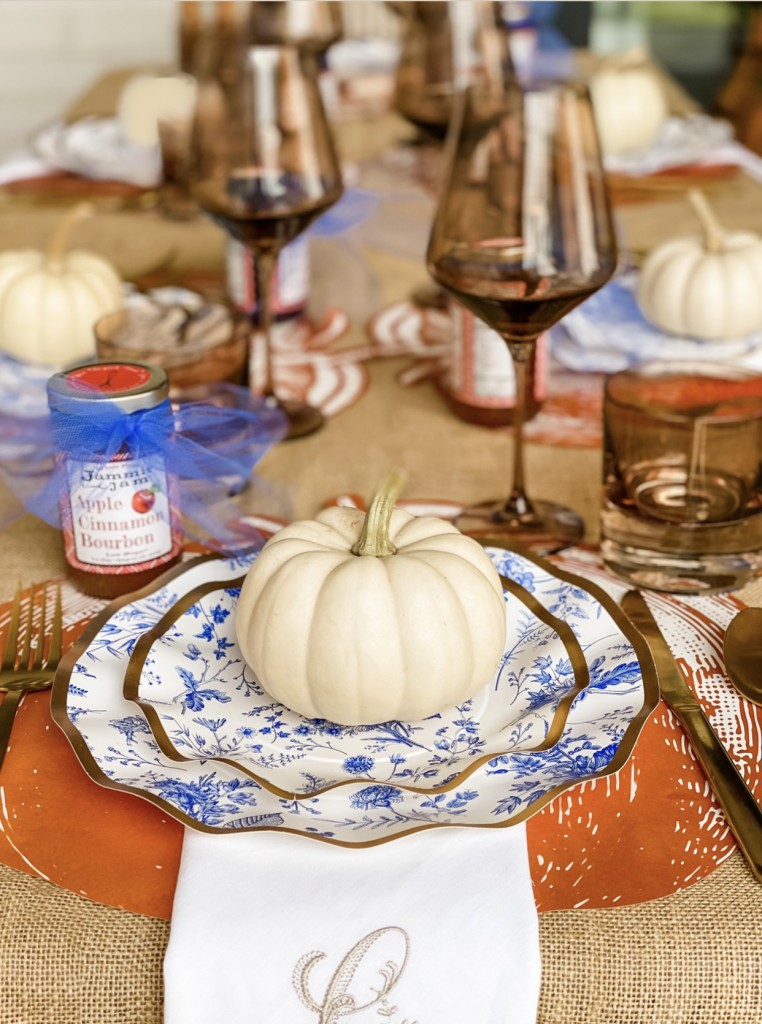 I used my Amber Smoke Estelle Colored Wine Glasses and Amber Smoke Low Ball Glasses for the table. Water glasses were given to guests separately and I used the Low Ball Glasses for Orange Juice 😉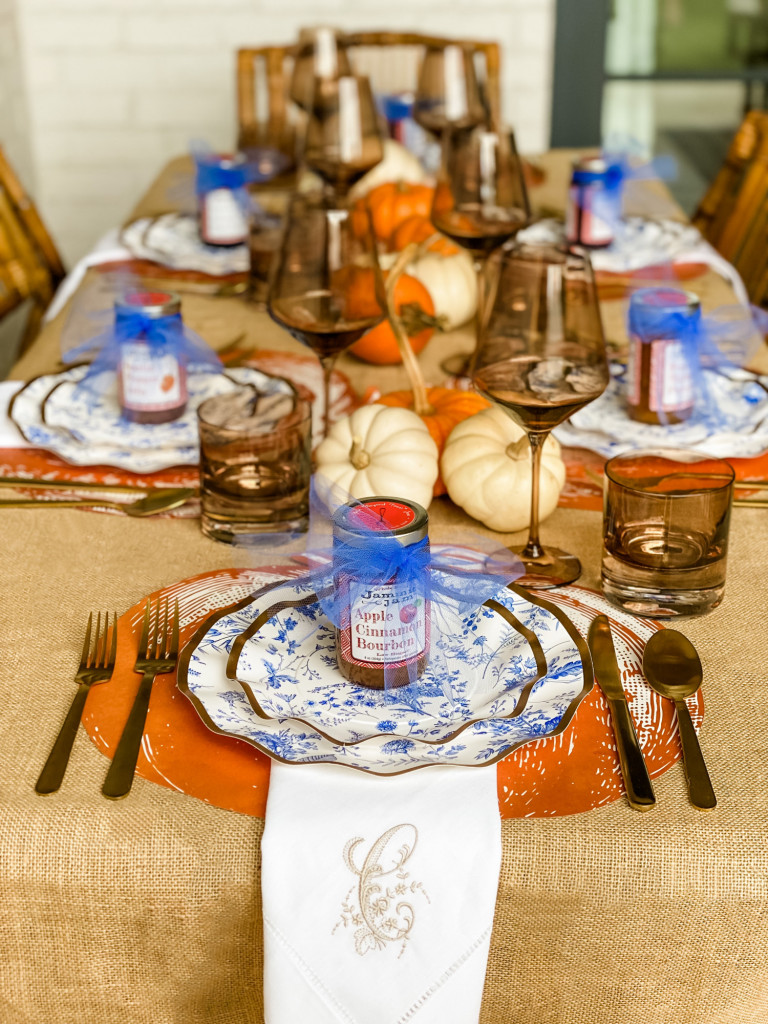 I struggled at first with the right centerpiece and where to place the party favors on this table. I settled with the white pumpkins on the plates but you do what feels right for your table! Sometimes, you can get away with no centerpiece at all and let the actual place setting be the main attraction 😉 What I do love most about a Fall Table is that you can skip the florals and just use pumpkins as your centerpiece!
Teal Blue, Orange, & Green Table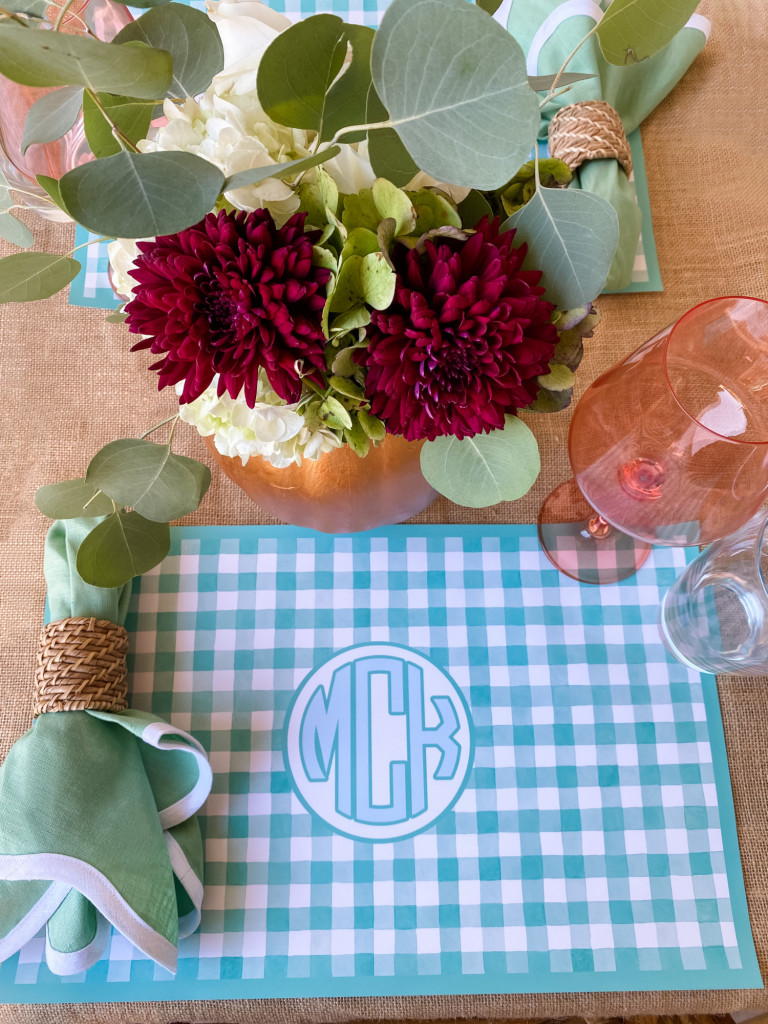 Another Lucy Grymes Table with her Monogrammed Gingham Paper Placemats! I planned on using my Sky Blue Fenwick & Fields napkins to match the blue monogram, but once again the green napkins were the right choice. They complimented the arrangements and tied it all together in my opinion.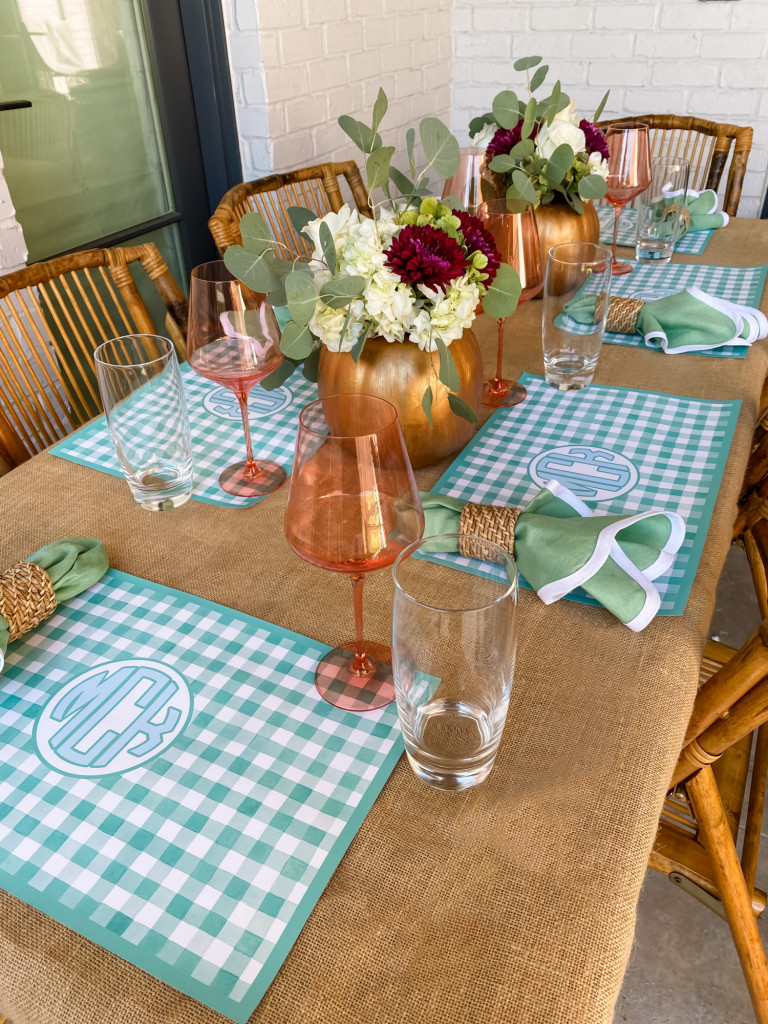 My second favorite colored Estelle Glass is the Coral! I call them my chameleon glasses because they can look orange and even pink, depending on the tablescape. They look oranger to me here and I love how they compliment the metallic paint on my DIY pumpkin arrangements!
*A fun touch: Pour some red wine in those Coral Glasses and watch the reddish violet chrysanthemums really pop!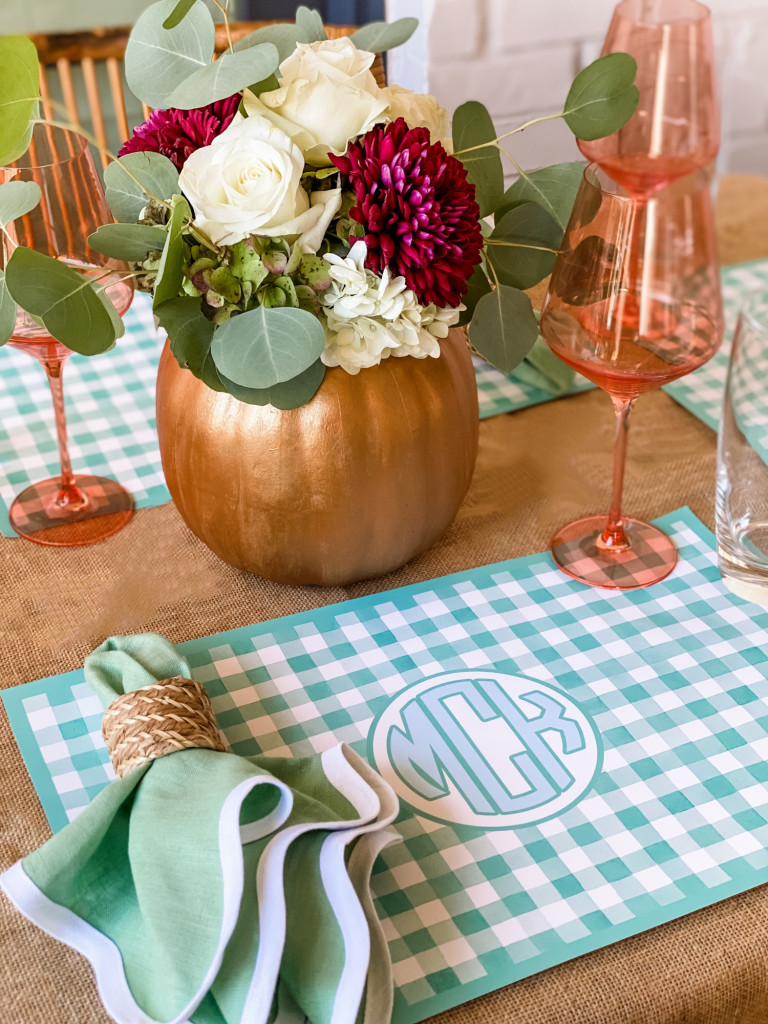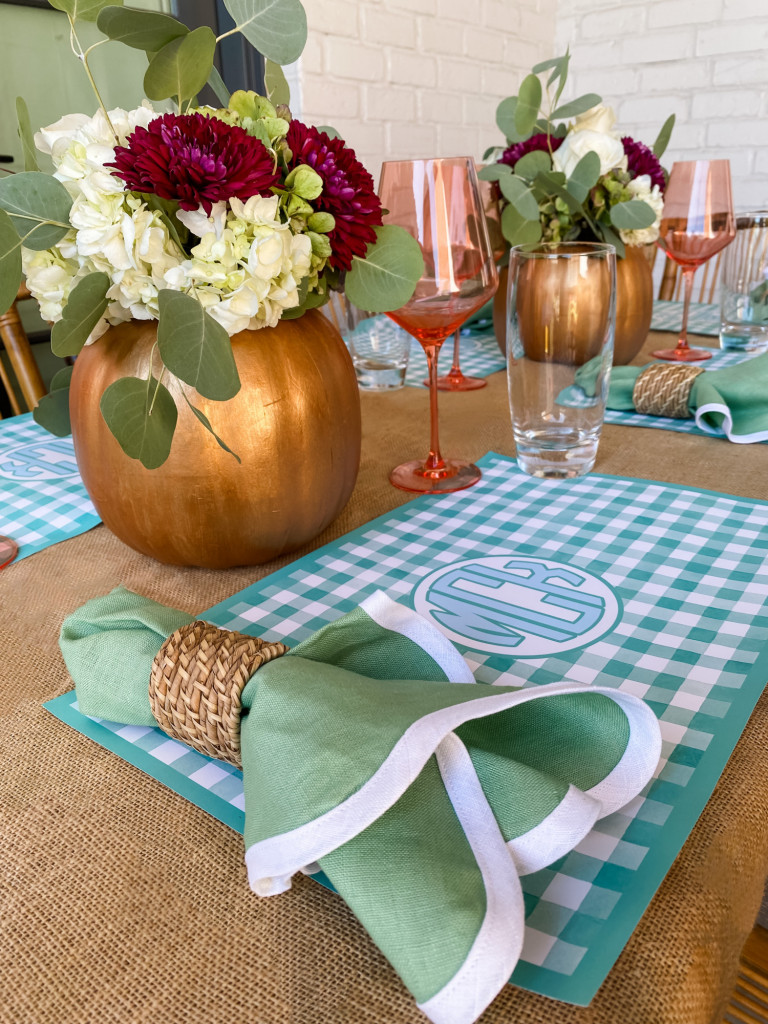 DIY Pumpkin Floral Arrangements
I'm no florist but I thought that these turned out pretty cute! They were also super inexpensive and easy to do.
What You Need:
Paper Mache Pumpkins $5 each | Pretty Penny Metallic Paint $2 | Florals from Trader Joe's
Directions:
*Cut the top of the pumpkin, I used a serrated knife
*Inside is styrofoam, so hollow out enough styrofoam to make room for a small mason jar
*Paint your pumpkins with "Pretty Penny" Metallic Paint
When I arrange florals, I always find it's easiest to start with hydrangeas and then work in the other flowers. Gently split the hydrangeas and put roses and other seasonal flowers inside the hydrangea. Lastly, I'll work my eucalyptus in for a more exaggerated arrangement.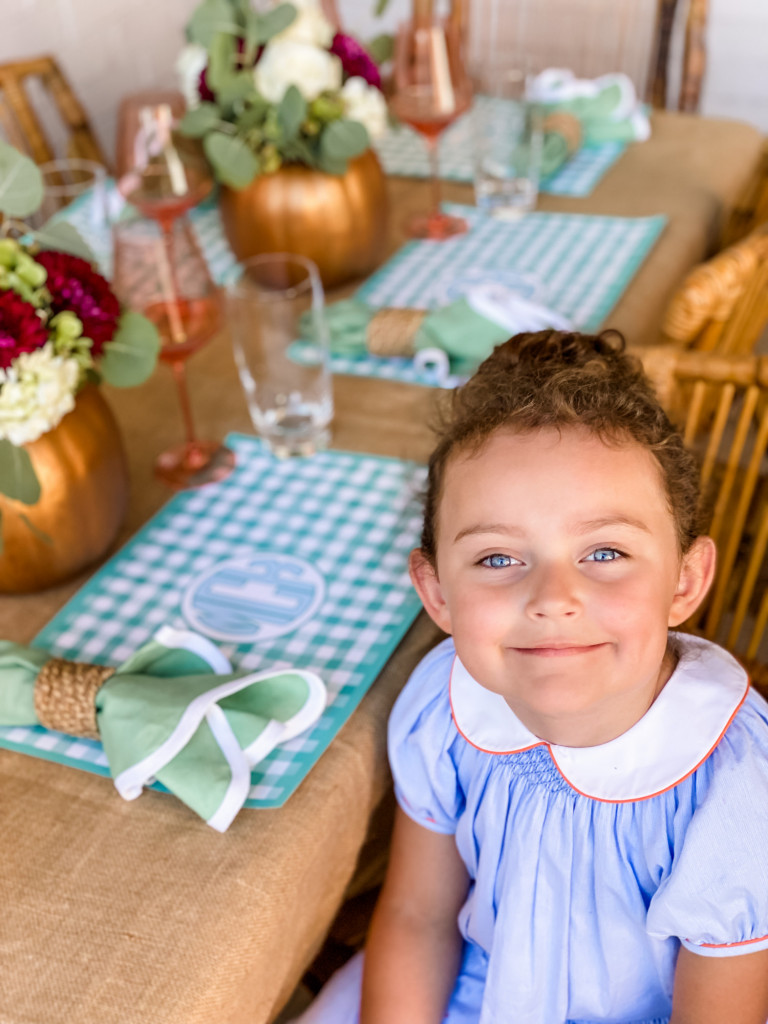 This little one loves to have "picnics" outside 🙂 !
Follow along on Instagram and Pinterest for more fun tablescapes this season!