If you want to check out my Fall Decor and skip the reading, click here! You can also click here for some of my favorite Halloween Decor & Gift Finds!
Finally, Fall is here, and to me that means, football, leggings, chunky sweaters, booties, and pumpkins! Fall is definitely my favorite of the seasons. You get cooler temperatures, College Football, Halloween Parties, and my favorite Fall Holiday, Thanksgiving!
This year especially, I think we have all been looking forward to just having something to look forward too. And for me, that is the Holiday Season :)!  I wanted to get a head start on my Fall Home Decor, even before it was officially considered Fall. I finished my Fall Front Porch Decor two weeks ago, and I'm still finding fun ways to decorate and add to my design!

Fall Front Porch Decor
I had some inspiration in my design from the Pioneer Woman's, "30+ Fall Front Porch Ideas That'll Add A Festive Touch To Your Home" post! I am no decorator, gardener, or plant enthusiast (plantsman), but I do have an eye for color, symmetry, and recognize the space and gaps in my home design and front porch design.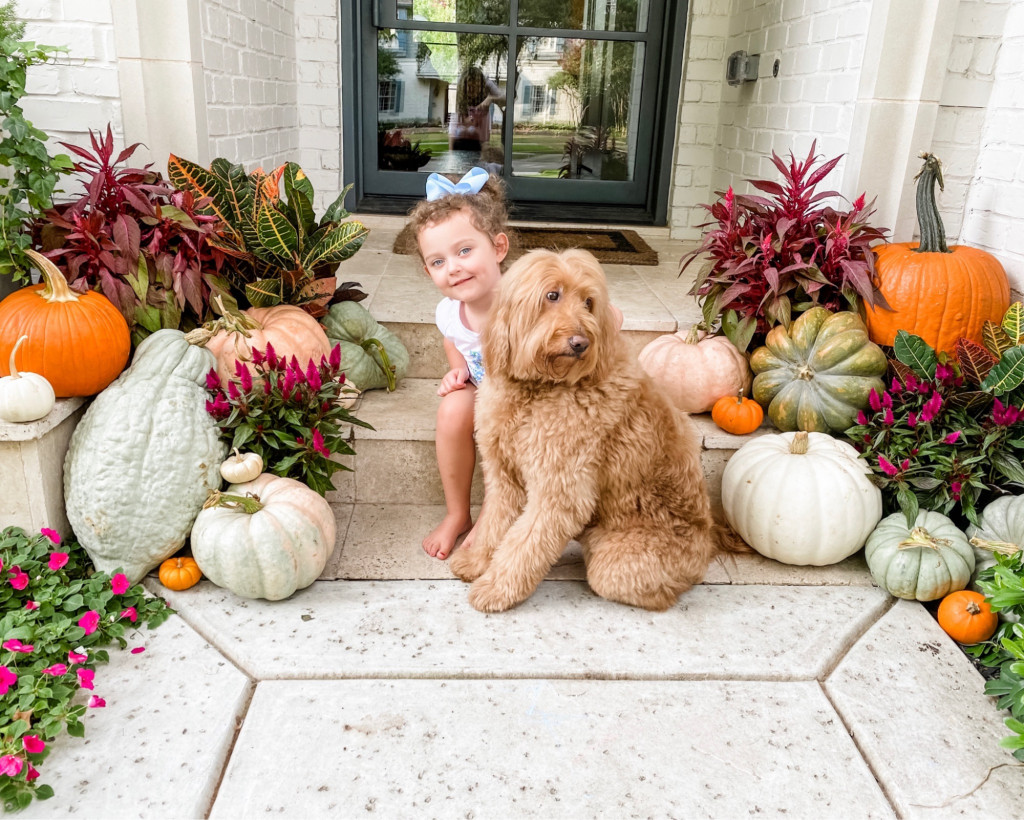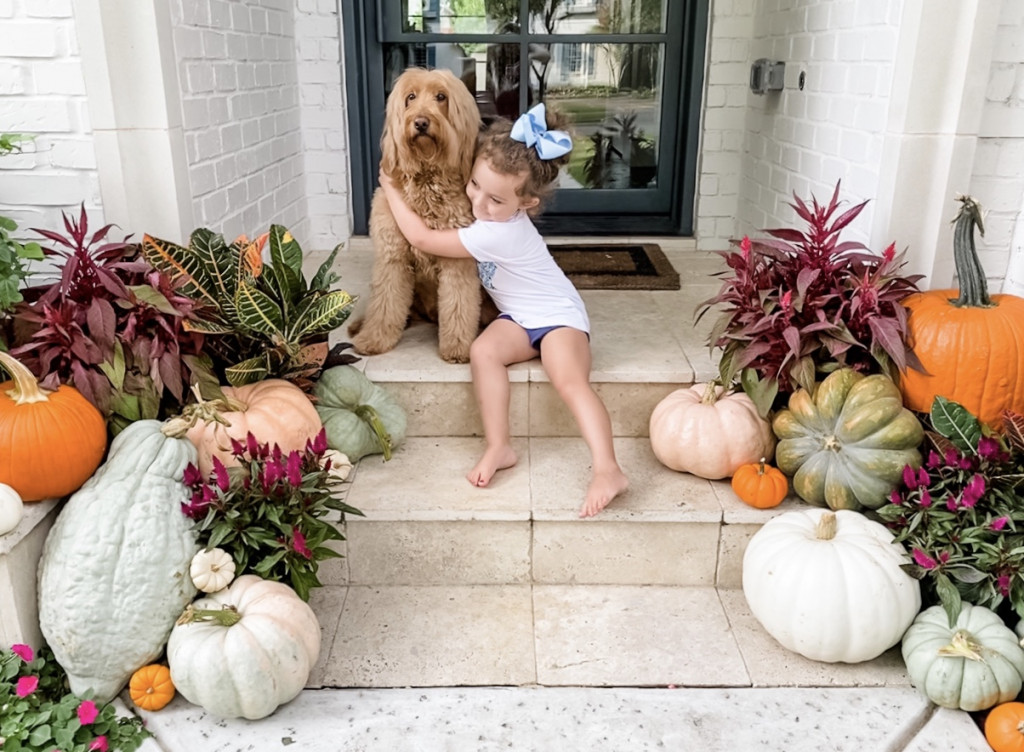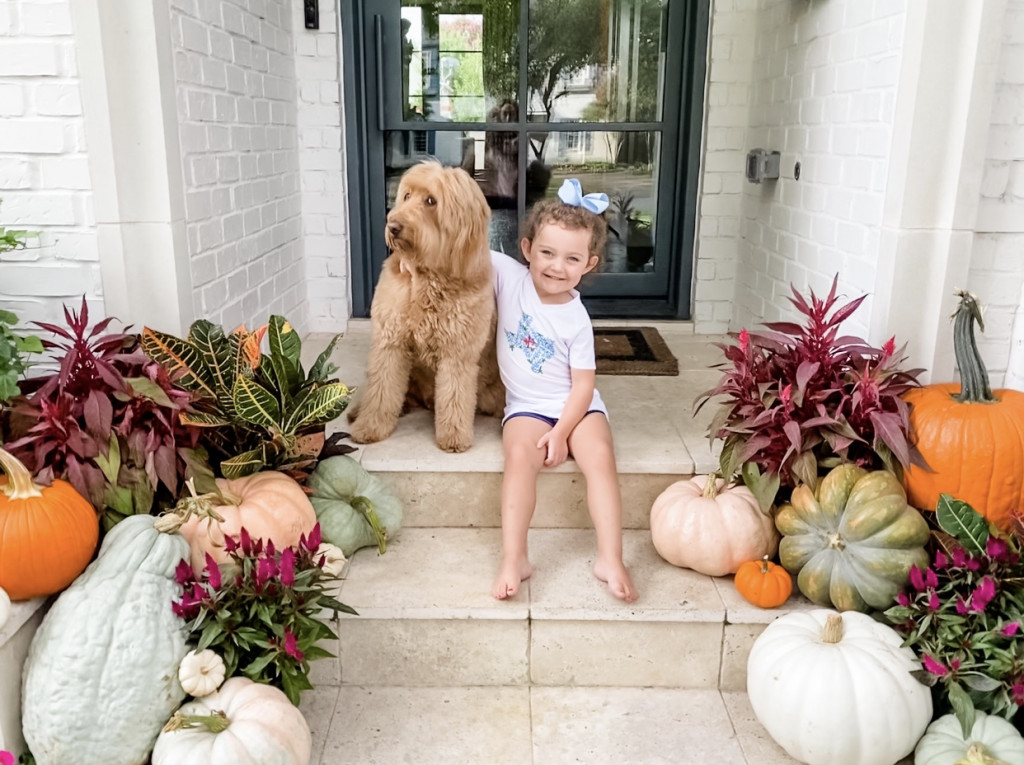 Thanks to these two cuties for helping me!
Watch this video linked on my Pinterest Page here, or on my Instagram Stories linked here, to see how I created this design and some tips and tricks that can save you money along the way!
Since taking the photo of my daughter and Gus, I was thinking of ways I could add a little more character or more of a personal touch to my front porch design. As I mentioned above, one of my favorite things about Fall is College Football, so I decided to get a little collegiate and rep our teams!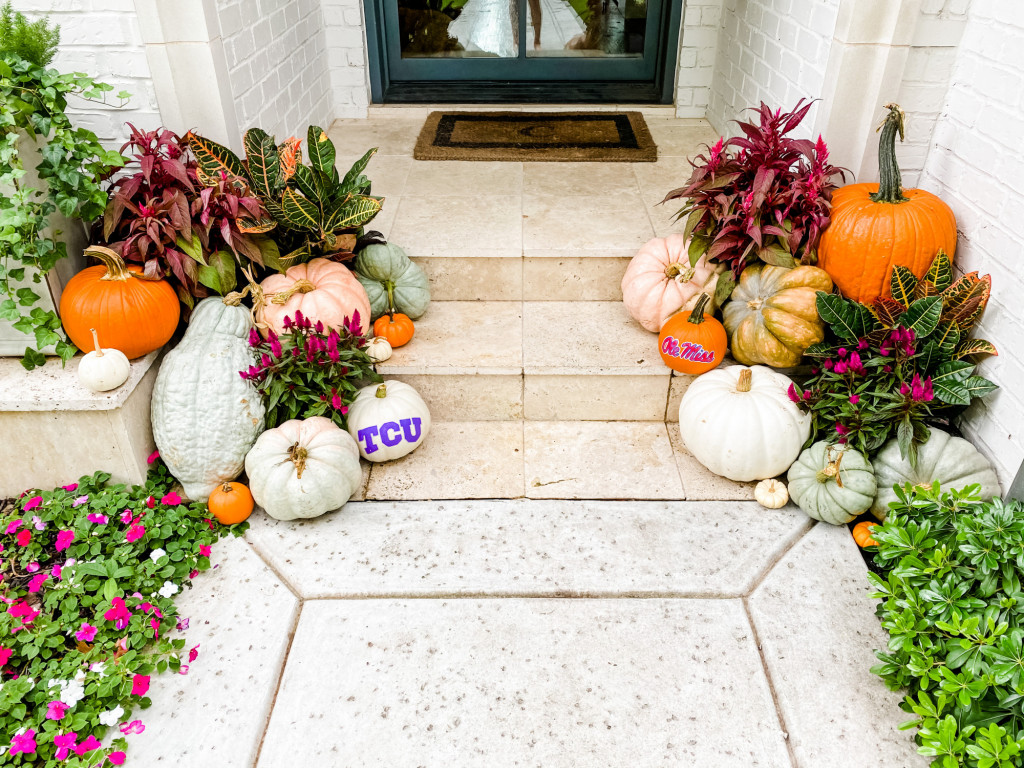 The key to painting pumpkins is paint pens and if you want it "perfect", get stencils. Here are the paint pens I used and the stencils too (linked below)! Don't want to buy the stencils? Then just print the image you want on a printer, use a pen to trace the print out on the pumpkin, and there you go!
Paint Pens | Ole Miss Stencil | TCU Stencil
Pumpkins
I got most of my pumpkins at Central Market, Nicholson Hardie, and Trader Joe's here in Dallas. I used mainly the "Fairytale Pumpkins", the large green gnarly gourd, and the traditional orange pumpkins with a larger stem. The taller stems can create some much needed height in your design (more on this below). Also, the little pumpkins were the finishing touch. Using the little pumpkins is a great way to break up those tiny holes and add a pop of color where it's needed.
Trader Joe's has the best prices on pumpkins that I have seen! Especially the "Fantasy" aka the "Fairytale" Pumpkins.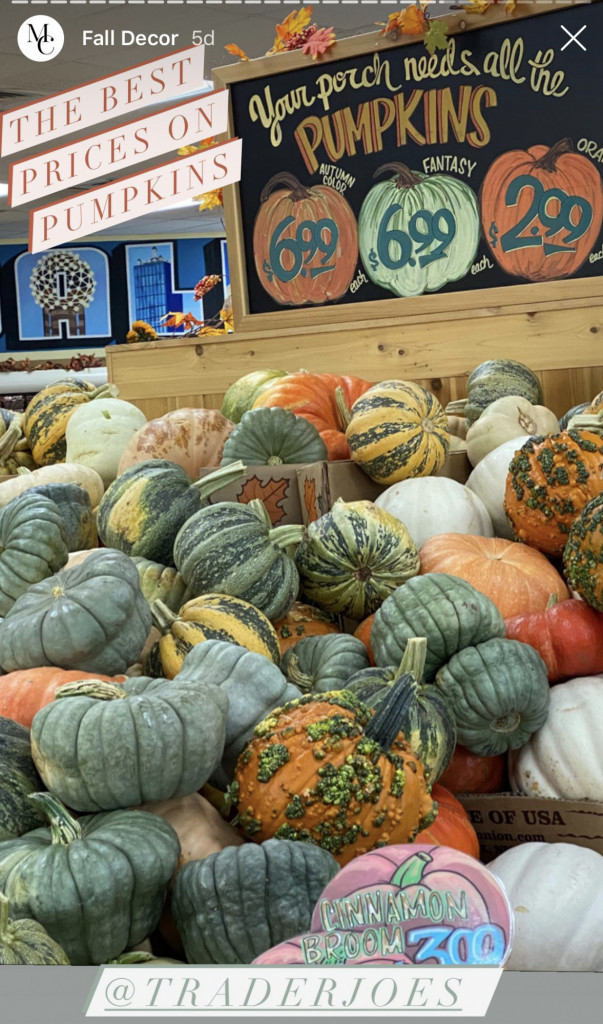 Plants
The full reddish purple plant is called Celosia "New Look Red" Plant. When I saw these at Nicholson Hardie, I loved how the leaves already looked like Fall. They added a lot of depth and filled in the holes in this design (needs watering and does well in shade), and I preferred these over Mums.
The green, yellowy orange veiny plant is called Croton. This is a very traditional Fall plant that you will see displayed out by the pumpkins at any local grocery store. The Crotons really compliment the orange pumpkins and almost make the orange pumpkins pop even more than usual.
Lastly, I got Purple Celosia, which is the small purple flower at the base of the front step. I thought my porch needed some budding flowers to compliment the pansies in our flower bed.
Space & Depth
Look at the large orange pumpkin on the right of my porch in the left image. This is a big beautiful orange pumpkin, but was so hidden, behind my Celosia. I went back and forth whether I needed to go buy another plant, or if I needed to rearrange the plants & pumpkins again. As I stared at it, I realized that the orange pumpkin just needed a little boost! If you look at the image on the right, you will see how adding a little height to this pumpkin, really filled in that empty space and created more depth to this design.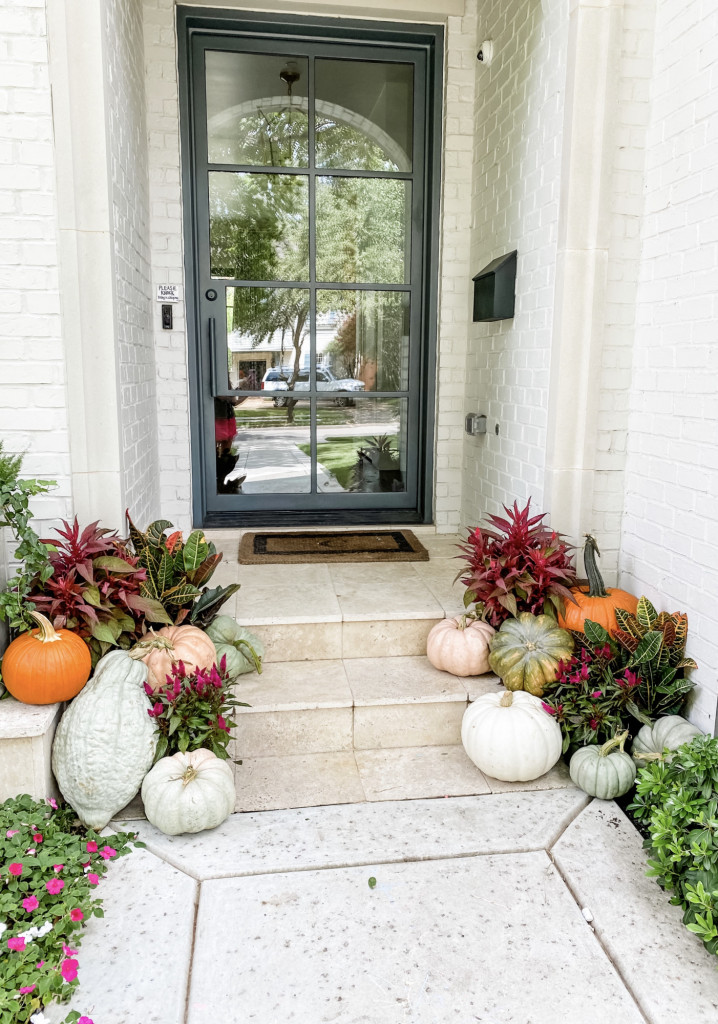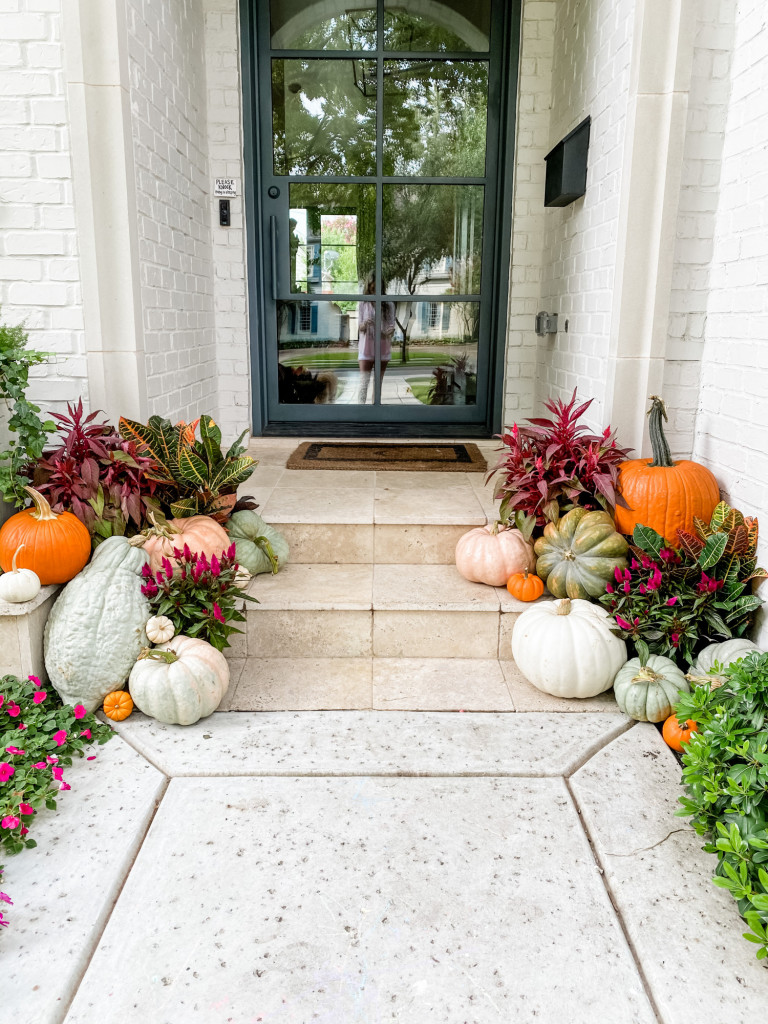 How did I do this? Simple, three plastic cups placed in a triangle! Want something a littler more chic? Get some brown bed risers at Target!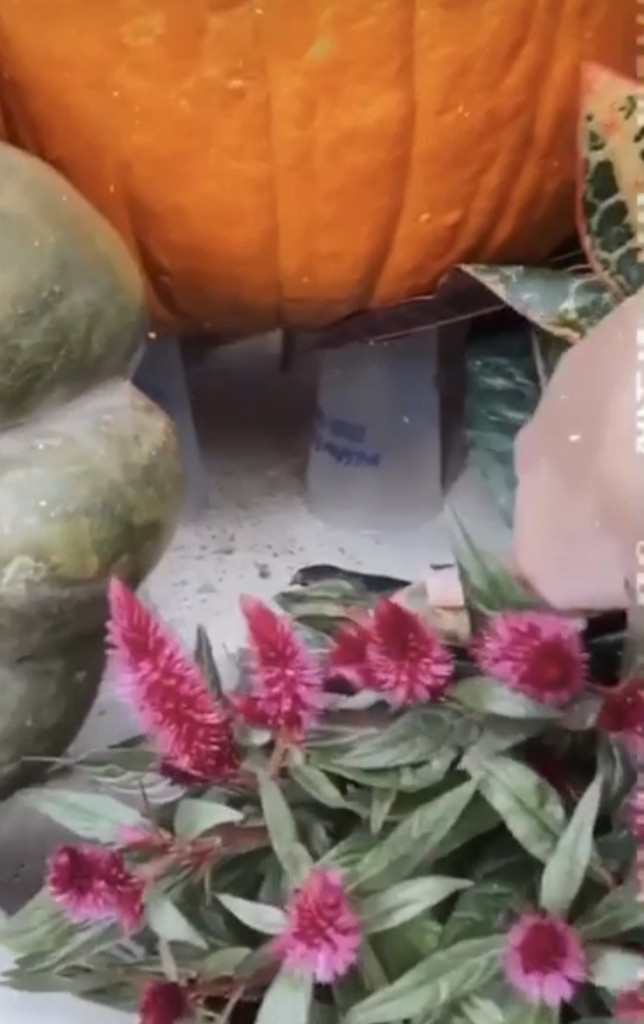 Planters
For my planters, I just left the plants and flowers in the plastic containers they came in. I then hid the planters by placing my pumpkins around them. If you are wanting to show off your planters, then it may be better to invest in some nicer ones. I will link a few below!
Another inexpensive tip, if you want something pretty that won't break the bank,  go to Trader Joe's and they will just give you these plastic buckets (image below) for free! You can spray paint them in a color you want for your design and there you go, pretty planters!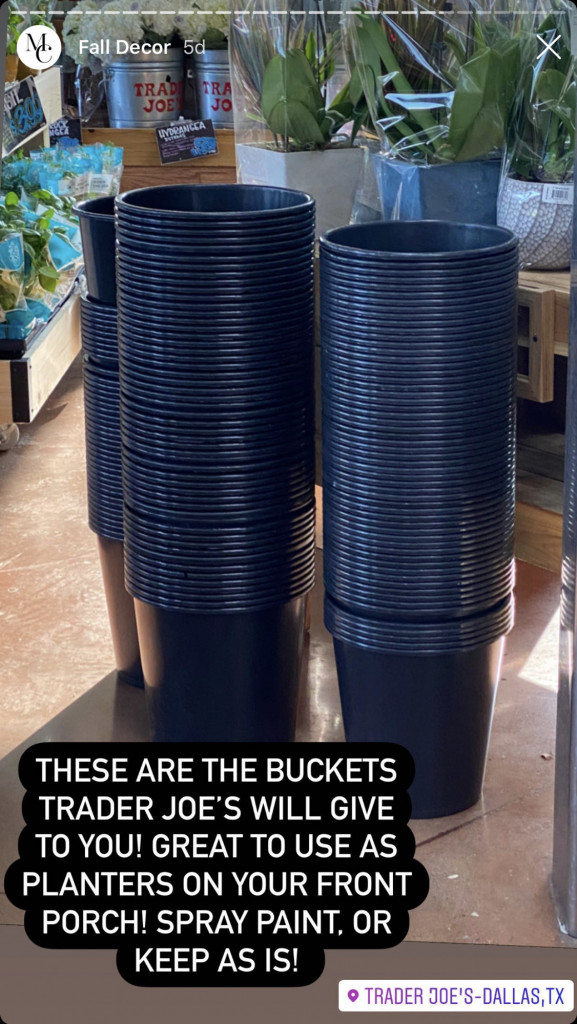 Another cute idea, if you are going for the more rustic look, grab one of these rattan baskets from Target and set your plant or Mum right in it! I also thought the wire basket would be a cute idea, and I would fill some hay in the basket to cover the plastic container. If you are wanting to reuse for next year, I would probably go for the wire basket because it would do better outdoors compared to the rattan one. Here are a few images of the ones I saw at Target the other day that I think would work great!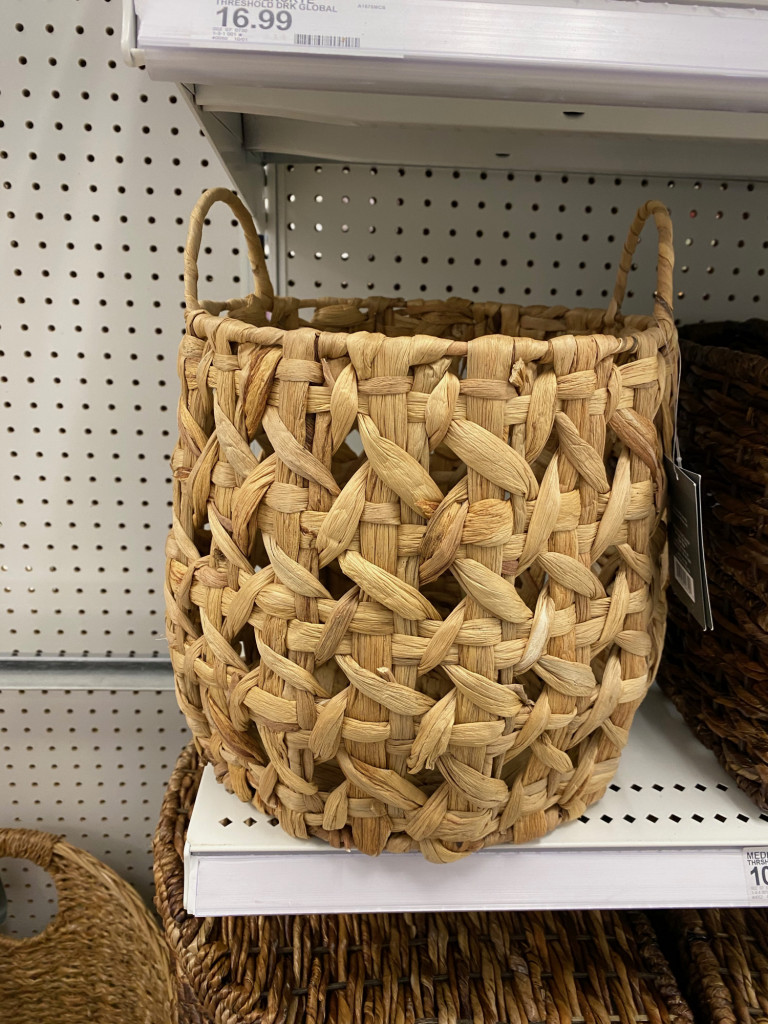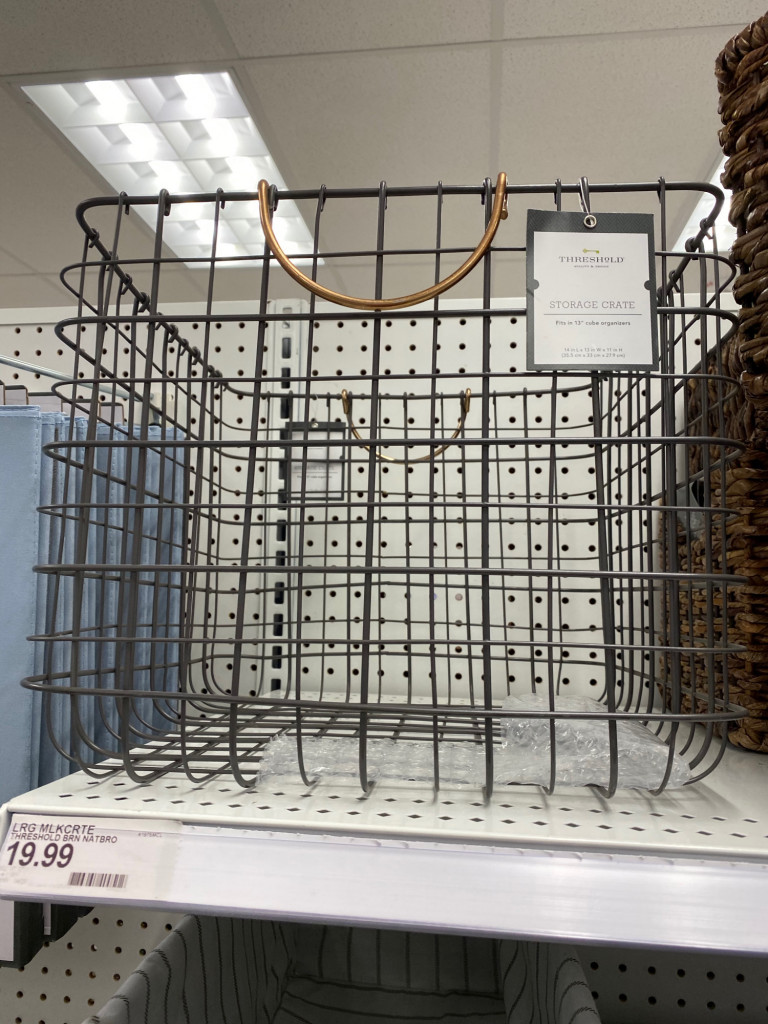 More Fall Porch Ideas
Here are some more ideas (mostly faux) that I posted in my Amazon Shop!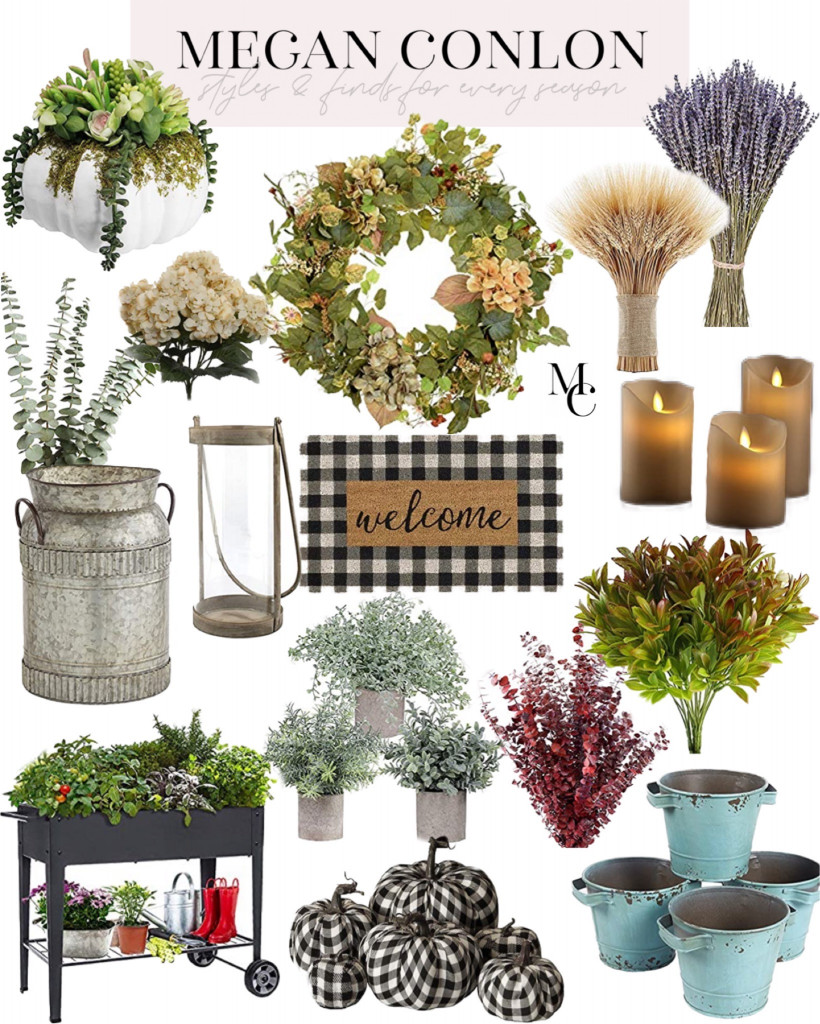 The pumpkins and the plants/florals above are all fake. If you plan to have the same design each year, investing in faux plants and florals would be worth it! Note, most of these planters won't have a "drain" hole at the bottom, so you may need to drill your own hole to drain the water if you plan to have them outside. The bar cart I thought was such a cute idea from the Pioneer Woman's Fall Front Porch Ideas and found this one on Amazon for under $100!
To shop these items above click here to be redirected to my Amazon Shop!
Indoor Fall Decor
If you have followed my blog or social channels, you may have seen my love for faux flowers, and succulents. I do take care of the flowers I receive, but I just love a pretty centerpiece that you can store or leave out year round. Ashley, at Lakewood Succulent Designs, creates the most beautiful faux floral arrangements I have ever seen. I recently purchased three of her faux succulent pumpkin arrangements and they now sit on our breakfast table! Easy to store and just perfect for Fall!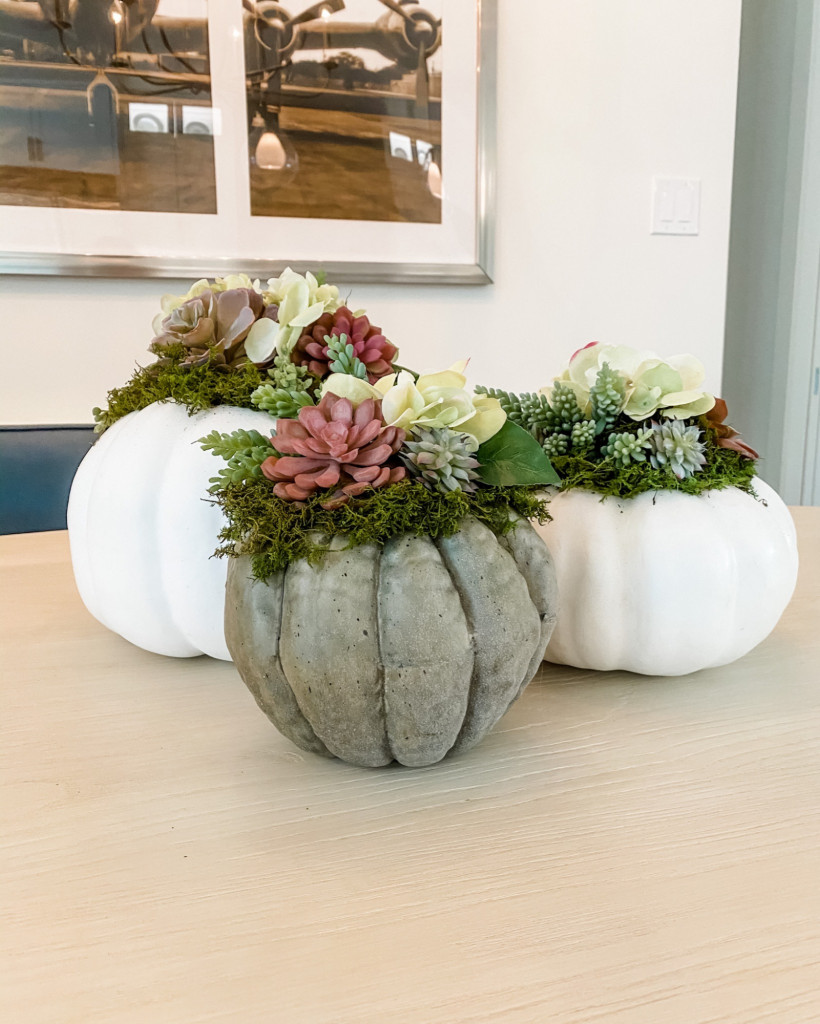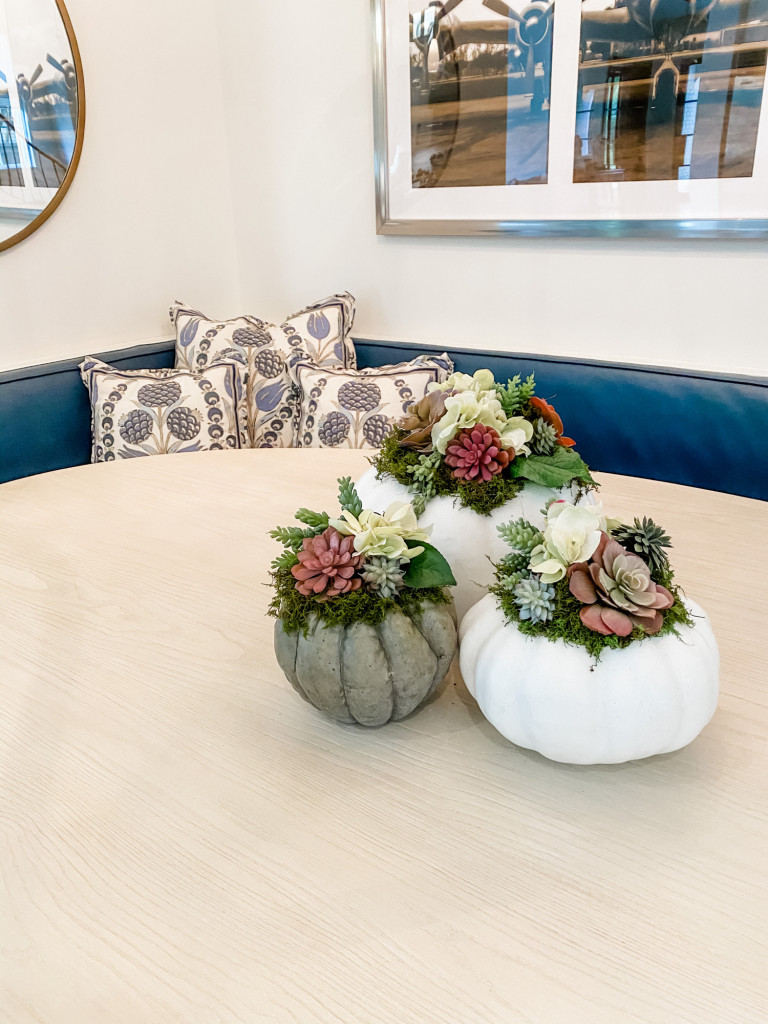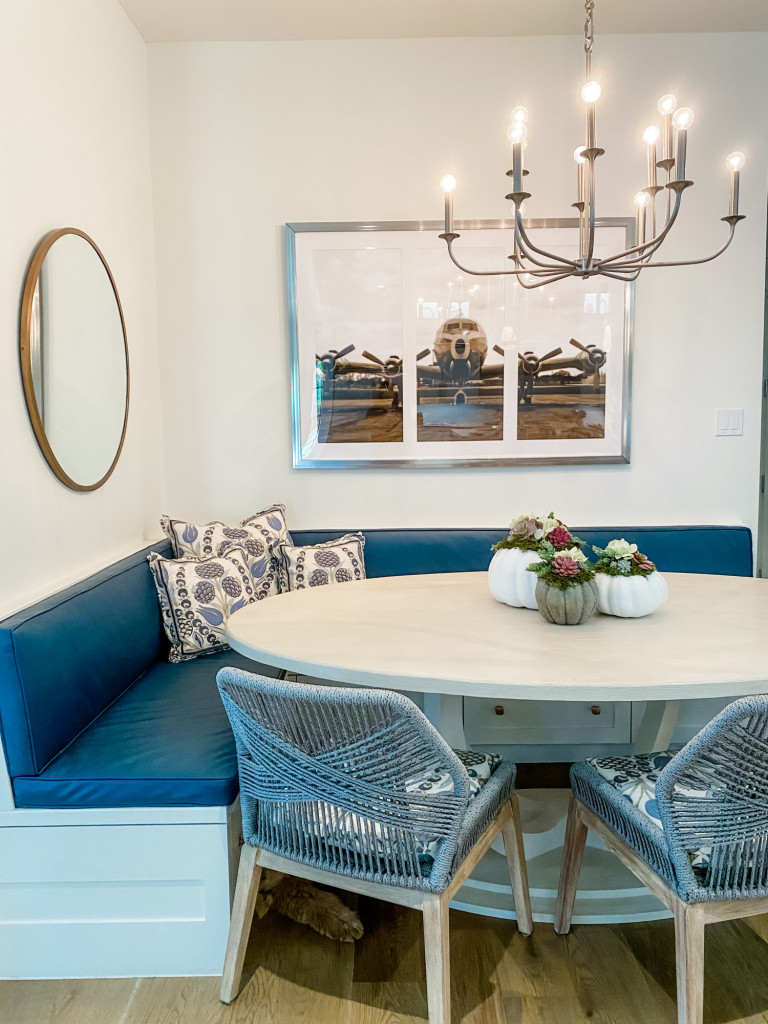 Target Find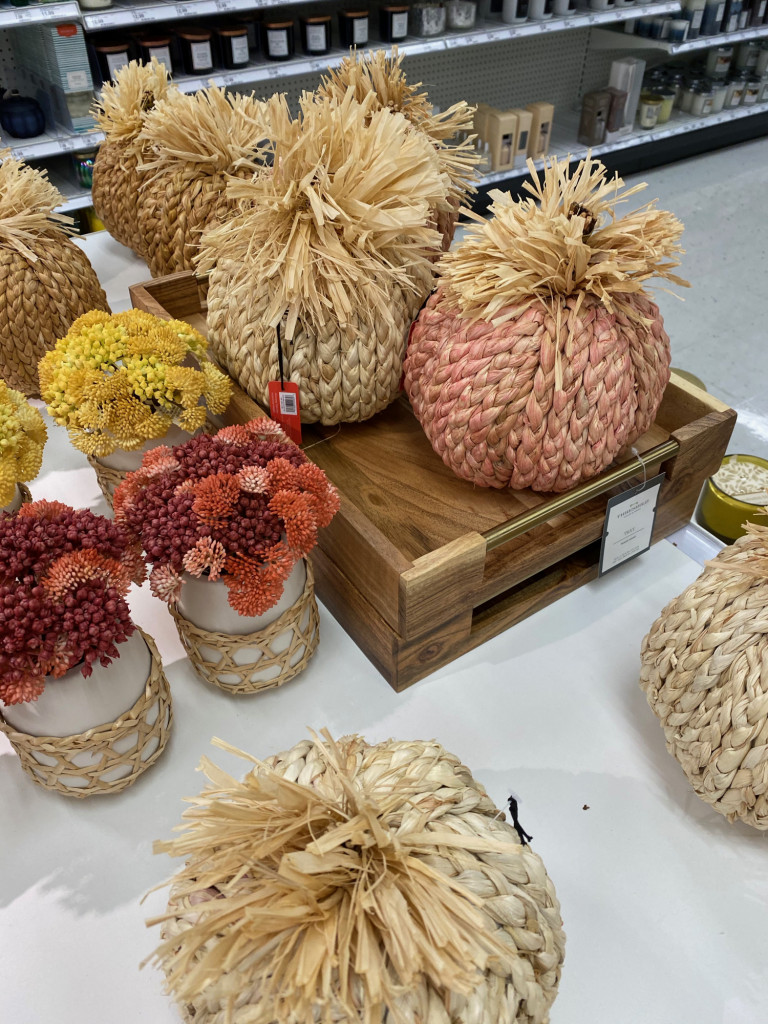 I went to Target yesterday and saw these super cute woven pumpkins, but the stem was throwing me off! At first, I thought of a pineapple, and then I saw "Wilson" the volleyball in the movie Castaway (haha)! I then thought if it didn't have all that stringy fluff, I think it would be so much cuter! When I got home, I took two clear rubber bands of my daughters and twist tied the strings together to look more like a pumpkin stem!
(Watch the video of my Target Find on Pinterest by clicking here)

Here is how I tied it! Found the perfect little spot for her, in our Powder Bath :)!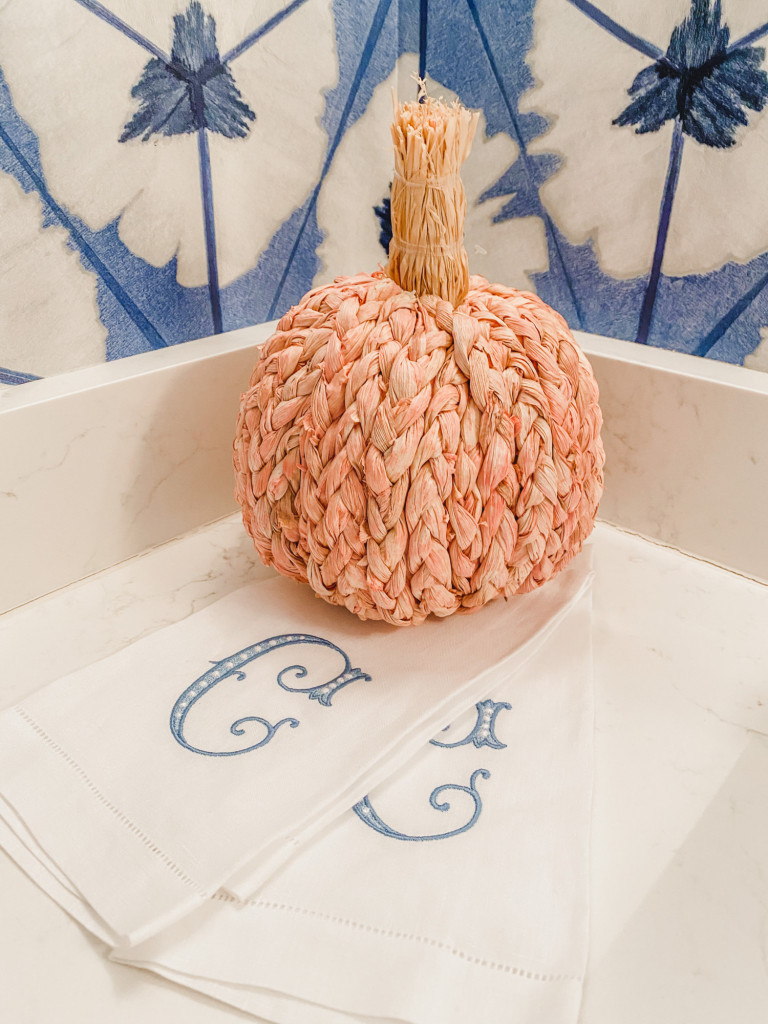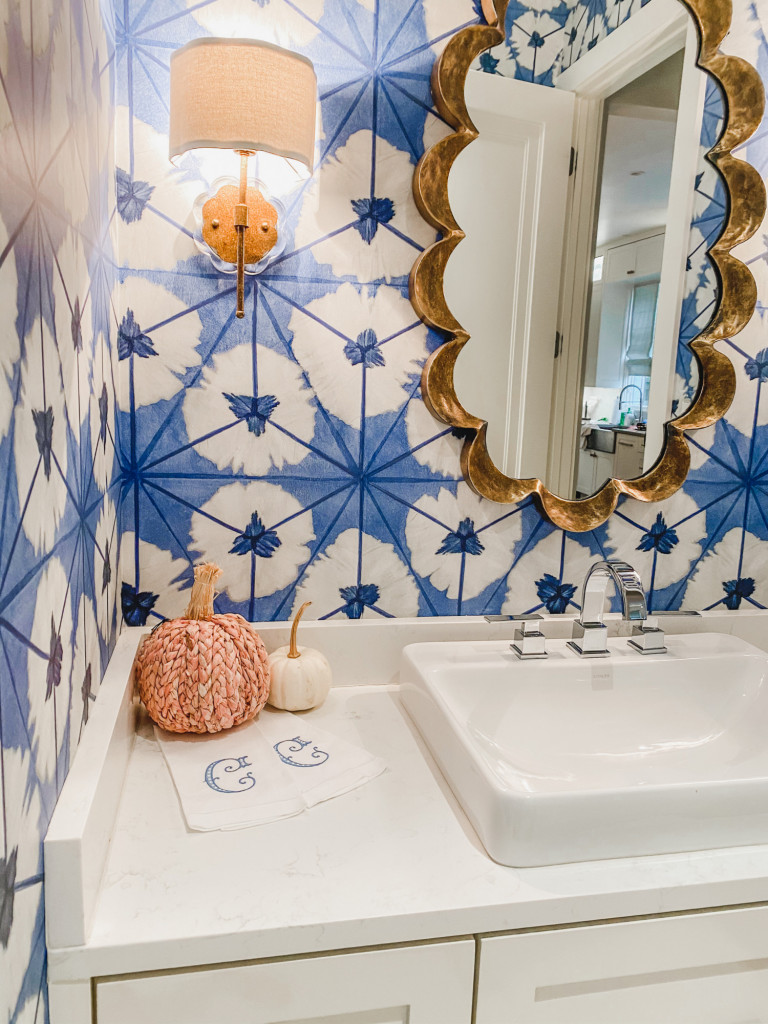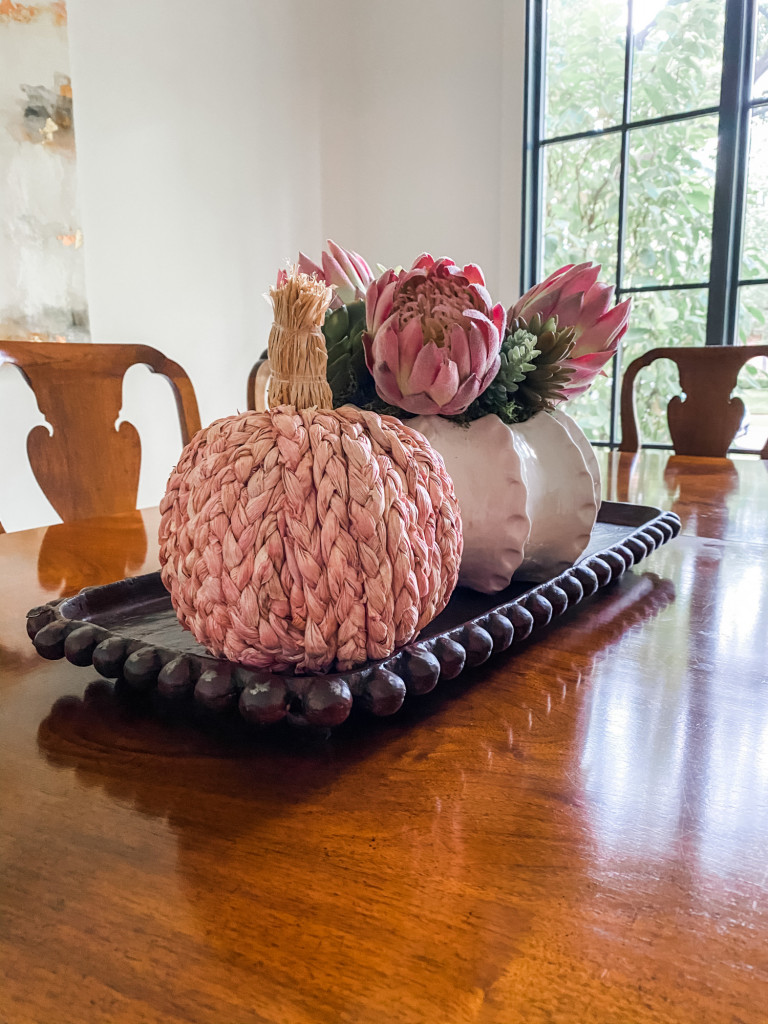 If you want to see more of my Fall Decor Ideas, click here, and to see some Fall Gift Ideas, click here!
Thanksgiving Tablescapes coming soon! Stay safe and healthy!