Got a head start on my Fall Front Porch design this past week!
Below I'm sharing some fun tips and tricks to decorate your front porch for Fall.
Fall Front Porch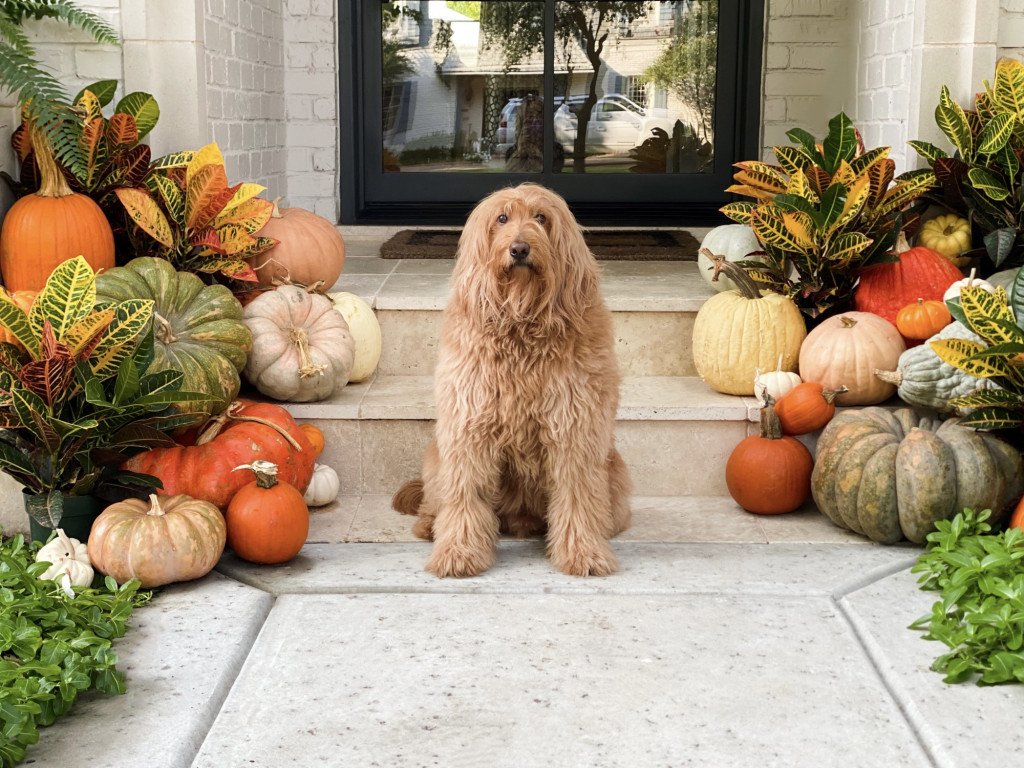 My pumpkins and Crotons (plants) are from Nicholson Hardie here in Dallas. Nicholson Hardie's gardening expertise and the variety of pumpkins they carry, is by far the best place to shop for fall plants and pumpkins in my opinion. I'm a sucker for gnarly gourds and the traditional pumpkins too, and each year I love to mix all kinds of pumpkins for my front porch design.
Some other places that sell inexpensive pumpkins: Central Market, Trader Joe's, and local grocery stores.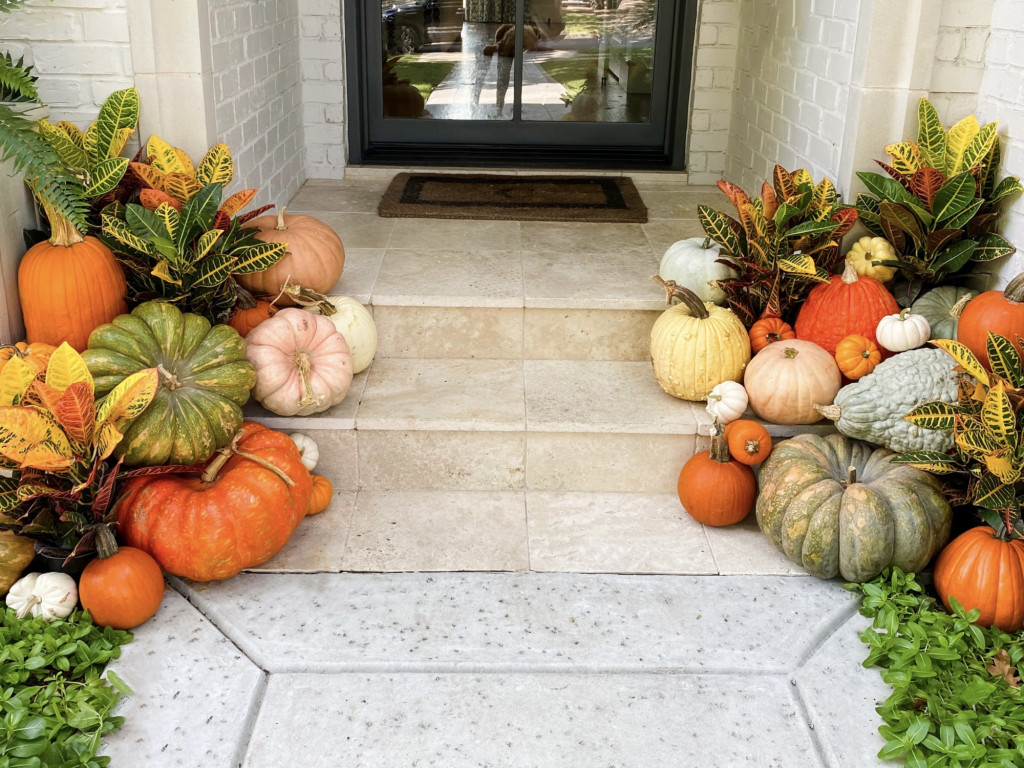 Favorite Pumpkin/Plant Hack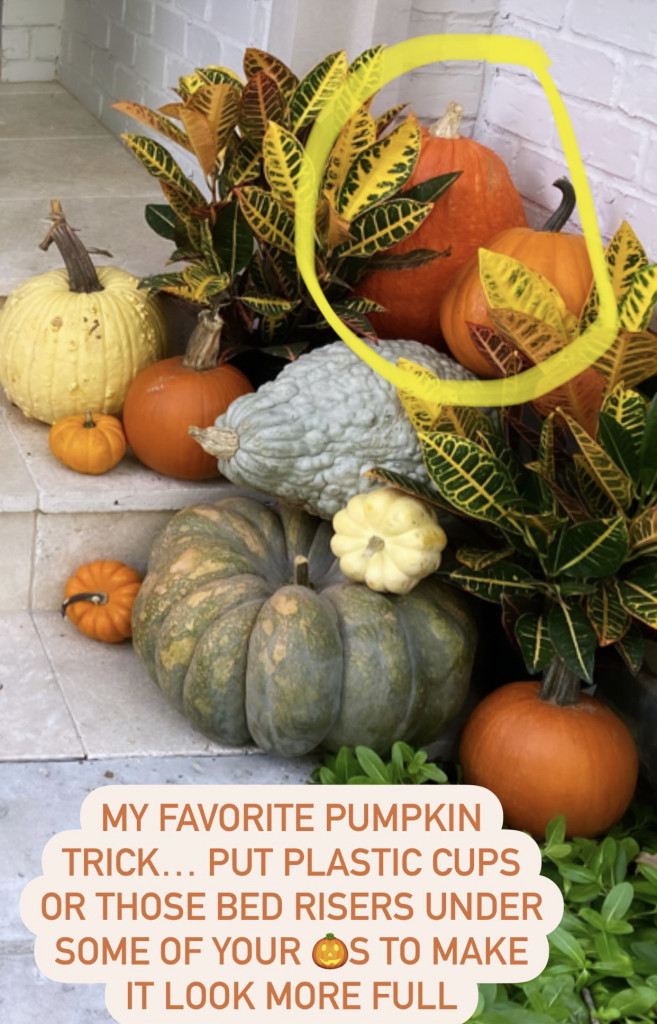 *Pumpkin/Plant hack to make your design more symmetrical and full
Use plastic cups or bed risers under pumpkins and/or plants to help them be seen!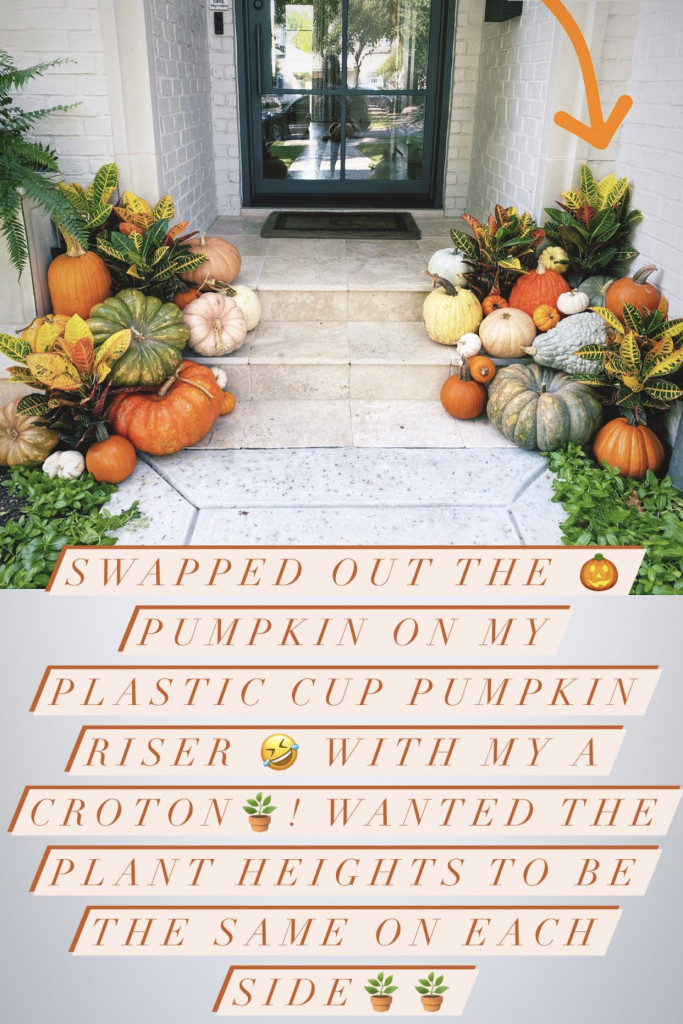 Common Questions About Pumpkins & Fall Plants
Q: How long do your pumpkins last before they rot?
A: My pumpkins last year lasted for two months. They started rotting right at Thanksgiving. My porch is heavily shaded, so my pumpkins aren't roasting in the Texas sun, which helps. Also, when watering your fall plants, use a cup to water, not a hose. Keeping your pumpkins out of the sun and as dry as possible will give your pumpkins a longer life!
Q: Do you bleach your pumpkins to prevent pumpkin rot?
A: I do not but, if you want to ensure a long life for your pumpkins, I would suggest bleaching them. Wipe them down with Clorox Bleach Wipes, and then use clear spray paint or even hairspray! My friend, Laurin @thecollarfind uses bleach wipes and floor wax but also suggests to keep them out of the sun and rain. If your porch has a lot of sunlight, I'd wait until mid October to do your Fall Porch Design.
Q: How do you keep your Fall Porch Plants alive?
A: I did an Instagram Reel about this. I use Crotons, always. Mums need six hours plus of sunlight a day and my porch is always shaded, so Mums would die quickly. Crotons are great for shaded front porches! I also prefer Crotons because they can make your design look fuller too.
Q: How often do you water your Fall Plants?
A: This highly depends on the climate, but the soil should always be damp. Too dry of soil for an extended period of time will kill your Crotons. I water mine every two days while it's still hot in Dallas. But once the temperature drops, I usually can getaway with watering every 4 days, if not once a week. Avoid overwatering because you don't want root rot. Also, make sure your planter has draining holes! For those that have or want Mums, they require an inch of water a week.
*Watering tip for any porch plant with pumpkins
Use a cup to fill each "pot" of plants with water, don't use a hose! When using a hose, we tend to overwater which can cause root rot. It also runs the risk of getting your pumpkins too wet and this can make your pumpkins rot too.
Q: Do you use planters for your fall plants?
A: I do not! I actually leave them in the black plastic container they come in. Maybe one day I'll invest in some nice planters, but covering the black containers with my pumpkins I think looks just fine!
Last Year's Fall Front Porch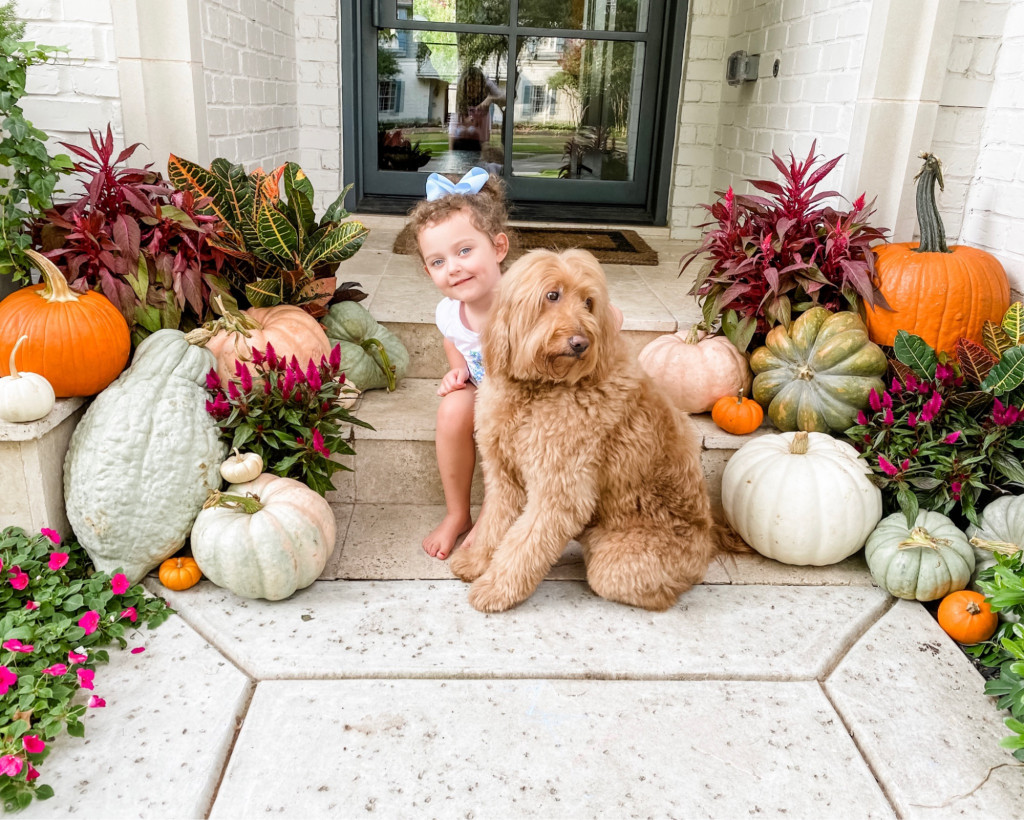 Last year I used Crotons and other Fall Plants that were recommended for shaded porches. I also used plastic cups aka my "pumpkin riser" for the top right pumpkin of this design.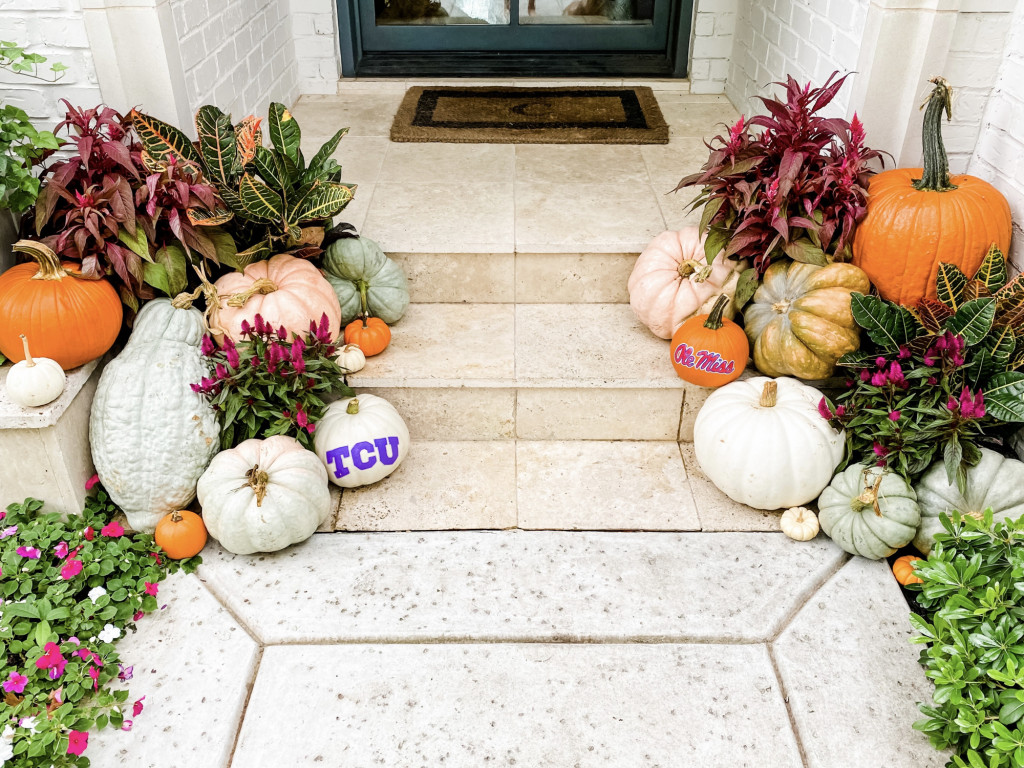 Collegiate Pumpkins
I haven't made our Collegiate Pumpkins yet this year but here are last years! All I used were acrylic paint pens and stencils. Super easy and a fun project to do!. Linked the exact paint pens and several collegiate stencils below.

Transitioning From Fall To Winter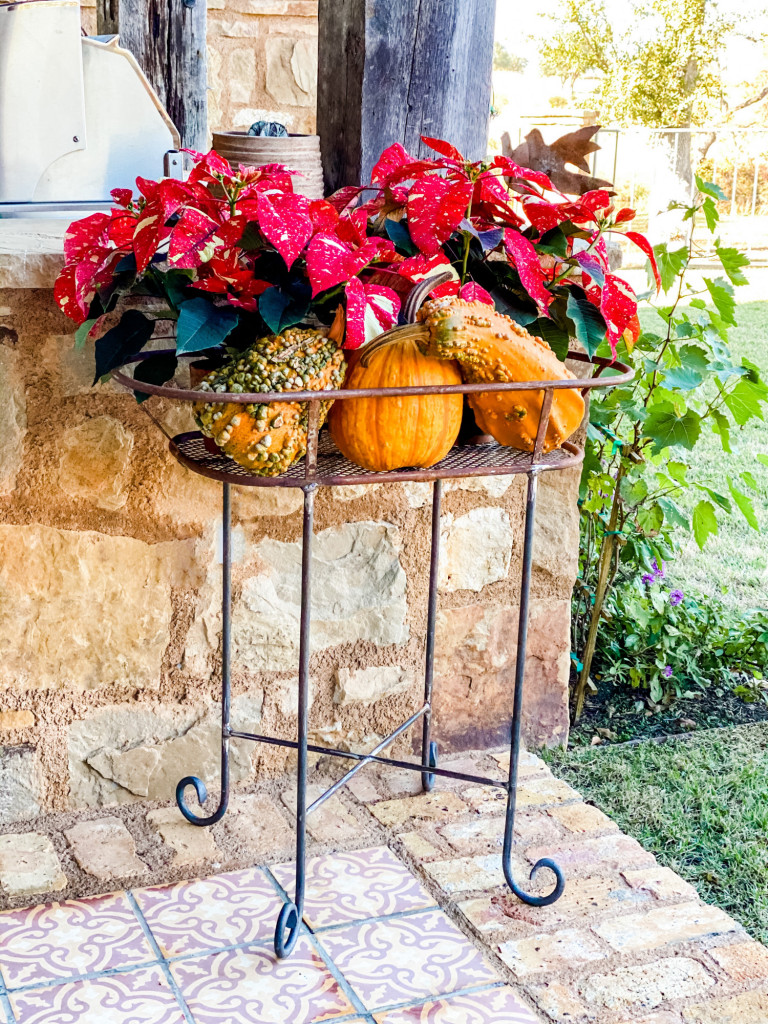 This planter pumpkin poinsettia design was at my Dad's house last year and I just loved it! This is a great way to decorate for Thanksgiving and the upcoming Holidays.
Next week on MC, fun Fall Table Settings!