Easter Table
This year I decided to set my Easter Table in greens and blues because of the cute melamine bunny plates. These melamine plates are by The Muddy Dog. They are BPA free & made with Thermosaf, which makes them oven safe, microwave safe, & dishwasher safe too! The Muddy Dog has hundreds of melamine plate designs to choose from. She also does a ton of custom work as well!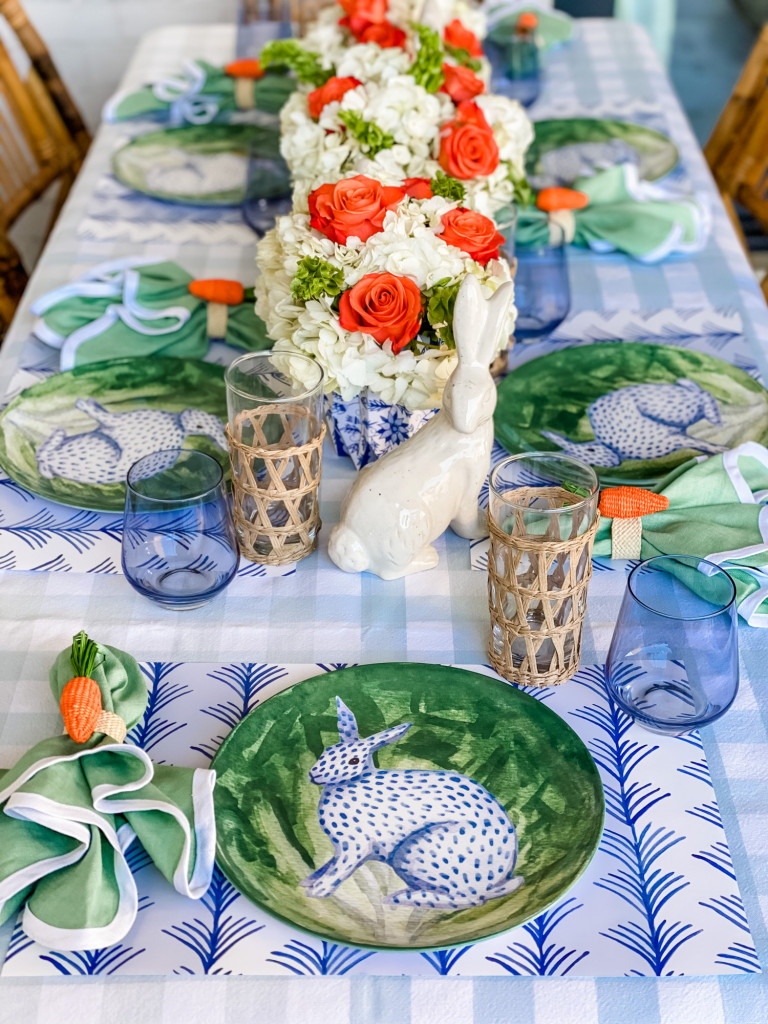 Tablecloth: Target | Paper Placemats: Lucy Grymes| Napkins: Fenwick Fields | Napkin Rings: Klatso Home | Melamine Plates: The Muddy Dog | Stemless Glassware: Estelle Colored Glasses | Rattan Tumblers: Swoozies | Blue Chinoiserie Vase Wraps: Lucy Grymes | White Ceramic Bunnies: Target | Florals: Trader Joe's
Scrolling through Instagram, I found these adorable rattan carrot napkin rings by Klatso Home! Originally, these napkin rings were for the kid's table but once I started setting this table, I fell in love with the pop of orange.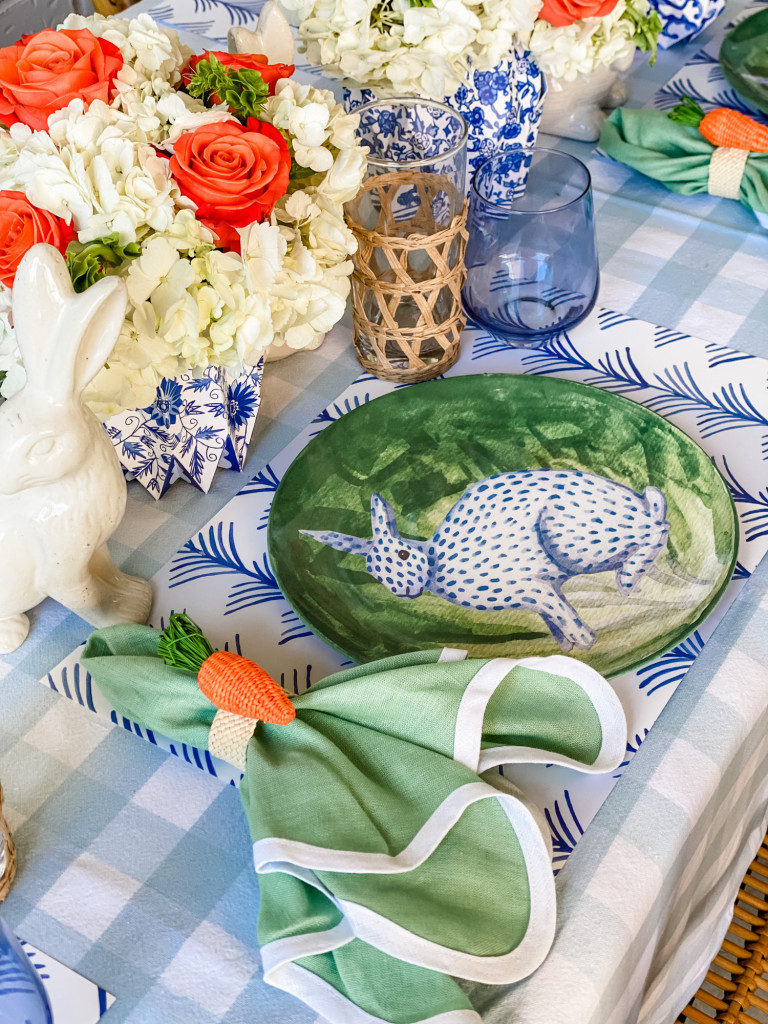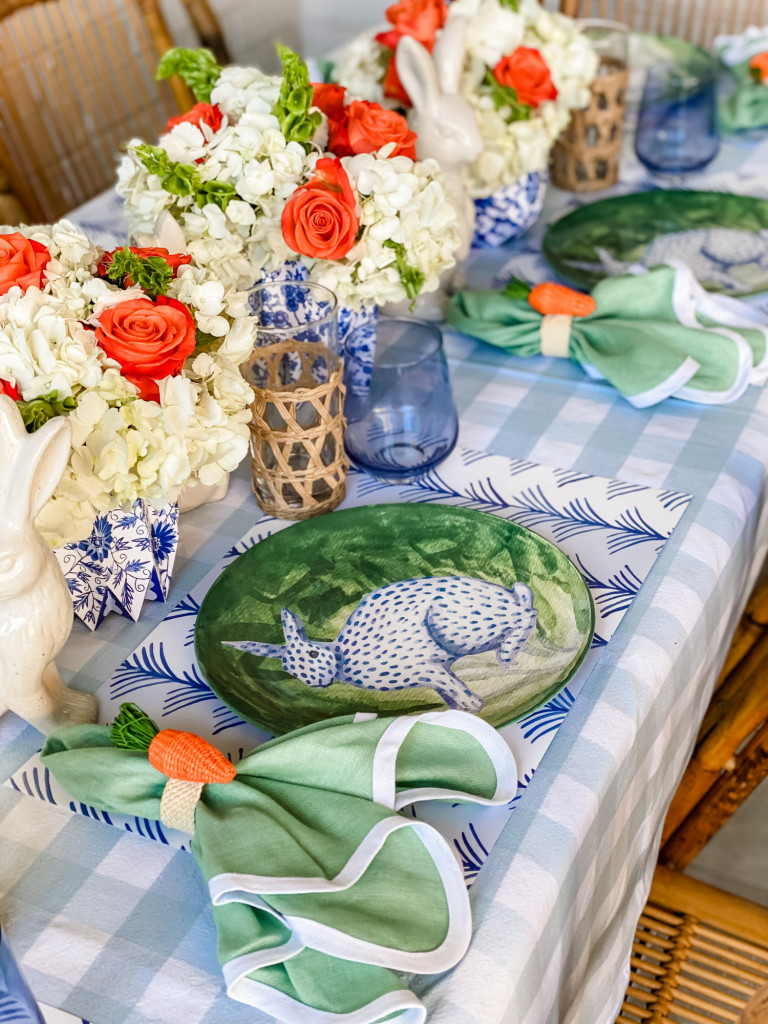 Floral Arrangement Tips
When making my own arrangements, I always go with hydrangeas and roses. I like the fullness of the hydrangea and the pop of color from the roses. To recreate my arrangements above, split apart the hydrangea and shimmy a rose (or any flower) in the hydrangea for a pretty pop of color and added texture! I then stagger some greenery around to give the centerpiece more color and depth!
St. Patrick's Day Table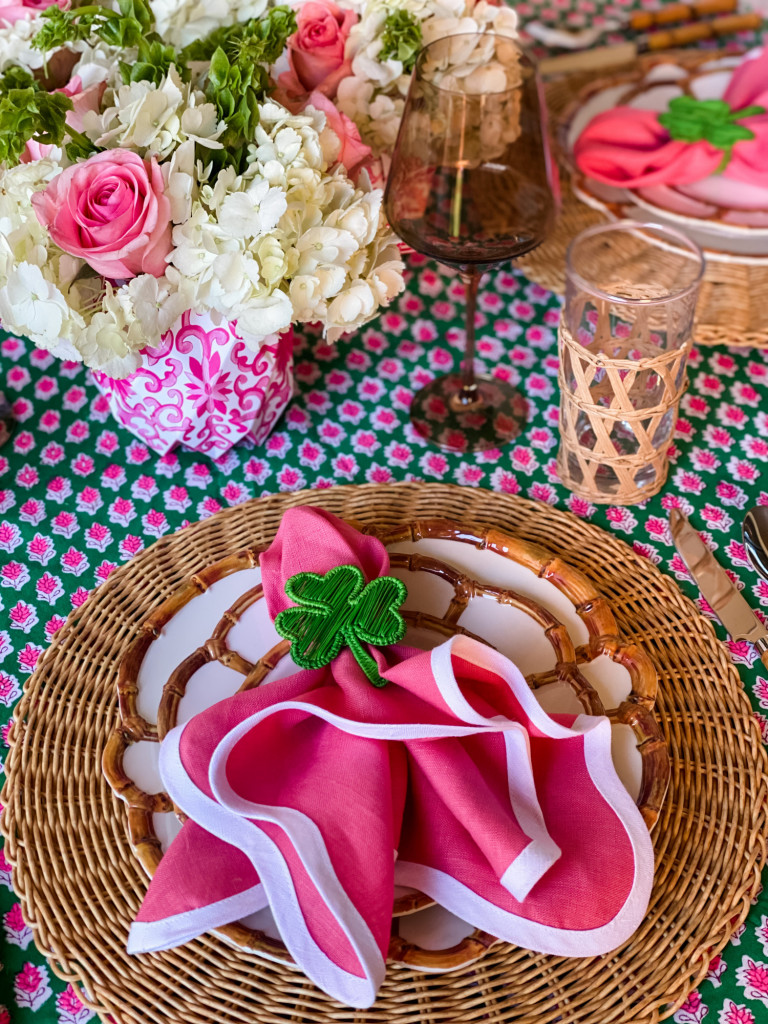 I know this is titled Easter Tablescapes, but I had to share my St. Patty's Tablescape in this post because it's actually going to be my Kid's Easter Table this year. I will simply swap out the napkin rings and add some white ceramic bunnies! I'll also remove the wine glasses ;). These shamrock napkin rings are by Klatso Home too! Linked below are several of Klatso's Napkin Rings that I just adore.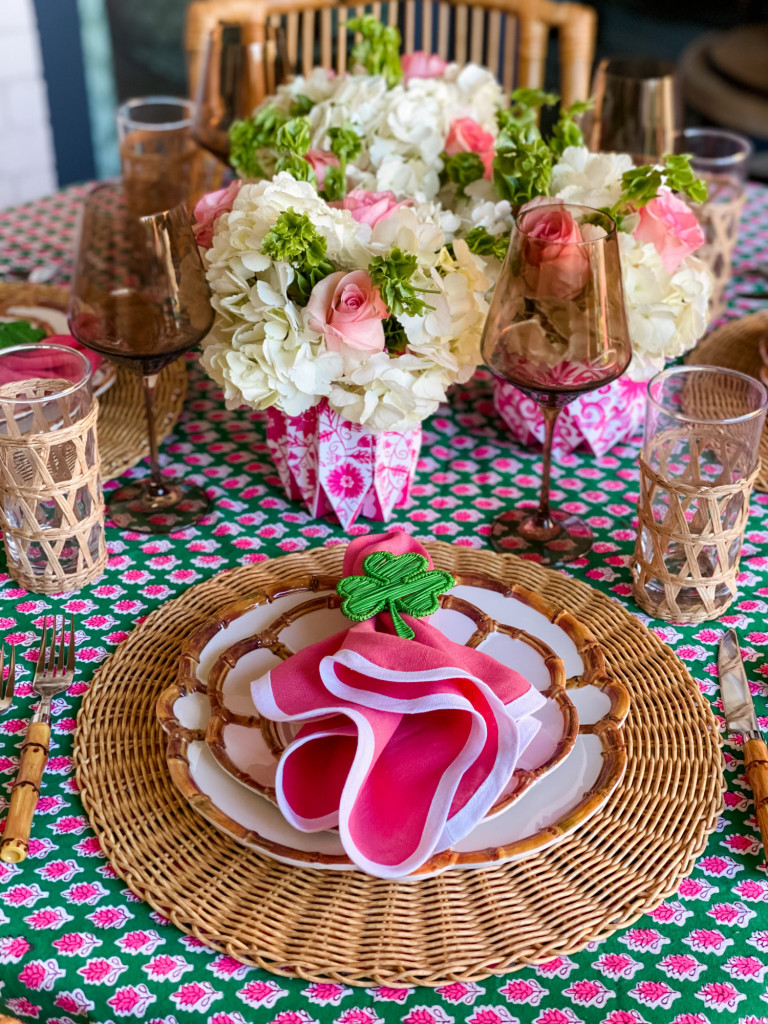 The flatware is from Amazon! These bamboo melamine plates compliment the flatware and my bamboo chairs (also from Amazon). The florals are the same as the other arrangements, just with pink roses. I'll probably use the orange spray roses instead of pink roses to compliment the carrot napkin ring. But, I will add some dark pink Lillies to compliment the napkins and the vase wraps. The vase wraps are by Lucy Grymes and linked above.
Lastly, here are my Easter Tablescapes from last year! Check out my Instagram Page to see my Reels on how I did the floral arrangements for these two tables below.