Grand Cayman Islands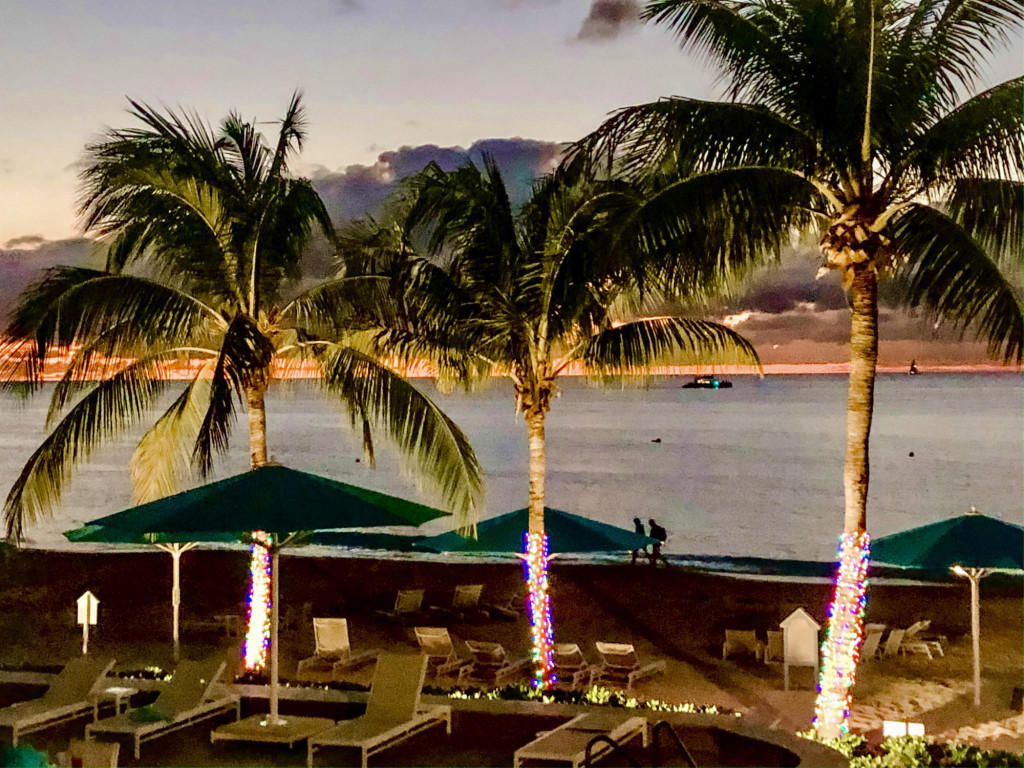 I had a great Christmas Vacation in Grand Cayman with family last week, and I purposely put the phone down to really relax and enjoy myself. I have to admit, leaving the phone behind, did the body and mind some good. Being away on Christmas was a first for me, and I did enjoy it! Though I was gone for the Holidays, this year still didn't feel like Christmas to me. Thanksgiving felt long and drawn out, even to the point my pumpkins started to rot. When Thanksgiving finally came and went, it felt like the whole Holiday Season was rushed. I barely heard Christmas music and didn't see as many decorations as I usually do. So this year, I'm not listening to the "rules" of not decorating for Christmas until after Thanksgiving. My decorations will be up and Michael Buble Christmas Music will be playing after Halloween!
Side note: If you want to skip the reading and shop my vacation favorites, then scroll down to "Vacation Looks".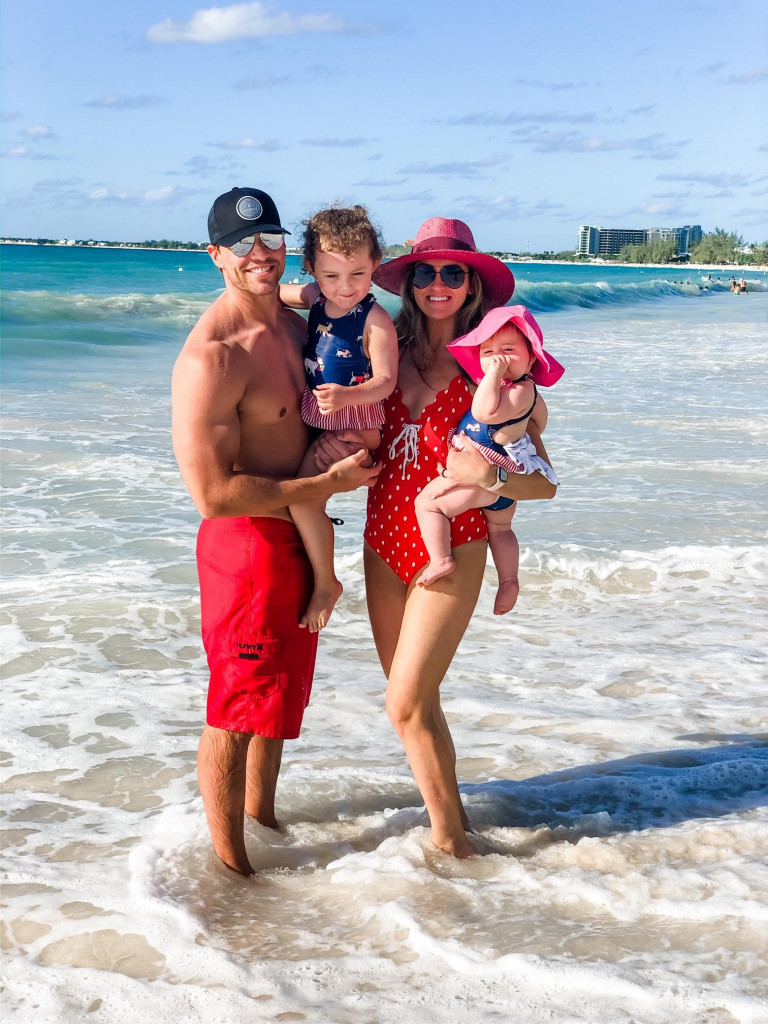 Grand Cayman
If you're wanting to take a beach vacation, I highly recommend traveling to Grand Cayman. My husband's family has traveled there for years, and have made a tradition to spend every Christmas in paradise! The people are wonderful, the island is safe, the lodging choices are great, and the food is always delicious! Below is a list (in no particular order) of some of my favorite restaurants that my family frequents, and a favorite activity we love to do while visiting the island.
Lodging
This is where our family stays when we travel to Cayman. This is a wonderful place to stay while visiting the island. The beach at this property is the prettiest area on the whole island in my opinion. The pool and beach area beyond the pool are exclusive to those staying at Coral Stone. So you won't have to worry about the beach area being overcrowded. The staff is amazing and always accommodating to your needs. Coral Stone Club is right next door to the Ritz Hotel. So if you are wanting some hotel food and drink, you can walk right next door! Follow them on Instagram @coralstoneclub
2. The Westin Grand Cayman Seven Mile Beach Resort & Spa
If you are wanting to stay at a hotel, this is the hotel we recommend!
Restaurants
Activities
Island Life Water Sports is one of the best "water sports" operators on the island! They offer many different water excursions to choose from. We did the Sting Ray and Snorkel Tour of the Coral Gardens and had the best time. Andrew, our guide, was wonderful and he found these starfish just driving along in the boat! We also visited and kissed the sting rays. Each time is such a neat experience and I highly recommend it.
Side note: If you kiss a sting ray, it's said you'll have 7 years of good luck 😉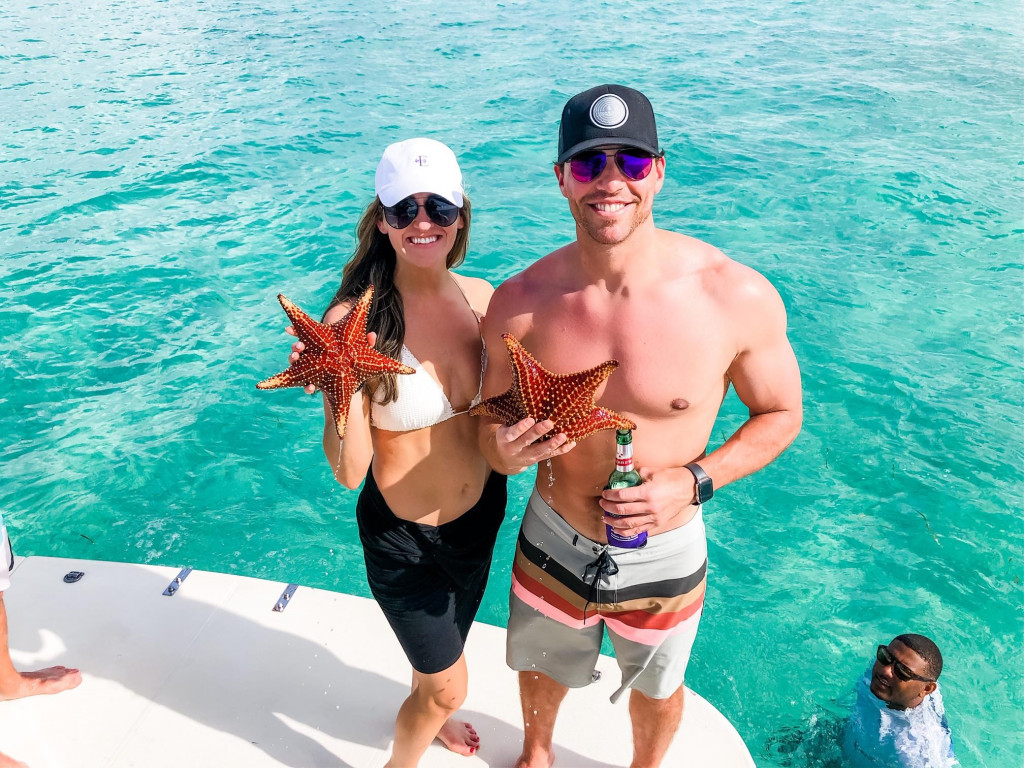 Below you will find my Vacation Wardrobe for 2019. A lot of my vacation looks I brought for this trip are my "oldie but a goodie" pieces. Meaning, I bought many from seasons past, but I continue to rewear them year to year. So, if you see something you like, and it's not available, I have linked many options that are similar to it. I've also linked some fun games that we played on the beach and a few that are great for tailgating too!
Beach Games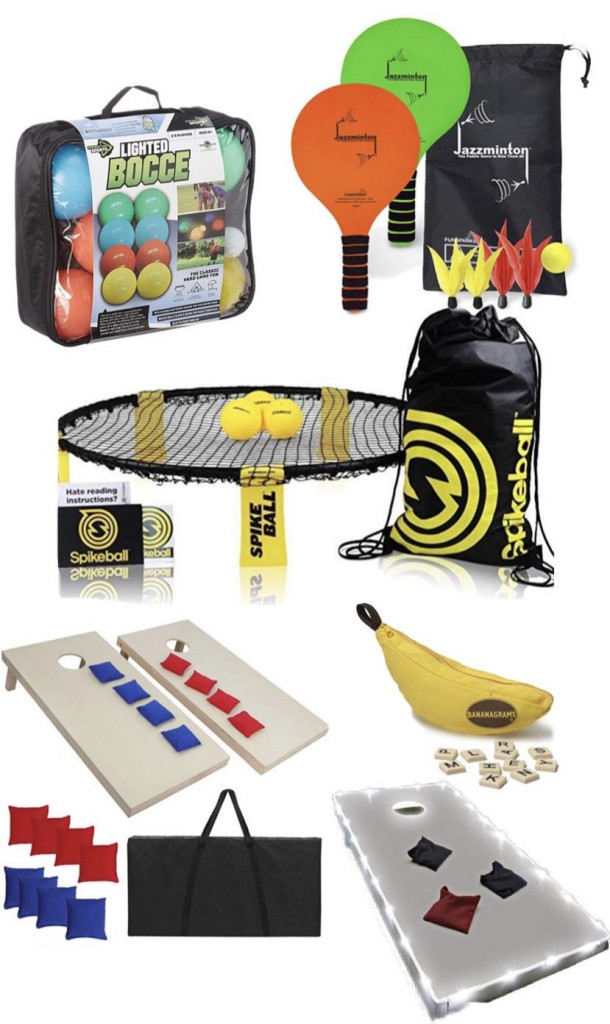 My husband and I are both pretty competitive when it comes to good ole family games. Competitive in a way we don't "ease" up on our opponents, or show any mercy (haha)! Spikeball has become that game that we both love and play whenever we go to the beach. We are always on the same team and I proudly say we are still undefeated! Some of my other favorite games to play on the beach are Smash Ball, Glow in the Dark Bocce Ball, Corn Hole, and Bananagrams. For those that like to play games but don't love the physical type games, then grab yourself a bag of Bananagrams! I won't bore you with how we played, but the rules of the game come in the pouch with all the letter tiles! I also chose the "Glow in the Dark" Bocce and Corn Hole because I love the option to play these games at night. We have the Glow in the Dark Bocce Ball and light up Corn Hole at my family's place in Horseshoe Bay. We play Bocce Ball on the golf course at night for hours! All are so much fun and are great gift ideas for anyone that loves to play games.

Travel Essentials – Luggage
Starting with my luggage, last summer, I fell upon this brand called BEIS. As I looked more into their products, I came to find their quality, functionality, and price point were unbeatable. I currently own and love their tan Cosmetic Case and Weekend Bag. There is also a strap on the side of the Weekend Bag that you can hook around the handle of your rolling suitcase so you don't have to carry the bag on your shoulder. Linked below, are the bags in four colors and a "Mini Weekend Bag" as well (the bottom two bags in the image).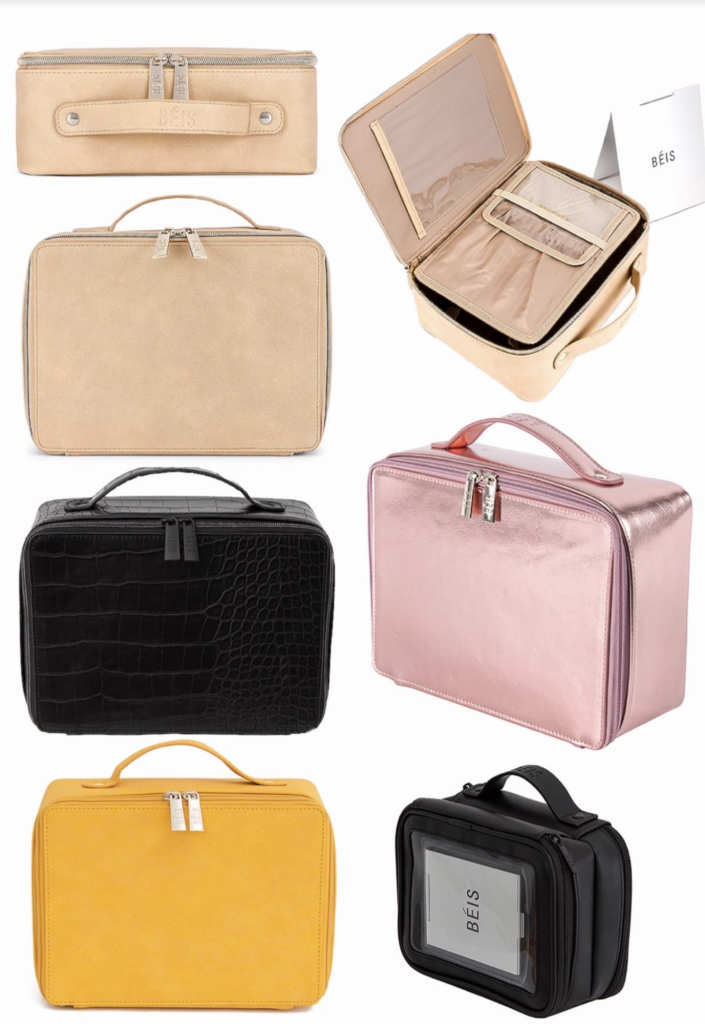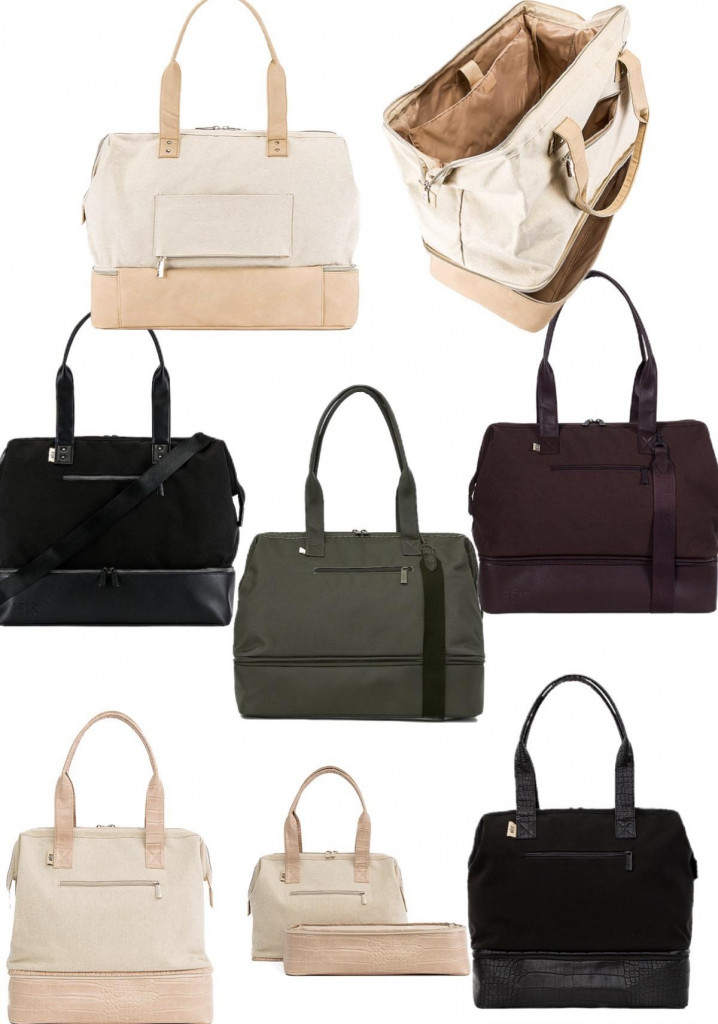 I have yet to buy their luggage, but it's on my wishlist! A cool feature about their luggage is that you can strap your bags and suitcases together, so you're never rolling multiple suitcases at once. These rolling suitcases come in two sizes and two colors. Click the images below to see more details on this awesome luggage.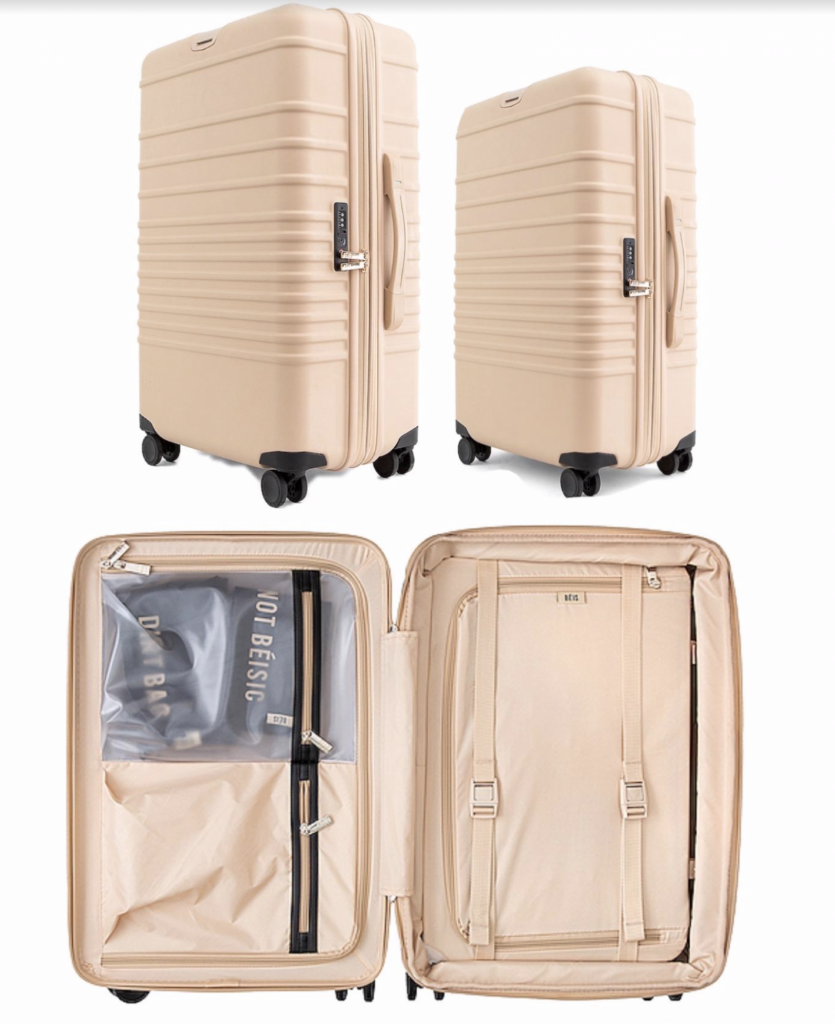 Vacation Looks
Travel Look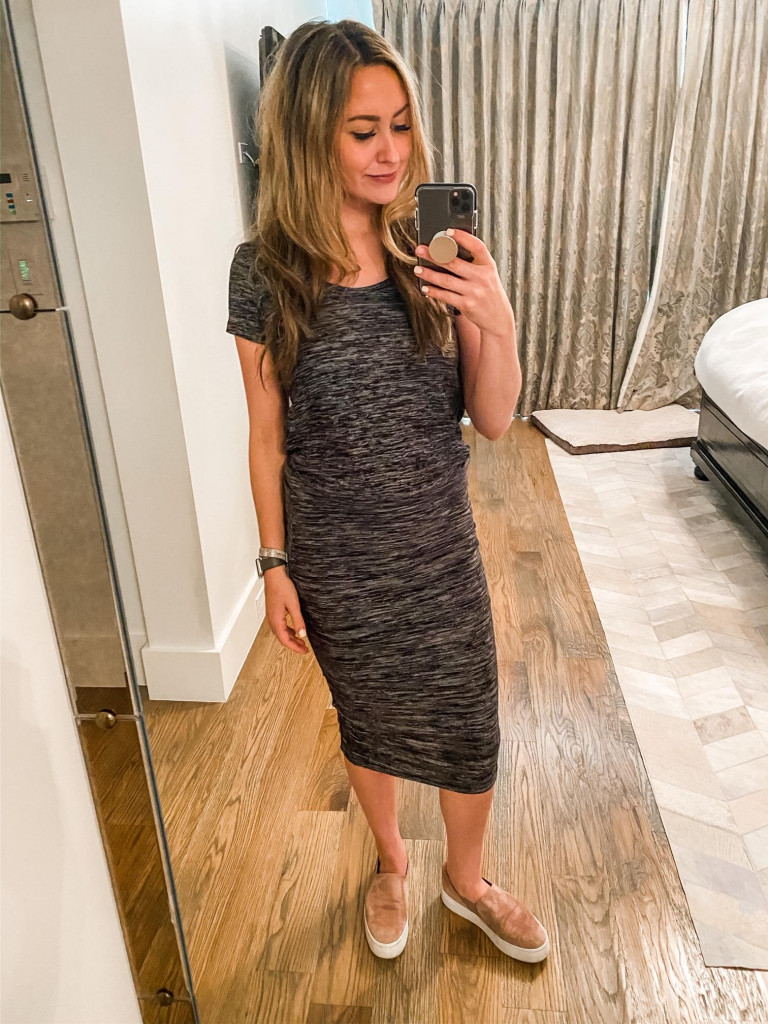 This Splendid two piece is from 5 years ago, and I still wear this outfit all the time. It's so cozy and easy to move around in. I think this is a nicer take on the t-shirt and sweatpants look for traveling. Very similar options linked below!

Night 1 Vacation Look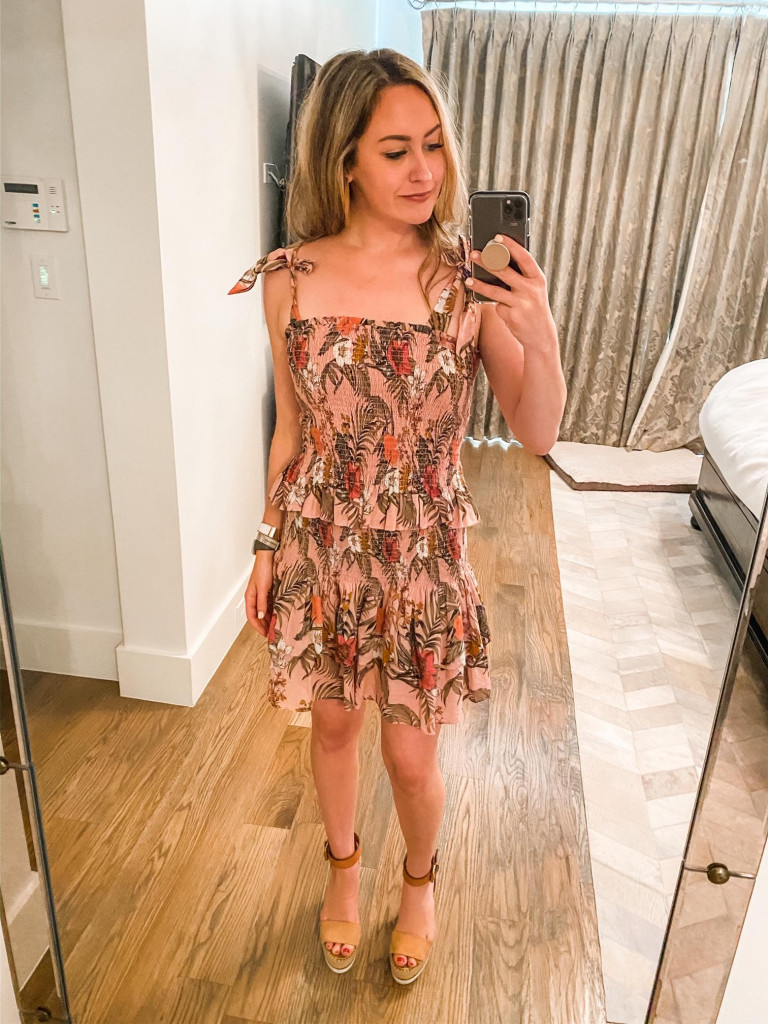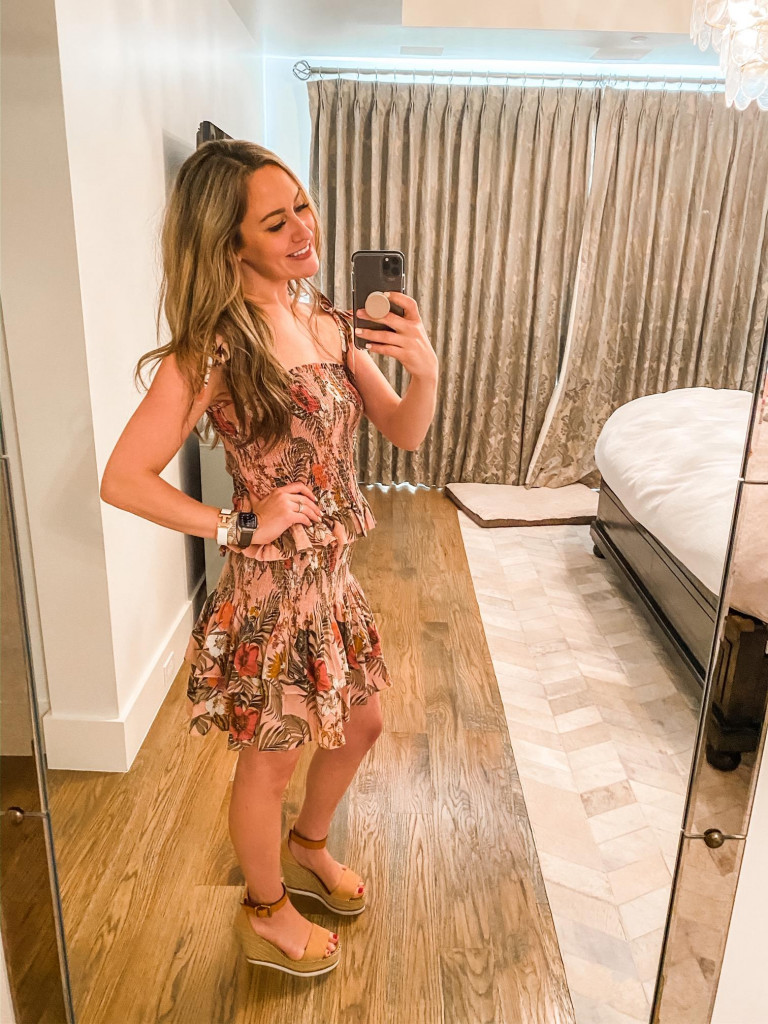 I purchased this top and skirt this past summer and surprised at how versatile both pieces are. I pair this skirt with a white t-shirt and flats for a more casual cute look. I've also worn this top with some high waisted jeans too!

Night 2 Vacation Look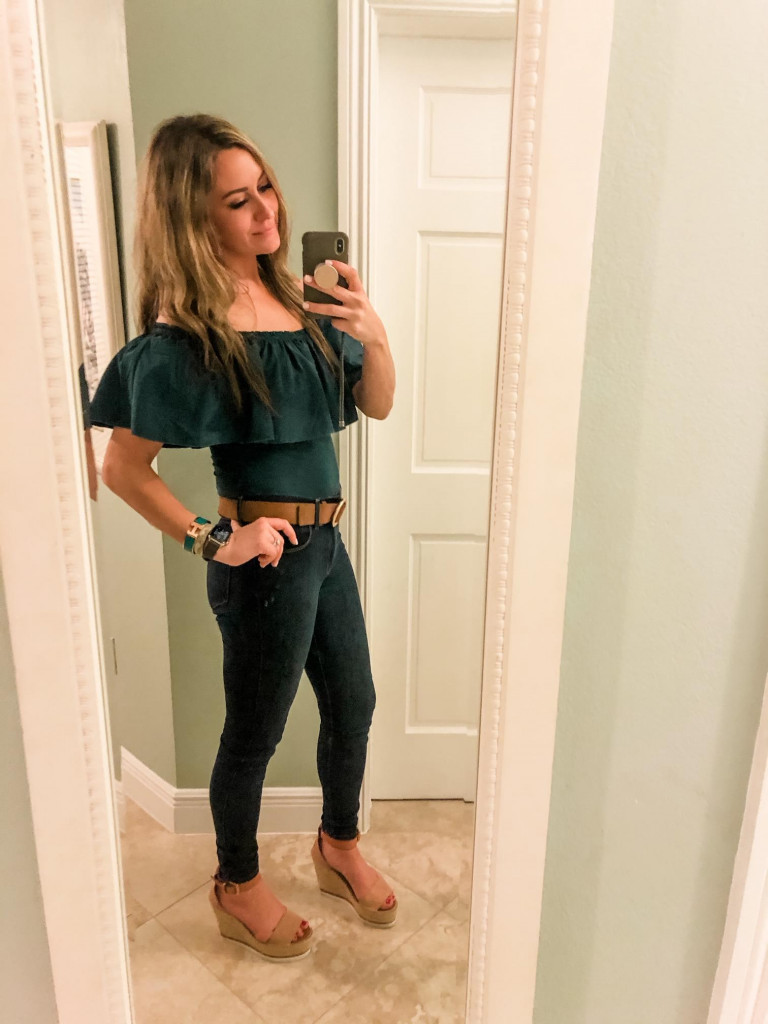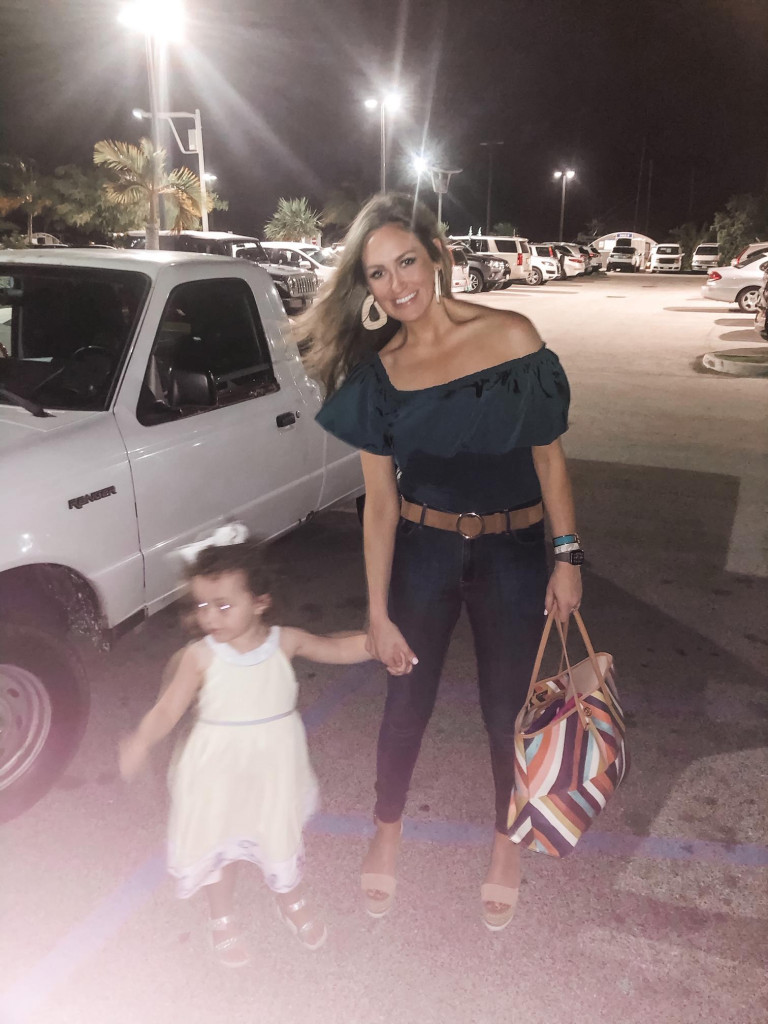 This teal off the shoulder bodysuit is mega comfortable and comes in black too! I paired it with some camel accessories and my Tory Burch Beach Bag that was acting as my diaper bag that night 🙂 I wore this look to one of my favorite restaurants in Cayman called Morgans.

Night 3 Vacation Look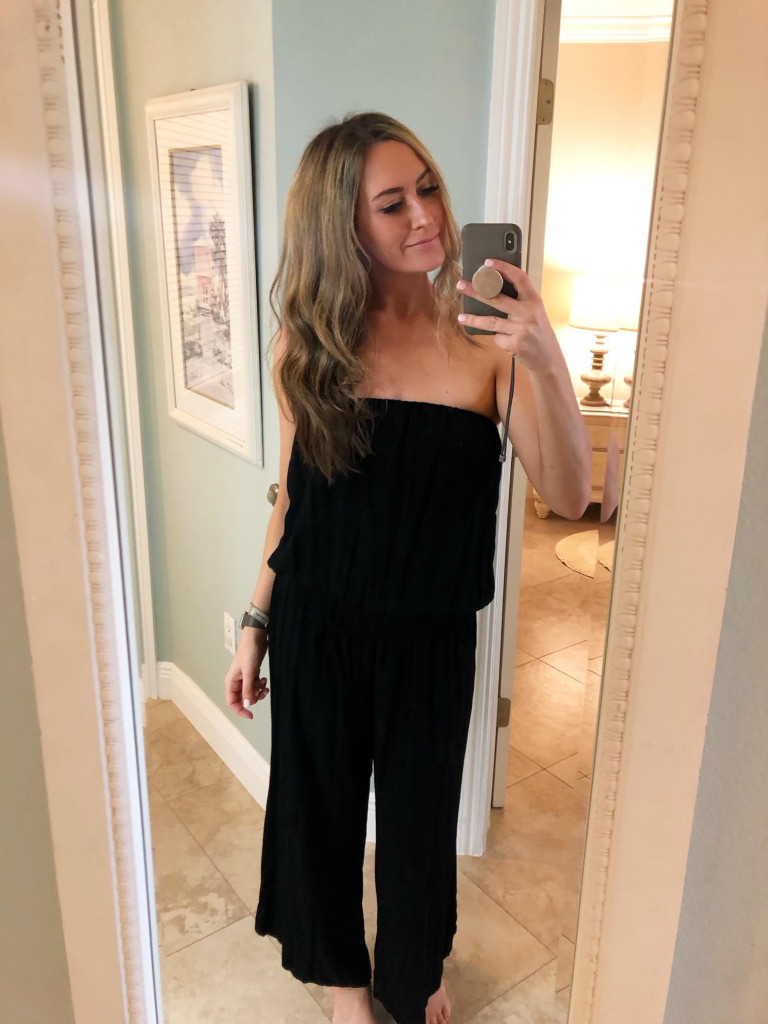 Casual Night In look. This black jumpsuit is by Young Fabulous & Broke and I own it in a coral color too. This jumpsuit can be worn as a swim cover up or dressed up with heels and some fun earrings. This exact jumpsuit is currently sold out, but click the first image below and get on a waitlist for back in stock updates!

Christmas Eve – Night 4 Vacation Look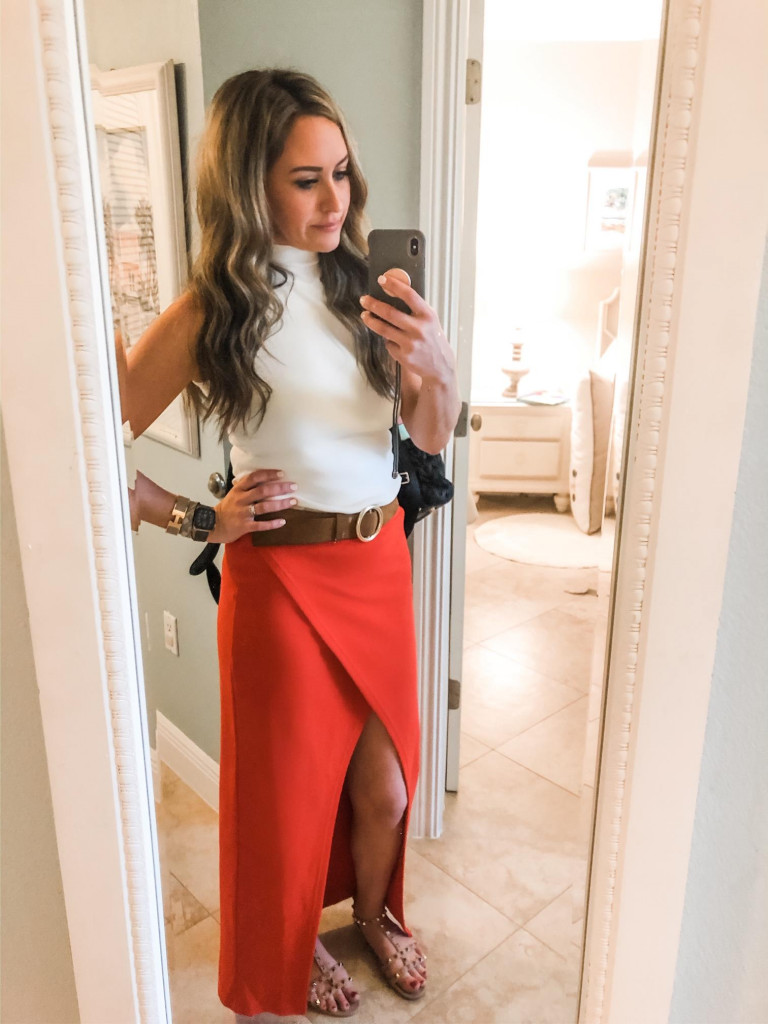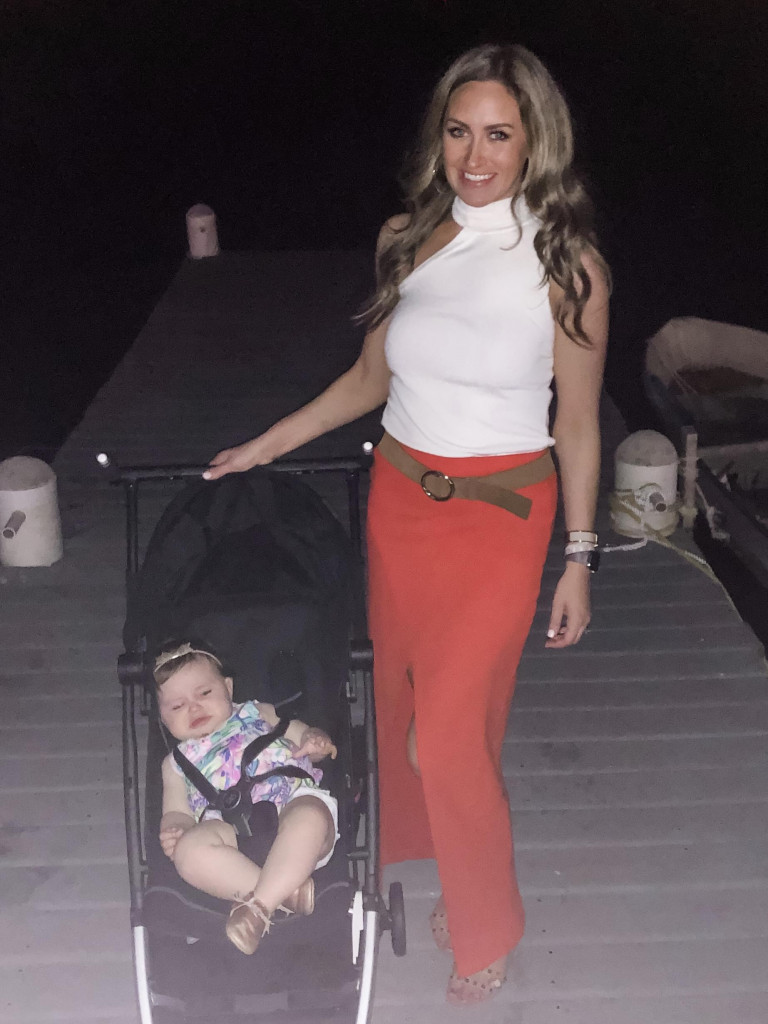 This knit white top is under $50 and very versatile. I paired it with this red knit skirt, my go to FRAME belt and some flats! When you have young kids, you can kiss your favorite handbag goodbye when going out with them. So please disregard my big black diaper bag on my shoulder.

Christmas Day – Night 5 Vacation Look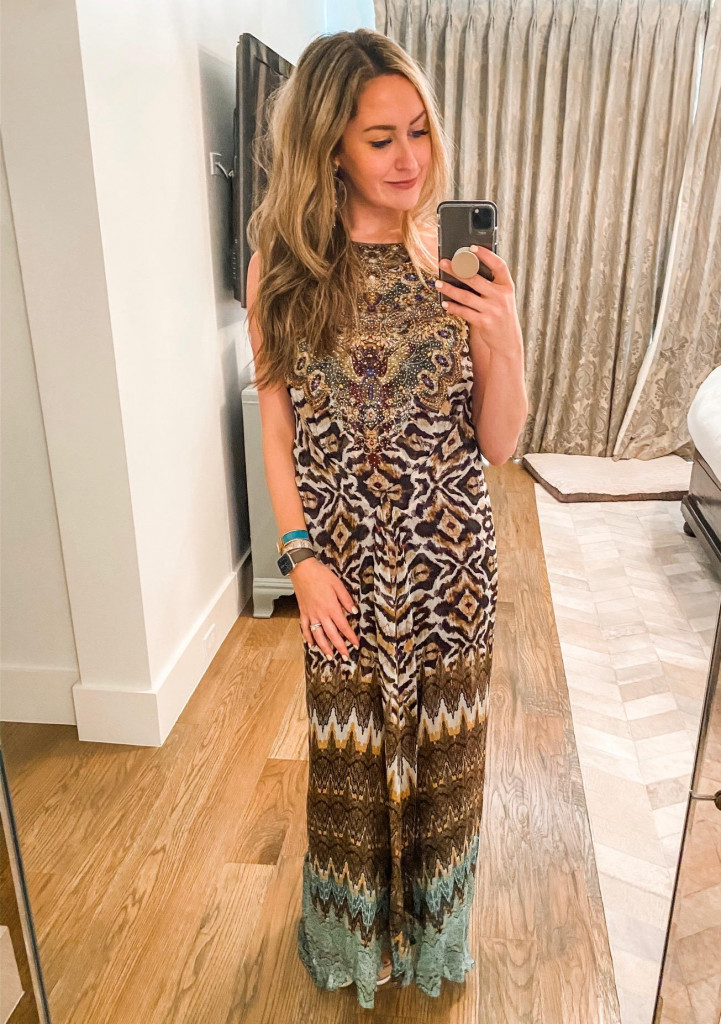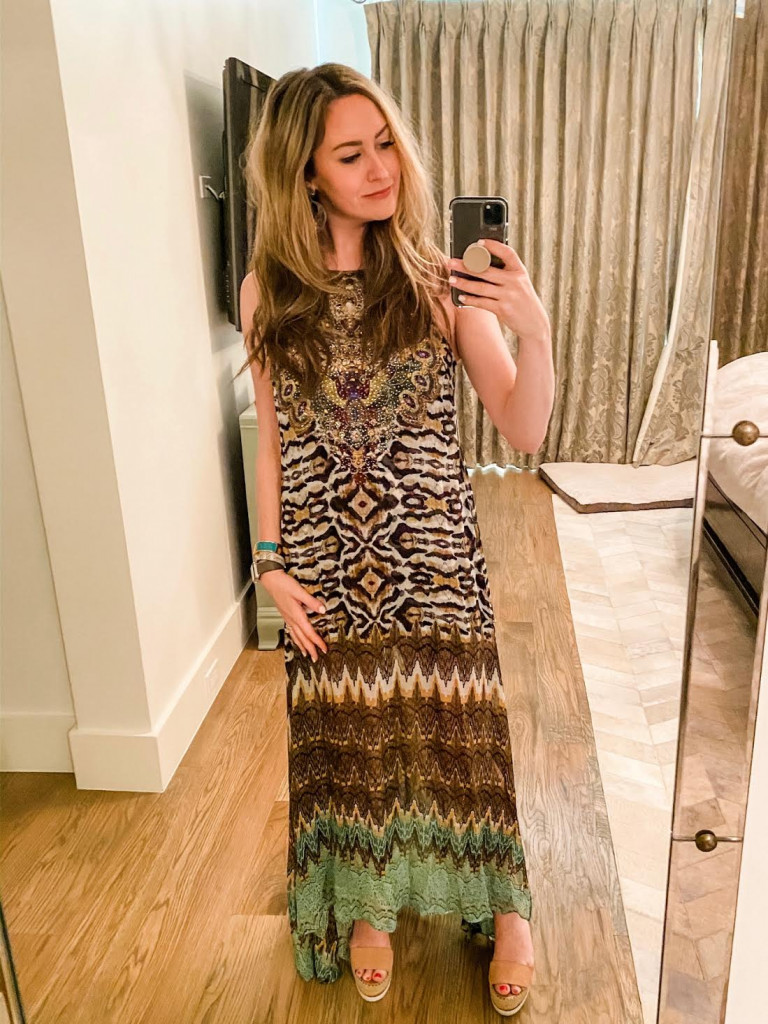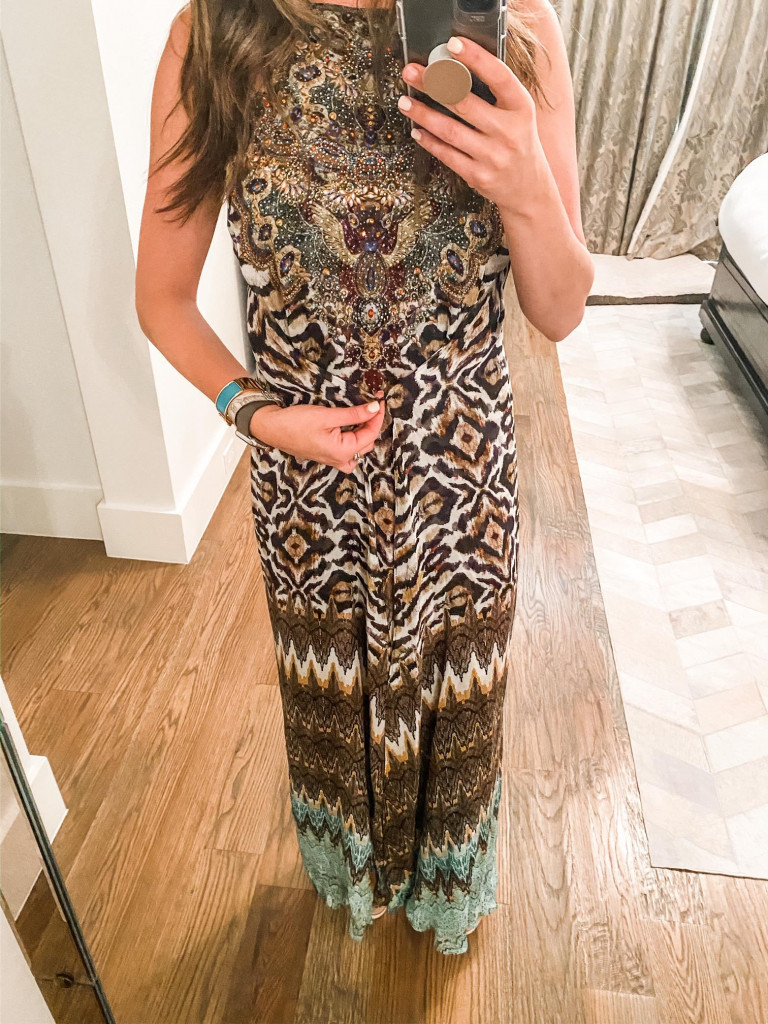 This Camilla maxi dress will always be one of my favorite dresses I own. I bought this for my Honeymoon in 2015 at Elements in Dallas. Though an old dress, I wear this dress to every beach vacation I go on. I wanted a more tailored look, so a seamstress added a hook and eye on two parts of this dress to give me more of a waist. The first image above is how I wear the dress, with the hook and eye closed. The next picture shows you what it looks like open and hooked too. Here are similar Camilla Dresses on major sale and below is a "Camilla" knock off dress that I love too!

Night 6 Vacation Look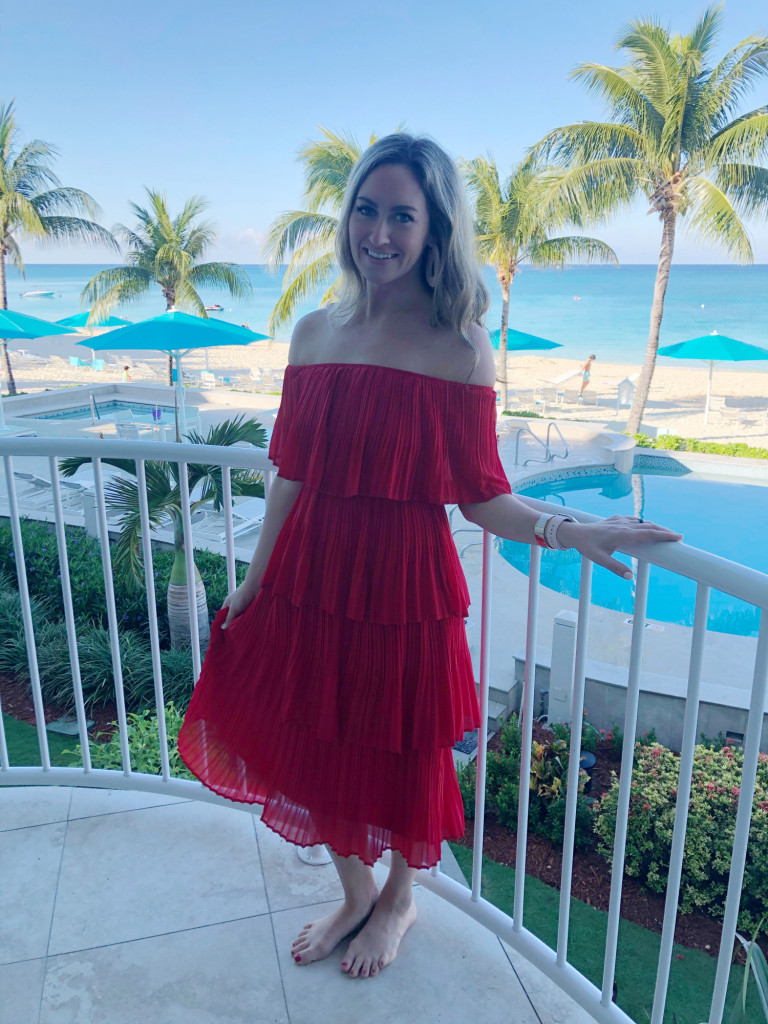 This picture was taken early in the morning because I wanted some more pictures with the ocean in the background. I love this red dress and it's under $100! I wore this to a Christmas Party prior to this trip and think it's a great vacation piece too!

Night 7 Vacation Look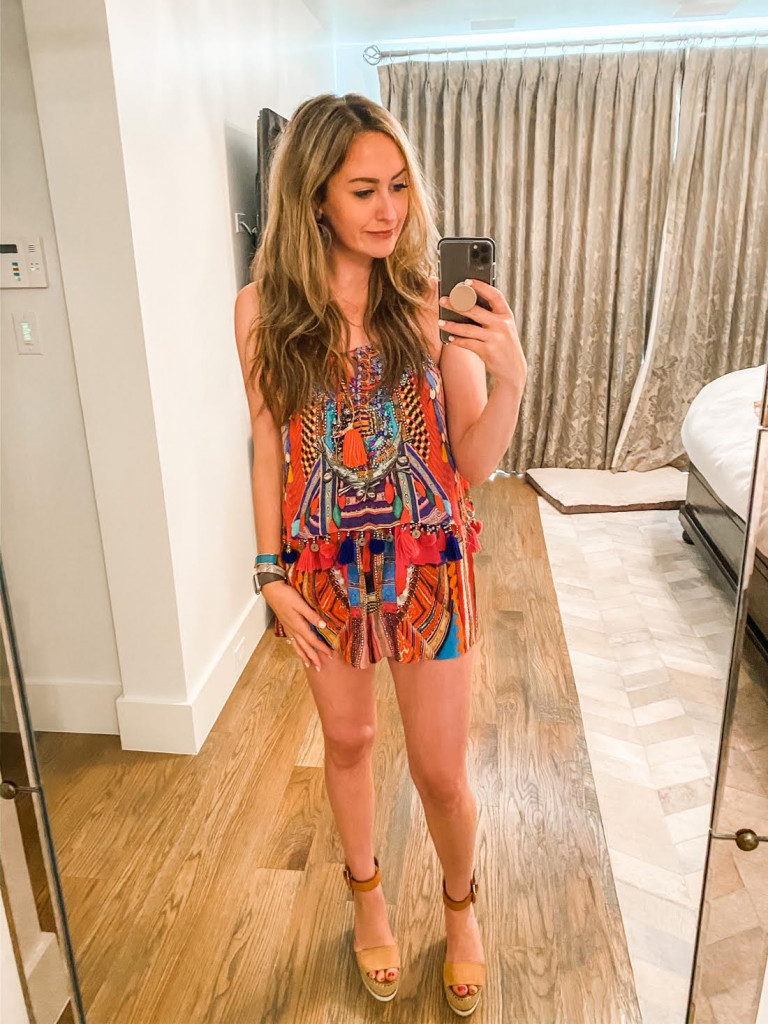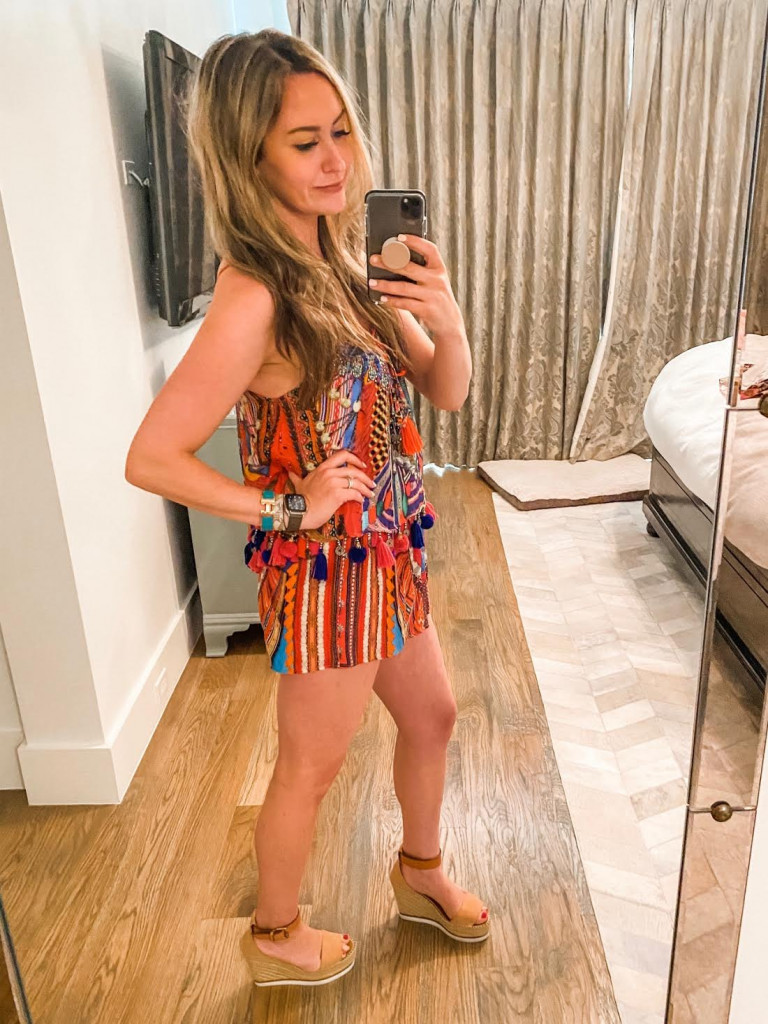 This is another Camilla piece, and this colorful number is a romper. This was also purchased for my Honeymoon years ago, but this brand still has cute rompers and short dresses that I love. Similar pieces linked and on major sale!

Night 8 Vacation Look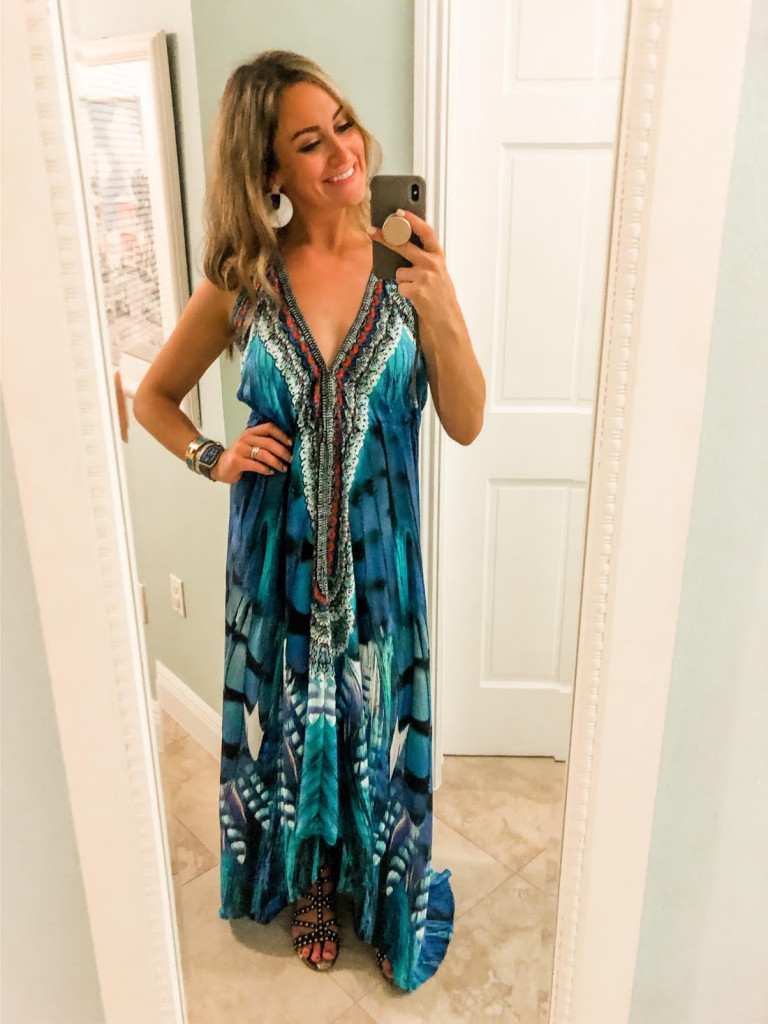 My Night 7 look is very similar to my Camilla Dress above, but this one is a fraction of the price! I purchased this dress two years ago, but this brand and this dress' exact style is available!

Swimsuits & Cover-ups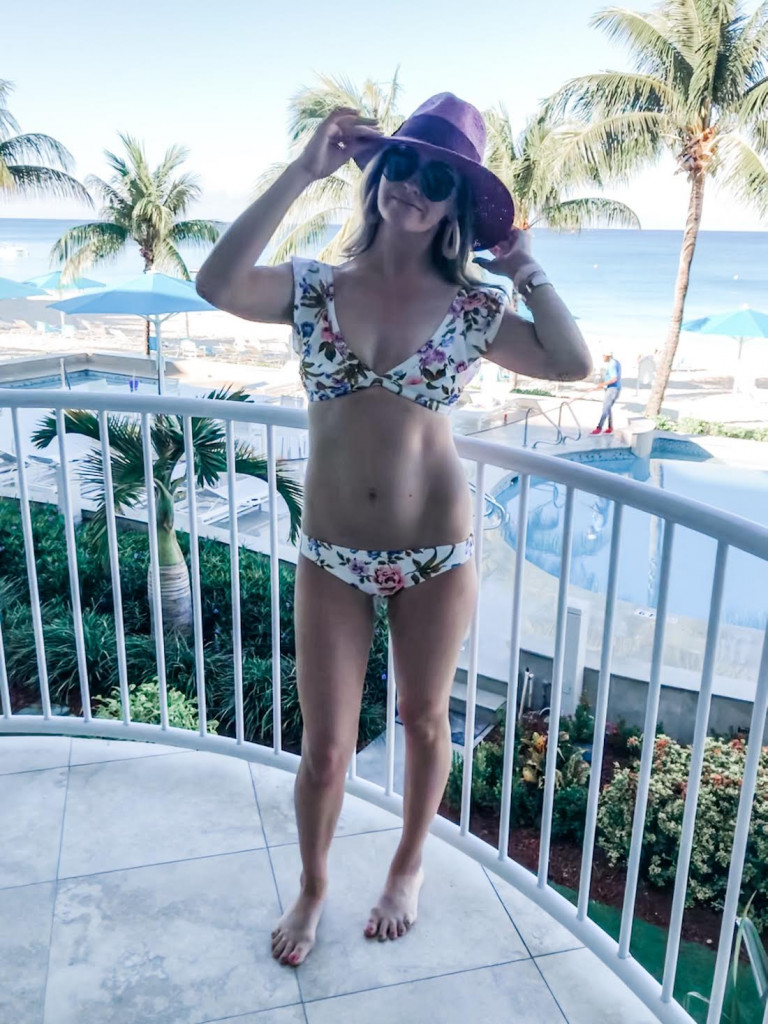 My favorite swimsuit purchase this season! Love the flutter straps and just the overall fit! This hat is "Halogen" and no longer available, but I found a very similar hat at a great price linked below!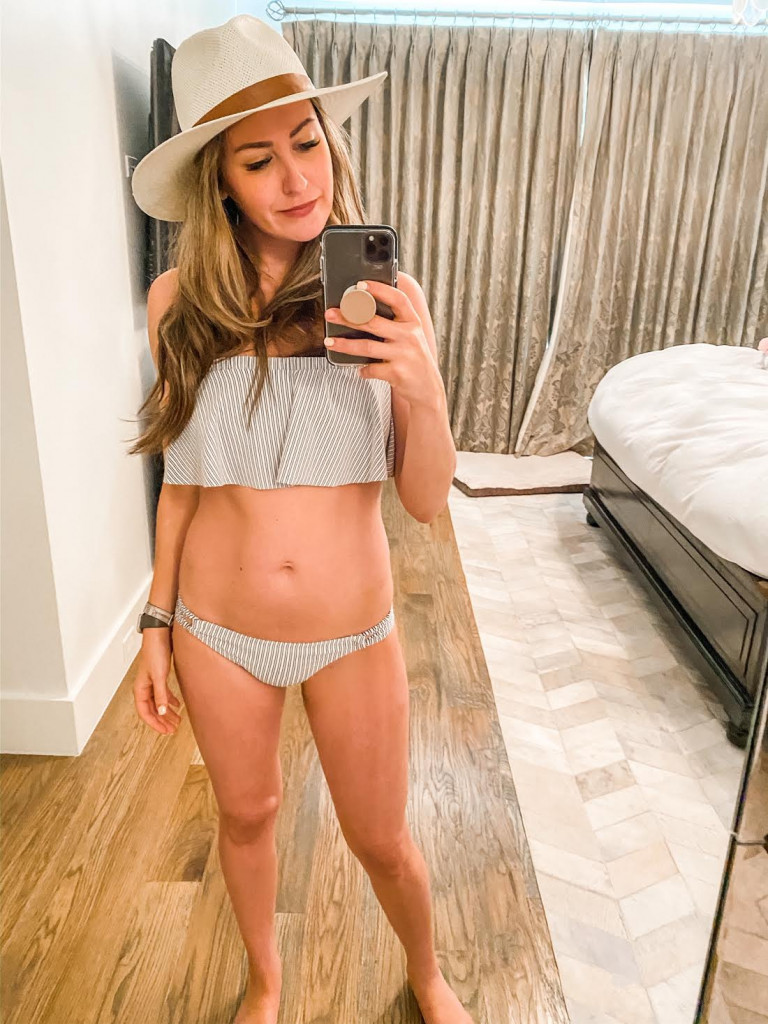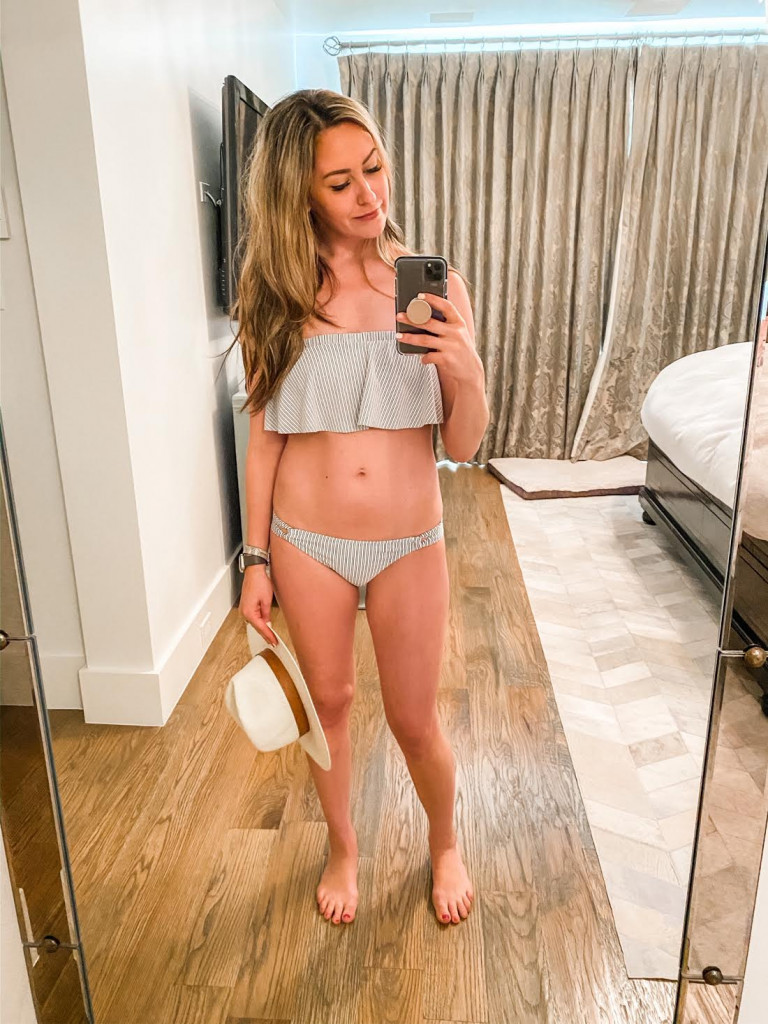 Currently a favorite swimsuit of mine, from Target! Anyone else find so much joy finding great Target pieces?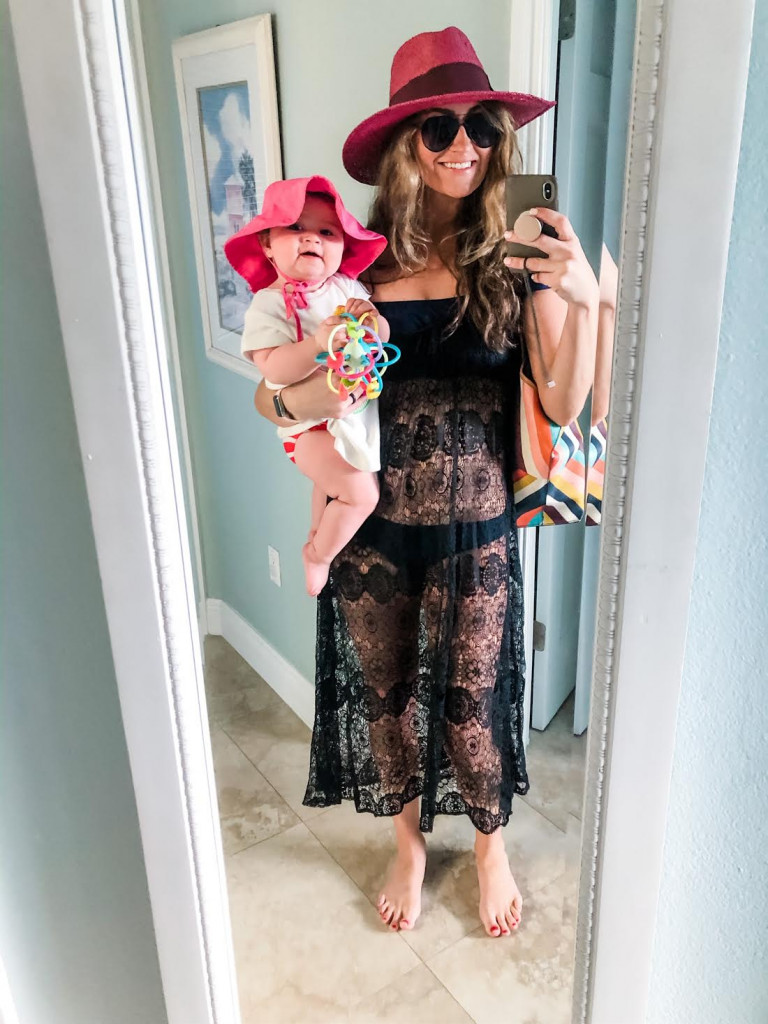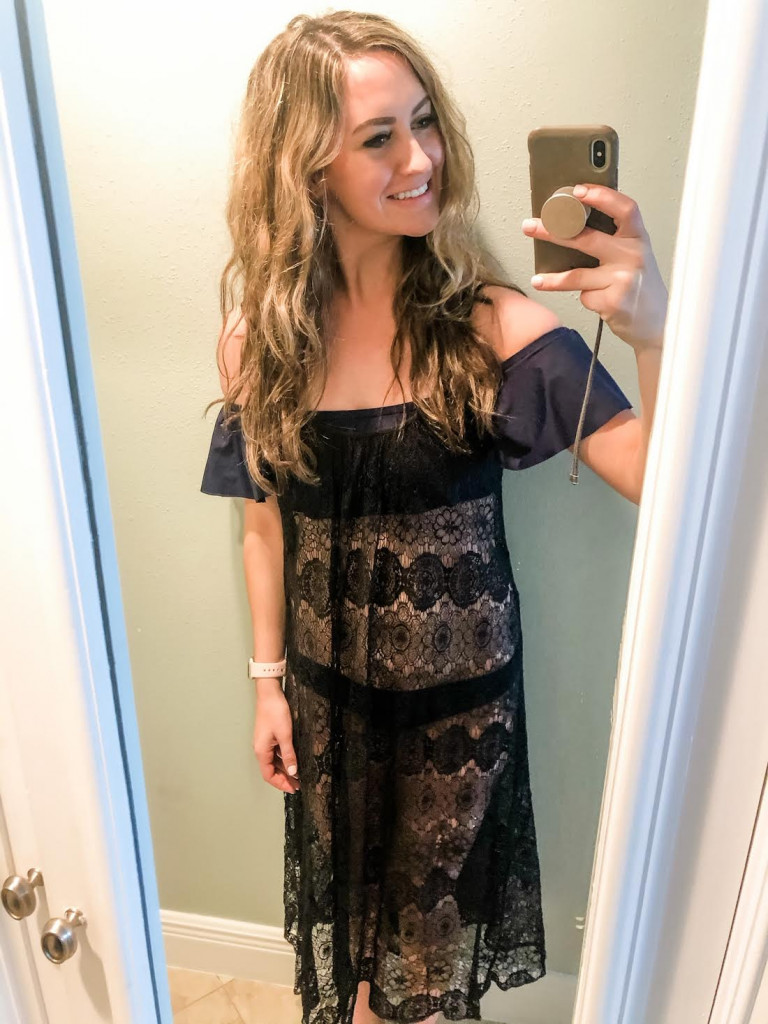 This is an oldie I purchased at Elements in Dallas several years ago. I have linked similar lace and crochet cover-ups here below!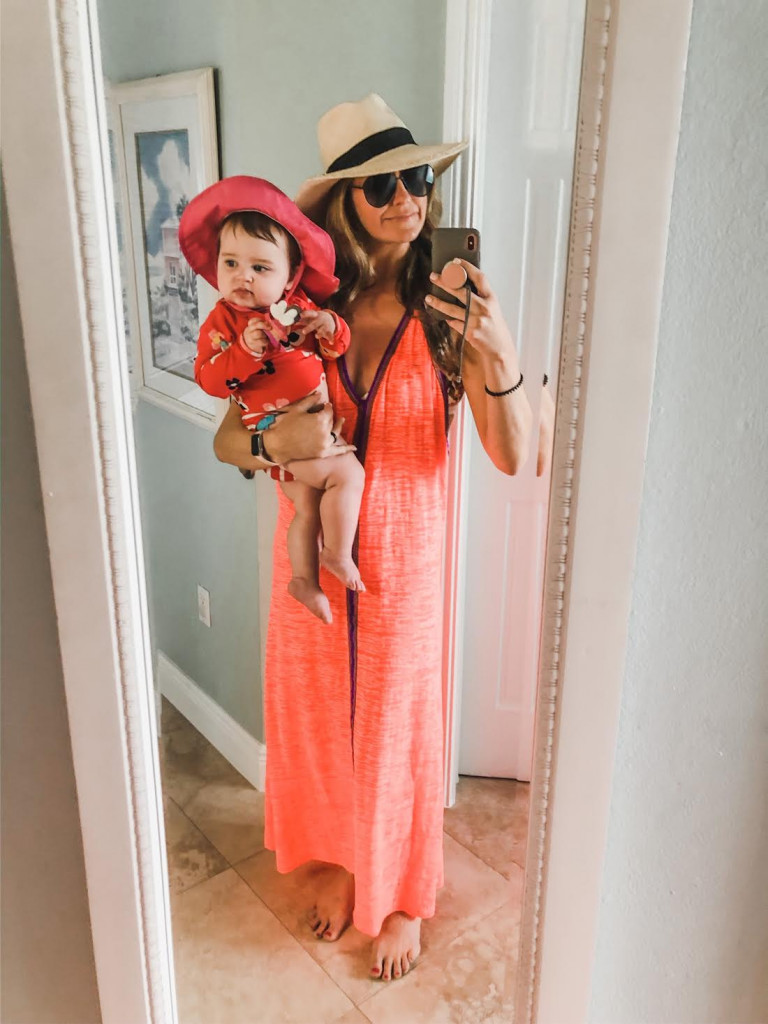 Pitusa is one of my favorite swimsuit cover-up lines. They offer so many different styles, lengths, cuts, and colors!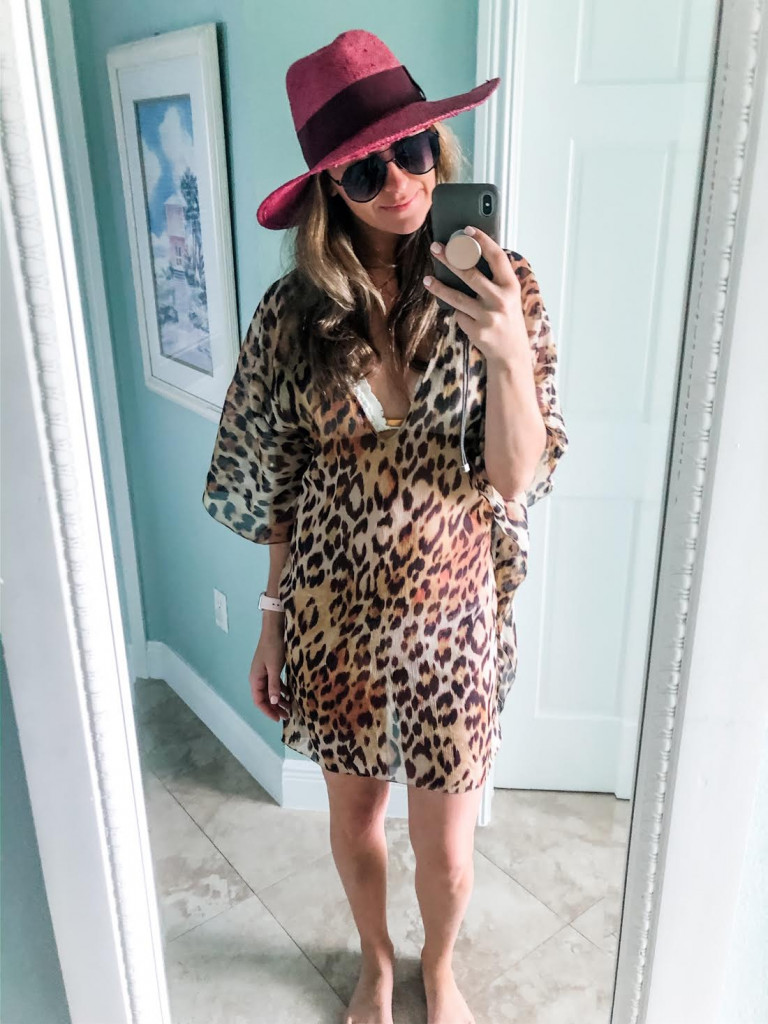 This leopard cover-up is by the brand "Echo" and was purchased last year. Found very similar styles linked here.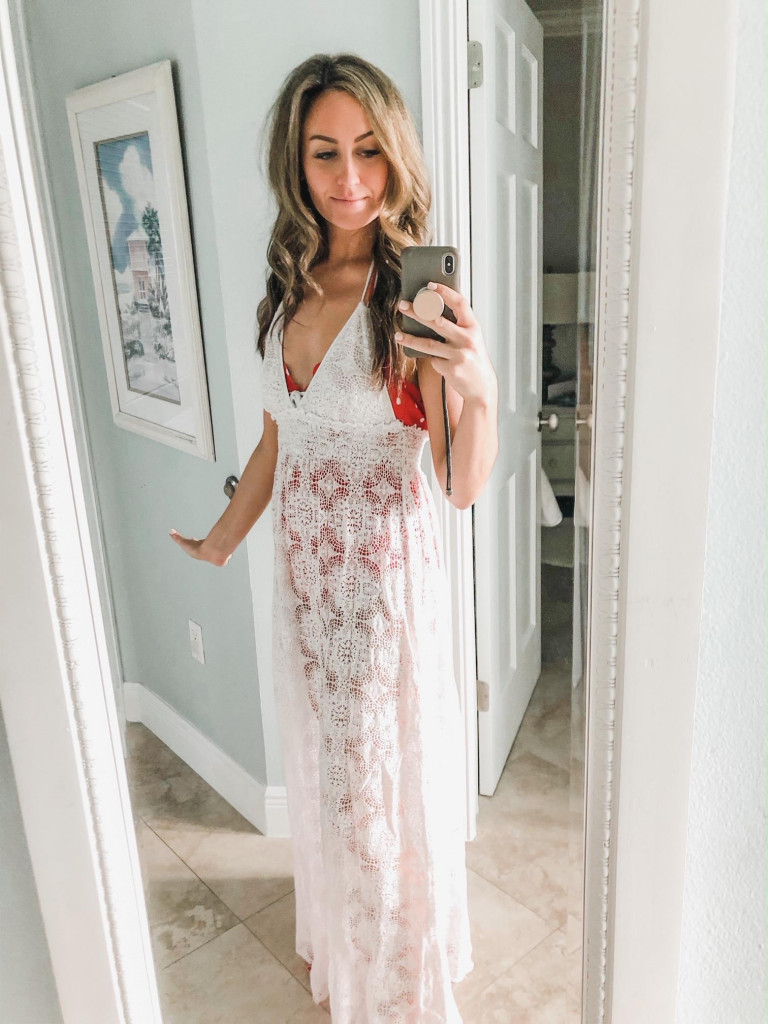 Another great cover-up that I wore on my Honeymoon too! Sorry that it's unavailable, but many similar options linked below!

If you would like to see more swimwear and vacation looks, check out the "Shop By Look" link and then click "Beach Bound". If you have any questions about Grand Cayman Islands or any of my looks, send me an email and I am happy to help!