Yesterday, I began scrolling through Instagram looking for new recipes and activities to do with my girls. I'm no chef or baker but with staying at home, I've had more time to practice in the kitchen. I have to admit, I've prepared some pretty decent meals lately, thanks to all of my favorite Chef Bloggers. However, I'm a creature of habit and continue to make the same ole (I know it's ol' but Hotty Toddy!) "decent" meals over and over again. I also lack the confidence to cook something new, out of the fear that I'll give my whole family food poisoning (haha)! Using the words from my three year old's teacher, I say loudly, "I WILL TRY!"
During this Quarantine, I have pushed myself out of my "cooking" comfort zone, and I'm starting to actually enjoy it! It's funny that the fear of something new, can hold us back from some of life's greatest things. I've found when I push through that fear, and just "TRY", I discover new talents and joy within myself that I never knew I had. Luckily, through Instagram, I've been able to find many Cooking & Baking Bloggers to help me along the way.
Favorite Cooking Blogs
My three, go-to bloggers I use to find new ideas in the kitchen and future tailgate dishes are, "The Defined Dish", "Food Life Love", and "The BakerMama". Each offer delicious, hearty, nutritious, healthy, and tasty foods for everyone in your family!
The Defined Dish
Many of you are very familiar with Alex, a.k.a. The Defined Dish, but by chance you are not, she is definitely worth checking out! Alex is so cute, a mother of two, and lives in Dallas! She has recreated many of my favorite restaurant's most popular dishes and all are tastier than the original dish, in my opinion! Most of her dishes are Whole 30 or Paleo, which is another huge plus about her tasty recipes.
This past week, I made her Creamy Tortilla-Less Soup and we licked our bowls clean. Alex said, this recipe was inspired by the Tortilla Soup from "The Mansion" Hotel in Dallas.  She recreated this popular soup to be Whole-30 and I'm telling you, it's delicious and healthy too! There is coconut milk in it (only a little), if you aren't a fan of coconut, don't let that turn you away from this soup. You can't taste the coconut milk one bit!
Another easy recipe I love from The Defined Dish is her One Pot Yummy Pasta! I make this for my kids (really me) at least once a week. This recipe requires only five ingredients and takes only twenty minutes of your time! I've made this with tortellini pasta, penne, and bow-tie pasta too. Any pasta in your pantry or milk percentage will work just fine!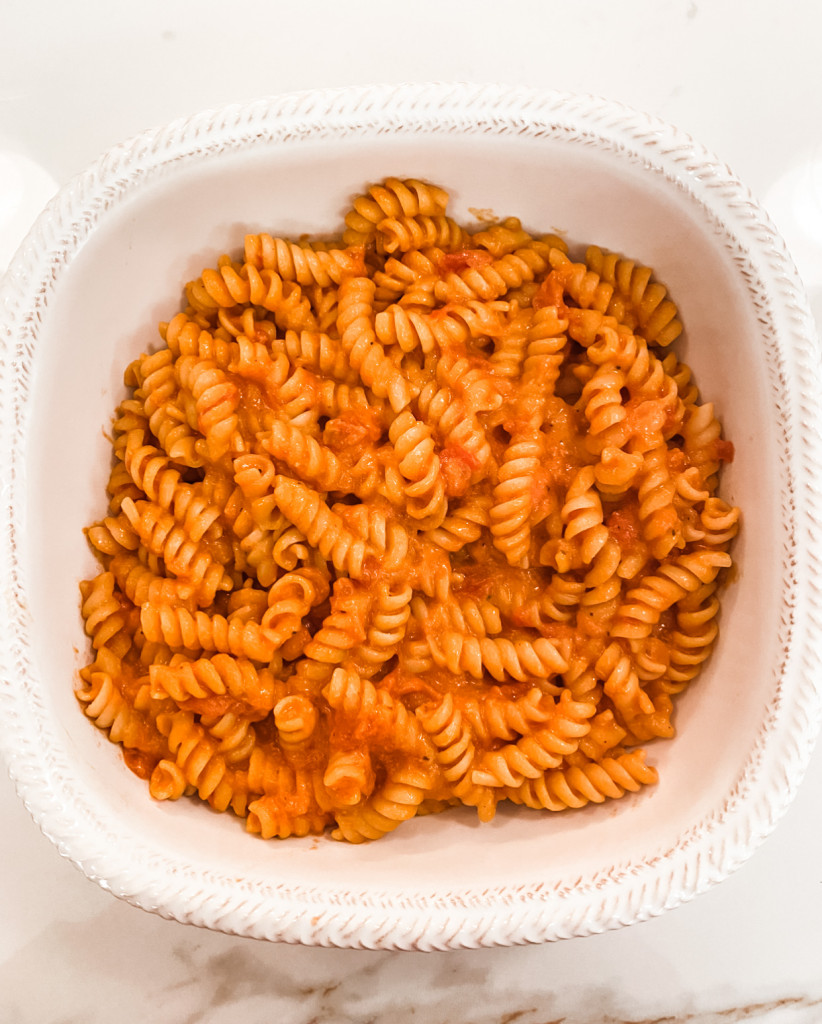 Food Life Love
Another Dallas girl, named Rachel, the chef behind Food Life Love, is another blog I frequent! Like "The Defined Dish", she creates delicious and healthy dishes practically in her sleep! I first heard about Trader Joe's Cauliflower Gnocchi because of Rachel!  I now hoard bags of this gnocchi, but this is just as rare as toilet paper right now. In addition to recipe, Food Life Love, Rachel, is also a fashionista and traveler too. You can shop her picks of the season's latest fashion trends, places to travel, and much more! You can follow Rachel on Instagram @foodlifelove and in the LikeToKnow.It app!
Last night for dinner, I made her Pesto Chicken Cauliflower Gnocchi with Arugula! I replaced the arugula with spinach, per her suggestion. I also over did the Parmesan Cheese on the top of mine, which made ours a little too rich. When I went back to the recipe to see what I did wrong, I saw that it said a little "shaved parmesan" on the top to garnish, not dump Kraft Parmesan Cheese all over the top of it  (haha, whoops).
I've also made Rachel's Cheesy Skillet Cauliflower Gnocchi with Pancetta dish, and if you like hearty pasta dishes, this is a healthy alternative to satisfy that heavy pasta, carbo-loading craving.
*Note: When cooking gnocchi in a skillet, make sure the gnocchi aren't touching each other. I use a tablespoon of oil in and place each piece of gnocchi in the pan. They should be brown and crispy on each side. I then flip each individual piece using tongs to brown each side. DO NOT follow the recipe on the back of the Trader Joe's package! I repeat, DO NOT follow those directions, you will mess it up and throw it out!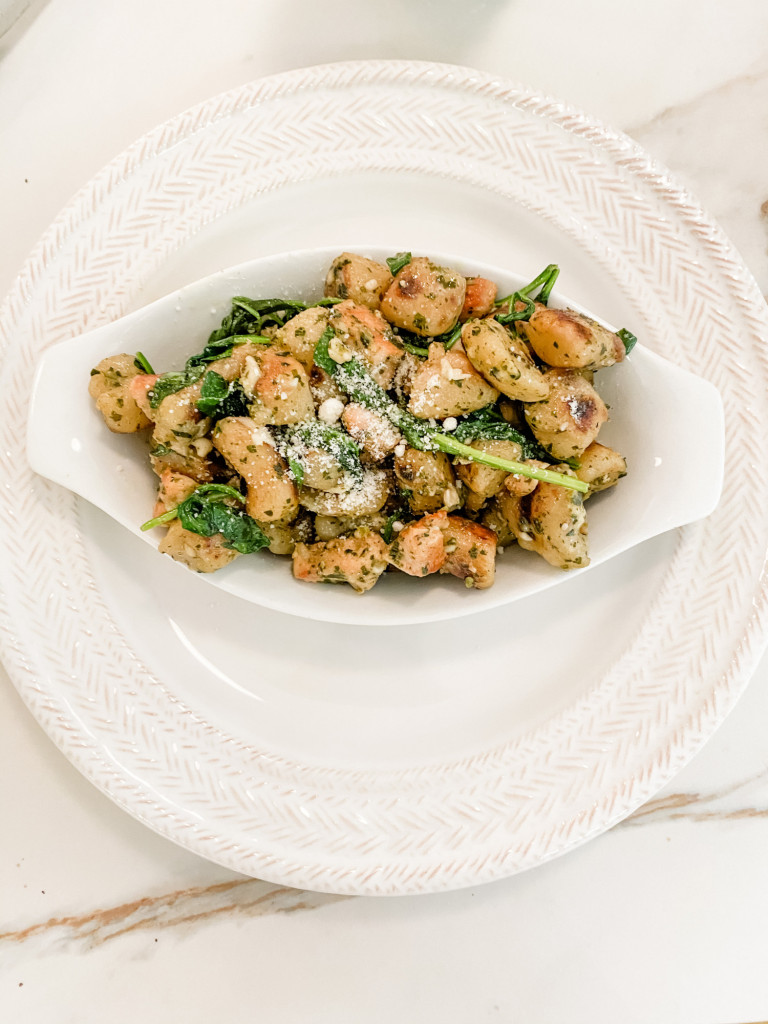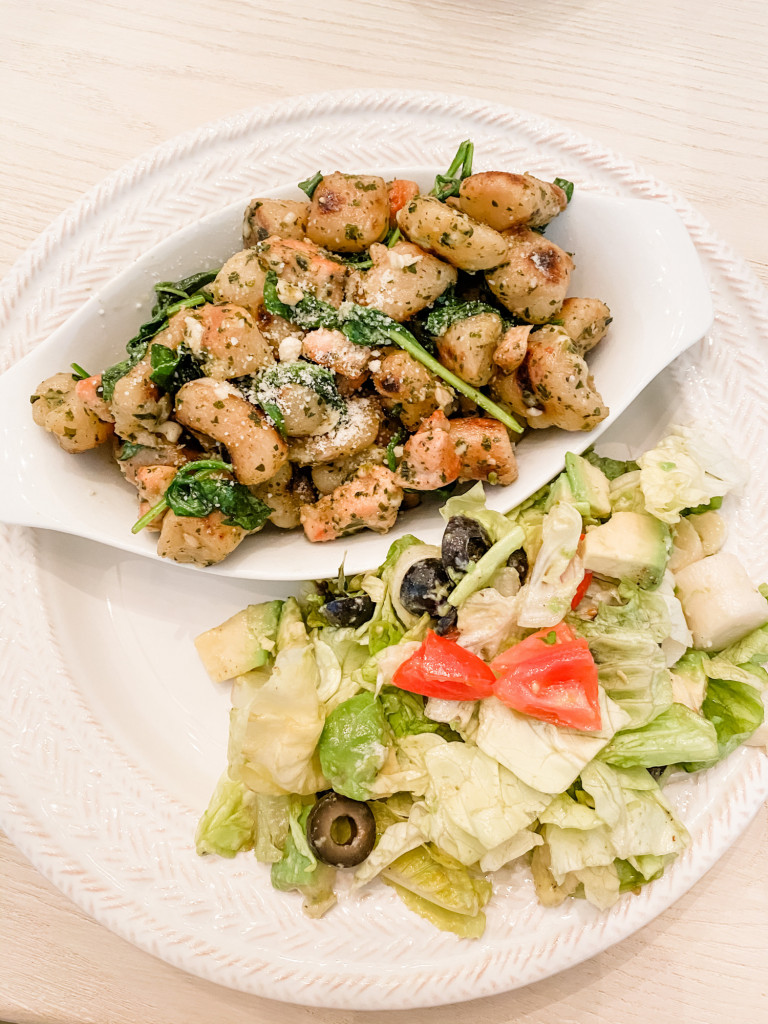 Salad Ingredients
I made a little side salad too. When I make a salad, it's more the "stuff" than the actual lettuce. Here is what I used:
Bibb Lettuce, Cherry Tomatoes, Black Olives, Hearts of Palm, Avocado, Celery Salt, Burger House Seasoning (if you're from Dallas, you know this seasoning, click here to purchase, I use it on everything), and Good Seasons Italian Dressing!
The BakerMama
Last week, I came across "The BakerMama's" page! Another Dallas girl, named Maegan, and mom to four children! Her gorgeous food board creations, got my tailgating food ideas flowing! I also have the pickiest eating toddler on the planet and I can't wait to try her delicious looking boards in hopes my child will eat. Check them out here, and shop the actual boards here.
The BakerMama featured these " No Bake Monster Cookie Balls" on Instagram yesterday! We make these constantly  in our house because they taste like dessert but are loaded with protein and healthy fats. This is a recipe I'll let my toddler do with me too.
While browsing her page, I came across this delicious and quick "Canned Cinnamon Roll Donuts" recipe  and let my three year old bake them with me! I also incorporated my preschoolers lesson plan, from her teacher, in our baking adventure! I'm hoping for future tailgates, and know these donuts would be a quick, easy, and delicious treat for those morning Game Days!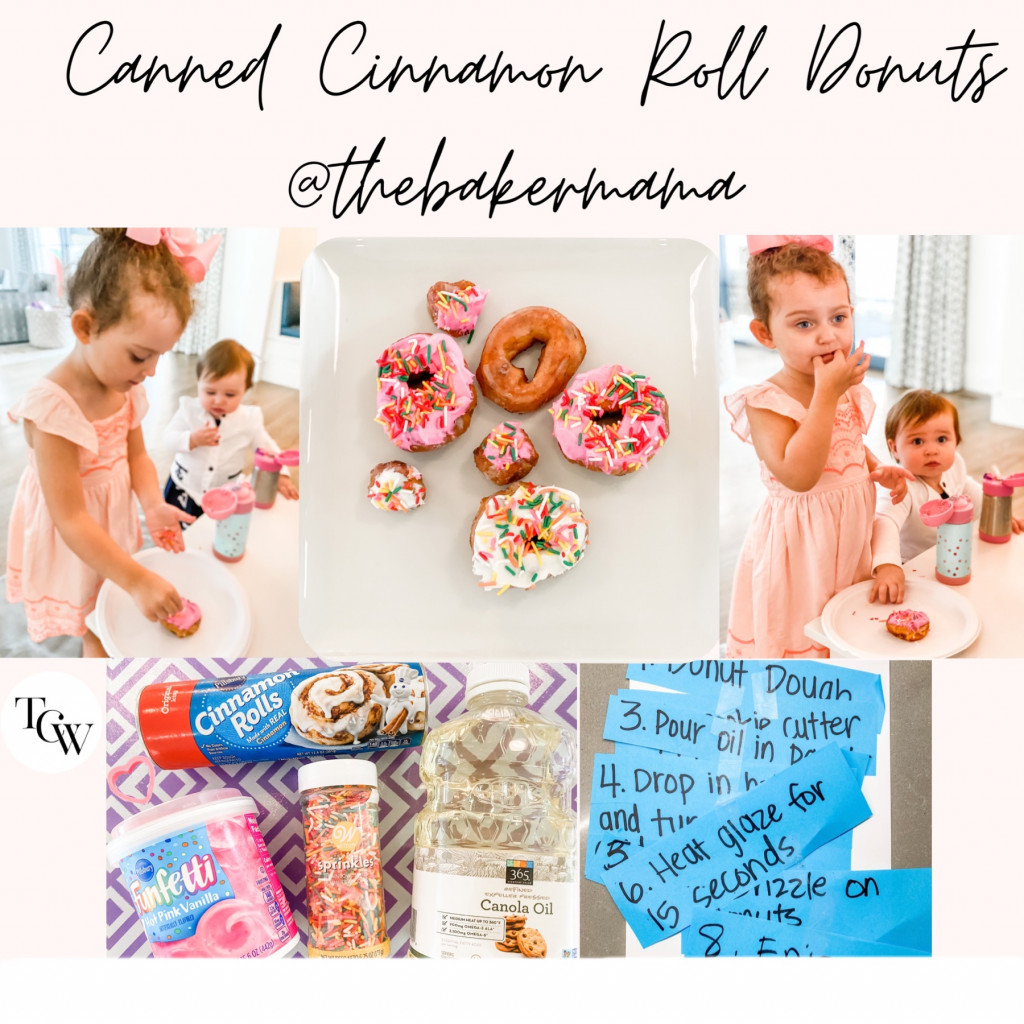 Ingredients
 The recipe does have you use the icing in the Cinnamon Roll Can as the "glaze" for the donuts. *Tip: don't over glaze, or dunk the whole donut in the bowl of glaze. I made this mistake and didn't have enough glaze for all the donuts in the batch.  We also added icing and sprinkles to ours and man, they were delicious!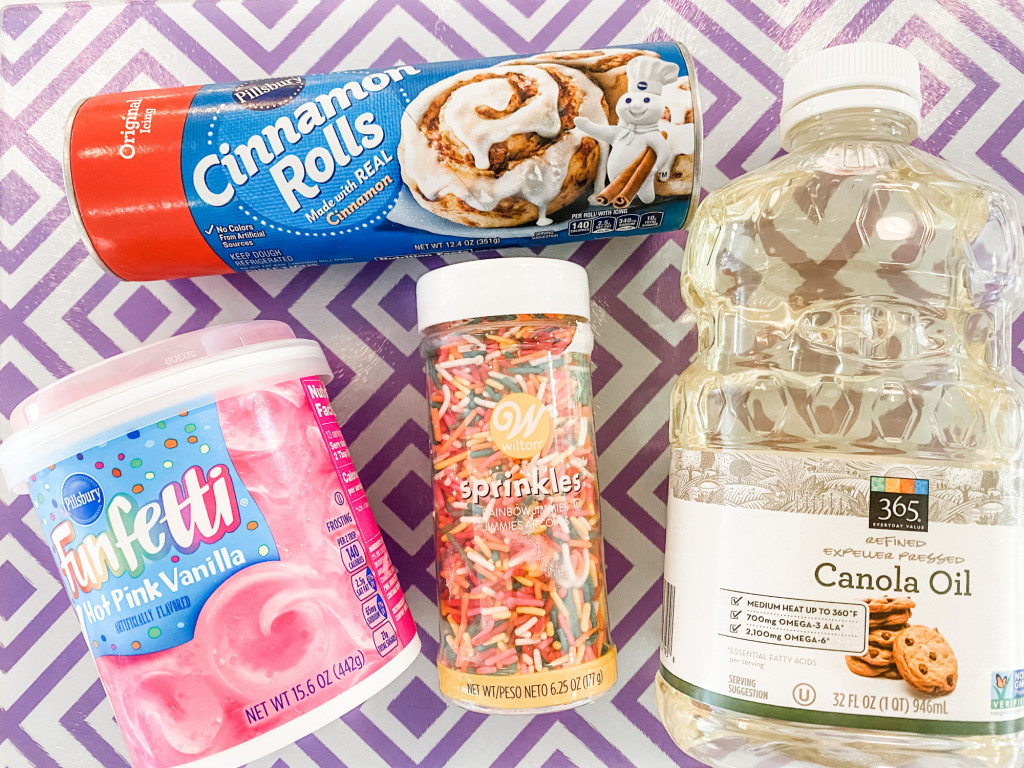 My cutting board, or one just like it, was a gift from my Mother-In-Law, and you can find it by clicking here.
If you are like me, I love a clean kitchen, and develop an eye twitch when I even think about cooking with my toddler. However, when I do find a recipe that is quick and easy like this one, I'm all for it. She was so proud of the final product and though there were sprinkles everywhere (eye twitch coming on), the mess was so worth it!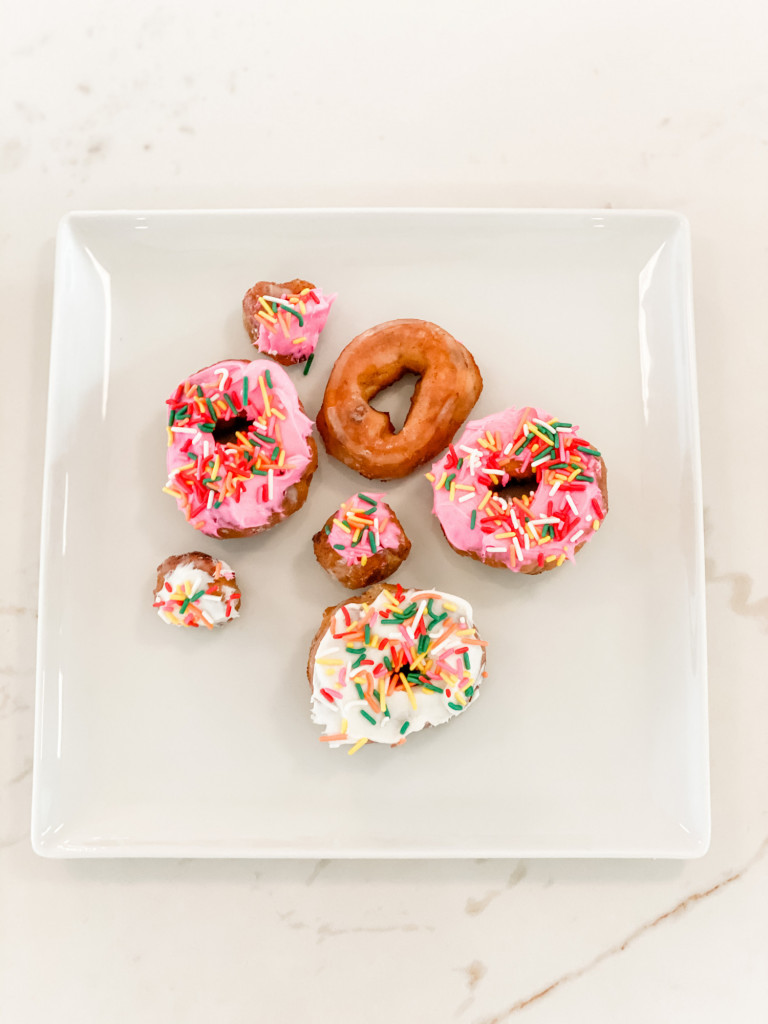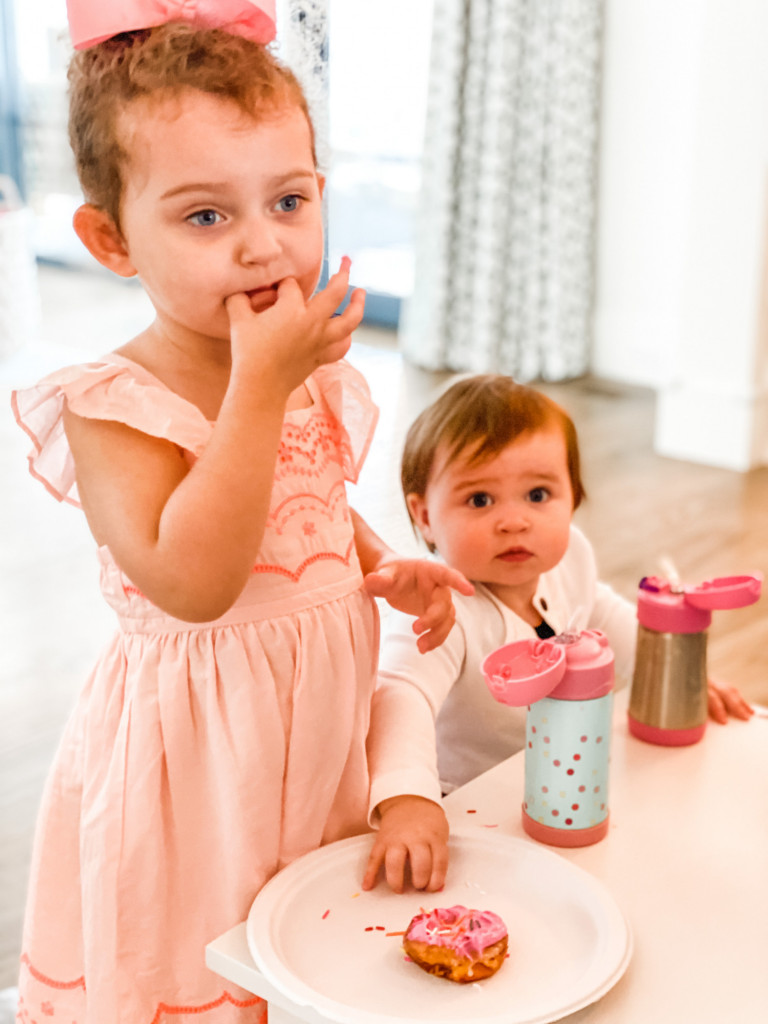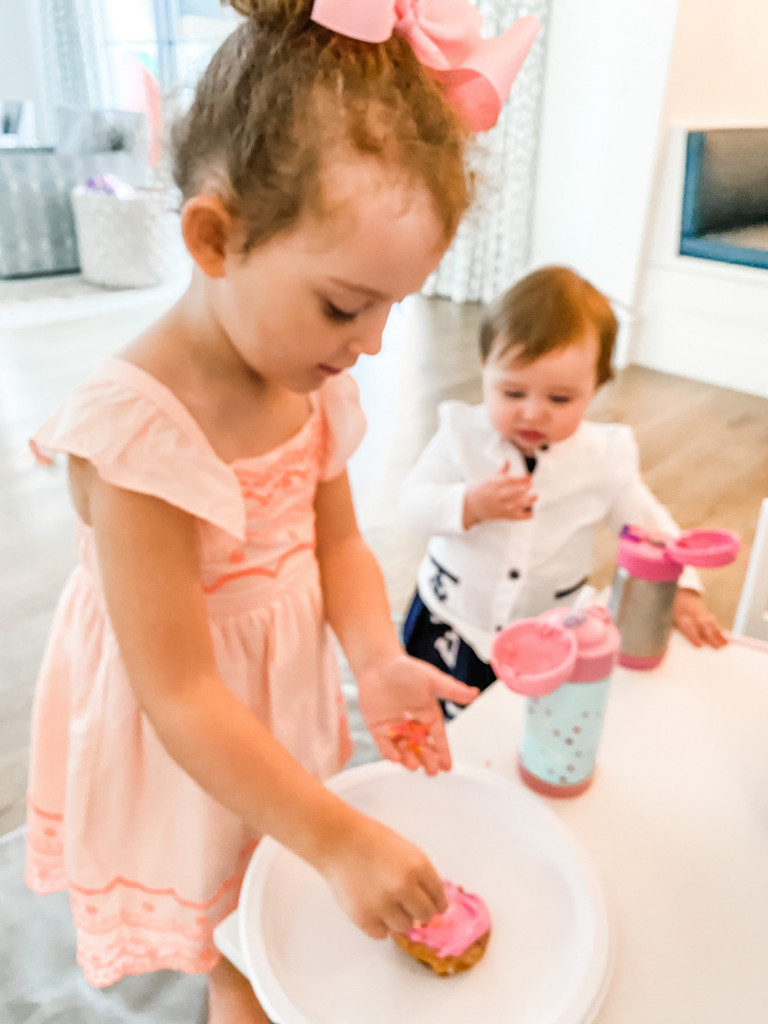 Lesson Plan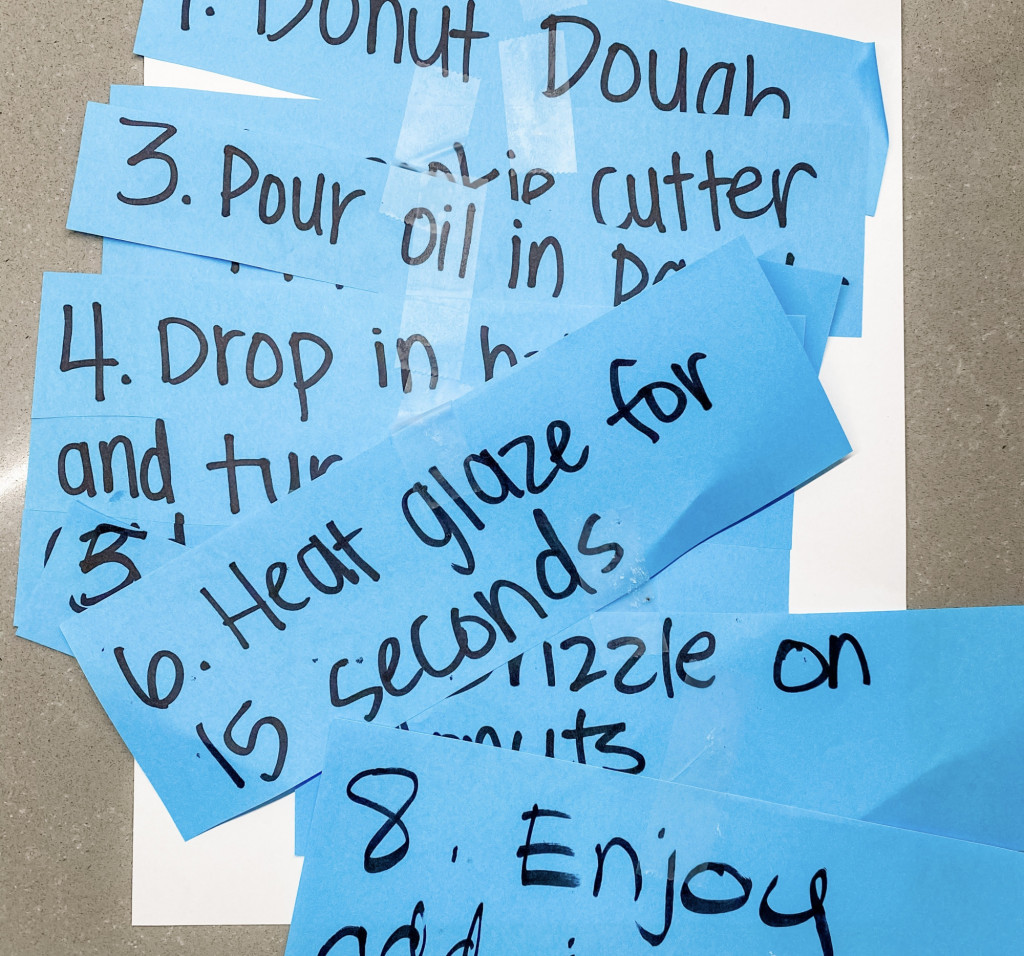 The example in my toddler's lesson plan was to make tacos together. Since we do Tacos on Wednesday Nights, and it was a Tuesday, I decided to try this lesson out with the donuts. The focus point of the lesson was, dictation of sequencing, ie, first, second, and third. We were to write each step on a strip of paper (pre-cut into strips). When the recipe was completed, we were too tape and read the steps together one at a time. Then, we were to count how many steps were in our recipe.
I did this a little differently. Before we started baking, I had the directions written down on the precut strips of paper. Next, we mixed them up on the ground and I had her play "seek and find" to find our first step to our recipe. Once we found the correct number, I would give her a piece of tape to tape the strip onto our "Completed Recipe Paper". Then we would do the step written on the strip of paper. Once we finished cooking the donuts, we read through our recipe step by step.
TCW's Weekly Dish
My husband eats really healthy and when he makes an "unhealthy" choice, it's usually because of me. His weekly menu request is always a healthy bowl, a bowl of doom, a bowl of anything with lots of protein.
Cauliflower Rice Stir Fry Bowl
Our Monday night special is always this Cauliflower Rice Stir Fry Bowl. My sister gave me a portion of this recipe! The sauce I found years ago on the internet, but I can't find it anymore, so I can't take credit.
Ingredients
1 bag of frozen cauliflower rice
1 tablespoon of Olive Oil or Coconut Oil
2 smoked chicken breasts from Kuby's (A Dallas Meat Market, I take the skin off and shred the chicken) or a Rotisserie Chicken
chopped baby carrots
1 can of peas (I use broccoli sometimes too)
1 avocado
sesame seeds (optional)
Cholula or Sriracha (optional)
Sauce Ingredients
1/4 c Soy Sauce – I use low sodium
1/4 c of water
1 1/2 Tbsp Honey (I use honey) or Maple Syrup
1 tsp. red pepper flakes
1/2 tsp. ginger powder
*During the day, I leave our cooked smoked chicken or rotisserie in our warming drawer at 120 degrees. If you want to reheat your chicken, I've read to put a damp paper towel over the chicken in a microwaveable dish and reheat for two minutes.
In a large skillet, pour 1 tablespoon of olive oil or coconut oil in the skillet and turn the stove on high heat. I add the carrots and let them cook until soft. Note* if you are using broccoli, I will cook the carrots and broccoli together in the skillet until soft.
While that is cooking, I then microwave my frozen bag of Cauliflower Rice for 4 minutes. Once the carrots and broccoli are soft or to your liking, reduce the heat to low and add the heated cauliflower rice to the pan. Then, drain the juice from the can of peas in the sink, and add the peas to the pan. Next, pour the sauce over the stir fry, stir occasionally for 5 minutes to soften the peas.
I will leave the stir fry in the pan on simmer while I shred the chicken into our individual bowls. I never put the chicken in the skillet and stir it in because it can dry the chicken out quickly. Once you are done, scoop the stir fry into the bowls and mix it all together.
Then slice half of an avocado on top of the bowl, and add a dash of sesame seeds to it. Finally, add Cholula or Sriracha Sauce all over to give your Cauliflower Rice Stir Fry Bowl a little more kick. Enjoy!
More "Quarantine" Dishes will be posted on TCW's Instagram Stories. If you have any great recipes to share with me, please send them my way!