A Kid Friendly Table for the Memorial Day Celebration!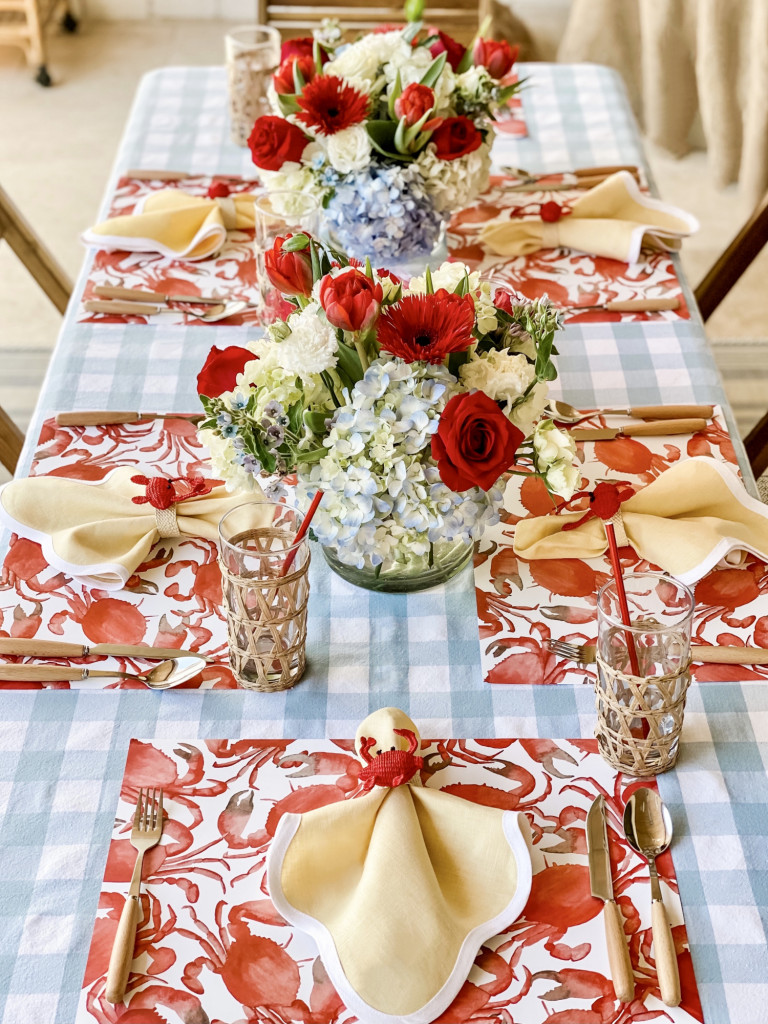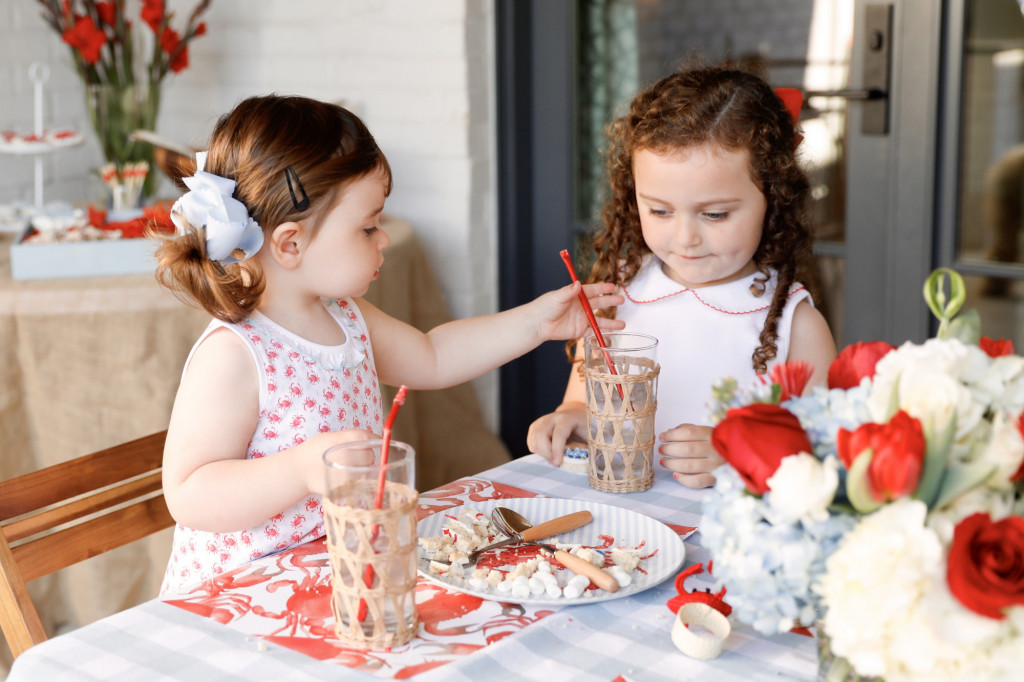 Now with the weather warming up and the school year coming to a close, my mind has shifted to pool parties, backyard BBQs, and the patriotic holidays. I've always loved to entertain, and lately I've found a lot of joy in creating fun tablescapes for just about any occasion!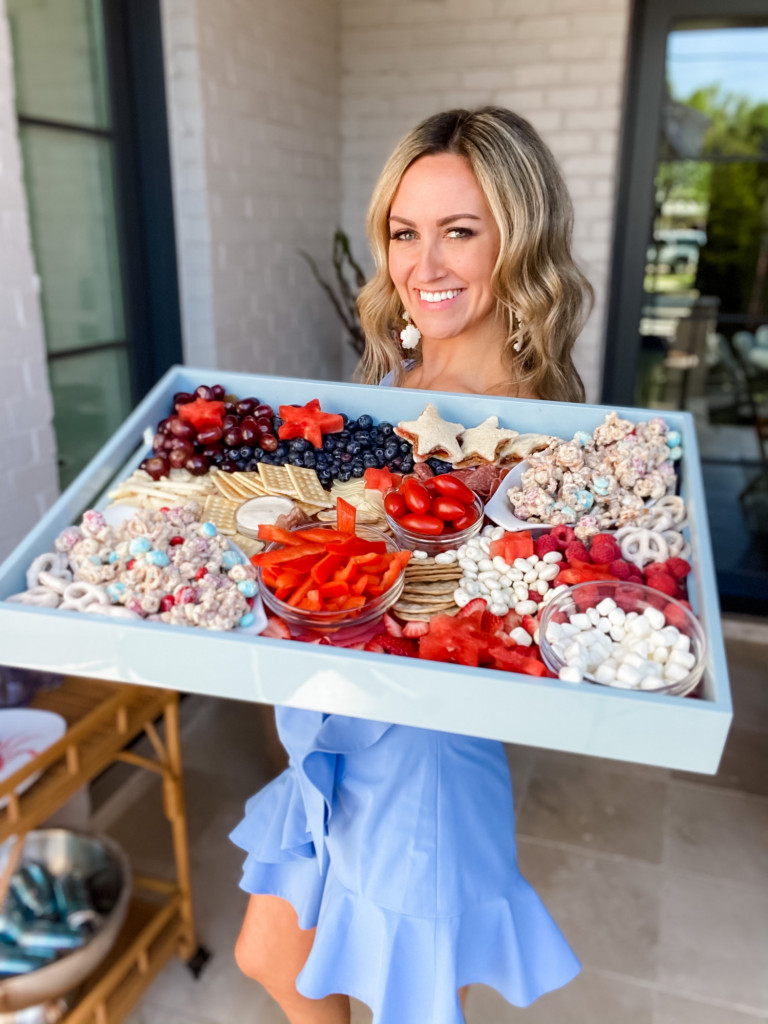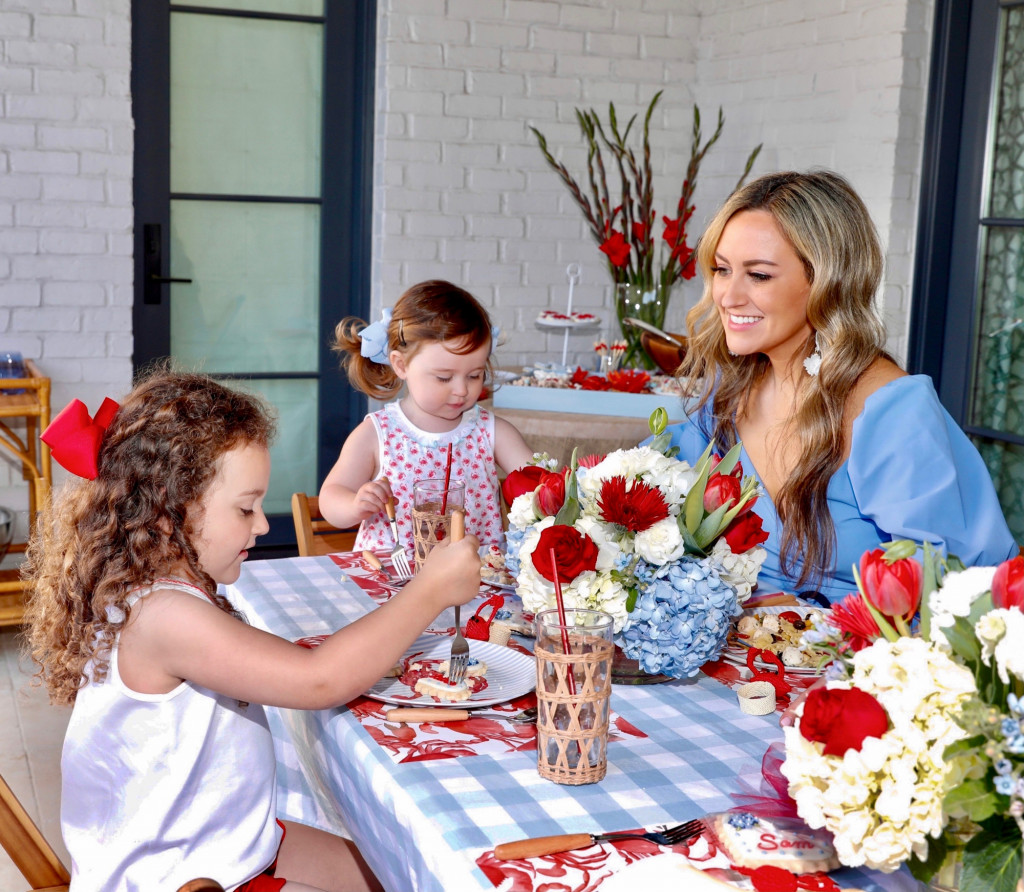 Lately, my girls have been the inspiration behind all my tablescapes. Whether it's a silly conversation we've had, or simply asking their opinion on my design, I continue to find that their ideas are always the best!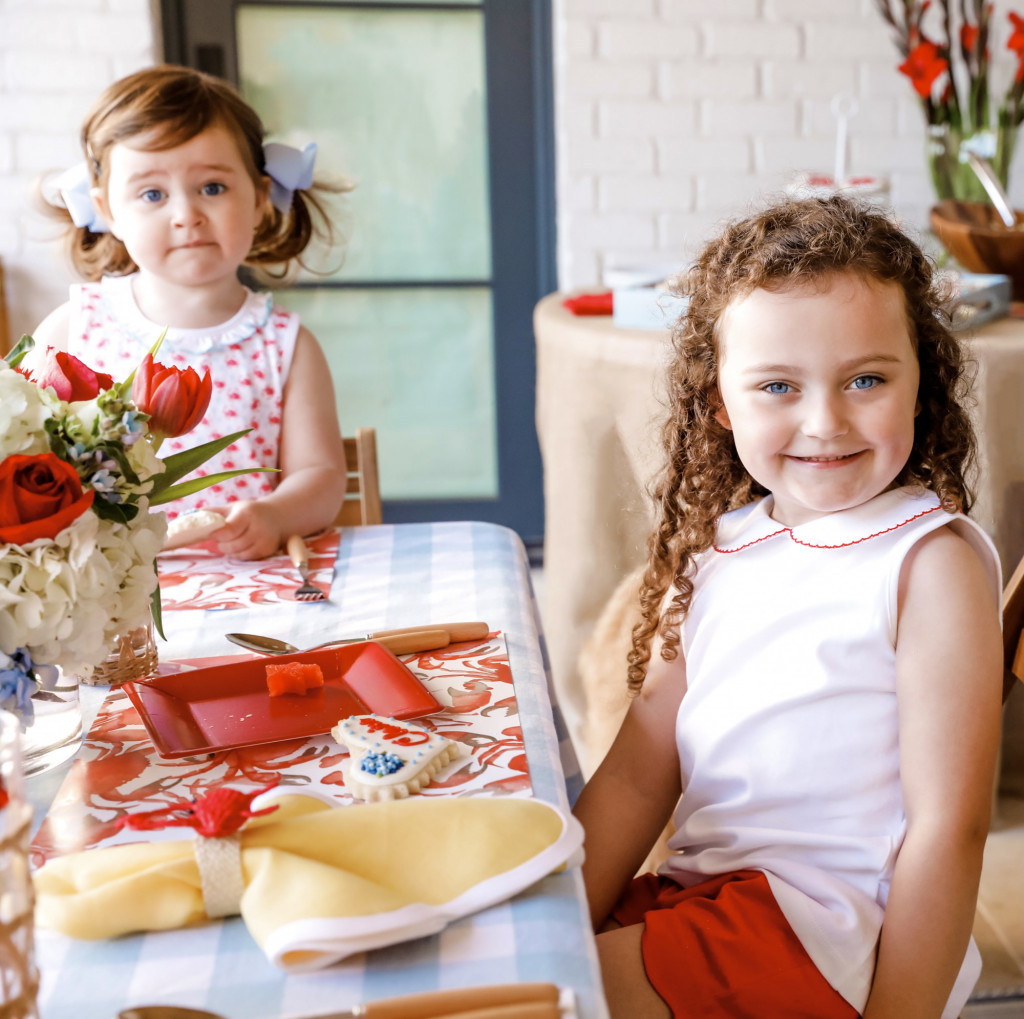 So, how did they inspire me for this Kid Friendly Memorial Day Celebration?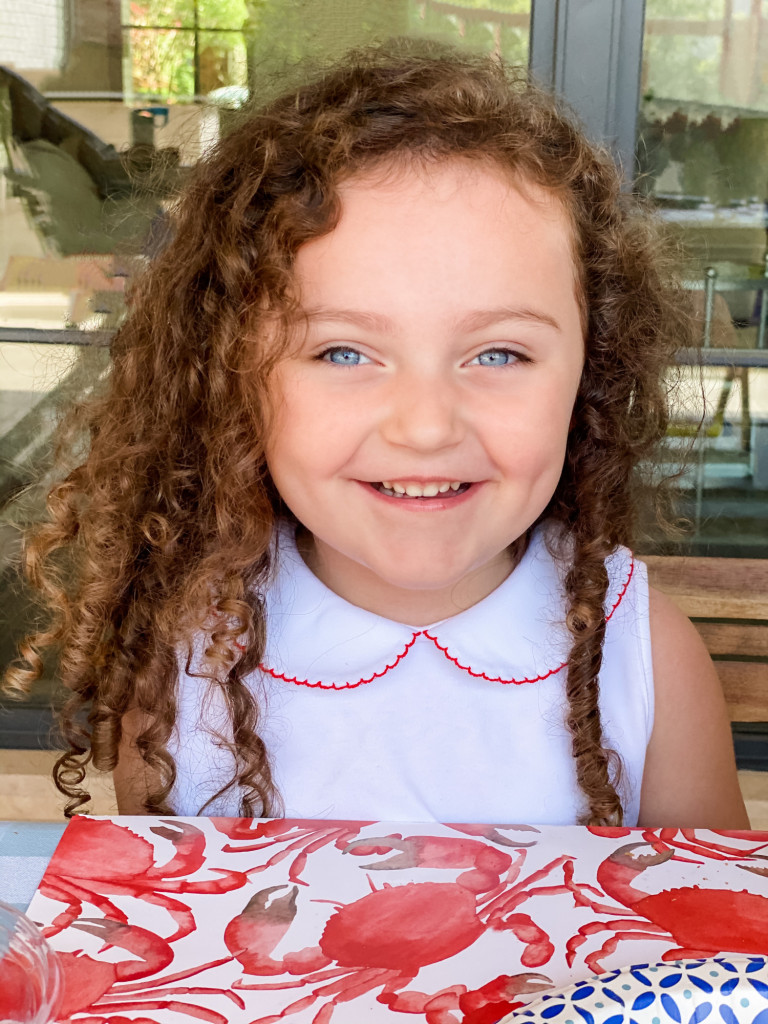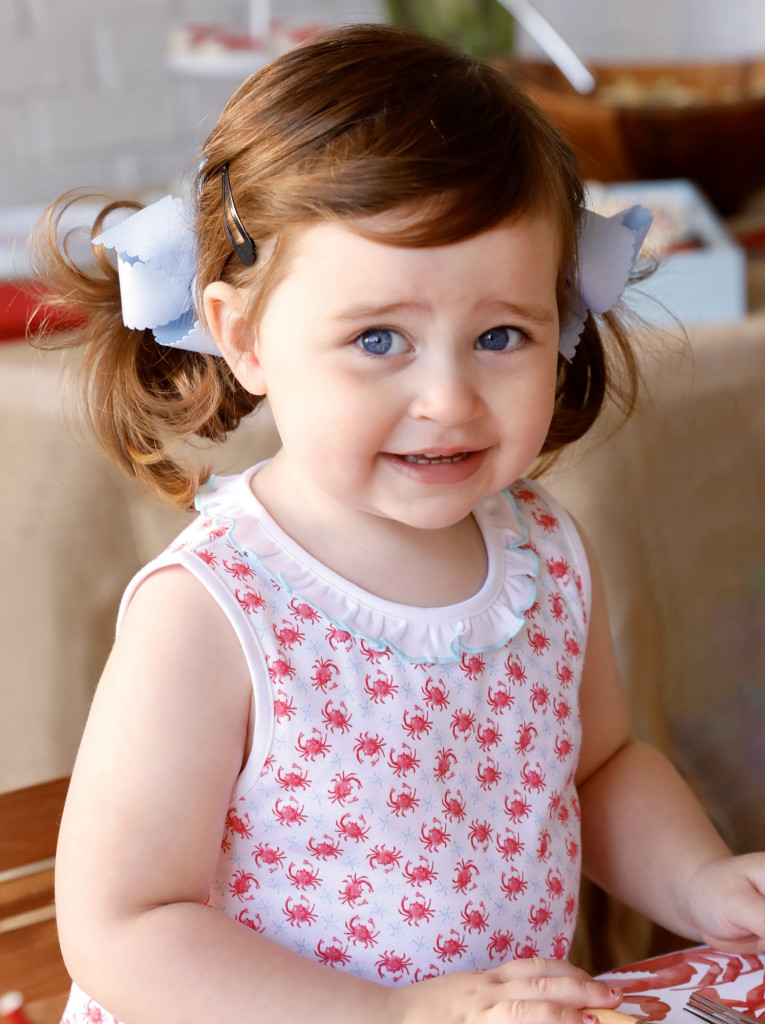 Their outfits!
My youngest daughter's "Crab A-Line" dress from The Proper Peony's "Pima Collection" actually inspired this whole tablescape. The sky blue ruffled neckline, gave me the idea to swap the traditional America blue for that pretty sky blue. It's still patriotic, but a much softer and sweeter blue for this Kid-Friendly Memorial Day table.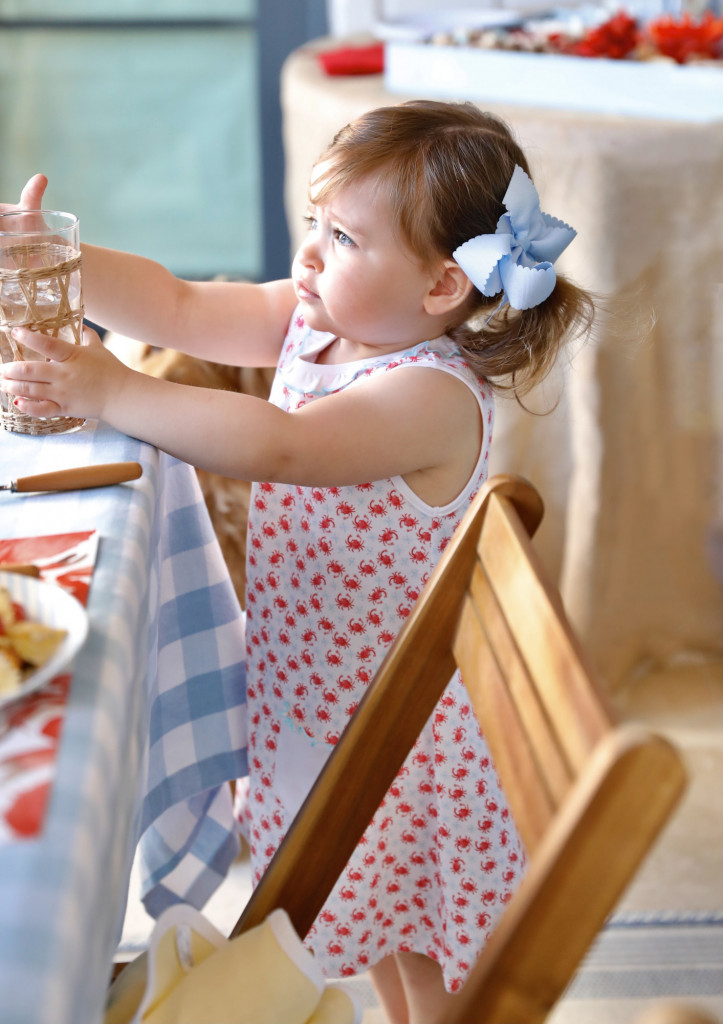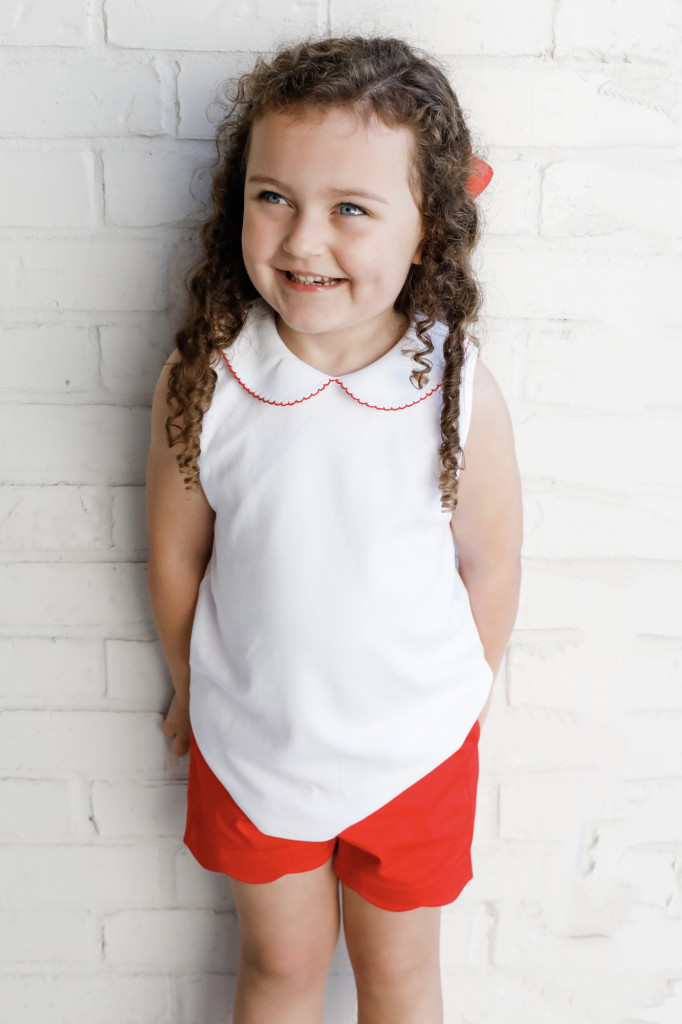 Once I had the inspiration piece, then I began to create and build my vision board. Vision Boards are a necessity for me when I'm planning a party. They save me an enormous amount of time and money, and it also helps the vendors understand my vision too!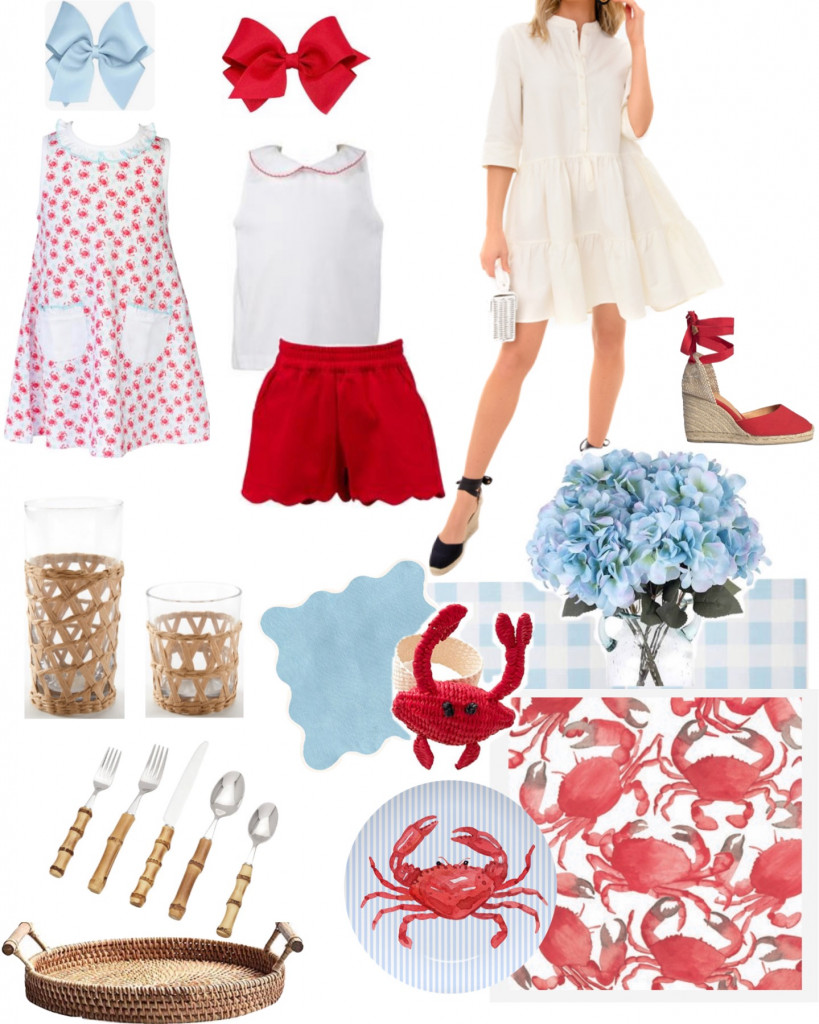 Table Talk

Crab Paper Placemats by Lucy Grymes!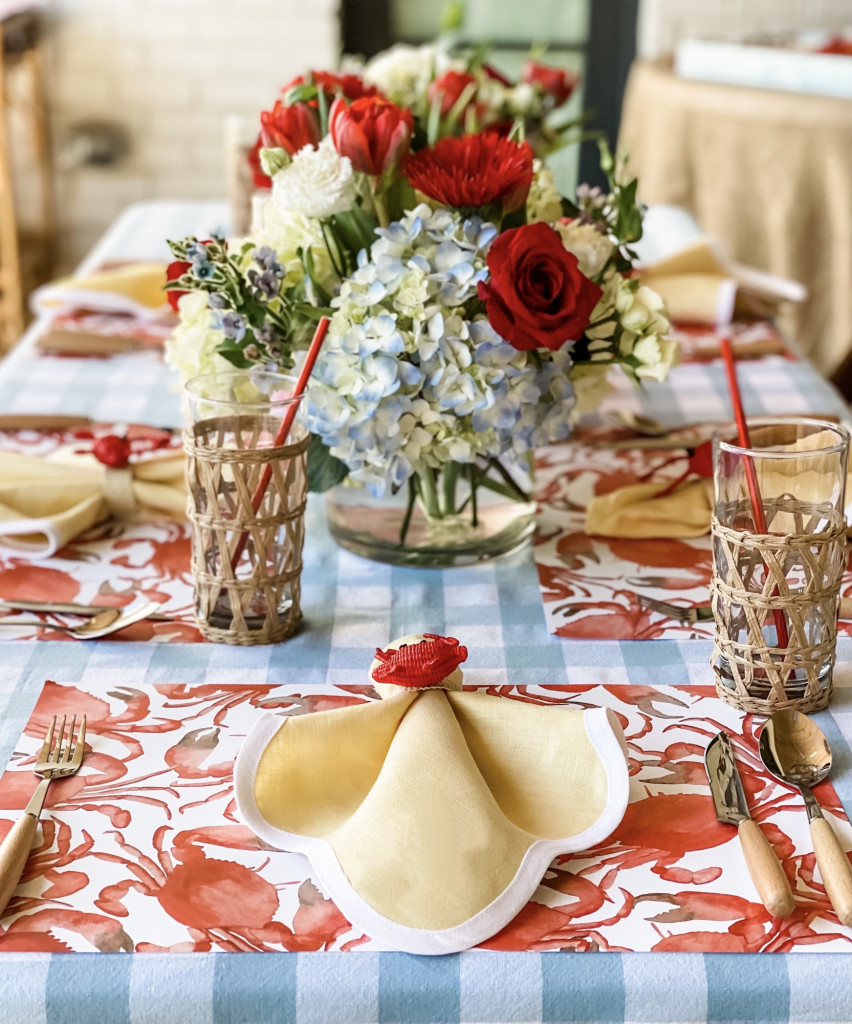 Surprise, surprise! I've turned to my girl Lucy yet again! Hosting and entertaining can be very expensive, but Lucy Grymes has made it possible for me to set the table affordably and beautifully. They are perfect for kids and make for an easy clean-up too! Being such a fan, I knew she had these Crab Paper Placemats in stock, so I jumped online and ordered them right away!

Floral Arrangements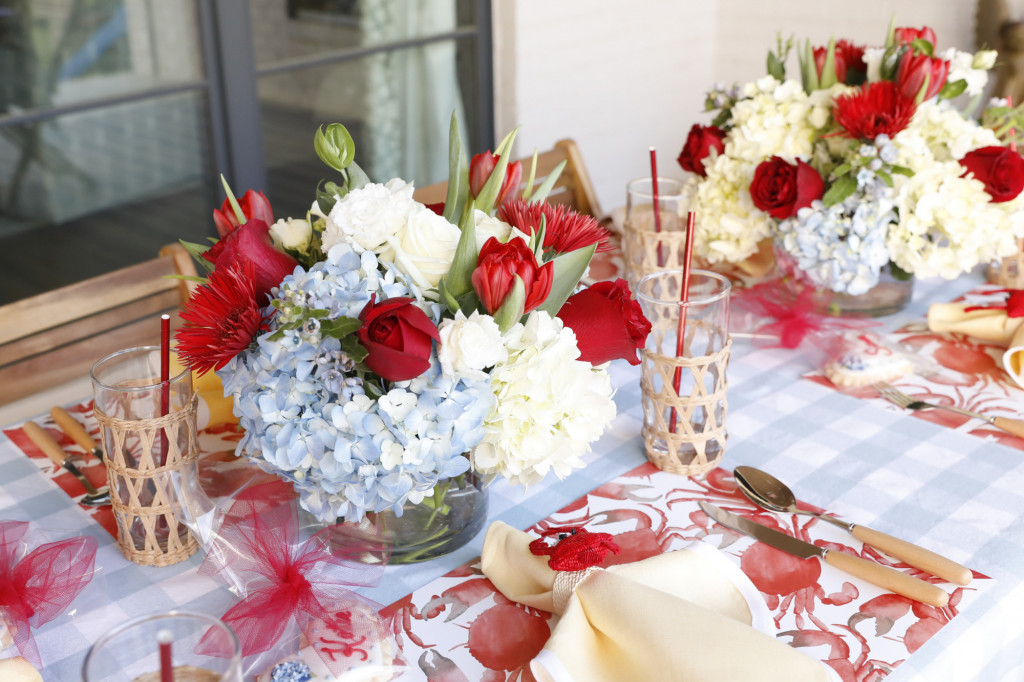 The Garden Gate made me two arrangements with a mix of blue and white hydrangeas, gerber daisies, tulips, spray roses, and blue tweedia!
Linen Scalloped Napkins & Crab Napkin Rings

My favorite table accessory to invest in are dinner napkins. I think it adds gorgeous color and texture to just about any table. I originally planned to use Fenwick & Fields Linen Scalloped "Sky Blue" napkins, but with their advice and expertise, they urged me to try a pop of yellow instead!
Crab Napkins Rings by Klatso

Crab Melamine Plates & Platter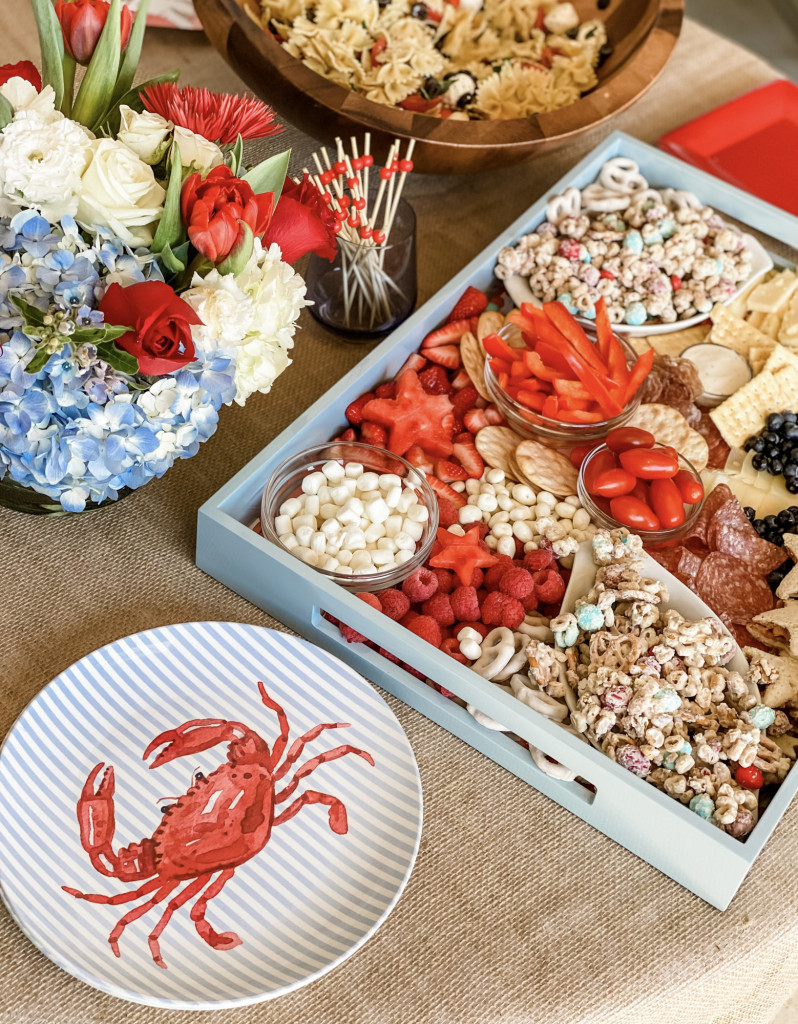 Found these adorable Melamine Plates by a simple Google search. These baby blue striped crab plates matched so perfectly with The Proper Peony's Crab Dress, I just had to add these to cart! The Muddy Dog has many melamine plate and platter options to choose from. The price tag may seem a little high, but these Melamine plates and platter are made of Thermosaf. This means they are microwave & oven safe! They are 100% BPA free, fade, break and scratch proof too! They also sell custom acrylic trays, corn hole boards, mugs, wrapping paper, stationary, and more! My favorite part, all their products are made right here in the U.S.A!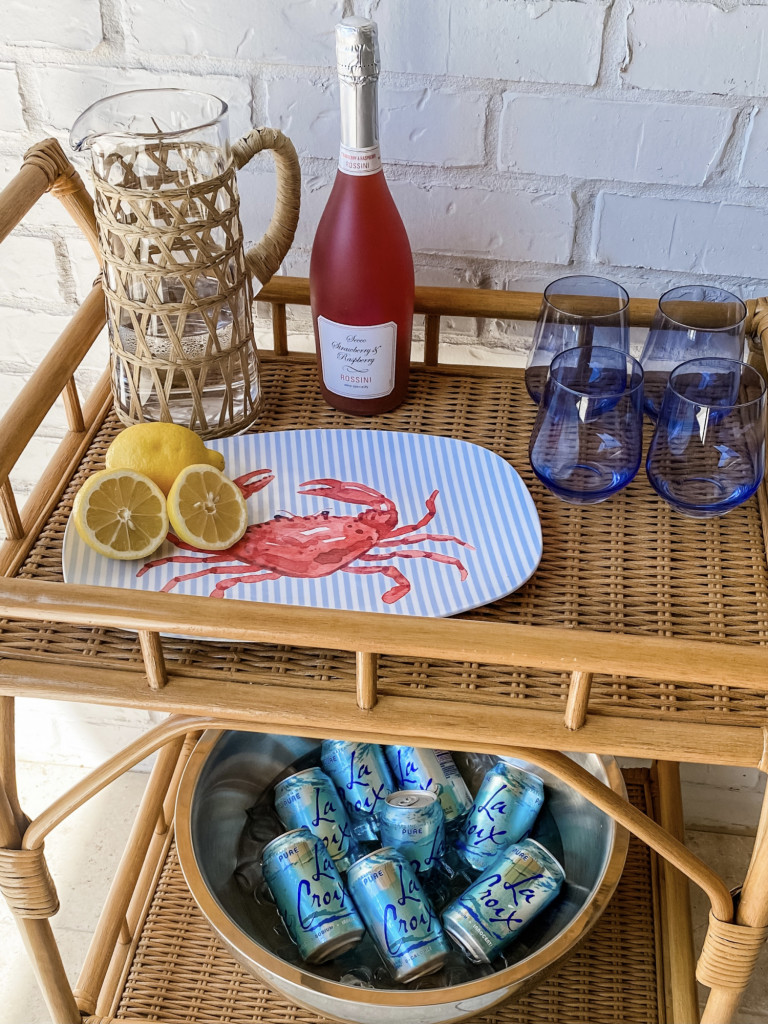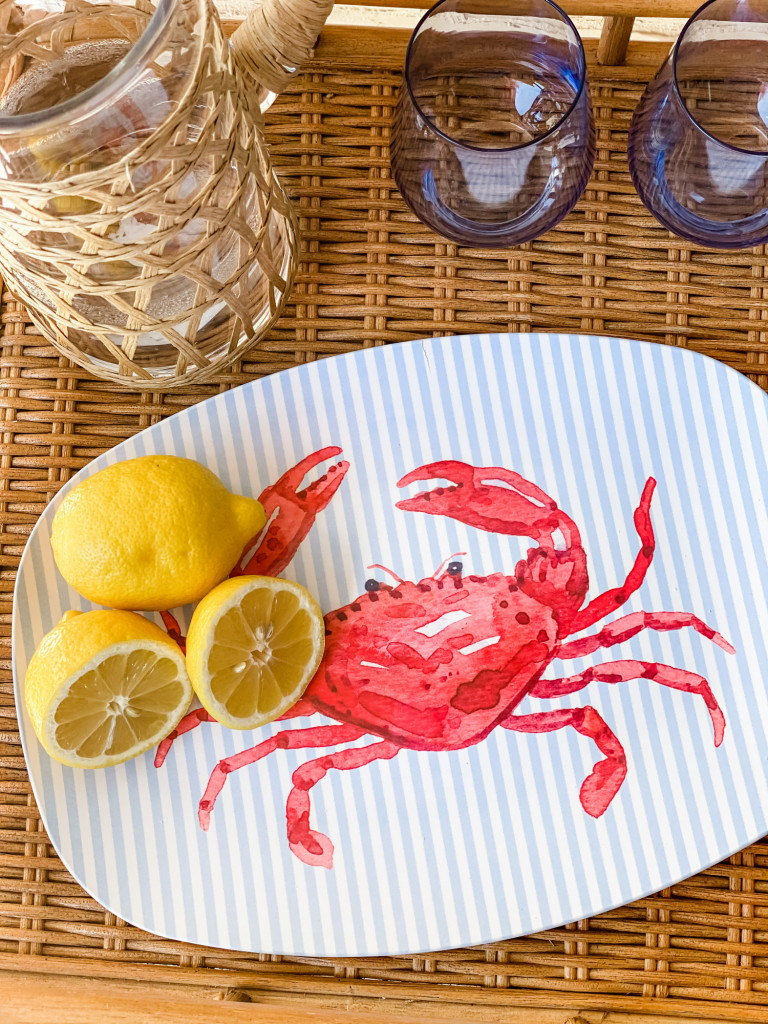 Let's Eat!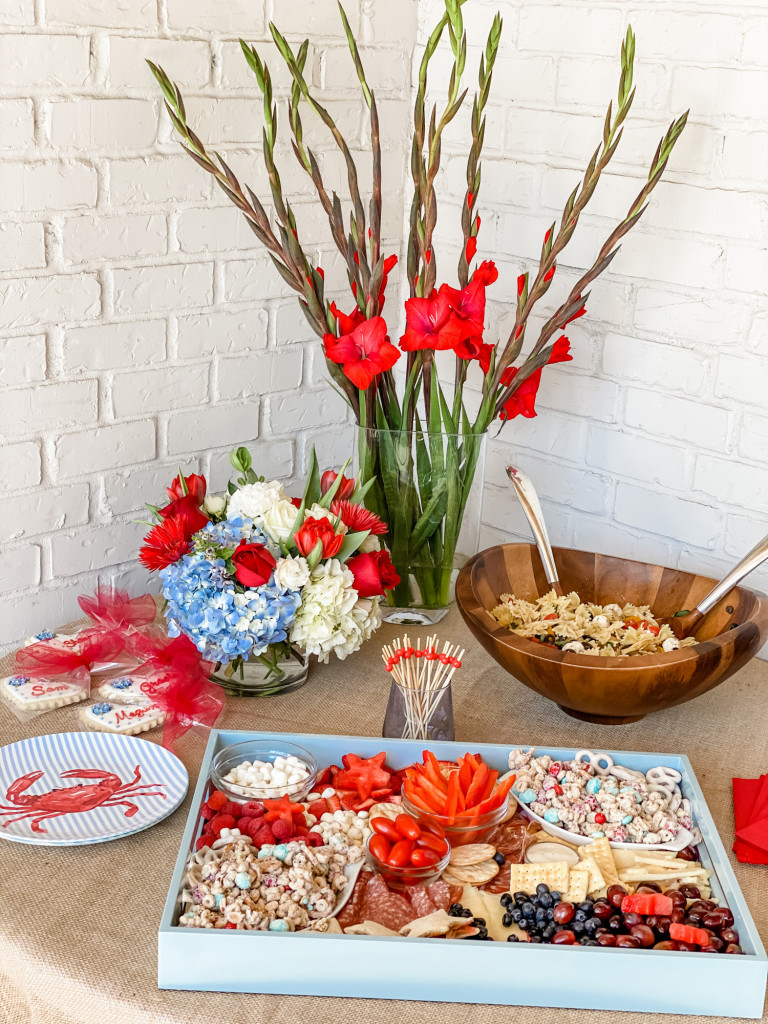 Lacquered Tray by Mary Cates & Co.


Custom Shortbread Cookies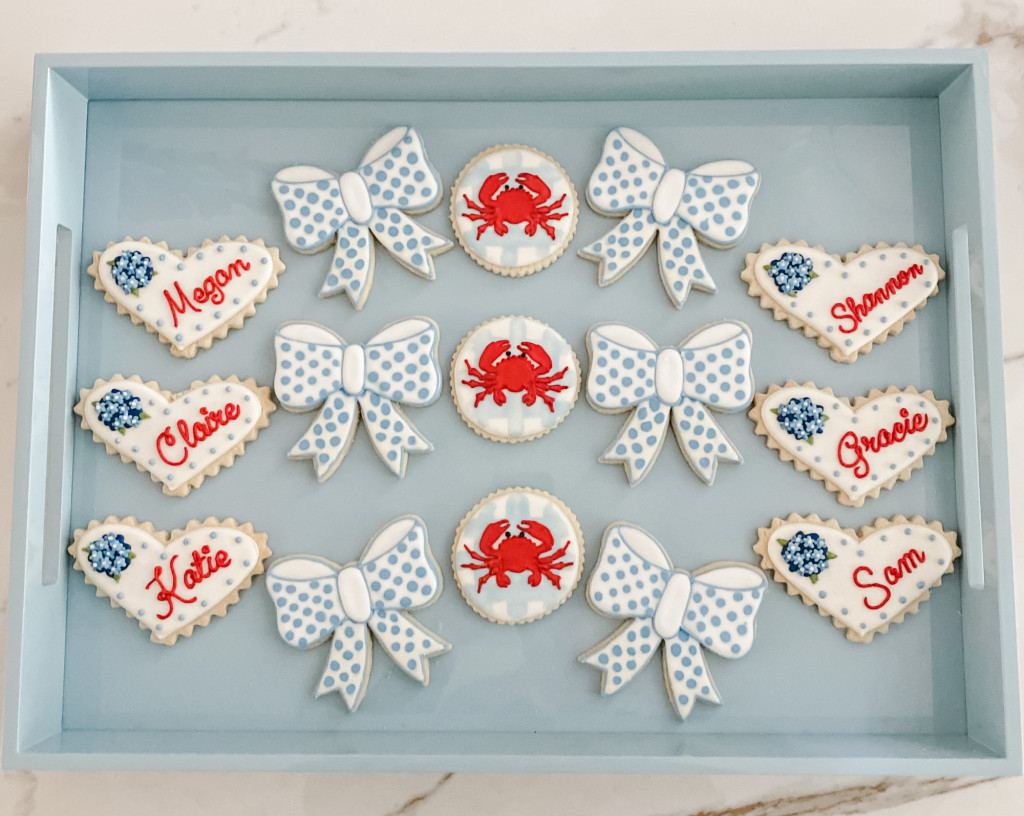 These custom made shortbread cookies by Le Gourmet Baking, were just about the cutest and tastiest cookies I've ever had! Becky, at Le Gourmet, is so talented and truly knocked it out of the park with these custom made cookies. A bonus, she is one of the loveliest and kindest people you will ever meet 🙂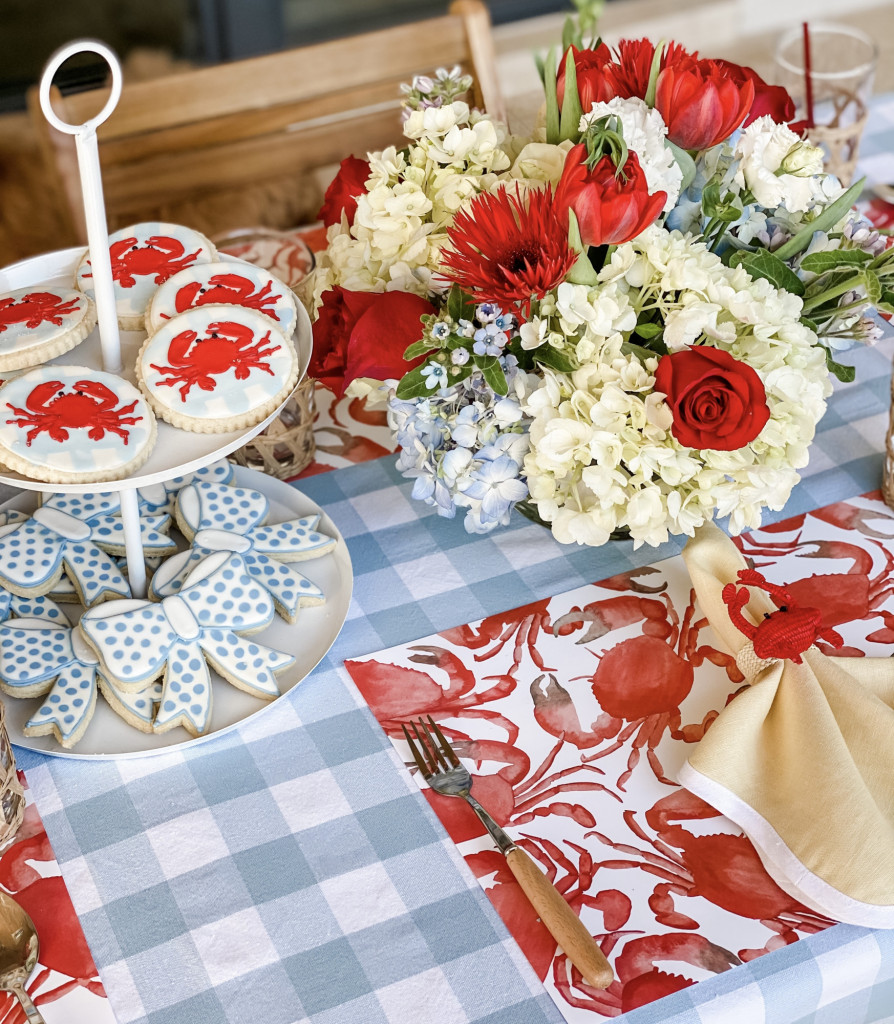 Here are three ways to use custom cookies for your next party!
* A tasty dessert for your guests
* Great party favors
* Edible place cards for your table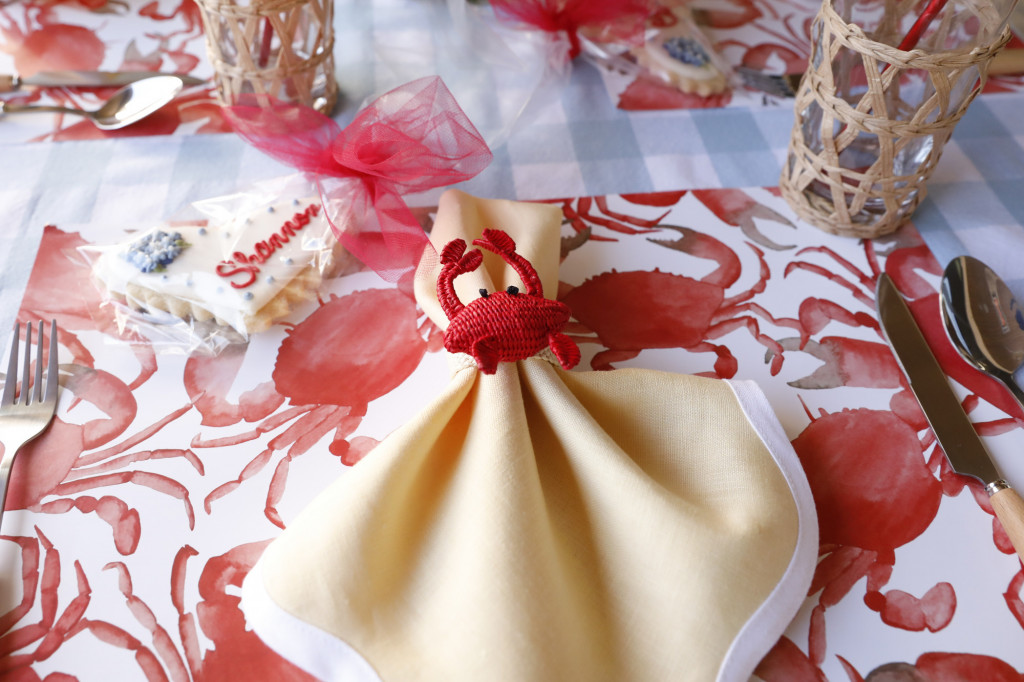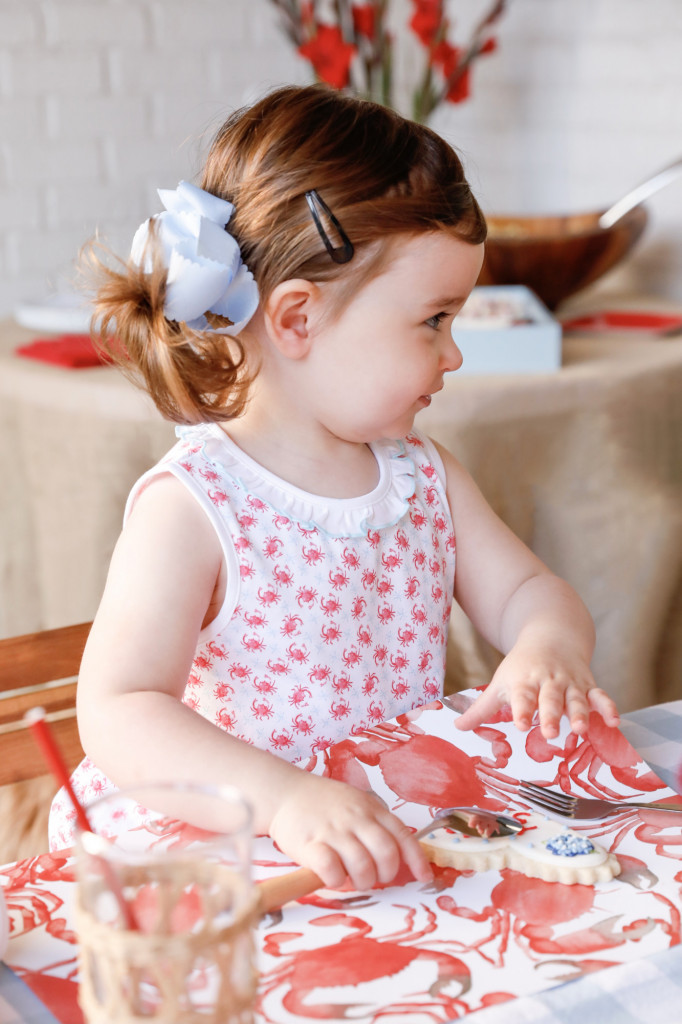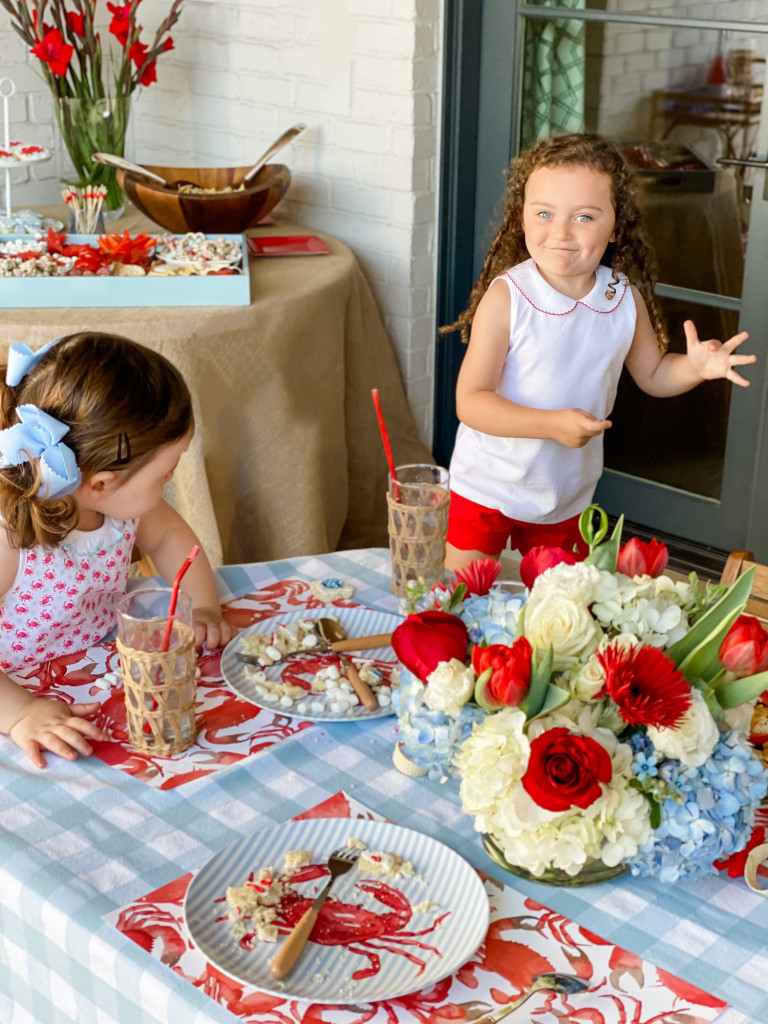 Claire showing us her moves after eating her cookie place card (haha)!

A Kid Friendly Snack Board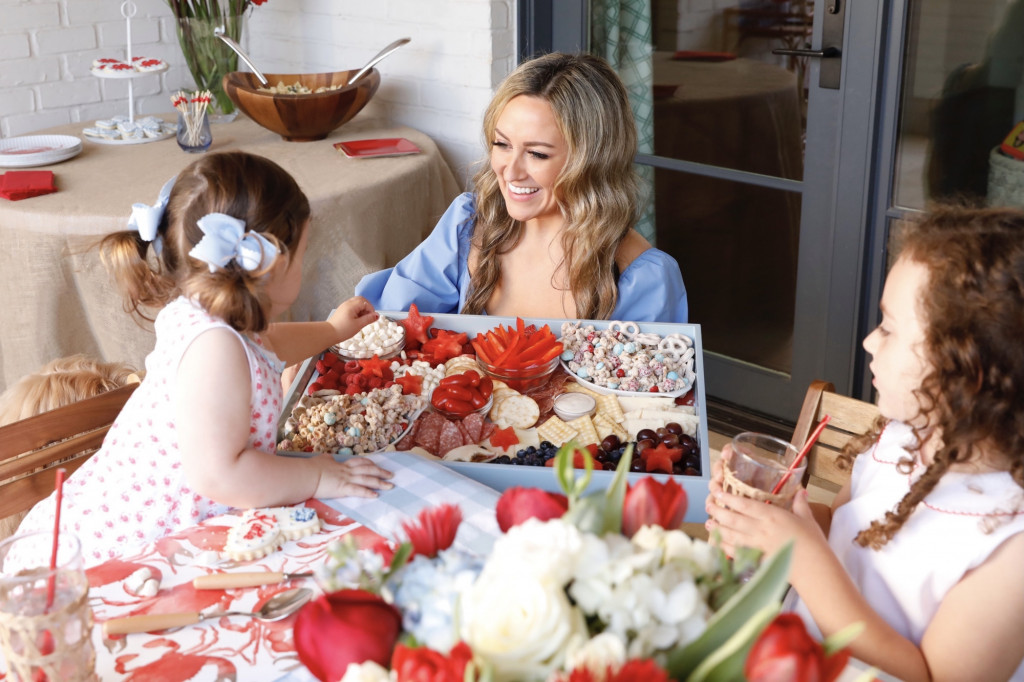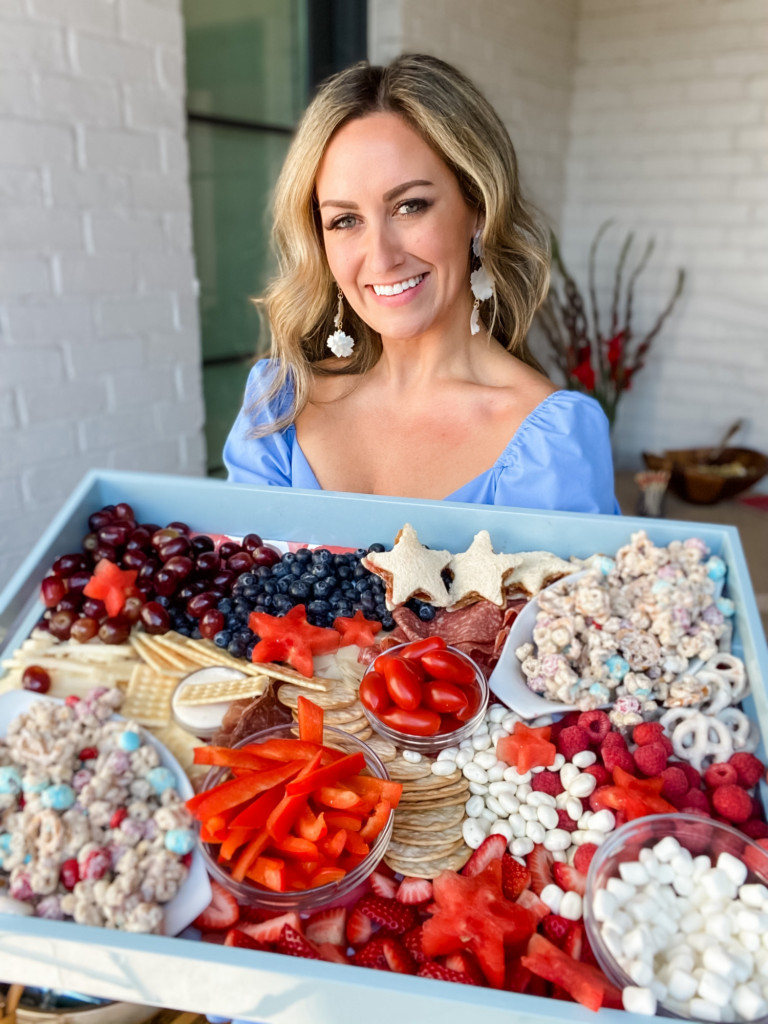 To stay on theme, I chose foods that were red, white, and blue! I used star cookie cutters to cut shapes in the watermelon and the Smucker's PB&J sandwiches. I also added red grapes, blueberries, yogurt pretzels, cherry tomatoes, red pepper, ranch dressing for dipping, Club Crackers, white cheddar cheese, yogurt raisins, marshmallows, raspberries, strawberries, and my favorite, Pa's Remix!
Pa's Remix
My friend Amanda with Pa's Remix, makes a "sweet and savory, not so traditional snack mix" that is out of this world delicious (we are addicted). This isn't your average homemade "Chex Mix" mix, this is unlike any other mix I've ever tasted! She made me a custom mix for this Memorial Day Celebration and boy was it tasty! Check out her Instagram Page @pasremix to order yours today!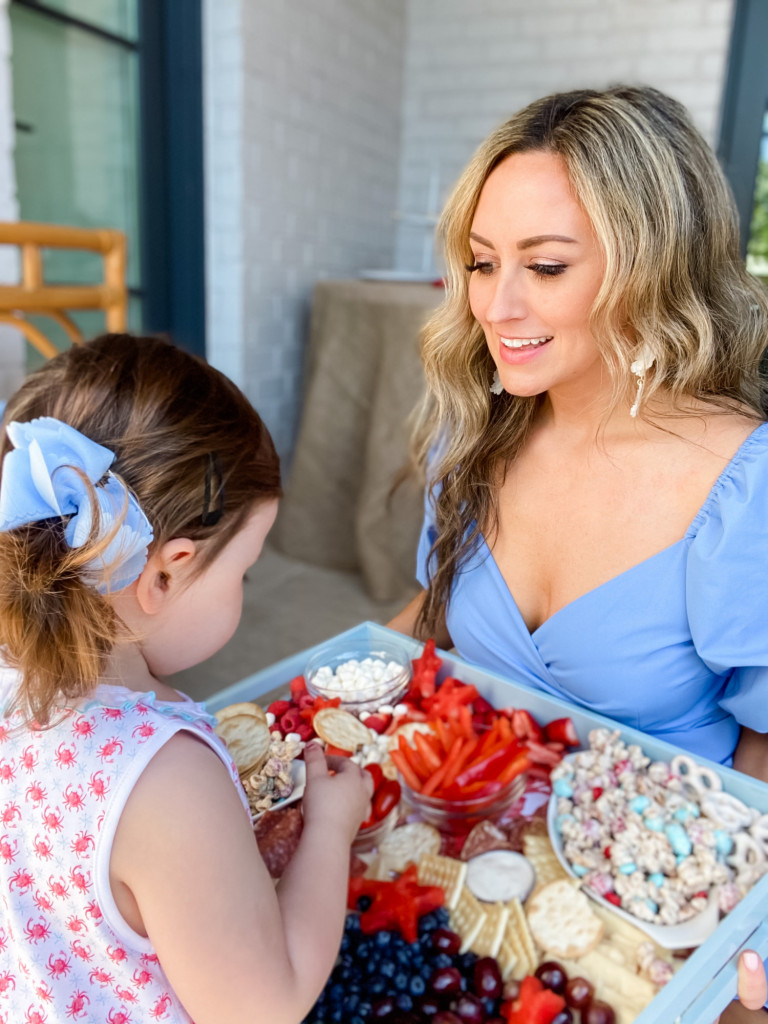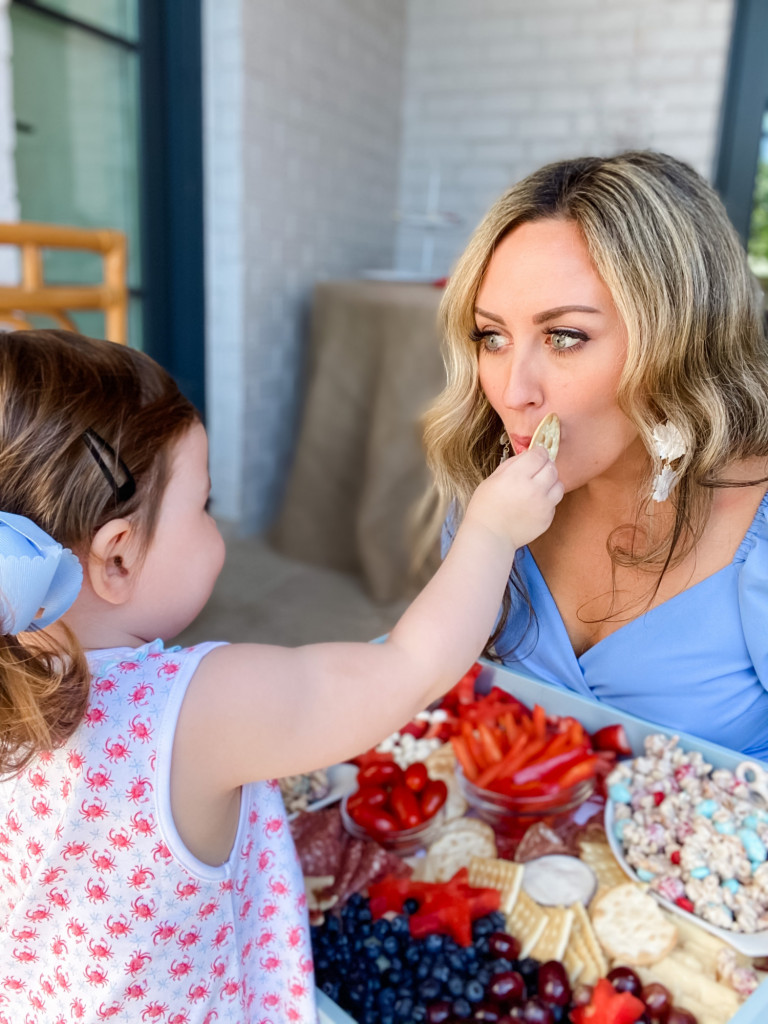 My girls are 4 and 2 years old and probably the pickiest eating toddlers alive! Lately, the only way I can get them to try new foods is by creating a big beautiful snack board. If you have picky eaters like mine, try this Kid Friendly Snack Board idea and follow my tips below!
My Kid Friendly Snack Board Tips
1. Make it colorful
2. Include foods they really like
3. Use a cookie cutter to cut fun shapes in the food
4. Have dips next to the vegetables
5. Be honest with what's on the board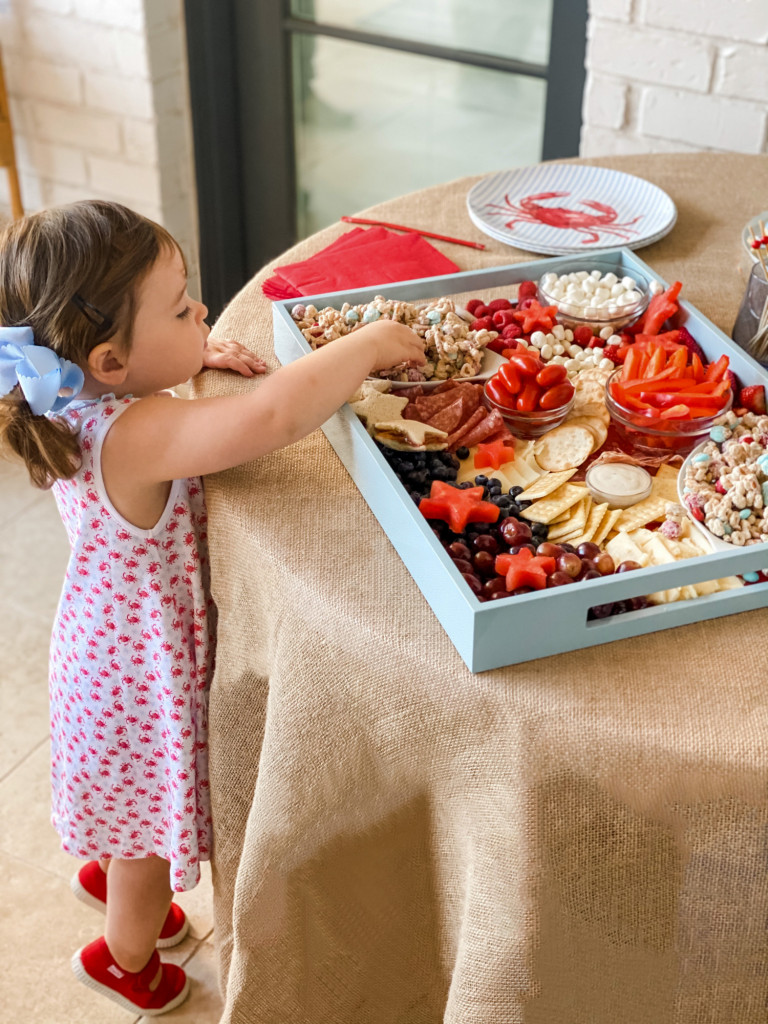 There you have it! A fun Memorial Day Celebration inspired by The Proper Peony's Crab Pima Collection. Check out their Americana Collection for even more patriotic finds!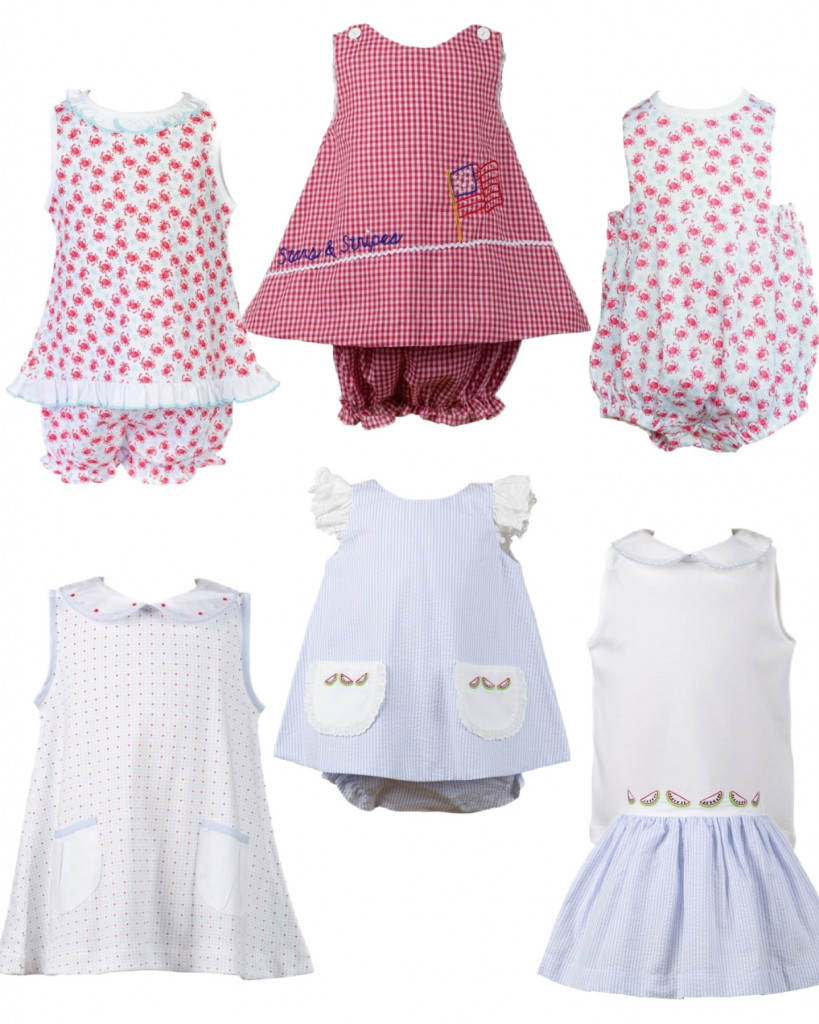 "Wishing you all a beautiful Memorial Day weekend! Let us all remember our veterans and our active service members, thank you for all you do" and God Bless America!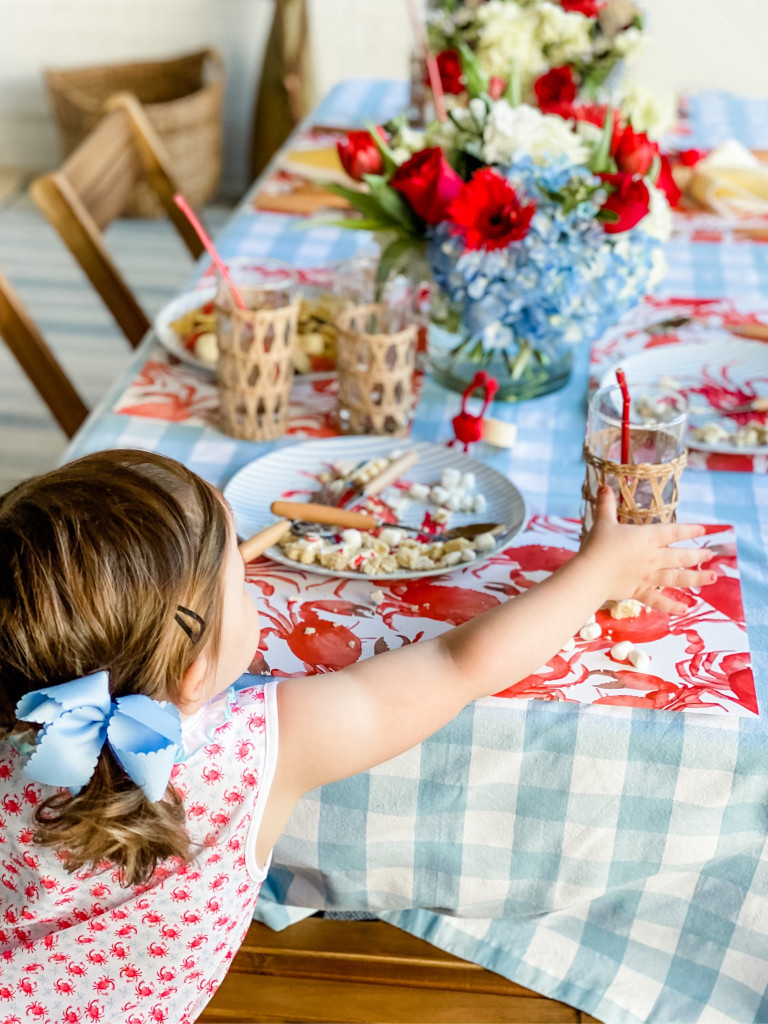 Photos by Megan Conlon & Melissa Macatee