When we began the design process of our home, I was dead set on a white brick house, white kitchen, and white walls. Once we met with our designers, Canon & Dean, they really pushed us to be more open to adding some color. We ended up with a white brick house, a white kitchen with blue accents, brass hardware, a wallpapered bright powder bathroom, and my favorite, Keith's black painted Study.
Take a tour of our home and read more in depth on how we added color to our design.
When it comes to home design, many of us can be a little hesitant to go bold (like we were)! Once I got over the initial fear of going bold with our home design, I started to really enjoy the process. To get Keith on board, I utilized my Pic Collage app to create a visual for him to see the "big picture".
Earlier this week, I sat in Keith's Study, thinking about my next post. I began looking around at the black high gloss painted walls, brass hardware, and rich camel brown hues. I thought to myself, how sophisticated and elegant the color black is; it's timeless! This bold, sexy hue should be utilized more in interior design! Lately, it seems that many of our friends have been renovating their homes, but mainly their bathrooms. So, I thought it would be fun to create some collages on how to incorporate black in your bathroom design!
***Note: The wallpaper, tile, mirrors, light fixtures, etc. I used are not necessarily to scale. Check sizes and dimensions if unsure.
15 Black Bathroom Ideas
Animals & Prints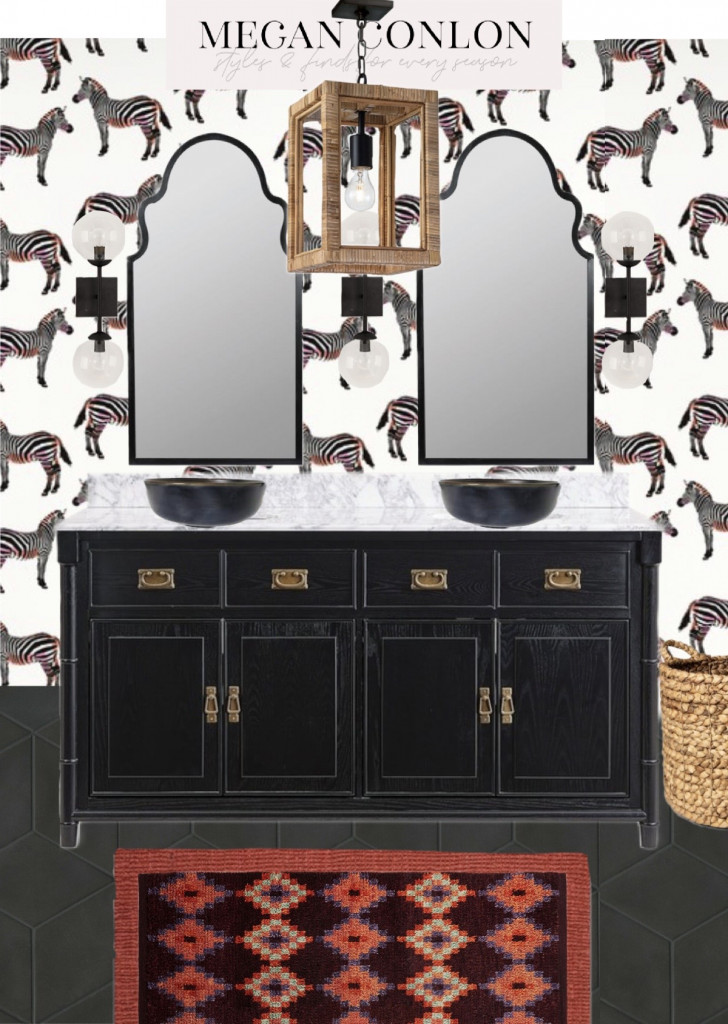 My favorite way to incorporate black in a design is to use animals or animal prints! There are a ton of fun animal printed wallpaper designs out there, like this Katie Kime Zebra Wallpaper! I paired it with an all black matte tile, a black vanity with brass hardware, a rattan chandelier, and a rattan basket. The golden brown from the chandelier and the basket, really brings out the gold in the vanity. Lastly, adding that red decorative jute rug, really tied this whole look together in my opinion.
Think Pink!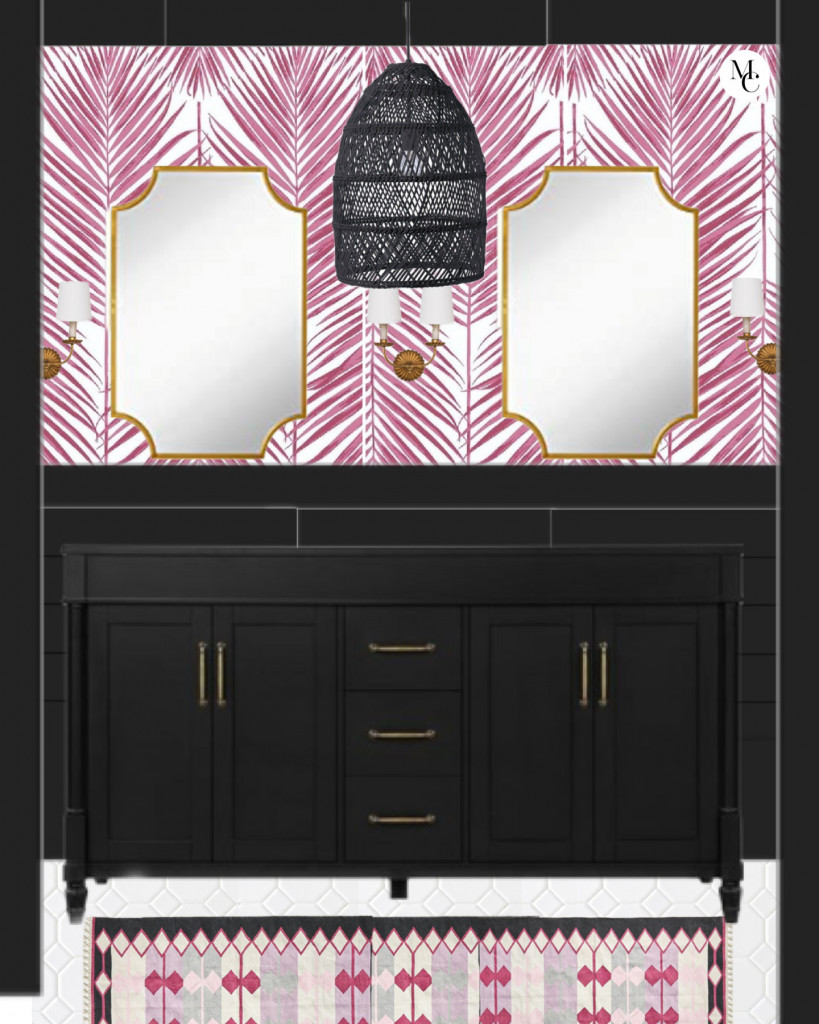 Can black be made feminine? Absolutely! Throw in some dark pinks, magenta, even purple to your black bathroom design. This makes for a bright stand out bathroom that every guest will love! On a budget? Then just wallpaper one wall and paint the other walls black!
Go Gingham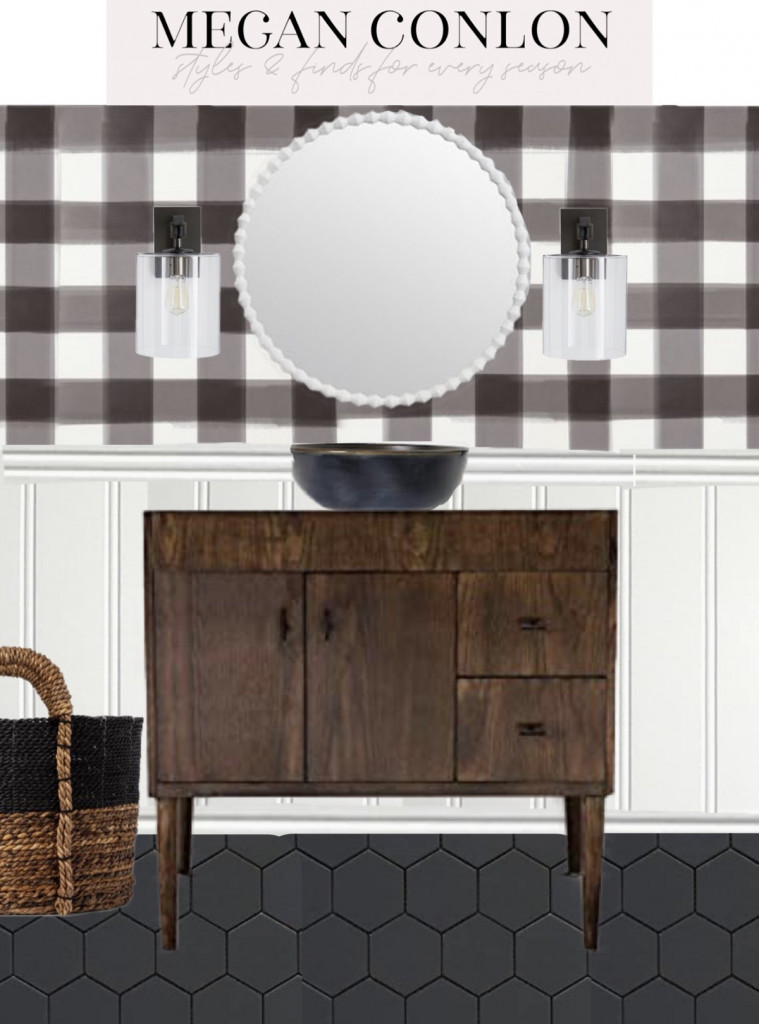 I am so crazy about this Caitlin Wilson Gingham Wallpaper! It comes in many colors too. How fresh and fun is this bathroom? I added some wainscoting  in this design to make this bathroom a little less busy. To make this more feminine, I would do a white high gloss vanity, and white tile floors too.
Exoctics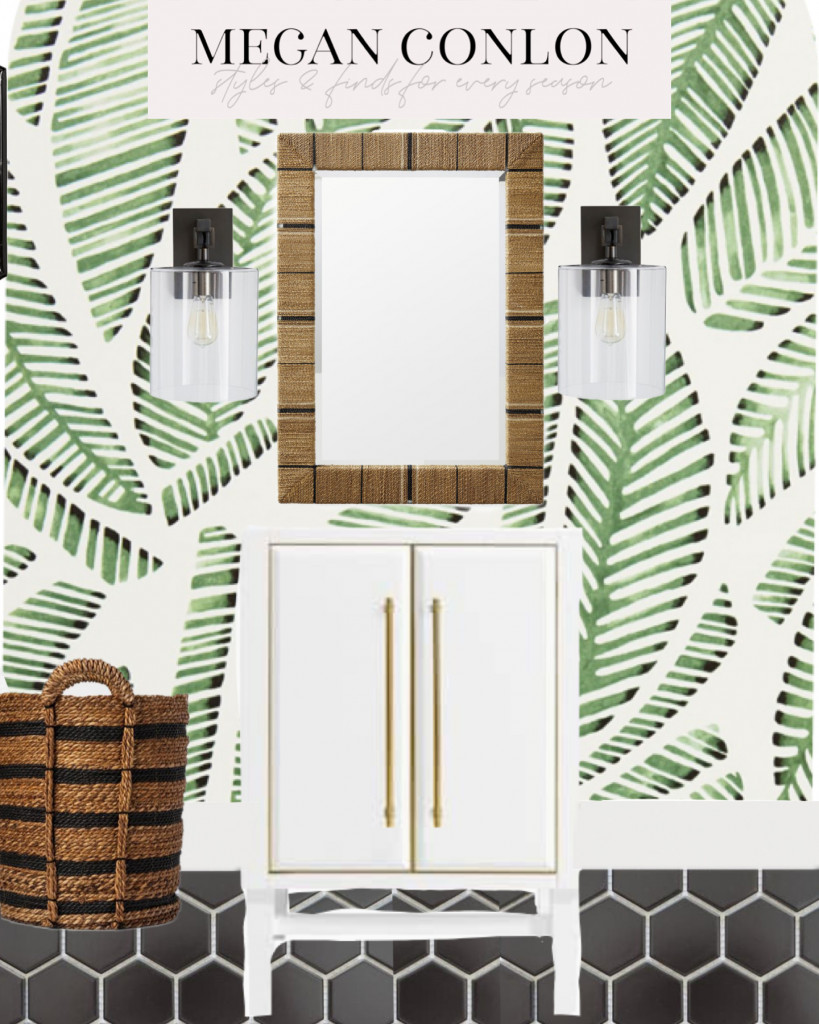 Green is another great color to pair with black. I've always liked the trendy palm leaf fabric/wallpaper, but I had a hard time envisioning it for interiors. Once I started playing with the black accents, I fell in love with it. I definitely see this bathroom at a beach house somewhere.
Butterflies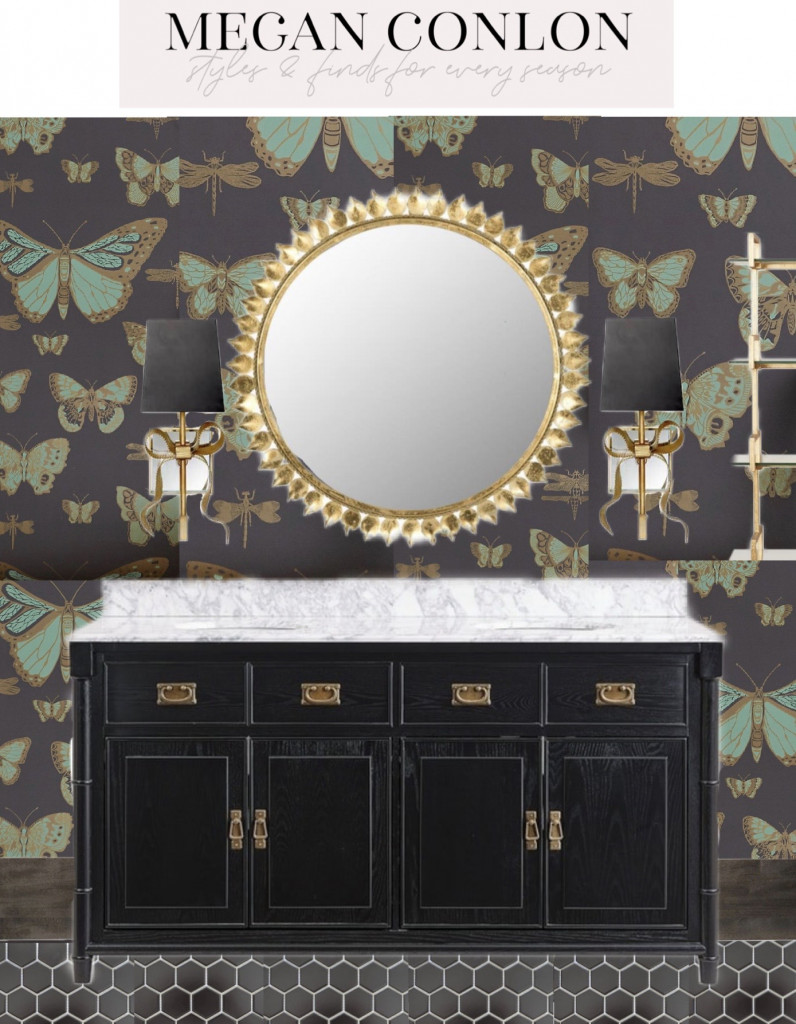 This wallpaper is absolutely stunning. The soft pops of blues and golds, makes this bathroom so elegant. These Caitlin Wilson Design Bow Sconces are absolutely to die for. Comes in three colors too. 
Loud Patterns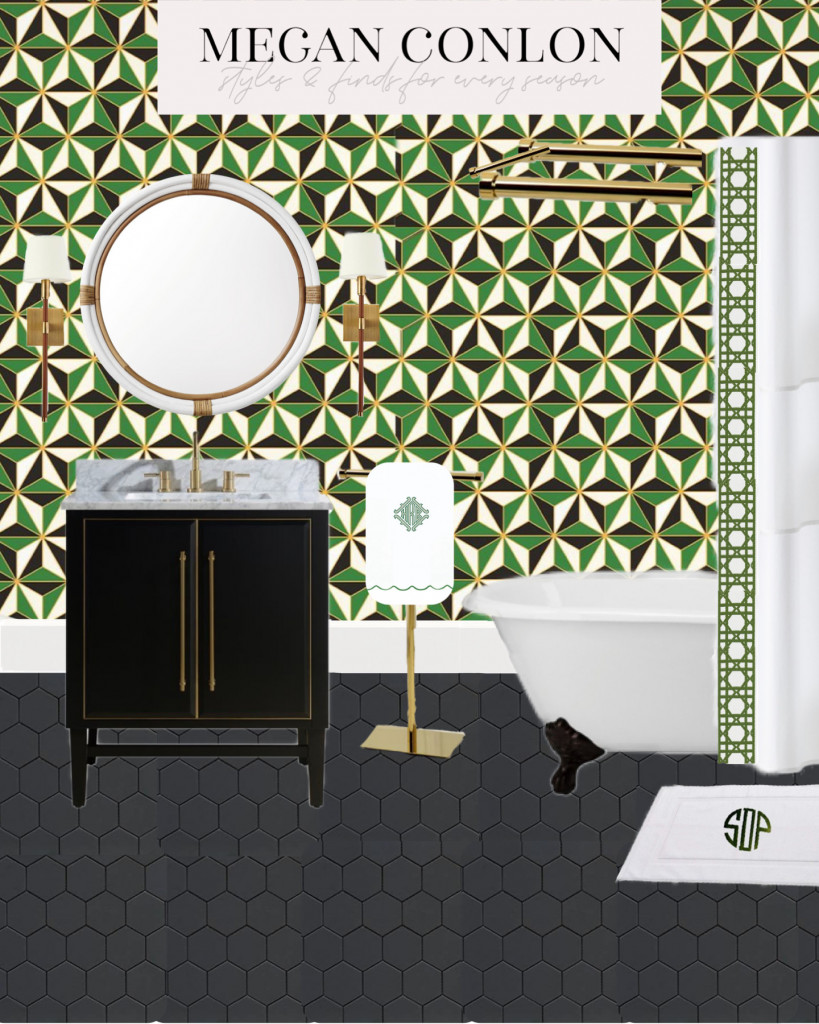 If you aren't afraid to go bold, then go for a fun patterned wallpaper like this one. Having the black tile floors really softens this room up. It also draws your eyes to the black in the wallpaper too!
Grasscloth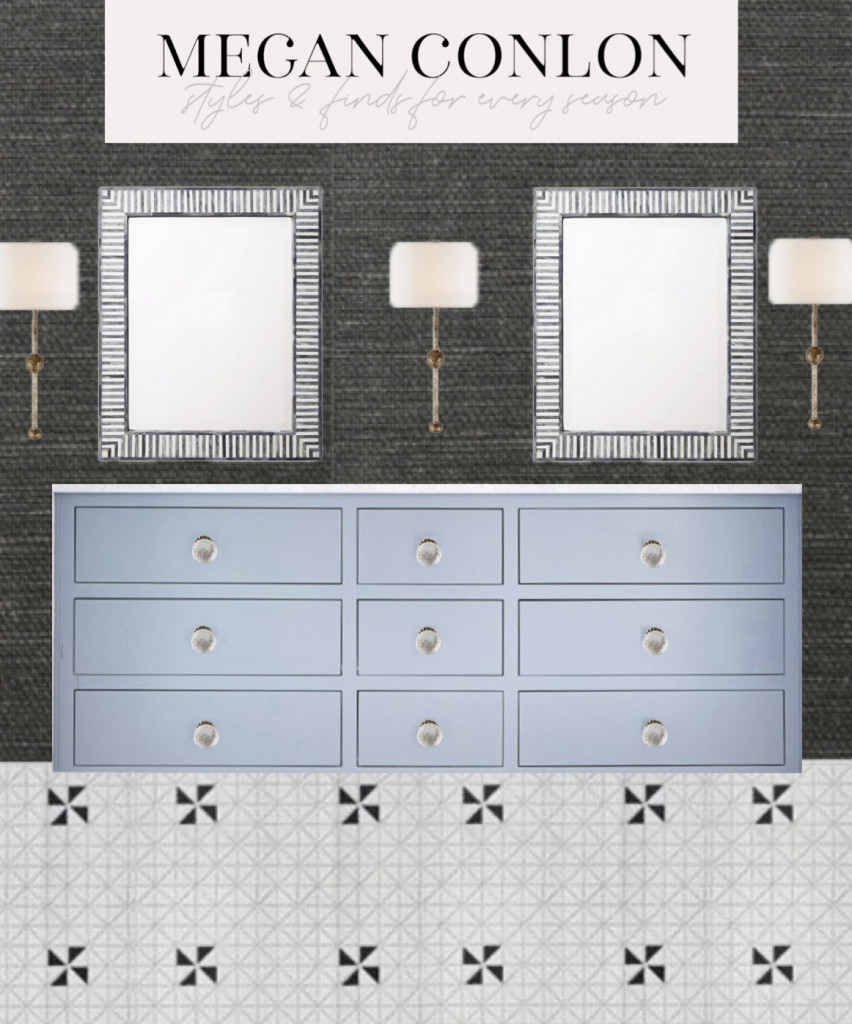 Grasscloth wallpaper is probably my favorite. It's timeless and the texture brings a lot of life to a room. Black even pairs well with powder blue too! For a quick update to a bathroom, paint a vanity or your cabinets and change out the hardware!
Tile the Wall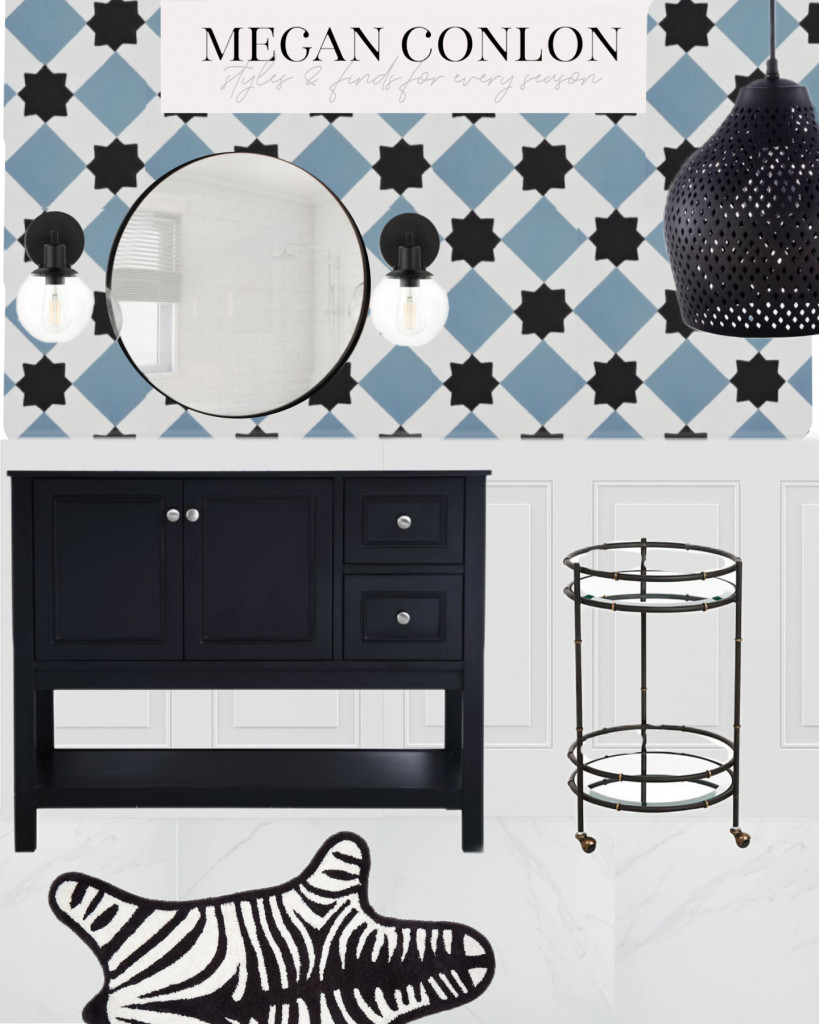 I think this blue, black, and white tile would be so fun for a kids bathroom. Here again, the wainscoting makes a cleaner look in my opinion.    Added some more "grown-up" touches like the bar cart, and the black chandelier to make it a bathroom for any age.
Fixer Upper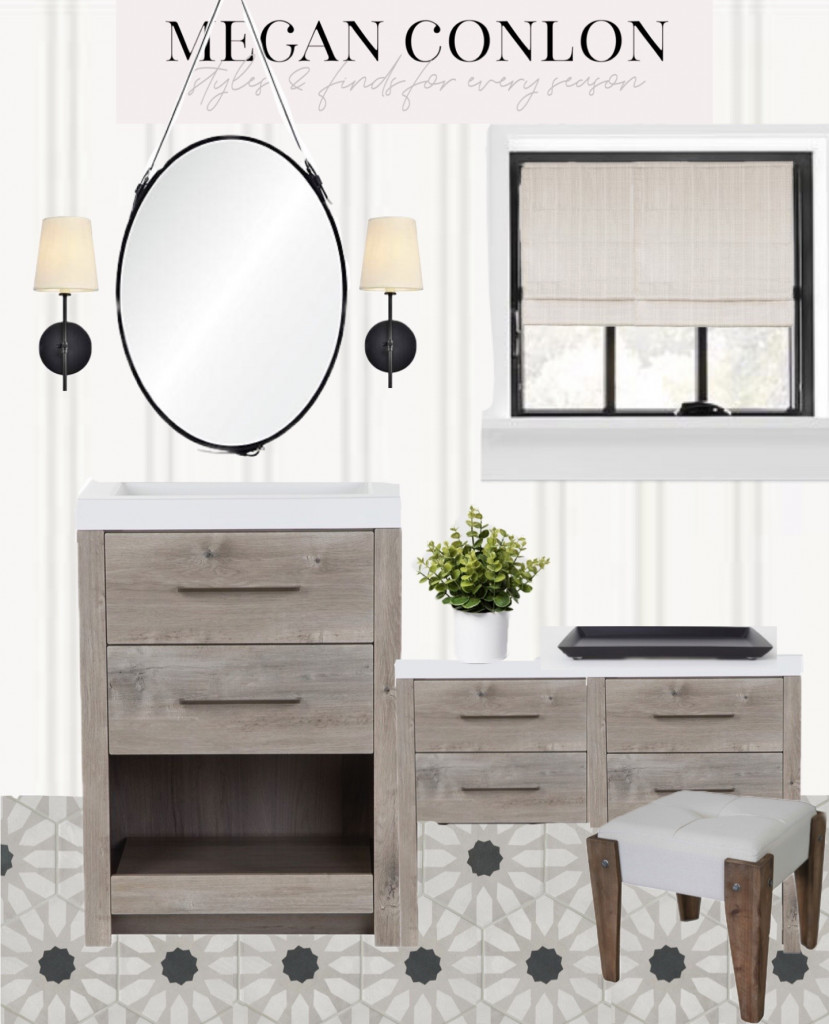 I call this the "Fixer Upper" because it looks like something Chip and Joanna Gaines would design on their show! Wanted to create a rustic design, using shiplap, oaky colors, and subtle hints of black accents. Feels very farmhouse chic!
Snake Print & Pink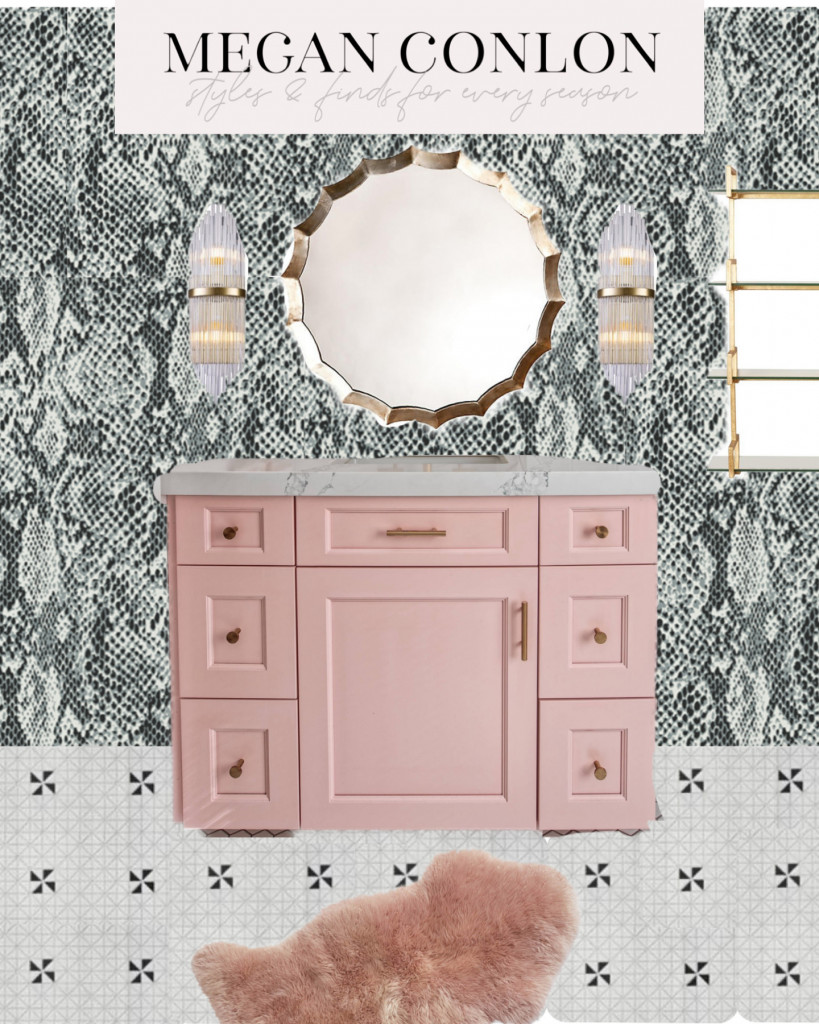 Went a little "extra" in this design, but how fun is the pink vanity with the snake print wallpaper? Lots of snake print options out there, and a fun way to incorporate black in your design.
Pink & Black Tile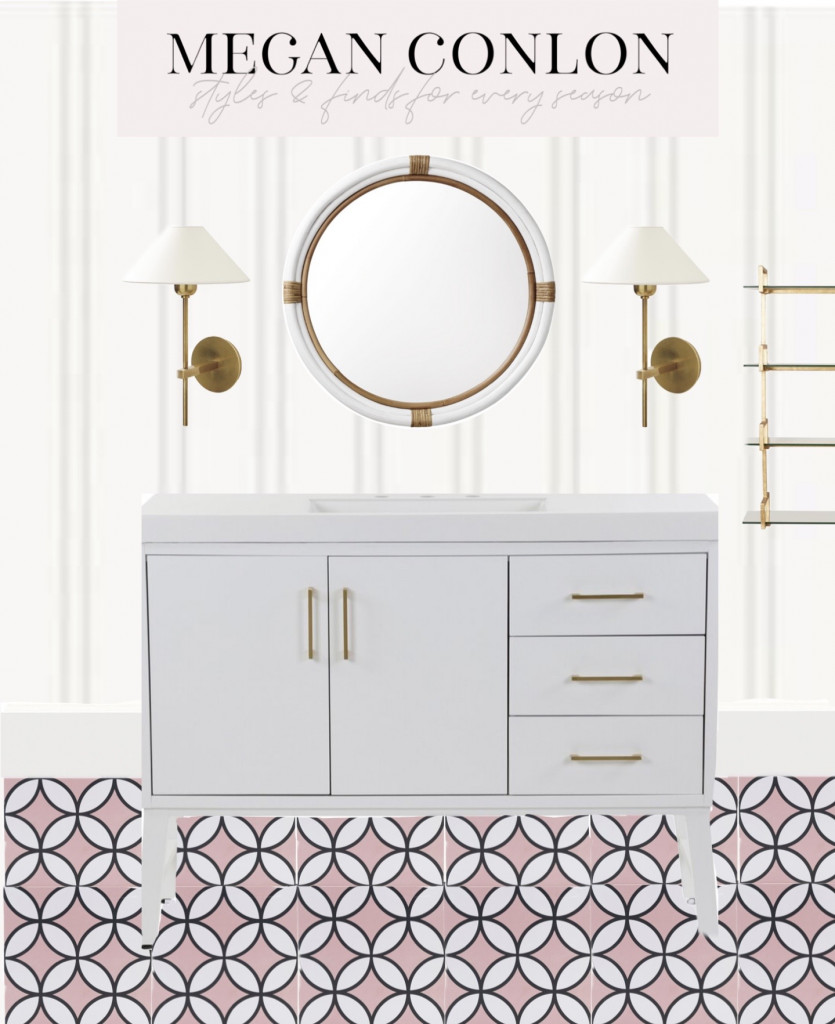 This is a subtle way to bring black into your white bathroom design! If you can't already tell, I'm really loving the pink and black look ;).
Boho Chic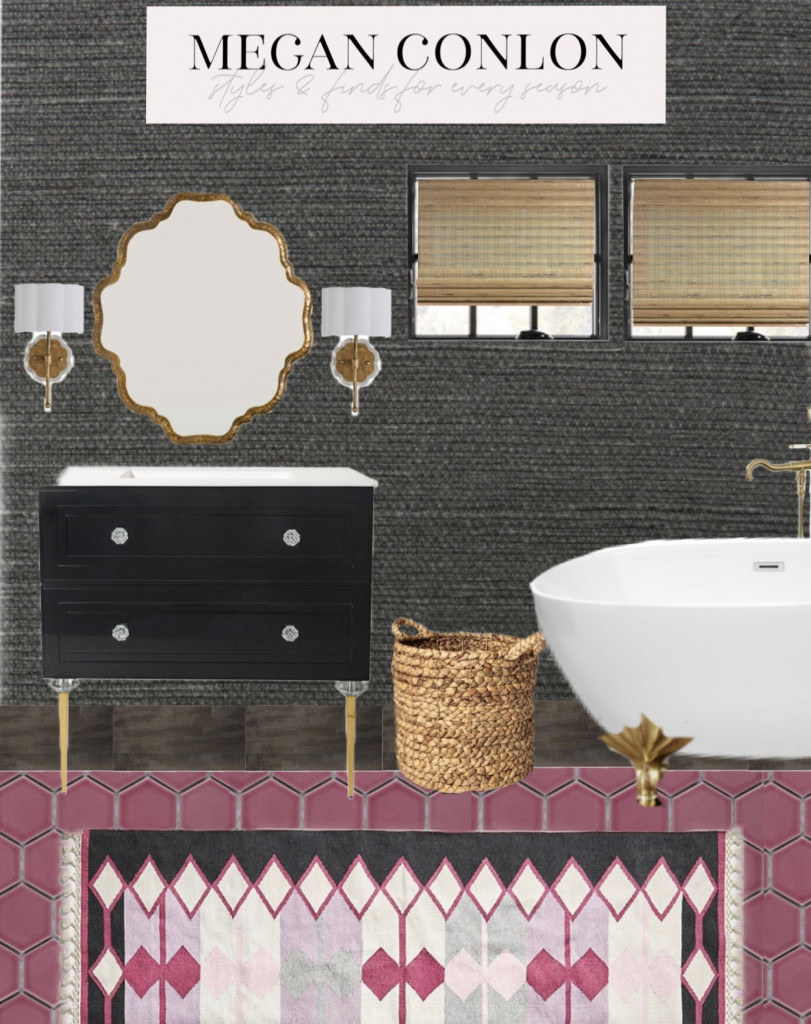 To me, this bathroom seems very "Boho Chic". The mix of all the colors, shapes, and textures really gives off that bohemian vibe and I'm here for it! Love how this dark pink floor tile pairs with the black grasscloth. To make this more masculine, I would do a zebra hide rug, different hardware on the vanity, I also would swap out the scalloped mirror and sconces for something a little more angular,
Reverse It!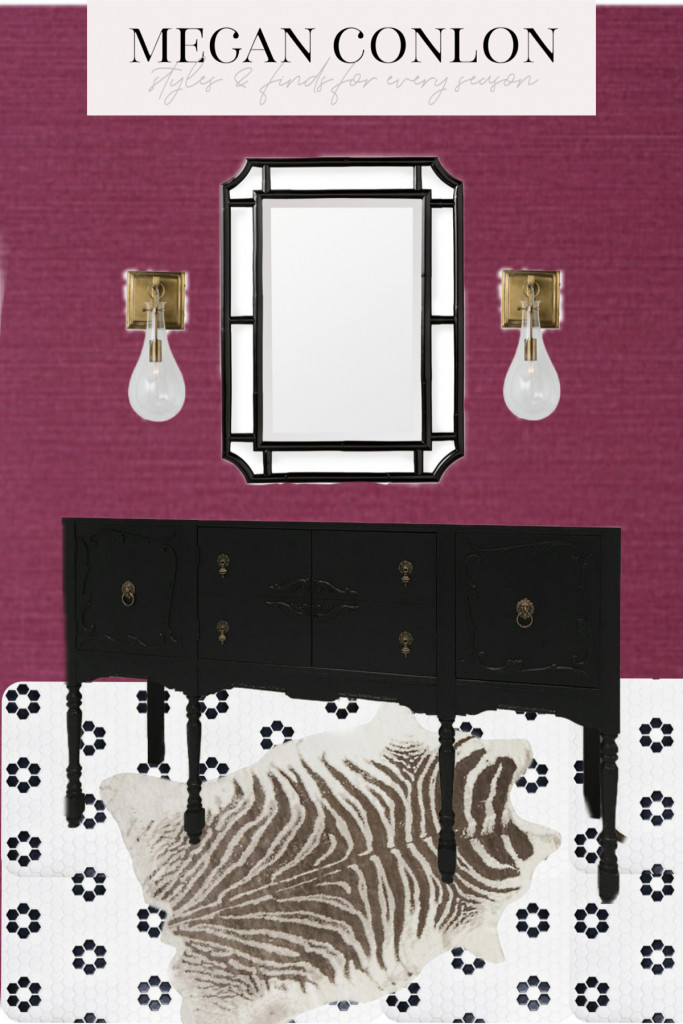 Reverse it! Dark pink grasscloth wallpaper with a black and white floral tile! Add a zebra hide to make it more masculine.
Hang Some Artwork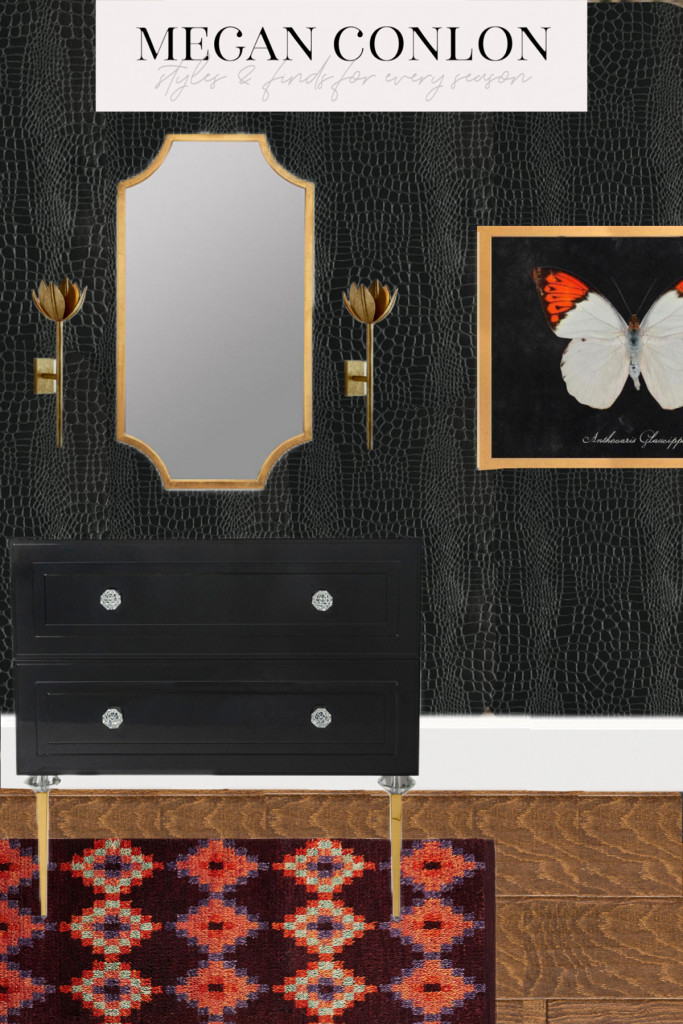 A powder bathroom is a great place for artwork! I love how the gold frame really makes this butterfly stand out. With the black wallpaper and the dark hardwoods, I wanted to make it a little more feminine in here, but still masculine. The small details like the fabulous flower sconces, and the butterfly on a black backdrop, gave this bathroom a nice balance, in my opinion.
Black and Browns

I see this bathroom in a Ralph Lauren store (haha)! Black and tan plaid wallpaper, with a chocolate brown vanity, and dark hardwoods, um yes please! The zebra artwork on the wall really tied this whole design together. To break up the clean straight lines a little, I added a cheetah accent rug, thought it made it more interesting.
After creating these 15 Black Bathroom Ideas, I'm wishing we had explored a little more with using black in our bathroom design! If you ever are on the fence about being safe or going bold with your interior design, I say go bold, you won't regret it!
View some more of my Interior Design Mood Boards by clicking the links below!
Interior Design Mood Board – Animal Prints
Interior Design Mood Boards – Trending Paint Colors 
Which bathroom was your favorite? Would love your feedback 😉
Stay safe & healthy out there!